Cosmo and Byrne Crowned Asian Le Mans Series Champions at Sepang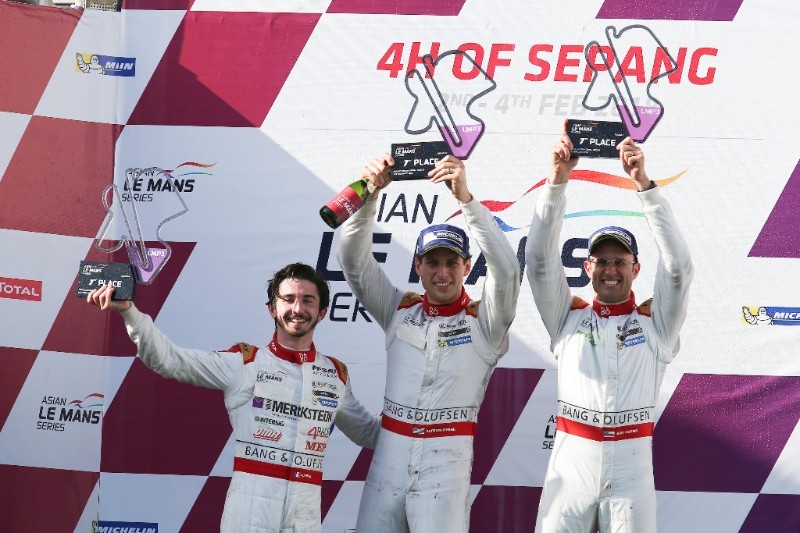 Gabriel Aubry, Patrick Byrne and Guy Cosmo
Scorching temperatures and notoriously fickle weather conditions were no match for the No. 6 Jackie Chan DC Racing x Jota Sport machine as Guy Cosmo, Patrick Byrne and Gabriel Aubry win the Asian Le Mans season finale at the Sepang International Circuit and earn the title of LMP3 champions.
The threat of severe weather was glued to the radar, but luck came through as the skies produced rising temperatures leading up to the four-hour, all-out championship battle. With just one point separating the No. 6 Jackie Chan DC Racing x Jota Sport machine and the No. 18 KCMG Ligier heading into the event, the race for securing top honors staged the final chapter at the Asian Le Mans season finale in Sepang.
As the race for the win heated up – literally and figuratively – Byrne was the first to take the green for the No. 6 Ligier JSP3. A promising start saw Byrne prevail in several skirmishes as he drove with machine-like consistency during a remarkable double stint, considering the near unbearable temperatures in the opening hours of the race. It was Byrne's focus behind the wheel that gave his No. 6 Ligier an edge on the competition as he clocked in more laps than any other starting driver which brought the team to lead the LMP3 field before handing the car over to Cosmo.
Cosmo found himself in third after pit stops and a caution period scrambled the order, but with much on the line, his focus was only ahead. Cosmo ran down the leader, closing a 20-second gap and passing for the lead, leaving the young Aubry with a comfortable yet tense finish to the event.
It all came down to the final moments of the race when the No.18 KCMG car pitted to serve a penalty for a pit stop infraction. The pressure was on for Aubry to clock in laps at an all-out pace. Aubry delivered as he passed for the lead, crossing the checkered flag with an 8-second cushion ahead of the LMP3 field.
The near perfect race brought home the championship win for first-time Asian Le Mans Series competitors, Cosmo and Byrne who also earned themselves an auto entry into the 2018 24 Hours of Le Mans this June.
Driver Quotes:
Guy Cosmo: "This has been just a fantastic adventure, racing in the Asian Le Mans Series with Patrick (Byrne). As two Americans embarking on the unknown we faced many new challenges with huge amounts of travel to greet new countries, cultures, race tracks, regulations, personnel, competitors, etc. To experience all of this, adapt, fight, conquer and emerge as champions of the series is just phenomenal. You always go into these things expecting to have success but we remained realistic about what we were up against. We couldn't be happier, as we really had to fight for this championship – right down to the very end, in dramatic fashion. Our competition was relentless, but we absolutely chose the right partners in Jackie Chan DC Racing x Jota Sport. Their level of commitment, work ethic, enthusiasm and attention to detail is second to none and that's been realized yet again today as they celebrate another double-championship.
"I can't thank Patrick and Bill Byrne enough for this incredible opportunity. I'm so proud of Patrick for his performance throughout this championship. He really stepped up and rose to the occasion, continually improving every lap, every weekend. He's turning into a fantastic racing driver and he's got a bright future ahead of him. It's very rewarding to work and race with a guy like him, and it's been an awful lot of fun. We're like family and we'll be doing plenty more racing together in the future.
"And with the ultimate prize of earning a coveted auto-invitation to the world's greatest sportscar race – the 24 Hours of Le Mans – this championship should be on every team's and driver's list to prepare for Le Mans. I'd be lying if I said we didn't want to take the ACO up on racing in the greatest endurance race in the world this June. We had an amazing experience and we would definitely come back to race in the Asian Le Mans Series in the future."
Patrick Byrne: "​Driving in the 2017/2018 Asian Le Mans Series with Jackie Chan DCR JOTA racing was an amazing experience and it was a real pleasure to be part of a top-notch international team. Driving in this endurance series was a huge step up for me involving a very steep learning curve where the competition was fierce and the logistics were always a challenge. At the same time we truly feel like we earned the championship because we fought clean and hard, won 2 races, were on the podium in 3 races, and came in P4 in the fourth race. And in the end it wasn't decided until the last 3 laps of the very last race. Talk about non-stop excitement!
"The experience and caliber of David Cheng's management, crew and drivers was nothing short of world-class. Everyone was eager to help each other, share everything available and go above and beyond to make sure we had all the ingredients necessary for the winning combination. After working with Jackie Chan DCR JOTA it is no wonder why they are so successful in the global arena of prototype racing. Suffice to say Guy (Cosmo) and I are thoroughly impressed and would be honored to return to racing with this highly esteemed team.
"I have always dreamed of racing at Le Mans, so to have an invitation is nothing short of surreal. Winning this championship is so special because now we have a chance to be part of the greatest endurance race in the world while joined with one of the best names in all of Motorsports! We are still trying to wrap our heads around these incredible developments, so stay tuned as we figure out where we go from here. Something tells me our plan will involve LMP2 testing in the near future."