IndyCar Drivers Complete One-Day Test at Sonoma Raceway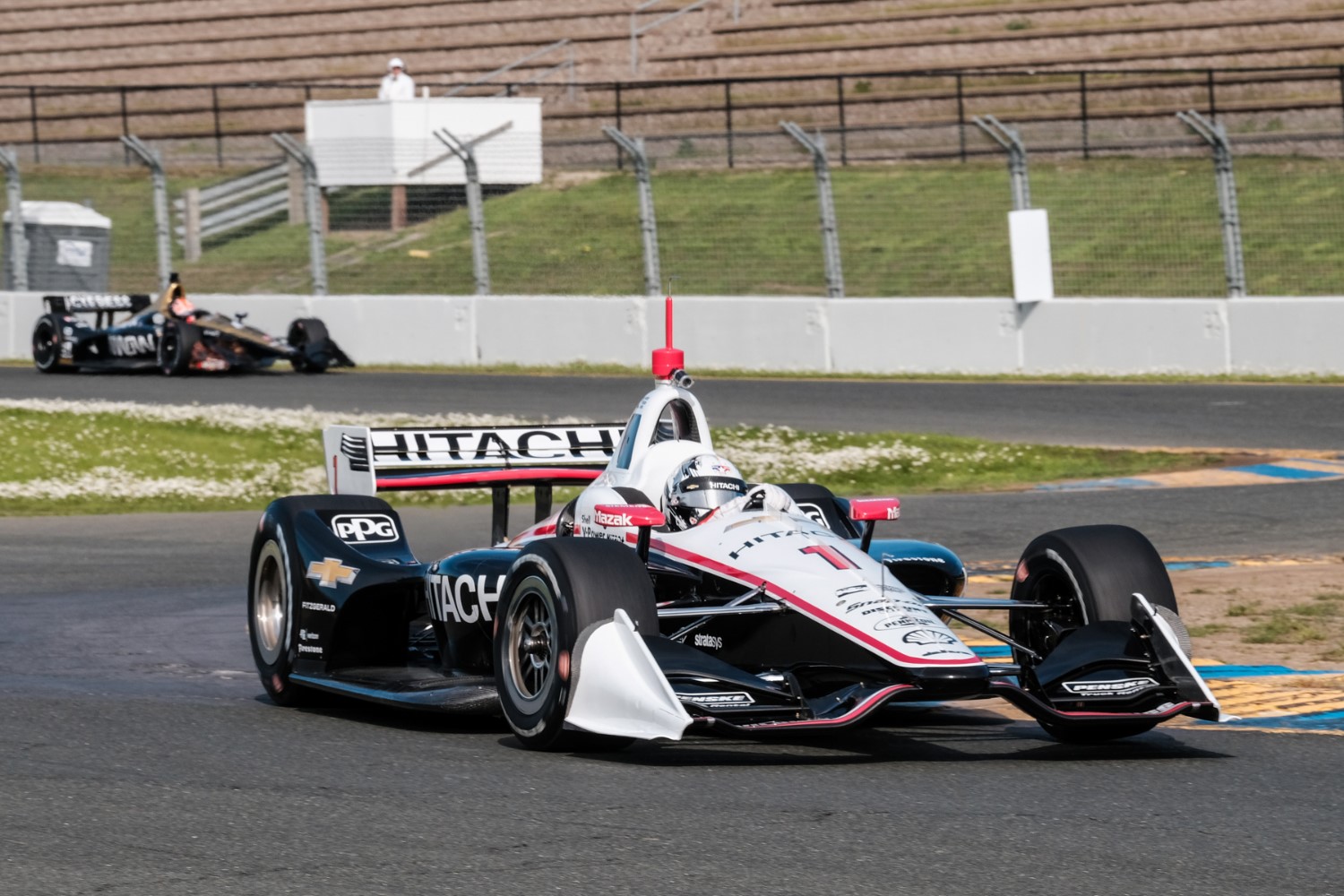 Newgarden at Sonoma Monday
Twelve drivers from seven Verizon IndyCar Series teams took part in a one-day test session at Sonoma Raceway on Monday, Feb. 5 and the Penske Shock cars ran 1-2-3.
This was the first INDYCAR test of the year on Sonoma's 12-turn, 2.38-mile road course in preparation for the 2018 series season finale at the Grand Prix of Sonoma, Sept. 14-16. It also marked a return to the road course for Team Penske's Josef Newgarden, who claimed his first Verizon IndyCar Series championship in Sonoma last year.
"It was a lot of fun last time we were here, but you get so focused forward on what's next, you've got to try to figure out how to do it again," said Newgarden.
In addition, this was the debut of the highly anticipated universal aero kits to be used by all teams in 2018. The new kits give the cars a sleeker and bolder look, reminiscent of favorite Indy cars of the past.
"It's fun to drive the car again. It moves so much now, you've got to get your head around how to drive it," continued Newgarden. "Guys really have to be on their toes pretty aggressively this year."
"It's a beautiful day in Sonoma. Every time we come back, fans are here watching us," said Tony Kanaan, who won in Sonoma in 2005. "New car, a lot of things are different and there are a lot of things to learn. Probably a lot of people making big changes here today. By the time we come back here in September, we'll have learned a lot of things, but today is definitely the beginning."
The test session also served as the first-ever Sonoma Raceway test for a number of teams and drivers, including first-year IndyCar teams Harding Racing and Michael Shank Racing, as well as rookie drivers Jordan King, Robert Wickens and Matheus Leist.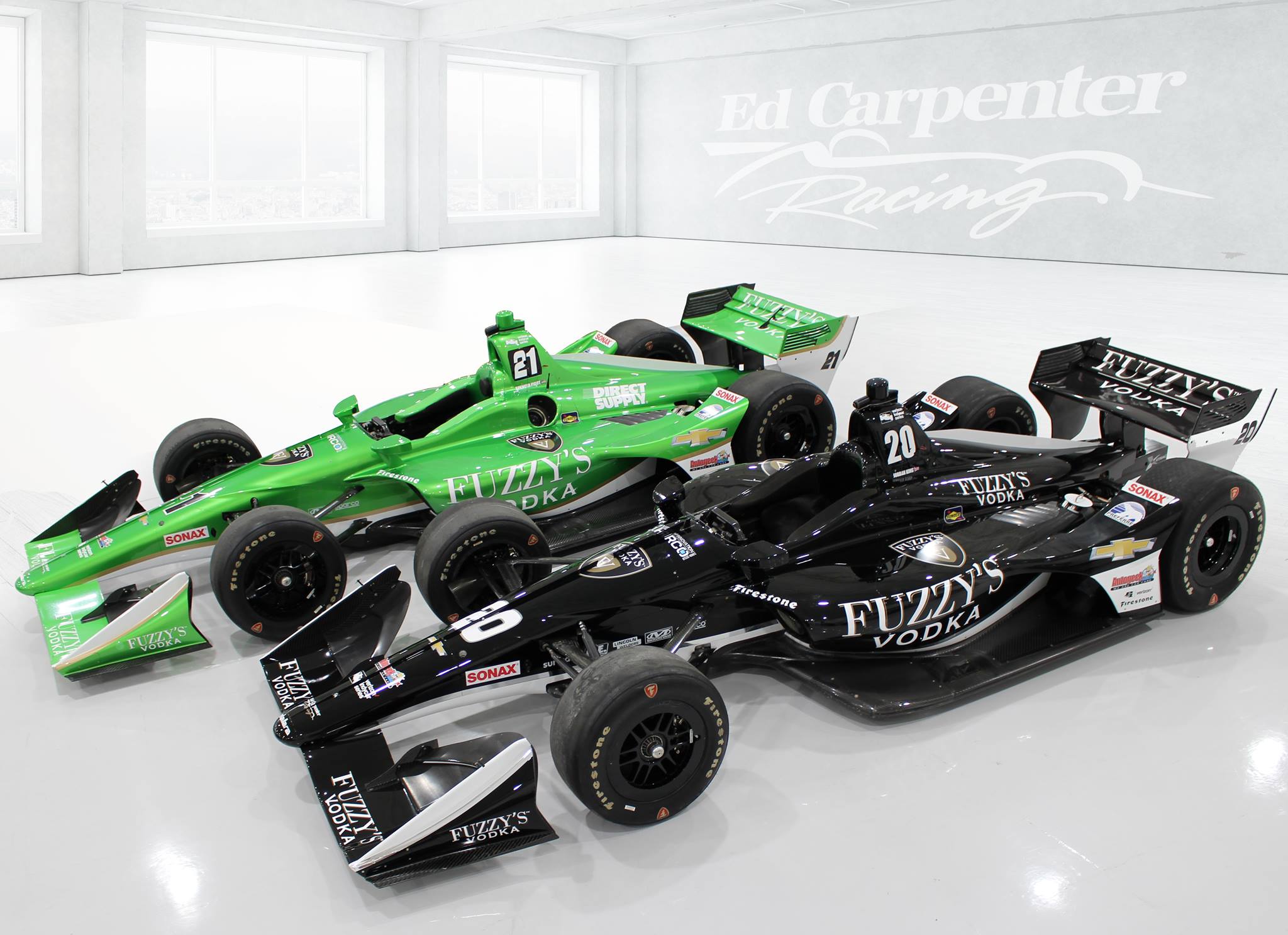 Meanwhile the two Fuzzy Vodka Ed Carpenter Racing cars ran with this livery
"This is my first time at the track and my first time to Sonoma, so we're learning," said Wickens, who joins fellow Canadian James Hinchcliffe at Schmidt Peterson Motorsports. "The morning wasn't the smoothest, but we'll keep chipping away at it and see how we go. I'm trying to learn everything in my new INDYCAR career and it's going to take some adapting and getting used to, but right now it's great. I love the elevation here. It's fast, it's flowing and a completely different track at the top than at the bottom."
The full list of participating teams and drivers included AJ Foyt Racing's Kanaan and Leist, Dale Coyne Racing with Vasser-Sullivan's Sebastian Bourdais, Ed Carpenter Racing's Spencer Pigot and King, Harding Racing's Gabby Chaves, Michael Shank Racing's Jack Harvey, Schmidt Peterson Motorsports' Hinchcliffe and Wickens and Team Penske's Newgarden, Simon Pagenaud and Will Power.
The Verizon IndyCar Series kicks off its 17-race 2018 season on the streets of St. Petersburg, Fla. on Sunday, March 11. This year's schedule consists of a total of six events on ovals, six on permanent road courses and five on temporary street circuits.
All the new IndyCar liveries.
Unofficial best times from Sonoma test, afternoon session
| | | | |
| --- | --- | --- | --- |
| Pos | Driver | Car-Engine | Time |
| 1. | Josef Newgarden | Penske-Chevrolet | 1m18.10s |
| 2. | Will Power | Penske-Chevrolet | 1m18.29s |
| 3. | Simon Pagenaud | Penske-Chevrolet | 1m18.64s |
| 4. | Sebastien Bourdais | Dale Coyne Racing-Honda | 1m18.75s |
| 5. | Pietro Fittipaldi | Dale Coyne Racing-Honda | 1m18.94s |
| 6. | Matheus Leist | AJ Foyt Racing-Chevrolet | 1m19.00s |
| 7. | Robert Wickens | Schmidt Peterson Motorsports-Honda | 1m19.12s |
| 8. | Jordan King | Ed Carpenter Racing-Chevrolet | 1m19.20s |
| 9. | James Hinchcliffe | Schmidt Peterson Motorsports-Honda | 1m19.27s |
| 10. | Spencer Pigot | Ed Carpenter Racing-Chevrolet | 1m19.40s |
| 11. | Tony Kanaan | AJ Foyt Racing-Chevrolet | 1m19.96s |
| 12. | Gabby Chaves | Harding Racing-Chevrolet | 1m20.34s |