Wallace championship-winning crew chief Barry Dodson dies at 64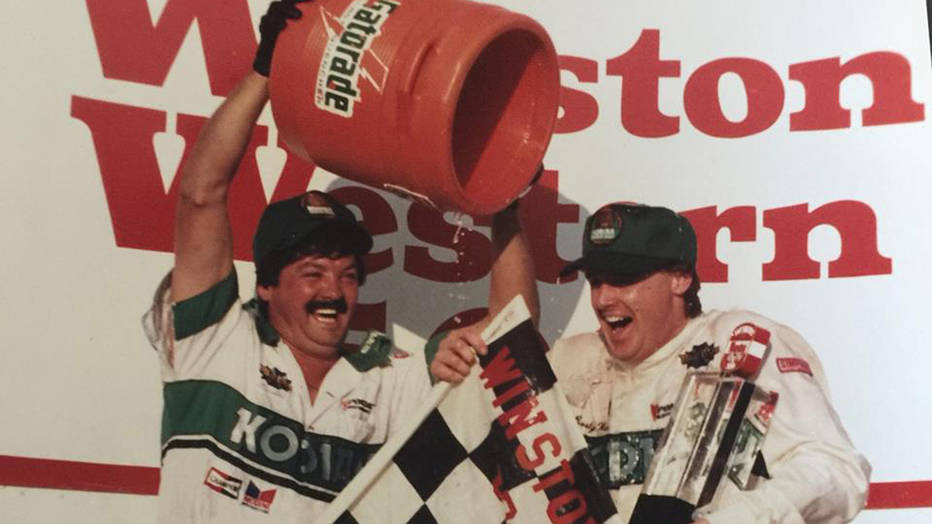 Barry Dodson and Rusty Wallace
Barry Dodson, a savvy crew chief who led NASCAR Hall of Famer Rusty Wallace to his lone premier series championship in 1989, died Wednesday. He was 64.
Dodson worked with several of the sport's top drivers and is credited with 19 victories in what is now the Monster Energy NASCAR Cup Series. In addition to Wallace, Dodson also served as crew chief for Tim Richmond and Hall of Famer Darrell Waltrip.
John Dodson confirmed his brother's death through a statement from the family: "Barry's passing leaves us all with heavy hearts. He left his mark in the NASCAR history books and he served the sport with a passion that few will ever match. We love him and we miss him."
NASCAR issued a statement Wednesday paying tribute to the legendary crew chief: "Barry Dodson's talent as a crew chief was evident, winning a championship in 1989 and a number of races throughout a career that lasted parts of three decades at the top levels of the sport," the NASCAR statement reads. "His extraordinary skills around a race car were rivaled only by his passion for the sport, and his perseverance in the face of adversity. NASCAR extends its condolences to the family and friends of Barry Dodson. He will be missed."
After years serving as a crewmember, Barry Dodson was hired for his first stint as crew chief in NASCAR's top division by car owner Raymond Beadle. After one season with Richmond at the wheel of Blue Max Racing's No. 27 Pontiac, Dodson paired with Wallace for a successful five-season run that vaulted the driver, team and crew chief into the stock-car racing elite.
With Dodson providing double duty with crew chief calls and over-the-wall service, Wallace won multiple races in each of their years together. Their title-winning campaign was highlighted by six wins and four pole positions. The year before, Wallace and Dodson also netted a half-dozen victories but fell just shy of another championship; they won four of the final six races in a stirring late-season kick, but wound up a close second to Bill Elliott.
Dodson's life was also marked by tragedy. His two teenaged children — son Trey, 17, and daughter Tia, 16 — were killed as passengers in a single-car auto accident in November 1994 in South Carolina.
The elder Dodson took himself out of the spotlight to mourn, but landed an emotional victory the following year with driver Kyle Petty at Dover International Speedway. Petty avoided a 19-car wreck on Lap 3 and dominated by leading 271 of 500 laps. It was Petty's first victory in two years, the final Monster Energy Series win for both him and Dodson.
Dodson dedicated the triumph — which came a day after his 42nd birthday — to his children. "I felt like if we couldn't win a race this year for my children, you know, maybe I'd do something else," Dodson told reporters. "I knew we could, I felt like we could, and by golly, we did it."
Dodson also achieved six wins with team owner Jim Smith and driver Mike Bliss in the NASCAR Camping World Truck Series from 1995-98. He was later hired as general manager when Wallace started his own team in what is now the NASCAR Xfinity Series. Zack Albert/NASCAR.com