Latest F1 news in brief – Wednesday
Rosberg in the TV booth

Rosberg replacing Lauda as German F1 pundit

Assen challenges Zandvoort for Dutch GP
Ocon not feeling more pressure from Perez
F1 boss Ross Brawn 'behaves like Moses' – Marchionne
Wolff tells Brawn to 'stop provoking' Ferrari
McLaren rules out having title sponsor for 2018 season
Brown: F1 teams need to support Liberty Media
Rosberg replacing Lauda as German F1 pundit
(GMM) Nico Rosberg has stepped up to replace Niki Lauda as the expert F1 pundit on German free-to-air television RTL next year.
It was also announced that, despite a period of uncertainty, RTL has retained the broadcast rights to formula one for the next three years.
"This is really good news for RTL and especially our viewers," said RTL chief Frank Hoffmann.
With F1 legend Lauda stepping back as F1 pundit, he will be replaced by 2016 world champion and fellow former F1 driver Timo Glock.
However, Rosberg's actual contract is not yet signed.
But he told Bild newspaper: "We have agreed. My father was the predecessor of Niki's on RTL, so I am continuing a family tradition."
At the same time, there is shock in Italy as Speed Week reports that free-to-air broadcaster Rai has lost the F1 broadcast rights.
The only Italian F1 broadcaster now is the pay channel Sky.
F1 legend Alain Prost said: "In France we used to have 8 million fans watching TF1, but now there are not even 750,000 on digital television Canal Plus.
"But that's just how it goes when you move everything to pay TV," he added.
Assen challenges Zandvoort for Dutch GP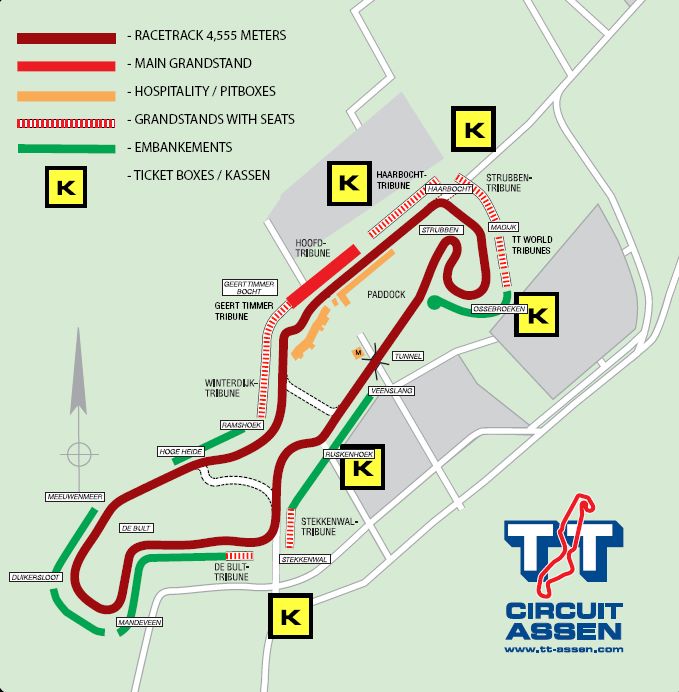 The Assen circuit draws big MotoGP crowds
(GMM) The Assen circuit has emerged as a viable alternative host for a future return of the Dutch grand prix.
With Max Verstappen's popularity, speculation is rising that the Netherlands will soon return to the F1 calendar.
Zandvoort was named as a potential host, but now TT Circuit Assen chief Arjan Bos says the FIA has issued a "positive report" about the suitability of Assen.
"We are almost 100 per cent ready for formula one," he is quoted by De Telegraaf newspaper.
"Of course, I wish Zandvoort every success, and I think it's admirable how (Zandvoort owner) Bernhard van Oranje is sticking his neck out. But Assen is well beyond Zandvoort," Bos added.
Ocon not feeling more pressure from Perez
Esteban Ocon
(GMM) Esteban Ocon insists he is not feeling the pressure of needing to step up his game in 2018.
The Frenchman had an impressive rookie season in 2017, but now teammate Sergio Perez claims the pressure will be on Ocon to step up a notch next year.
"He likes to make such statements in the media," Ocon told France's Auto Hebdo. "That's part of the game.
"I will continue to do my job, not feeling the increased pressure," he added.
Ocon and Perez clashed on and off the track this year, to the point that Force India even imposed a wheel-to-wheel racing ban.
One implication of their stoush is that Toto Wolff may now be reluctant to promote Ocon to become Lewis Hamilton's teammate at Mercedes, given the earlier relationship between Hamilton and Nico Rosberg.
"I have talked a lot with Toto and of course such incidents should not be repeated," Ocon said.
"Sergio and I both understand that this year we crossed some lines and missed chances to earn extra points for the team. But in terms of results it was the best season for Force India, and our rivalry played a certain role in that."
As for Force India's expectations, he answered: "I understand that they expect more from me, because I'm not a rookie anymore.
"But having got into formula one, I no longer experience stress. It is only a pleasure to race at the highest level."
But Ocon, 21, admitted his ultimate goal is to step up one day soon to Mercedes.
"In the end, the decision is not made by me, and I fully trust Mercedes with regard to my career," he said.
"Since I joined their program, they always chose the right option for me. For now I'm focused on my work at Force India."
F1 boss Ross Brawn 'behaves like Moses' – Marchionne
Ross 'Moses' Brawn
(GMM) Sergio Marchionne has sustained his attack on F1 sporting boss Ross Brawn.
At Ferrari's Christmas lunch, the Ferrari president said he had threatened to pull the Italian marque out of F1 because Brawn is "looking at ways that are against the DNA" of the sport.
He is now quoted as saying by Speed Week: "I have a good relationship with Chase Carey. We saw each other 10 days ago and we had a very open dialogue.
"What I do not care for is when Ross Brawn comes along and announces that grid girls have to go. And how the engines and chassis should be.
"He behaves like Moses reading the Ten Commandments. And when I call Moses' boss, he tells me that it was just his personal opinion.
"So I don't want to participate in such a discourse. I want to sit down and talk to those involved. It's not helpful to involve the media," Marchionne added.
The Ferrari president revealed that engines are currently sold to customers for EUR 15 million.
"When I hear Ross Brawn say engines are too complicated, I ask 'What does he want for 15 million?'" said Marchionne.
"Liberty Media is right when they say we need to improve the show. I was not excited with what was offered at the last race, where virtually nothing happened for 50 laps.
"But that's not the fault of the engines.
"In an ideal world I would throw all the rules out of the window. Instead, we get suggestions that would lead to all the cars differing only in color.
"If this is the formula one of the future, then Ferrari will only need three seconds to decide about leaving," Marchionne said.
Wolff tells Brawn to 'stop provoking' Ferrari
Wolff (L) defends Ferrari
(GMM) Toto Wolff has warned Liberty Media to stop "provoking" Ferrari president Sergio Marchionne.
In recent days, Marchionne doubled down on his threat to pull Ferrari out of the sport, accusing F1 sporting boss Ross Brawn of "behaving like Moses".
A major source of tension between Brawn and Marchionne is over the proposed 2021 engine rules, and Mercedes boss Wolff is siding with Ferrari.
"We currently have a powertrain that is the most powerful and efficient racing engine ever," he told Welt am Sonntag newspaper.
"With new engine regulations there are possibilities to optimize this. But to develop a new engine that does not meet the high tech aspects of electrification, efficiency and power – that is, some archaic engine – is not what we want."
So asked if Marchionne's quit threat makes him "afraid", Wolff answered: "I'm not afraid, but Marchionne is to be taken seriously.
"I'm relaxed, because Ferrari is formula one, and formula one is Ferrari," he added. "But if I were Liberty Media's new formula one promoter, I would not continue provoking Marchionne with unacceptable suggestions or demands or nonsensical changes."
Asked what he means, Wolff explained: "Bringing rules or show elements into the game and turning F1 into a cheap shopping channel.
"Formula one must remain in its basic structures what it was and what it is. We have to improve them and face the new media environment. But we need evolution, not naive revolution," he insisted.
Wolff said F1 is currently missing the guiding hand of its former supremo Bernie Ecclestone.
"I wish that, three or four years ago, he would have known better and taken another role without losing it altogether," said the Mercedes team boss.
"A role that helps to build a new era in formula one. That he did not do that – with his experience and his enthusiasm and as a racer and a businessman – is the only criticism I have of him."
McLaren rules out having title sponsor for 2018 season
Zak Brown was brought in to land a big sponsor. So far, nothing
McLaren has ruled out having a title sponsor for the 2018 Formula 1 season, despite team boss Zak Brown saying it has attracted a lot of interest from new backers.
In the past former McLaren team principal Ron Dennis suggested that the era of the title sponsor in F1 was over.
Though Brown had initially hoped to get a new title backer for McLaren, which has not had one since Vodafone's exit at the end of 2013, he now agrees they could be a thing of the past.
"I don't think we're going to have a title sponsor per se," said Brown.
"What I think we're going to have are major partners.
"If you look at F1 no one really refers to the name of the team's title partner, so I don't think there's a lot of value. We're McLaren, we're not ABC McLaren.
"There's major branding, but we don't want to sell the title, we want to remain the name of the team – McLaren.
"In NASCAR the drivers are trained to get out of the car and say, 'I'd like to thank my Chandon Ford today.'
"That doesn't happen in F1, so we want to protect our brand."
Brown says that interest in McLaren has been stirred both by changes in F1 as a whole and the stronger situation of the team itself as it switches from Honda to Renault power for 2018.
"We have signed some sponsors, but I don't know exactly when we're going to announce them," he added. "We're not done yet, so all sponsors are welcome!
"We've got a lot of excitement. There's a good buzz around F1, TV ratings are up, live attendance is up, new owners, strategic vision, so there's momentum behind F1.
"And then there's momentum behind McLaren. We've got Fernando [Alonso], we've got Stoffel [Vandoorne], we've got Lando [Norris] coming through the ranks, we've got a new engine partner, so generally we feel that there's some wind at the tail, as opposed to a headwind." Autosport
Brown: F1 teams need to support Liberty Media
The Europeans in F1 hate it that Americans are running F1. They resist, resist, resist just like the swamp rats do in the USA.
McLaren Executive Director Zak Brown has urged Formula 1 teams to support Liberty Media, in the wake of a reduction of prize money in 2017.
Formula 1's revenues, and therefore prize money distributed to teams, has dropped in 2017, with chiefs focused on investing in the sport to aid its long-term future.
Amid criticism from some quarters, Formula 1 CEO Chase Carey emphasized that there are "no free lunches", and that Liberty's current approach will pay dividends in the years to come.
Brown has backed Liberty's approach, and reckons other squads should adopts a more constructive stance.
"We want there to be as much prize money as possible," said Brown.
"We knew there was going to be some investment, I think a few people are getting a little too excited.
"They're [Liberty] not even one year into it, they've bought something that had lots of elements that were broken and you're not going to repair a broken leg in two weeks.
"I think the direction is the right direction, I think their intentions are the right intentions.
"It's going to take a little bit of time and I think we need to give them support and work with them and maybe be a little less critical and more constructive."
Brown added: "We've got a lot of excitement, there's a good buzz around Formula 1, TV ratings up, live attendance is up, there's new owners, [there's a] strategic vision.
"There's momentum behind Formula 1 and then there's momentum behind McLaren.
"We've got Fernando [Alonso], we've got Stoffel [Vandoorne], we've got Lando [Norris] coming through the ranks, we've got new engine partners.
"Generally we feel there's some wind at the tail as opposed to a head wind."