Latest F1 news in brief – Friday
Renault turns the power up but still no match for Mercedes and Ferrari

Renault turns up power for finale

Liberty eyes track changes to improve racing
2018 McLaren chassis to be '100pc evolution'
Liberty 'wants Copenhagen race' – minister
Magnussen hopes 2018 tires 'less sensitive'
Massa knows identity of Williams successor
Ericsson admits 'concern' about losing seat
Hamilton says F1 cars will be ugly starting in 2018
Renault turns up power for finale
(GMM) Renault has reportedly decided to take a riskier approach to this weekend's 2017 finale.
Out of spare parts at a reliability-marred tail end of the season for the French marque, Renault decided in Brazil to get through the weekend by turning down the engine power.
But Auto Motor und Sport claims the power is back up as the season concludes this weekend in Abu Dhabi.
That's because it's the last race, with Renault 4 points behind Toro Rosso and just 2 ahead of Haas in the constructors' title standings.
Nico Hulkenberg says he is happy with Renault's year overall.
"We did what we wanted to do," said the German.
"We started poorly but have caught up a lot," said Hulkenberg.
As for that battle for sixth place with Toro Rosso and Haas, Hulkenberg said he is personally not overly interested.
"Sixth sounds better than seventh," he said, "but it will not change our lives dramatically. As long as you are not at the front, everything is irrelevant anyway."
Hulkenberg says Renault has worked hard in 2017 to build up the team for the future with more people, equipment and better processes.
"The winter is not only four months," he said. "We started our course correction a few months ago. A lot has been happening in the background," he said.
Liberty eyes track changes to improve racing
(GMM) Max Verstappen does not think Liberty Media should push for fundamental changes to be made to the circuits.
A report is circulating that claims the sport's new owner thinks the racing would be better if there were more hairpins, wider tracks and a different asphalt type.
But Red Bull driver Verstappen said in Abu Dhabi: "I think we have to focus first on the cars, not the tracks.
"I think this year compared to last year you can see it's more difficult to follow, so I think we first have to address that."
And amid Liberty's apparent push to make fundamental changes, F1 purist Sebastian Vettel said his main wish is that "everybody calms down".
"Some races are boring, so what?" he said.
"I don't think we need another new record for overtaking in every race. Overtaking should be an achievement and there's a difficult balance, but as I said, sometimes you should just relax and calm down and accept a boring race," the Ferrari driver said.
2018 McLaren chassis to be '100pc evolution'
Boullier says McLaren won't change chassis too much
(GMM) McLaren's 2018 car will be an "evolution" of the current one.
That is the news from Eric Boullier, the British team's boss.
He told Brazil's Globo that although McLaren is switching from Honda to Renault power for 2018, the team is happy with its actual chassis.
"It has the least power, but we have one of the best cars in high speed corners," Boullier said in Abu Dhabi.
So despite the forthcoming move to customer Renault power, he revealed: "We are not radically changing the car. The 2018 car will be a 100pc evolution of the current car.
"The radiators required by the Renault unit are smaller than those of Honda, making our aerodynamic task easier," Boullier added.
"But I cannot tell you anything else."
Boullier also said McLaren will enter 2018 with another healthy budget, even though former team supremo Ron Dennis said previously that the team must have works engine backing.
"(Bahrain's) Sheikh Al Khalifa and Mansour Ojjeh have a different vision," he said.
"They made a decision for the sporting side, so we should not have a smaller budget in 2018," Boullier insisted.
Liberty 'wants Copenhagen race' – minister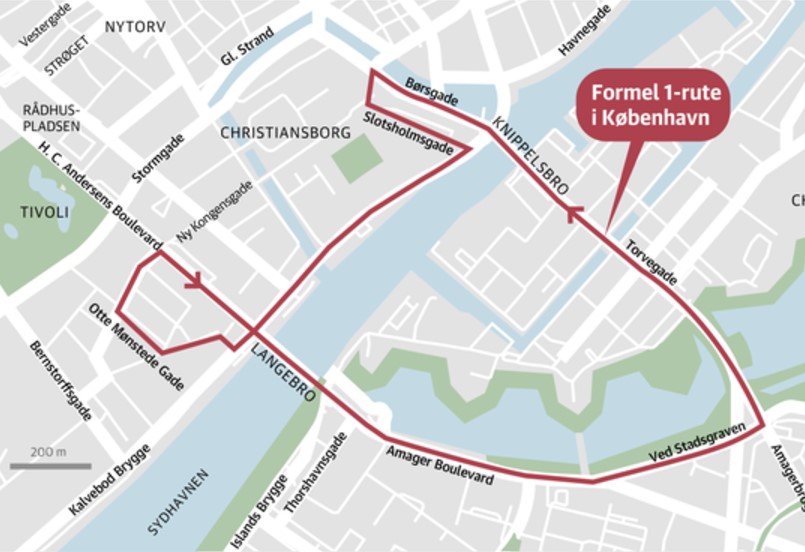 Proposed Copenhagen street circuit
(GMM) Plans for a grand prix on the streets of the Danish capital are still alive.
As the world of F1 congregated in Abu Dhabi for the 2017 finale, officials got together in a Copenhagen hotel to discuss plans for a race there in the future.
Jyllands Posten, a Danish daily broadsheet, said politician Helge Sander got together with well-known Danish drivers Jan Magnussen and Tom Kristensen and other officials.
Another Danish newspaper, BT, quoted minister Sander as saying: "In their (Liberty's) strategy paper for 2020, it states that three new races should be launched in New York, London and Copenhagen."
However, the Copenhagen mayor is yet to throw his support behind the project.
"We need to have a closer look at how a formula one race will affect the everyday lives of those in Copenhagen," he said.
Haas driver Kevin Magnussen, who is Jan Magnussen's son, told Ekstra Bladet newspaper in Abu Dhabi that he is "not involved in any way" with the proposed race.
But he added: "It would be fantastic and quite surreal to race in Copenhagen.
"I have not even dreamed about it because it was so unrealistic, but it would be huge for me and for Denmark," Magnussen said.
Magnussen hopes 2018 tires 'less sensitive'
Giovinazzi (L) was in for Magnussen in practice 1 at Abu Dhabi
(GMM) Kevin Magnussen says he is looking forward to trying Pirelli's new F1 tires next week.
Although the long 2017 season ends after Sunday's race, the circus is staying behind in Abu Dhabi for a tire test.
It will be the team and drivers' first chance to try Pirelli's new 'super-hard' and pink-colored 'hyper-soft' tires for 2018, which were revealed on Thursday.
"I am driving on Wednesday and will try the tires," Haas driver Magnussen said.
"I hope that the new tires will be less sensitive to temperature," he explained.
"A tire is never perfect, but today's tires are very sensitive to temperature. Pirelli made progress compared to last year and it is often the case that the tires now do not degrade, but they are too sensitive."
Pirelli chief Mario Isola admitted in Abu Dhabi that the Italian supplier was too "conservative" with the softness of its compounds for 2017.
"The tires we have created for 2018 addresses this, in line with the objective of having around two pitstops at most races," he said.
Massa knows identity of Williams successor
Massa's final F1 race
(GMM) Felipe Massa says he already knows who his replacement will be at Williams next year.
The Brazilian veteran has been nudged back into retirement for 2018, amid strong speculation it is the returning Robert Kubica who will replace him.
However, it is reported that Daniil Kvyat, Pascal Wehrlein, Sergey Sirotkin and Paul di Resta are all also linked with Massa's seat.
Asked who he would put a 100 euro bet on, Massa said in Abu Dhabi: "I already know who it is, so I don't need to put money on it.
"But I will not tell you."
Asked if he is happy with Williams' choice, Massa answered: "I hope it is the best option for the team. But I'm leaving, so it doesn't matter to me.
"I am happy and I wish the team all the best."
Russian Sirotkin – this year a Renault tester – and Pole Kubica will test Williams' 2017 car in Abu Dhabi next week.
Asked who his preference would be to become his next teammate, Lance Stroll said: "The most important thing is that it is a team player."
When asked specifically about Kubica, Stroll answered: "We have not met before, but everyone knows that before his accident he was one of the best.
"I don't have information about what form he is in now, but let's just see what choice Williams will make in the end," he added.
Ericsson admits 'concern' about losing seat
Ericsson tests the Halo on his Sauber Friday in Abu Dhabi
(GMM) Sauber's two drivers are facing the prospect of losing their places in formula one after the 2017 finale in Abu Dhabi this weekend.
It is almost certain that Charles Leclerc, a Ferrari junior and the new Formula 2 champion, is replacing Pascal Wehrlein for 2018.
When asked about that, German Wehrlein said on Thursday: "I don't know. But I don't think that this is my last formula one race."
It is not believed Mercedes-linked Wehrlein is a major candidate for the Williams seat, but he could either become a reserve driver next year or return to DTM.
"It is still unthinkable that I won't race next year," he said in Abu Dhabi. "Racing is my priority, and preferably in formula one."
Another strong rumor is that Marcus Ericsson could also lose his Sauber seat for 2018, despite his strong links to the Swiss team's current owners.
The Swede admitted that Sauber is his only option in F1.
"The chance is good, but unfortunately nothing is decided, which feels strange at the last race of the season," said Ericsson.
The rumor is that Ferrari is pushing Sauber hard to accommodate its other junior driver, Antonio Giovinazzi.
It is expected that Sauber will also be sponsored by Ferrari-linked luxury carmaker Alfa Romeo in 2018.
Ericsson said: "I understand that there are talks with Ferrari about how big the collaboration will be, and I know that Ferrari wants to have two drivers on the team.
"That's my main concern right now," he admitted.
The Leclerc-Giovinazzi-Alfa Romeo rumors come amid chatter that an official announcement could be made by Sauber this weekend in Abu Dhabi.
Ericsson said: "I have not signed anything, so if they make an announcement, that's not good news for me.
"My management is keeping the options open and has contacts with other series," he added.
Hamilton says F1 cars will be ugly starting in 2018
Hamilton Friday in Abu Dhabi
Formula 1's season finale in Abu Dhabi will mark the end of an era of sorts for F1, and the last time the cars "will look good", according to Lewis Hamilton.
The curtain closes on the 2017 season in Yas Marina and the race will mark the last time in F1 history that cars will race in their current form, without the Halo cockpit safety device which has been made mandatory from 2018.
"It's the last year of looking good I think in the cars, it's the last race where the cars will look good," said Hamilton with regret ahead of this weekend's final round.
"I think next year, it's all downhill from there in terms of how they look. But safety will go up at least and maybe it could be successful in some way."
In the past year, a majority of F1's drivers' have opposed the introduction of the controversial safety element.
To no avail unfortunately as the FIA pushed the Halo through on the grounds of safety, even adding the protective feature to Formula 2 cars next year.
A pragmatic Sebastian Vettel believes however that F1's fans will eventually grow accustomed to the cars' new aesthetics
"They are probably right as the cars will look different next year. Everything I've seen so far looks different," said the Ferrari driver.
"On the other hand it is something we all get used to, but no doubt the cars look better now but we'll get used to it and we'll work on the aesthetics so it can be better. It is less of a big deal."