LTi Printing 250 official name of NASCAR XFINITY Series at MIS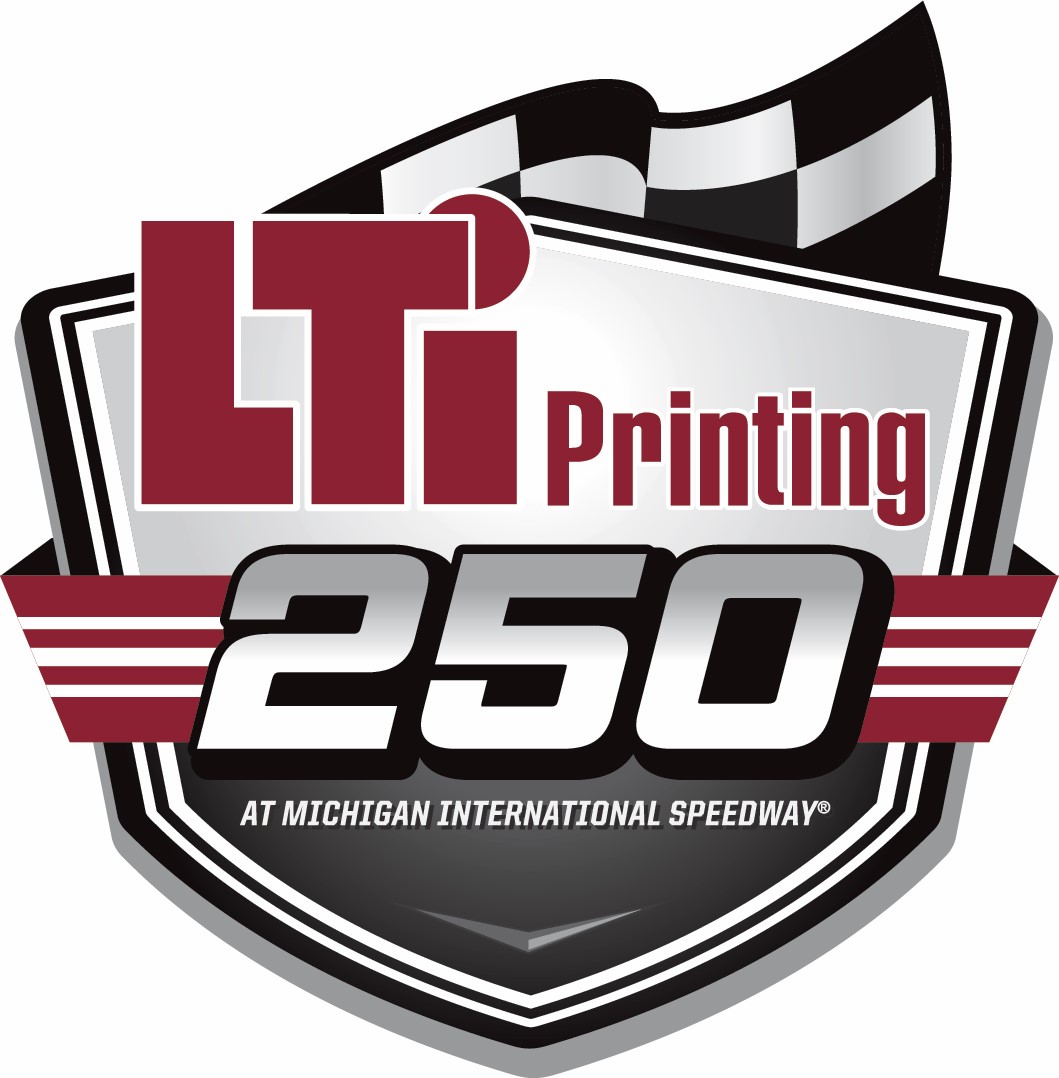 LTi Printing 250
Michigan International Speedway and LTi Printing will continue to expand their strong partnership in 2018. The printing company is increasing its involvement in NASCAR by sponsoring the NASCAR XFINITY Series race on June 9 at MIS.
In the two years since joining NASCAR, LTi Printing has seen immediate rewards on its involvement. LTi Printing sponsored Jordan Anderson during the NASCAR Camping World Truck Series race at Michigan International Speedway in 2016. Then earlier this year it sponsored the NASCAR Camping World Truck Series LTi Printing 200.
"We are very excited to sponsor the NASCAR XFINITY Series race at Michigan International Speedway in June," LTi Printing President Mike Frost said. "We have seen returns on our investment since being involved in the sport. After such an incredible and rewarding experience not only for our business, but also for our employees our goal became clear to increase our involvement with MIS and NASCAR."
When the Sturgis, Michigan family-owned business wanted to increase its involvement in NASCAR, it knew MIS was the perfect fit. LTi Printing quickly jumped at the opportunity to sponsor the truck race in 2017 at the track located only an hour from its facility. And now is ready to take the next step by sponsoring the XFINITY Series race at its hometown track.
"We continue to strive to create business-to-business opportunities for all our partners and it is great to work with a Michigan Company who shares that vision," track President Rick Brenner said. "The NASCAR XFINITY Series LTi Printing 250 race will add to the week-long excitement and entertainment planned for our guests in 2018."
As title sponsor, LTi Printing will utilize business-to-business opportunities created by its involvement in the sport to market its brand and capabilities to other companies. Taking advantage of television, radio, print and social mediums, LTi plans to create new relationships and business partnerships.
The LTi Printing 250 will feature a new aerodynamic package for all the teams competing in the race. The new package will attempt to create more passing opportunities by lessening the aerodynamic advantage on the high speed two-mile oval.
And fans can stay after the LTi Printing 250 for the free Saturday post-race concert featuring 38 Special. After four decades of Southern Rock hits, 38 Special will bring their classics to Michigan International Speedway. All fans with a Sunday ticket will enjoy the concert! The concert will take place behind Turn 3 and all activities will start after the NASCAR XFINITY Series LTi Printing 250 race on June 9.
Fans can renew their tickets to the NASCAR XFINITY Series LTi Printing 250 until Nov. 30 for just $15 at www.mispeedway.com/renewals or by calling 888-905-7223. All kids 12 and under are free for the race.
NASCAR returns to Michigan International Speedway twice in 2018 and you can be part of the action. The Monster Energy NASCAR Cup Series FireKeepers Casino 400 weekend is June 8-10. On Aug. 10-12 the Monster Energy NASCAR Cup Series will return to NASCAR's fastest track.
Michigan International Speedway continues to give renewal guests the best prices. By renewing your grandstand and/or campsite you are guaranteed the best pricing of the season. Renew now and save up to $70 per grandstand ticket and up to $60 per campsite.
Children 12 and under are free on Fridays and Saturdays. On Sundays, children 12 and under tickets start at $15. Children 12 and under can attend three days of NASCAR action for just $15, ensuring families a weekend of fun at affordable prices.
Nestled in the lush Irish Hills of Southeastern Michigan, Michigan International Speedway is NASCAR's fastest racetrack. It has been the love of NASCAR racing and the thrill of a great time for race fans and drivers alike for nearly 50 years.
LTi Printing was founded in Sturgis, Michigan in 1983 and the owners of LTi take great pride in being able to contribute back to their local Sturgis community. Hailing from Sturgis and becoming active community members through their local business endeavors, they continue to work and reside in the Sturgis community to this day. Being family owned and community orientated gives LTi the flexibility to react quickly to the ever changing print buyer's objectives.
Located at 518 N. Centerville Road in Sturgis, LTi provides employment to over 100 local and surrounding community residents. Over the years the company has evolved from a regional provider of printed products, solutions, and services to a renowned international provider. From global giants to small local companies, LTi supplies products nationwide as well as to Mexico, Canada and England.
Competitive pricing, quality and service separate LTi from the competition. With our ISO 9001:2008 certification and a customer service department that averages 18 years of experience, customers can be assured they are partnering with an organization dedicated to quality and professionalism in every aspect of their business.
# # #
2018 Michigan International Speedway Schedule
Friday, June 8 ARCA Racing Series presented by Menards and Monster Energy NASCAR Cup Series Qualifying
Saturday, June 9 NASCAR XFINITY Series LTi Printing 250
Sunday, June 10 Monster Energy NASCAR Cup Series FireKeepers Casino 400
Friday, Aug. 10 Monster Energy NASCAR Cup Series Practice and Qualifying
Saturday, Aug. 11 NASCAR Camping World Truck Series
Sunday, Aug. 12 Monster Energy NASCAR Cup Series