Latest F1 news in brief – Wednesday
Massa to weed his garden in 2018

Massa set for 'sabbatical' year in 2018

Horner opposed to Friday practice axe
Berger's nephew to secure F1 reserve role
Marseille to host Formula 1 street event in 2018 for French GP
Wolff: No backing off despite title triumphs
Wehrlein to step aside for Leclerc in FP1
Red Bull got 'very close' to signing Alonso
Force India to 'take more risks' with fourth secure
Steiner: 2021 power unit a 'good concept'
Massa set for 'sabbatical' year in 2018
(GMM) Felipe Massa says it is possible he will take a "sabbatical" next year before returning to motor racing in 2019.
The Brazilian has announced that, having almost entered retirement this year, he will definitely stop racing in formula one at the end of 2017.
"I wanted to go on for another year," Massa, 36, admitted to Brazil's Globo.
"I was feeling good about how I was driving with the high aerodynamic load and wide tires and it gave me more pleasure to drive than the cars of the last years," he said.
"I had been talking to the team but they did not know which way they wanted to go. I told them I would like an answer before Brazil, which was my limit.
"We had a conversation this past week and they may have a different route. I don't how what or when Williams will decide, but they are taking a different path," Massa explained.
However, Massa says it might now be too late for him to switch to Formula E for 2018.
"There is a great chance of a sabbatical, or a year when I'm going to come up with some things to do, to race, to have fun, but not a championship," he revealed.
"I intend to race in Formula E and I even talked about it lately, but the championship starts soon and most teams are closed already.
"So it's not going to be this time around but instead I will prepare for a good year, a good team and the right way it has to be for me," Massa added.
Massa's impending retirement means there will be no Brazilians on the 2018 grid.
He said: "It's very hard to say what's going to happen without a Brazilian.
"Brazilians like to cheer for another Brazilian, so what will happen is difficult to answer.
"Hopefully, formula one will continue to be a sport where the people still cheer for such an important category, as it has always been in Brazil," he said.
Horner opposed to Friday practice axe
Christian Horner knows teams make money running ride-buyers in practice session 1 on Fridays
(GMM) Red Bull boss Christian Horner is not sure scrapping Friday practice is the right way forwards for formula one.
Recently, we reported that as Liberty Media eyes pushing future calendars beyond the seam-bursting 20 or 21 races, one idea is to turn the format into a two-day weekend.
"Obviously they're trying to free up space for more races," Horner responded.
But he thinks the F1 calendar is already close to saturation point with the current number of races.
"If there's too many chapters, a good book loses its path," said the Red Bull chief.
"I also think it would be a long way to come to Mexico for two days. Or Australia. And I think the Friday gives the promoter the opportunity to bring more fans into the sport," he added.
Horner also thinks the two-day format would hurt the teams, in a sport where track testing is already extremely limited.
"Perhaps it will inadvertently put more pressure back on simulations so that you're turning up prepared to hit the road running, and I'm not sure that's going to be a great balancer between the teams," he said.
Berger's nephew to secure F1 reserve role
Lucas Auer
(GMM) Gerhard Berger's nephew looks set to secure a regular job in formula one.
Earlier, top Mercedes-powered DTM driver Lucas Auer tested for the Force India team, as the two parties share a sponsor in the form of pink-colored Austrian water company BWT.
And now, Auto Bild reports that 23-year-old Auer – whose mother is F1 legend Gerhard Berger's sister – will be a Force India reserve driver next year.
The same publication said Auer will share that role with Mercedes junior and new GP3 champion George Russell, whose parents are reportedly close to Mercedes strategist James Vowles.
Auto Bild also claims Sauber is planning to announce some driver news in Brazil, where Charles Leclerc will drive in Friday practice.
Monaco born Ferrari junior and GP2 champion Leclerc is tipped to race for the Swiss team next year alongside Marcus Ericsson, which means Pascal Wehrlein is being ousted.
German Wehrlein is still in the running at Williams, where a vacancy has definitely opened up following Felipe Massa's retirement announcement.
"I have no deadline," Wehrlein insists.
"It was always quite late the last two years too, so I just hope we can find something and sign a contract for next year and I would be happy."
Marseille to host Formula 1 street event in 2018 for French GP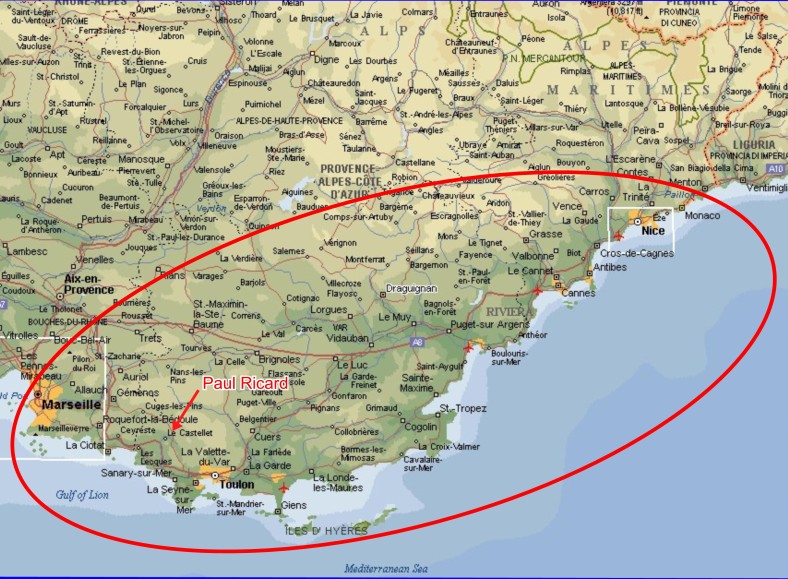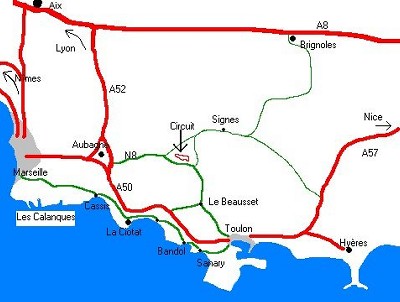 Note Paul Ricard's proximity to Marseille, Nice and Monaco
Marseille will host a live Formula 1 street event in 2018 to promote the returning French Grand Prix.
The event will be similar to the one held in London earlier this year ahead of the British GP at Silverstone.
French GP organisers said the Marseille event will be a "big show" organized by Formula One Management.
France will return to the F1 calendar in 2018 after an absence of 10 years, racing at the Paul Ricard circuit for the first time since 1990.
"There will be a big show in Marseille, in the build-up to the race, like what was done in London this year before Silverstone," French GP director Gilles Dufeigneux told Autosport.
"As far as the grand prix itself is concerned, there will be a fan zone like the one that's been developed this year since the Spanish Grand Prix. It was very impressive at Silverstone and Spa.
"We were in Mexico last week, it was the same, the drivers will agree. It was very professional. The fan zones include simulators, tire changing in the pits, waving the checkered flags and merchandising with a lot of F1-themed merchandise.
"The new promoters [Liberty Media] are giving it all they've got for F1 to become a lot more popular."
Dufeigneux said the exact date of the show was yet to be determined but it is expected to take place "in the week of the grand prix", which is scheduled for June 24.
"The goal is to have strong engagement in the Marseille metropolitan area," Dufeigneux added. Autosport
Wolff: No backing off despite title triumphs
Wolff wants to rub salt in Ferrari's deep wounds
Mercedes chief Toto Wolff insists the outfit will not relent across the rest of 2017, despite wrapping up both titles, explaining that it is treating the upcoming events as "the first two Grands Prix of 2018".
Mercedes clinched a fourth straight Constructors' crown at the United States Grand Prix, while a week later Lewis Hamilton secured the Drivers' title in Mexico.
However, in spite of achieving its 2017 goals with two rounds to spare, Wolff has stressed that Mercedes must keep pushing, in order to gain momentum and understanding for 2018.
"It might be tempting to think that, with both championships now secure, the pressure is off for the two remaining races of 2017, but that couldn't be further from the truth," said Wolff.
"Inside the team, we are looking at the next two race weekends as the first two Grands Prix of 2018.
"We have two races that we are determined to win in order to take that positive momentum into the winter.
There will be no backing off just because the championship business is now done.
"In fact, these next two races speak to every principle that makes us what we are.
"We aspire to excellence in everything we do, from the first lap of the winter shakedown in Silverstone to the final lap of the post-season test in Abu Dhabi.
"And every time we race, we race to win. That is the mind set we take to Sao Paulo."
Wolff added: "Lewis is operating at the peak of his powers right now, and will be determined to add another victory to last year's success.
"Valtteri [Bottas] made a promising step forward in Mexico and will aim to build from this at Interlagos.
"As recent rounds have shown, winning Grands Prix is never easy.
"Red Bull have taken two victories in the past four races and, although we have claimed the other two, Ferrari remain formidable opponents.
"With the championship now settled, the battle for 2018 has already begun."
Wehrlein to step aside for Leclerc in FP1
Charles Leclerc in Mexico for test recently with Ferrari
Sauber has confirmed that Pascal Wehrlein will step aside for Charles Leclerc's fourth and final FP1 run at this weekend's Brazilian Grand Prix.
The Ferrari-backed Formula 2 champion has linked up with Sauber for a quartet of practice runs, replacing Marcus Ericsson in Malaysia and Mexico, and Wehrlein in the United States.
Wehrlein will then return to the C36-Ferrari for the remainder of the weekend's action at Interlagos.
Leclerc, who conducted two days of tire testing in Mexico last week, is set to be one of three youngsters backed by a leading Formula 1 team to carry out practice running on Friday.
Mercedes-backed GP3 champion George Russell will make his Formula 1 weekend debut in FP1 in place of Sergio Perez at Force India, with the Briton also set for an outing in Abu Dhabi.
At Haas, Ferrari reserve driver Antonio Giovinazzi is scheduled for the sixth of seven planned outings, replacing Kevin Magnussen.
Red Bull got 'very close' to signing Alonso
Red Bull came "very close" to signing Fernando Alonso, with a two-year contract for 2009 and 2010 turned down, team boss Christian Horner has revealed.
According to Horner, Red Bull met with Alonso's management over the 2008 winter and offered a multi-year deal, only for the Spaniard to insist on a one-year contract.
Red Bull ultimately kept Mark Webber onboard, and promoted Sebastian Vettel in place of David Coulthard, with Alonso moving from Renault to Ferrari for 2010.
"We got very close to signing Alonso," Horner told Motor Sport Magazine in a wide-ranging interview.
"Helmut [Marko] and I went to see his management at the end of 2008 for the 2009 and 2010 season and we offered him a two-year contract.
Yet another example of Alonso making poor career decisions. Vettel got the ride and won 4 straight titles.
"He would only sign up for one year and we said Red Bull's position was a two-year deal or nothing, and he wouldn't commit to that.
"We thought he'd had a Ferrari contract very clearly for 2009.
"What was weird about that was that Flavio [Briatore] was involved as well, but he was trying to get him for Renault, which he was managing at the time.
"Halfway through 2009, I had an approach to say, 'Could he join mid-season?', because they thought he could win the championship in the car.
"Then he had another conversation in the back of an Alfa Romeo at Spa airport several years later, in 2011 or 2012, and again it never really…
"The most serious discussion was the first one and then it missed its chance."
Horner reckons Red Bull now has the strongest line-up in Formula 1, with Max Verstappen and Daniel Ricciardo.
Verstappen recently signed a new long-term deal, keeping him at the team through 2020, and Horner is hopeful that Ricciardo will eventually follow suit.
"I feel that Max and Daniel represent our best ever pairing in Formula 1 and are currently, probably the best driver pairing on the grid," he commented.
"It's my priority to make sure we retain that, at least until 2020."
Force India to 'take more risks' with fourth secure
Sergio Perez in Mexico City
Force India boss Vijay Mallya says the team will "take more risks" over the final two rounds of the campaign, after securing fourth in the Constructors' standings.
Esteban Ocon and Sergio Perez combined to record Force India's 15th double points finish from the 18 events so far this season at the recent Mexican Grand Prix.
As a result, it holds an insurmountable 99-point advantage over fifth-placed Williams, and has broken its record points tally, from 2016, having amassed 175 points.
"To have confirmed fourth place in the Constructors' Championship for the second consecutive year is a wonderful achievement," commented Mallya.
"I'm incredibly proud of the entire team and delighted we have done so with two races in hand.
"It's already been our strongest season yet in terms of points scored and we are just 25 shy of the 200 points mark – it shows how consistent we have been all year."
On what Force India could do differently in Brazil and Abu Dhabi, he said: "We have the freedom to take a new approach – perhaps by trying some different things or different Friday drivers in the car to see what we can learn for next year.
"We can also be more aggressive with strategies and take more risks.
"We're still hungry for strong results and want to end the season on a high note."
Perez recently called for Force India chiefs to let him and Ocon race freely again, following a spate of incidents earlier in the season, which led to team orders being imposed.
Steiner: 2021 power unit a 'good concept'
Guenther Steiner
Haas team boss Guenther Steiner has backed Formula 1's 2021 power unit proposals, describing the initial blueprint as a "good concept".
Mercedes, Renault and Ferrari have all expressed concerns over the plans, which are based around a simpler, cheaper and louder package.
Key features of the 2021 power unit:
– 1.6-litre, V6 turbo hybrid
– 3000 rpm higher engine running speed range to improve the sound
– Prescriptive internal design parameters to restrict development costs and discourage extreme designs and running conditions
– Removal of the MGU-H
– More powerful MGU-K with focus on manual driver deployment in race together with option to save up energy over several laps to give a driver controlled tactical element to racing
– Single turbo with dimensional constraints and weight limits
– Standard energy store and control electronics
– High level of external prescriptive design to give 'plug-and-play' engine/chassis/transmission swap capability
– Intention to investigate tighter fuel regulations and limits on number of fuels used
Steiner, though, has offered a positive outlook on the developments, albeit admitting that plenty of details still need to be worked out over the coming months.
"They've tried to achieve the things they set out with more noise, more equality and lower costs – that is the aim of it," commented Steiner.
"I think they've thrown out a good concept to start off with. Now the details can be worked out by the technical people.
"The concept is out there and I don't think the concept will be changed.
"Now they need to work on the detail of the concept to achieve the goals they've set themselves with more noise, more equality and lower costs for the customer teams."
Steiner, while keen to keep expectations in check, is hopeful that the 3000 rpm rev limit increase, among other changes, will boost engine sound.
"The noise – if you don't have it, you think it's not important because it's just noise," he said.
"If you hear a V10 or a V12 going by, when you see these historic cars, it sounds beautiful. I think a lot of people like the noise.
"I don't think we'll get to that noise of a V10 or a V12, because you have a turbo on it.
"You can improve, and the aim is with making the rev limit 3000 rpm higher than the current engine, it can be achieved to be noisier. I think it will never be like it was.
"A little bit noisier is good because I think it's great for the fans to hear a car coming from far away."
Asked whether cost is the most important element of the new regulations, Steiner said: "I wouldn't say it's the most important.
"It's as important as the other ones because even if it's cheap, if people don't like it, why would we do it?
"There needs to be a compromise between what the fans like, which is noise, and new manufacturers coming in, which is what people want.
"The cost element is also important for new people, for current people, and for the teams which don't make their own engines, like us.
"It's part of what we need to do to change Formula 1 to be better."
He added: "I think it will take a year to finalize the regulations. I think that's the aim, to have the final version of the technical regulations by the end of 2018.
"Then it's a two-year development process. I think already the manufacturers will start now to develop, because you cannot be behind."