Statement by Richard Petty Regarding Loss of Sponsor (Update)
Richard Petty gets a reprieve
UPDATE Smithfield Foods said that the company has reached a resolution with Richard Petty Motorsports over the fallout from the pork conglomerate's planned move next season to Stewart-Haas Racing. Smithfield is now expected to stay on in some form with RPM next year in addition to its move to SHR. The brand has been on one RPM car for six seasons in a deal thought to be worth around $12M annually, but it announced a move in September to join four-car Monster Energy NASCAR Cup Series team SHR next season.
Richard Petty had accused Smithfield of backing out of a handshake deal to renew, setting off a rancorous back-and-forth. Sources said that RPM had also privately threatened legal action over some clauses in the Smithfield contract that it thought were broken, leading to settlement talks that have gone on for weeks. However, the company in a statement yesterday to THE DAILY said, "We're pleased that there has been a resolution to this misunderstanding. Smithfield has enjoyed its six-year relationship with RPM and like any NASCAR supporter, we want to continue to see the No. 43 car on the track for years to come. Richard is truly a legend in NASCAR — a sport and community of fans that we love and are proud to continue to support in 2018."
LOOKING FORWARD: Sources said that Smithfield's relationship with RPM will be largely different and likely reduced as part of the settlement, and it is unclear whether there will be any paint schemes involved. But there is thought to be a financial component to the settlement. Meanwhile, Smithfield, which works with Illinois-based motorsports agency Protential, has yet to unveil precise details of its upcoming SHR partnership, including the car and driver that Smithfield will sponsor. Sources said that the lack of an announcement has been at least in part due to Smithfield working on the RPM settlement. Current RPM driver Aric Almirola, who will be released at the end of '17, is thought to be the favorite to move to SHR's No. 10 Ford for '18. RPM is now lining up sponsorship to replace Smithfield after announcing Bubba Wallace as the driver of its No. 43 entry next year. Adam Stern/SBD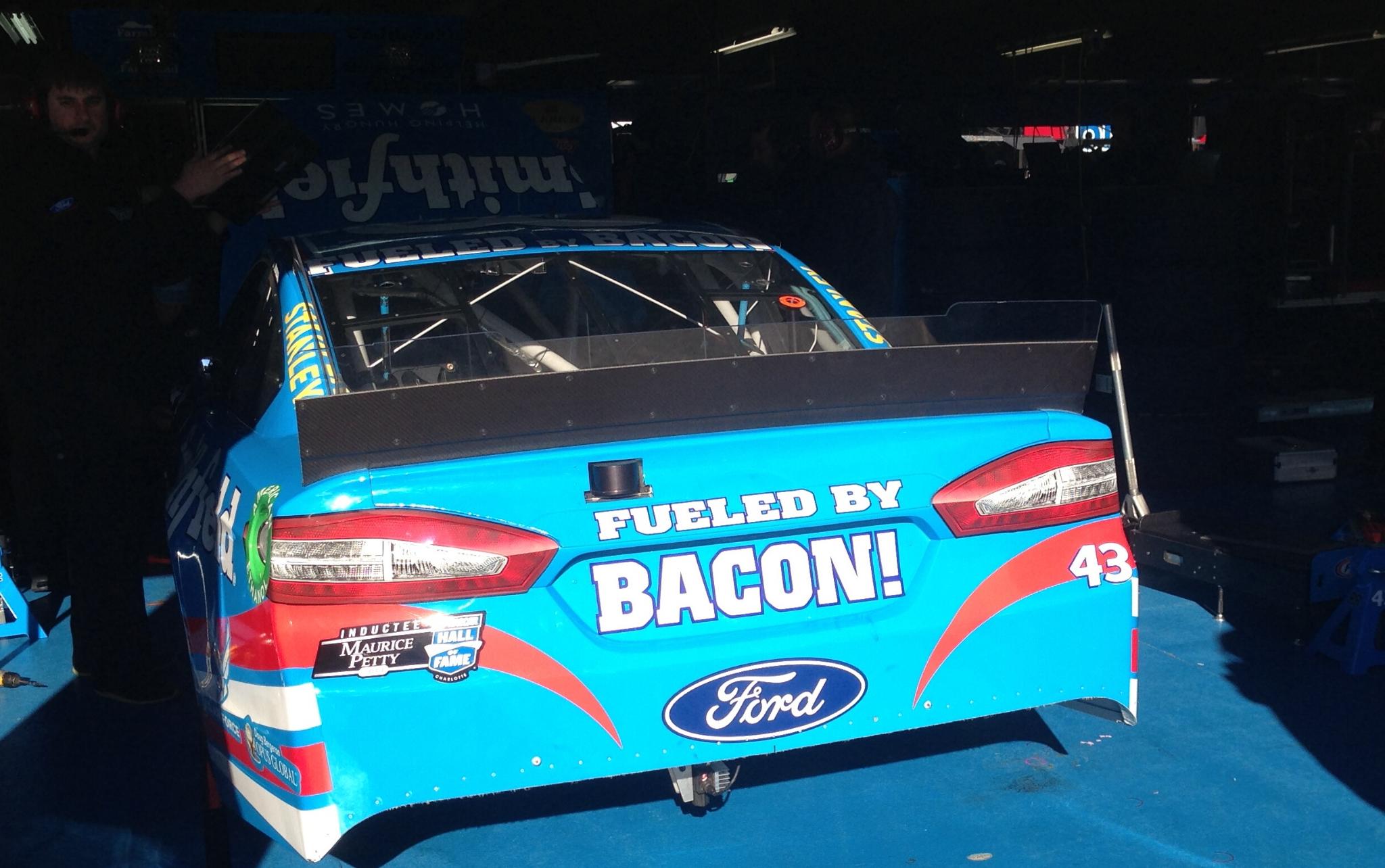 "Fueled By Bacon" is quickly becoming "Fueled By Hate"
09/12/17
Smithfield Foods President and CEO Kenneth M. Sullivan released a statement responding to Richard Petty's statement earlier today:
"We are extremely disappointed that Richard Petty Motorsports (RPM) has chosen to disparage Smithfield – its lead sponsor – after five years and tens of millions of dollars of unwavering financial support, despite years of subpar performance on the track. RPM's claims of a "handshake deal" to extend our sponsorship are unequivocally and patently false. Smithfield's numerous discussions with RPM over the past several months focused exclusively around one issue: RPM's inability to deliver on the track and the organization's repeated failure to present a plan to address its lack of competitiveness. Smithfield is a performance driven company and we demand performance from the people we do business with. For that reason – and that reason alone – Smithfield decided not to renew its contract with RPM when it expires at the end of this year. It is very unfortunate and disheartening that RPM has chosen to disseminate false statements regarding our communications to NASCAR fans who we have supported wholeheartedly with more than a $100 million investment in the sport over the last several years."
A statement from Richard Petty:
"We have had numerous discussions with Smithfield Foods regarding the extension of our relationship dating as far back as February. Over the past few months, Smithfield had continually told me they wanted to be with us, and I recently shook hands on a deal to extend our relationship. I come from a time when we did major deals with sponsors like STP on a handshake. I'm sad to see this is where we are now. This decision is very unexpected, and we are extremely disappointed in this late and abrupt change of direction.
"Losing a sponsor of this magnitude in September is a significant set-back to Richard Petty Motorsports, but Andy (Murstein) and I are committed to moving forward with the No. 43 team. We have a lot of great partners who have expressed their continued support, and our fans will rally around the No. 43. We've been around since 1949, and we'll be around a lot longer."