Latest F1 news in brief – Thursday
Zak Brown eyes a podium with a switch to the Renault engine

McLaren eyes return to podium in 2018

Verstappen steward Salo received death threats
Brazil GP near Sao Paulo safe until 2020 – mayor
Renault boosts F1 budget with Formula E exit
Liberty buys Manor wind tunnel model
FIA moves to deter Mexico corner cutting
Hartley chooses 28 as permanent number
Renault: 2017 reliability not good enough
McLaren eyes return to podium in 2018
(GMM) McLaren wants Renault to power the once-great British team back to the podium in 2018.
After three bad years with Honda, McLaren has dumped the Japanese manufacturer to switch to customer Renault power units.
But McLaren boss Zak Brown denies that the decision to dump Honda was made because of pressure applied by Fernando Alonso.
"He never came and said 'We need a new engine'," he told Auto Motor und Sport.
"Fernando just wanted to know what our plan was about taking a step closer to the front with our power unit," Brown said.
He says another major consideration was that after three fallow years, McLaren simply could not afford to languish again in 2018.
"We have many talented people that the other teams would love to have," said Brown. "We have to provide a healthy platform."
However, dumping Honda will cost McLaren dear, due to lost sponsorship, a Renault engine bill and Alonso's reportedly EUR 30 million 2018 retainer.
Brown said: "We have very good shareholders who put the performance of the team first. And we have a lot of money in the bank."
And so he says he is looking forward to a better showing in 2018.
"It feels like a new start," he said.
"We now have everything we need to be competitive."
However, Brown is warning that fellow Renault-powered teams including Red Bull have a head start over McLaren.
And he added: "The guys at the front are very fast. We need to bring our A-game. We're hoping for podium finishes.
"But if we put the podium as a definite target and finish fourth, then we would be disappointed. But actually that would be our best result in years.
"Will we be able to win the title next year? There a risk of setting the bar too high."
On the other hand, Brown said he likes what he sees from Renault so far.
"We've been at the engine factory a few times and we like what we see," he confirmed.
Verstappen steward Salo received death threats
Will Verstappen fans kill Mika Salo?
(GMM) Former F1 Mika Salo says he received death threats after deciding to penalize Max Verstappen in Austin last Sunday.
Although Australian Garry Connelly received the brunt of the blame, Salo was also on the stewards panel that decided Verstappen's last-lap pass on Kimi Raikkonen was illegal.
It cost the furious Dutchman a podium, but F1 sporting chief Ross Brawn backs the stewards' call.
"The punishment was technically correct, but hard," he said.
Verstappen's F1 rival Nico Hulkenberg said he feels for the 20-year-old driver.
"In a thousandth of a second you make a decision, so I can understand Max's side," the German told Sport1. "It was just an unfortunate situation."
Unfortunate perhaps, but that hasn't stopped some of Max's fans from releasing their fury.
Austin steward Salo is quoted by De Telegraaf newspaper: "I have received several death threats, especially from the Netherlands.
"That should never be tolerated."
F1 boss Brawn says the important thing is that the sport learns from the controversy.
"Once the dust settles, we need to look at this together with the FIA and the teams," he said.
"Technology is becoming better and better in helping regulators across sports, including the Bundesliga or Serie A in Italy," Brawn explained.
"In formula one, we have everything we need for excellent video technology. We then need to find ways to translate that technology into precise and consistent judgements."
Brazil GP near Sao Paulo safe until 2020 – mayor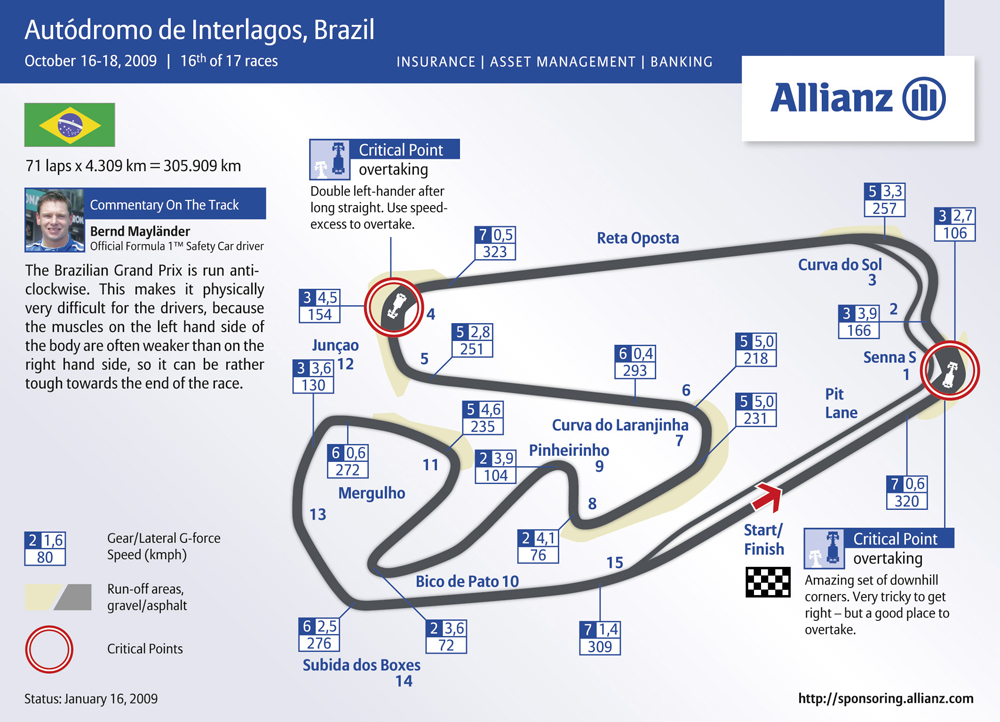 Sao Paulo
(GMM) Brazil's formula one race at Sao Paulo is not under threat.
That is the claim of Sao Paulo mayor Joao Doria, despite the fact Bernie Ecclestone left his post as F1 supremo warning that the Interlagos race was in doubt.
Indeed, the circuit is actually for sale, and the likes of Ecclestone and Pirelli have been linked with buying it.
But mayor Doria insists that Interlagos will continue to host the grand prix even after it is sold.
"This will probably be the last Brazilian grand prix with the city still in control," he is quoted by Globo, referring to the race next month.
"Next year, the circuit will be auctioned. But while there will be a new owner, the contract with formula one will be strictly obeyed until 2020," he insisted.
"Our wish is then that formula one will continue in 2021, 2022, and for a long time. The idea is that it continues for three or four decades," Doria added.
Renault boosts F1 budget with Formula E exit
Will more money make the Renaults faster?
(GMM) The French carmaker Renault has freed up more resources for its works F1 team.
The manufacturer announced that it is pulling out of the all-electric series Formula E to "focus resources on its aggressive goals for formula one".
The title-winning Formula E team will undergo a "smooth transition" to become Nissan, the Japanese carmaker which is over 40 per cent owned by Renault.
"After season 4 we will focus resources on our aggressive goals for formula one," confirmed Renault marketing chief Thierry Koskas.
Liberty buys Manor wind tunnel model
(GMM) Liberty Media will do independent wind tunnel research before finalizing the aerodynamic regulations for 2021.
That is the claim of Germany's Auto Motor und Sport, reporting that new aero rules to boost overtaking and level the playing field will accompany the new 2021 engine.
"Liberty wants to make itself more independent of the teams' expertise," said correspondent Michael Schmidt.
The 2021 car research will be headed by F1 sporting boss Ross Brawn, with Pat Symonds saying he hopes it is more successful than when a similar group worked on the 2009 rules.
"At the time, we underestimated what would happen when hundreds of clever engineers went to work on our good approach," Symonds said.
Symonds will be involved this time around as well, as will former Ferrari designer Nikolas Tombazis.
Auto Motor und Sport reports that Liberty has bought the scale wind tunnel model of Manor's 2017 car, and is now searching for a wind tunnel to run it in.
"We are less interested in the flow around the car, but the flow 40 meters behind it," Symonds revealed.
The report said the wind tunnels of Sauber, Williams and Toyota would be appropriate, with UK-based Williams the apparent frontrunner.
FIA moves to deter Mexico corner cutting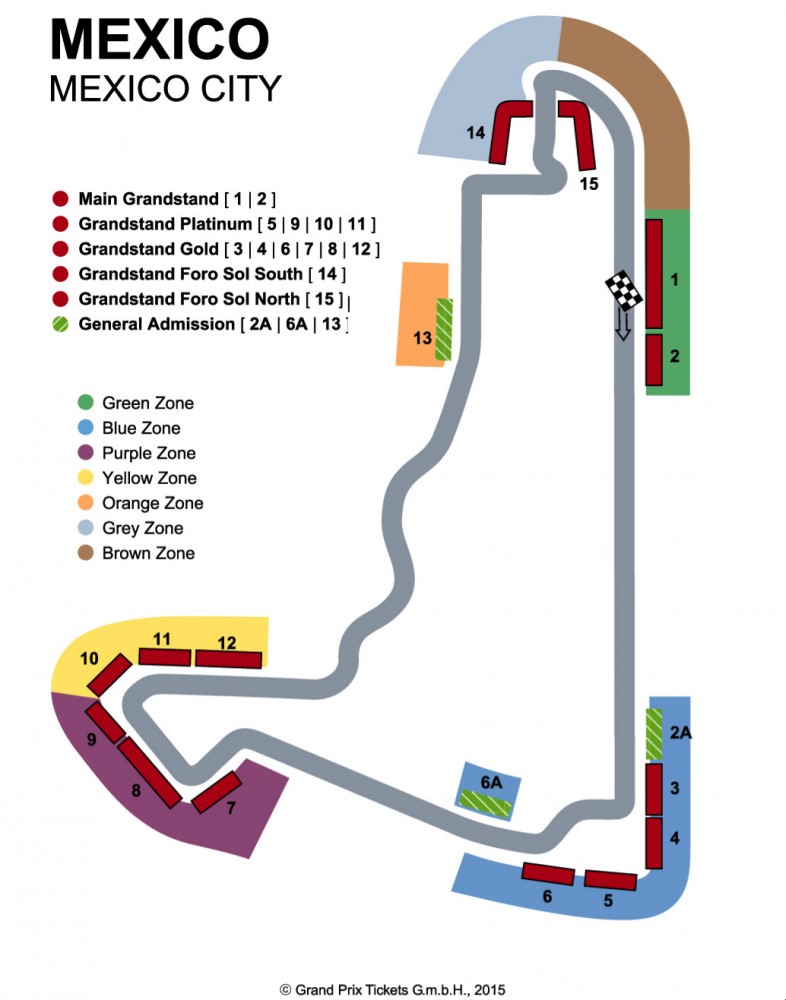 Autodromo Hermanos Rodriguez
The FIA has moved to avoid a repeat of last year's controversy at the Mexican Grand Prix, by installing raised orange curbs through the first complex at the Autodromo Hermanos Rodriguez.
Lewis Hamilton, having locked up, retained the lead after running across the grass – bypassing the apex of Turn 2 – though was judged not to have gained an advantage, having subsequently backed off.
Later in the race, Max Verstappen went wide and also cut the apex of Turn 2, under pressure from Sebastian Vettel, and was handed a penalty, after stewards ruled that he had gained an advantage.
In a bid to avoid a repeat, orange speed bumps 50mm high and 2m long have been installed on the outside of the segment of track between Turns 1 and 2.
In addition, a second series of bumps – of the same size – have been installed on the left-hand-side of the circuit between Turns 2 and 3.
The brief area in which these orange bumps are located has been paved with asphalt, as opposed to grass.
Orange speed bumps have also been placed after the apex curbs on Turns 8 and 11 in order to ensure drivers re-join the circuit off-line, should they run wide.
Elsewhere, tweaks have been made for safety purposes, with the wall straight on at Turn 4 moved back 20m, and additional TecPro barriers installed at Turns 1, 7, 10, 12 and 16.
Hartley chooses 28 as permanent number
Brendon Hartley
Brendon Hartley will switch to using 28 as his permanent number in Formula 1, with the New Zealander set to see out the season with Toro Rosso.
Hartley was drafted in to race for Toro Rosso in the United States and competed with 39 – one of the test numbers assigned to the Faenza-based outfit.
Hartley has retained his seat for Mexico – and is poised to remain part of the operation in Brazil and Abu Dhabi – and has chosen 28 as his permanent number.
Under F1 regulations, drivers can choose any number between 2 and 99 for their careers, aside from 1 – reserved for the reigning champion – and 17, which was retired following Jules Bianchi's death.
The number was most recently used by Will Stevens, when he competed for Manor Marussia in 2015.
"I'm so excited to head to Mexico for my second Formula 1 Grand Prix," said Hartley, who won last month's World Endurance Championship round in the country.
"It was a steep learning curve in Austin last week, so I'm looking forward to putting some of the lessons learnt into practice this weekend here in Mexico.
"It's a tricky venue for the engineers, as the high altitude plays havoc on downforce and cooling, but from a driving point of view it's a great track and one I really enjoy."
Hartley will line up alongside Pierre Gasly in Mexico.
Renault: 2017 reliability not good enough
Remi Taffin
Renault engine chief Remi Taffin has accepted that the manufacturer has suffered from "too many" reliability issues in 2017, as it pushes on with an aggressive development program.
Nico Hulkenberg has retired from three of the last four races due to mechanical gremlins, while customer teams Red Bull and Toro Rosso have also encountered multiple setbacks.
Renault has brought forward 2018 development parts in a bit to accelerate its progress, but Taffin has accepted that, while performance has improved, reliability has been a bugbear.
"Over the course of the season we have made good strides in performance and seen our power units on the podium," said Taffin.
"However, we have suffered from too many reliability issues and it is an area where our attention is strongly focused as we try to continually increase performance on other parameters too.
"On track too, we have brought certain elements which are relevant to our 2018 power unit as we look to take another step forward.
"We have a busy four months before we see the 2018 cars unveiled, as we do every year."
Taffin also expanded on the challenges facing engine manufacturers in Mexico, due to the high altitude of the Aut¢dromo Hermanos Rodríguez.
"There are high speeds through the long straights with the thinner air at high altitude giving less resistance," he said.
"The thinner air means the turbo has to spin at a higher rate to input enough oxygen into the ICE [Internal Combustion Engine], it actually spins around 8 per cent more in Mexico than in Abu Dhabi.
"Equally, fuel consumption over one lap is quite low so energy recovery is less critical in Mexico than at other circuits."