Trailblazing Indianapolis 500 Car Owner Vollstedt Passes at 99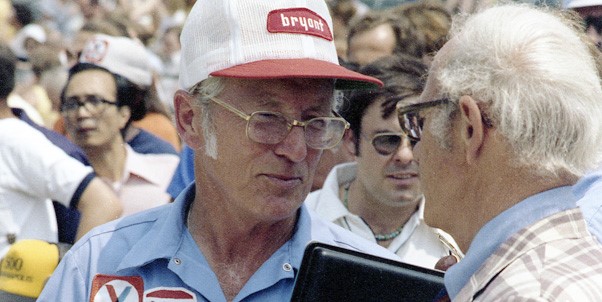 Rolla Vollstedt
Longtime Indianapolis 500 car entrant Rolla Vollstedt, who is perhaps best remembered for bringing Janet Guthrie to the Indianapolis Motor Speedway in 1976 as the first female to be entered for the Indianapolis 500, passed away Sunday, Oct. 22 in Portland, Oregon. He was 99.
Passionate, articulate, outspoken and persuasive, Vollstedt was a high-profile member of the board of directors for the United States Auto Club who served as USAC's car entrant representative from the late 1960s until the 1980s.
Although he had fielded a National Championship car (now IndyCar) in some late-season dirt track events with driver Len Sutton in 1955 and 1956, it was not until the summer of 1963 that Vollstedt first brought a car to Indianapolis. This was one of the very first American-built rear-engine cars to house a normally aspirated Offenhauser engine, and with Sutton driving in summer tire tests, it kept exceeding the official track record, eventually flirting with an unofficial 155-mph run in March 1964.
Sutton qualified the car for the 1964 "500" and was running fourth when a magneto failed after 140 laps.
After a dozen years of fielding drivers like Billy Foster, Cale Yarborough, Dick Simon, Tom Bigelow, Arnie Knepper, Larry Dickson, Denny Zimmerman and others, Vollstedt made headlines in 1976 by providing a car for Guthrie.
Plagued by mechanical issues, the team was forced to withdraw the car without Guthrie having an opportunity to make a qualifying attempt. But the following year, she was back, qualifying on the fourth and final day with the 18th fastest speed overall and the fastest of the entire final weekend.
Guthrie managed only 27 laps of the race before a timing gear broke, but history was made.
Vollstedt often was the first to file an entry for an upcoming "500," and invariably, a car of his was the first to take a "shakedown" lap once the track had been opened for practice at the beginning of May. He learned these most effective publicity-grabbing "stunts" from the very colorful Bryant Heating and Cooling dealer, Phil Hedback, with whom he was often associated, and in turn, Vollstedt passed them on to another longtime partner, Dick Simon.
While Vollstedt's under-financed cars were never among the fastest qualifiers or in the winner's circle at Indianapolis or in other championship events, they occasionally had a good run. Perhaps the one that delights trivia buffs the most is that a Vollstedt entry did once actually qualify second. The venue was Riverside, California, and the occasion was the 300-mile road race which closed the 1967 USAC season. The car ran second for the first 23 laps behind Dan Gurney, who went on to win, and it passed Gurney for the lead for a single lap before breaking a valve.
The driver on that day — believe it or not — was 1965 Indianapolis 500 winner and two-time Formula One World Champion Jim Clark.
Vollstedt was one of the great characters of the Speedway and a mentor to countless mechanics and engineers over the years, including Grant King, Hal Sperb and numerous others. He also came across as a pure enthusiast who, even when he wasn't an official entrant, always seemed to be aligned with a team in some sort of advisory capacity, official or unofficial.