Alexis DeJoria Retiring From NHRA Competition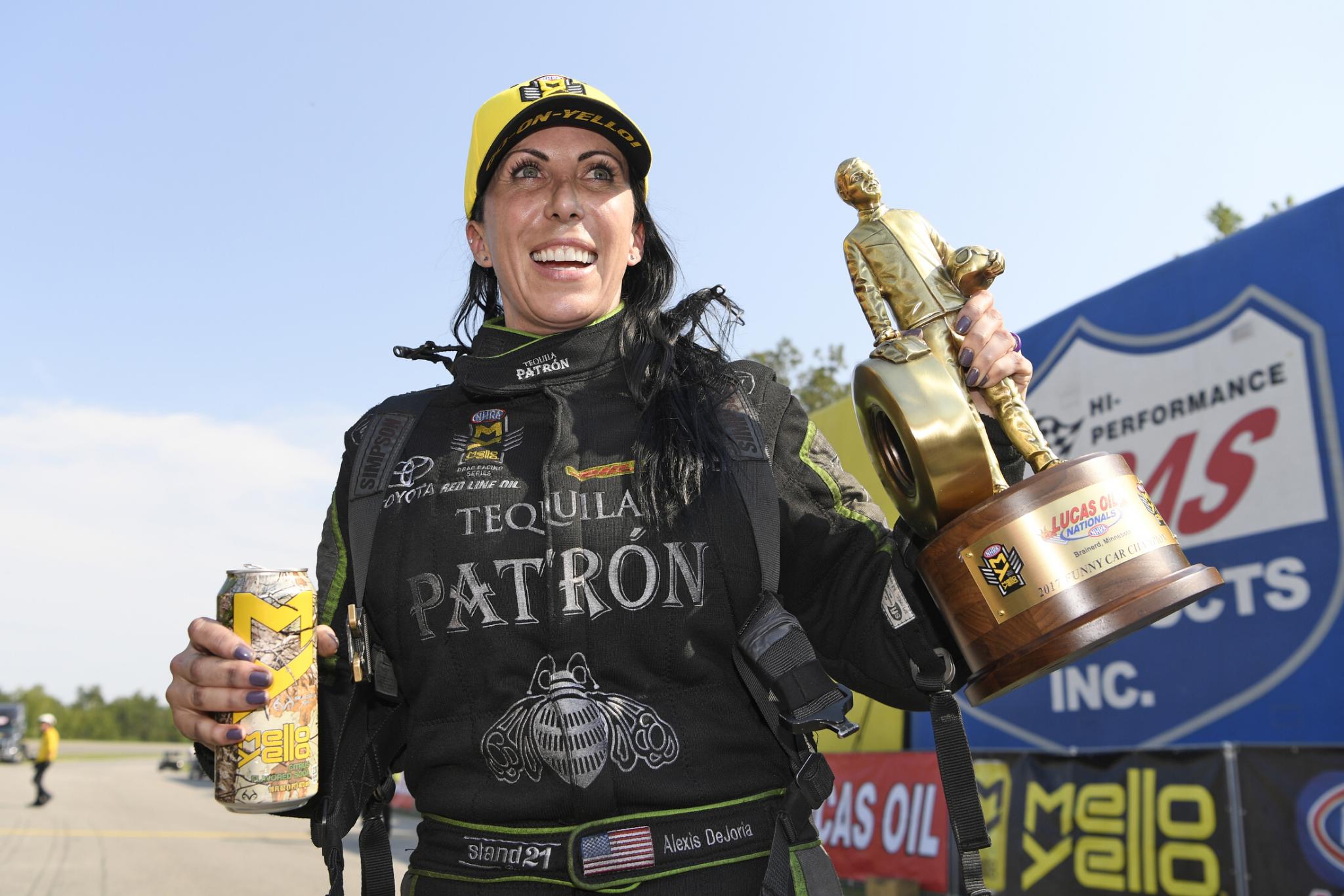 Alexis DeJoria
Kalitta Motorsports Funny Car pilot Alexis DeJoria will retire from NHRA competition following the conclusion of the 2017 season.
"It's one of the hardest decisions I've ever had to make and I will miss everyone so much. My reasoning behind this decision is simple, it's time for me to switch my focus towards my family," said DeJoria, driver of the Tequila Patrón Toyota Camry.
"I've accomplished great things throughout my NHRA career. Working with Kalitta Motorsports and driving for Connie Kalitta has been an absolute honor, the man is a legend. He's been the best boss I could have ever hoped for as a professional nitro Funny Car pilot. I can't say enough about Jim O [Oberhofer], Nicky [Boninfante], Tommy [DeLago] and the entire organization I've had the pleasure of working with these last six plus years. I got to work with and learn from the best."
"I am very proud that she is taking the time to spend with her family," said Kalitta Motorsports Vice President of Operations Jim Oberhofer. I know very well how precious that time is and how easily it can get away from you. Alexis will always be a part of our Kalitta family and we wish her nothing but the best."
DeJoria began her NHRA career in 2005, working her way up the ranks in the Super Gas, Super Comp and Top Alcohol Funny Car categories before making her professional debut at the Texas NHRA FallNationals in September 2011.
In her six-year Funny Car career, DeJoria has earned five event wins (including the prestigious U.S. Nationals), four No. 1 qualifiers, and eight final round appearances. Among her many achievements, DeJoria was the first female Funny Car pilot to break the four-second barrier, and the first woman to compete in 100 Funny Car events.
Prior to competing in the professional Funny Car category, DeJoria found success throughout each level of her Sportsman career, including winning the SportsNationals in Super Comp within the first eight months of her NHRA debut. In the Top Alcohol Funny Car category, DeJoria won both a divisional and national event, becoming the second woman in history to earn a national TAFC event title.
DeJoria plans to fight hard and collect as many round wins and Wallys as possible in the remaining three NHRA races before hanging up her helmet following the 2017 NHRA Finals in Pomona, Calif.
"We still have three races left," said DeJoria, the only driver to have claimed a win in each of the Funny Car, Top Alcohol Funny Car and Super Comp categories. "By no means is it over yet. We still have a fighting and winning attitude. I've got a great car and an excellent team."
"I want to thank our incredible fans and everyone who has supported our team along the way. A huge thank you to The Patrón Spirits Company, Toyota and all of our sponsors who have had our backs these years."
"It's been a tremendous honor sponsoring Alexis DeJoria and her team for the past 12 years, watching her make history time and time again as one of the most accomplished female athletes in motorsports," said Lee Applbaum, Global Chief Marketing Officer at Patrón Spirits Int'l. She's truly been an inspiration and a role model to so many, and we're proud that our brand has been her partner throughout this amazing journey."