Kalitta, C. Force, T. Gray, Hines Quickest in zMax Qualifying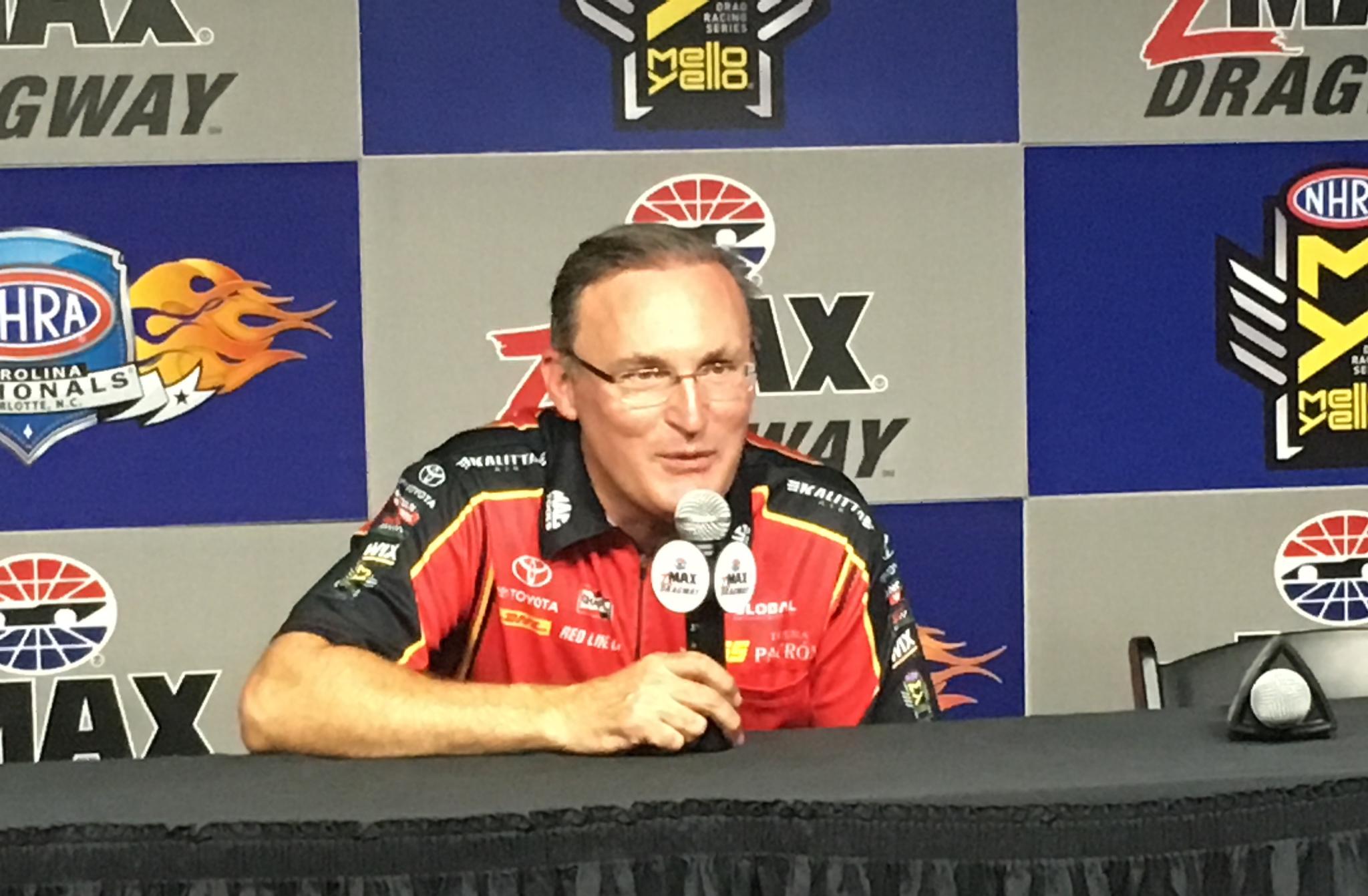 Doug Kalitta
Doug Kalitta, Courtney Force, Tanner Gray and Andrew Hines took the provisional no. 1 qualifying positions for Sunday's 10th annual Carolina Nationals NHRA Mello Yello Drag Racing Series at zMax Dragway – the opening race in the six-race Countdown to the Championship.
Doug Kalitta edged out Clay Millican for the provisional pole in Top Fuel, jumping from second place to the top of the ladder with a run of 3.723 seconds at 329.50 mph in the second session of the afternoon – and nearly three hundredths quicker than his first-round pass.
Kalitta, the defending Carolina Nationals top qualifier, has yet to post a victory in two final-round appearances this season and has secured just one no. 1 qualifier this season, coming at Norwalk back in June. Kalitta's qualifying performance also earned him five bonus points, pushing him to fourth in the Countdown standings.
"It's definitely a good day to have a run like this, especially on the first day of the Countdown," Kalitta said. "The track conditions were excellent, we are really happy with what we pulled off here today and we hope that leads to a strong finish to the season.
"With this being the first race of the last six, I feel like my car is running strong. We haven't got the Wally yet this season, but hopefully we are saving it for these last six races."
Steve Torrence posted a time of 3.724 at 327.51 to jump from ninth to second over two rounds of qualifying. Leah Pritchett holds the third spot with a 3.725, 327.98. Antron Brown is fourth at 3.728, 331.85, followed by Brittany Force in fifth with a 3.749, 329.18.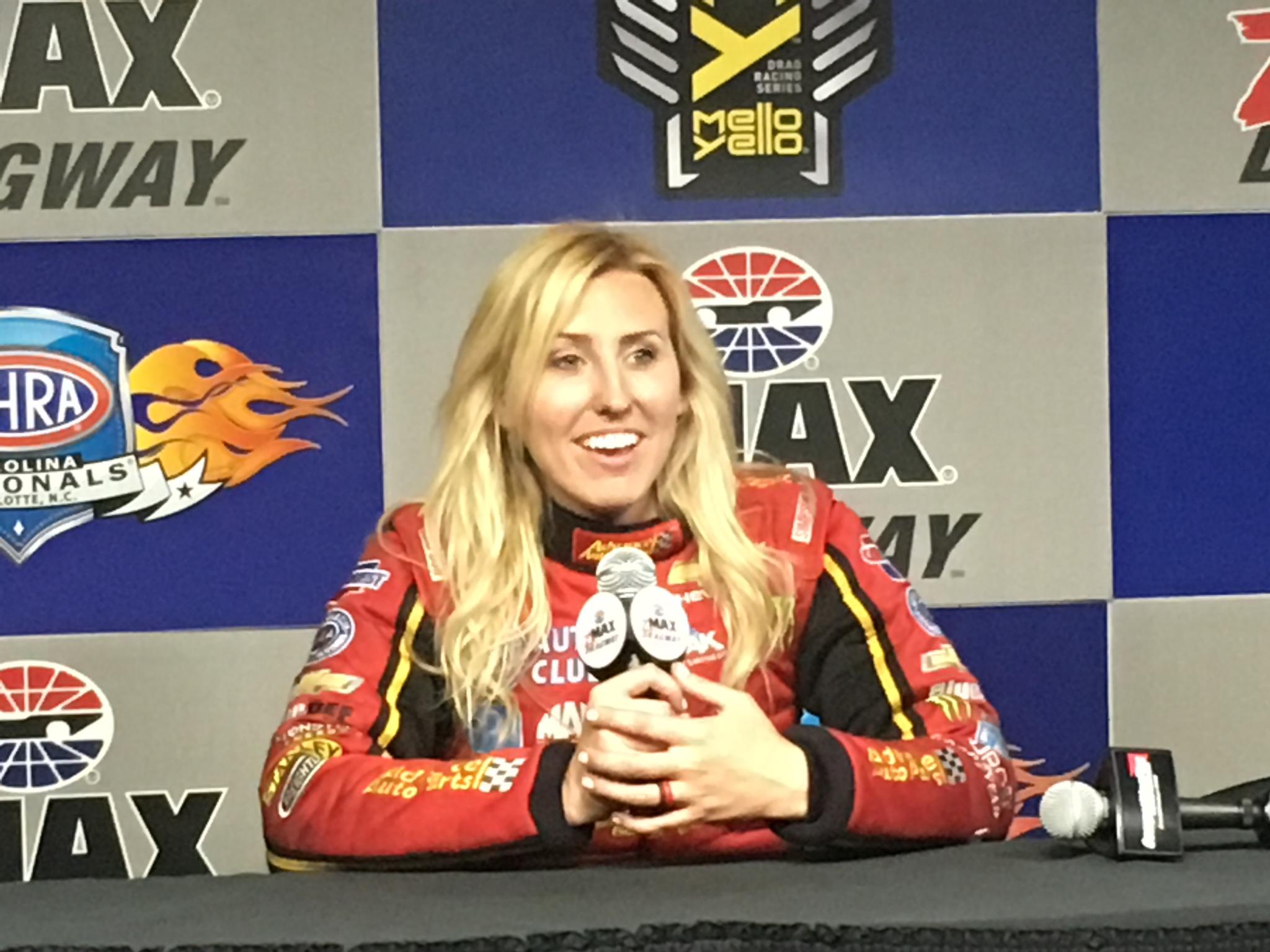 Courtney Force
After going up in smoke in the opening Funny Car qualifying session, Courtney Force powered to to the no. 1 spot with a run of 3.891 seconds at 330.07 mph to beat out J.R. Todd for the provisional pole.
Force, who entered the Countdown as the number six seed, will be looking for her second straight zMax pole in Saturday's qualifying sessions.
"I wasn't too worried about things after that first run," said Force. "It's always good to have such a good team behind you. They are so positive and motivated to get after the next run. Then in Q2, we had that run, and I feel like we had even more left than we showed on the track. I'm excited for tomorrow, and happy with the performance that we had."
J.R. Todd held onto the second spot with a 3.898 at 329.18, followed b y Tommy Johnson, Jr. (3.901, 325.06), Jack Beckman (3.906, 330.47) and Alexis Dejoria (3.910, 324.51).
Rookie Tanner Gray topped the Pro Stock division with a run of 6.559 at 210.50 in the opening session, while four-time Carolina Nationals winner Andrew Hines took the provisional pole in Pro Stock Motorcycle after clocking in at 6.825 at 196.50 to top Jerry Savoie.