Latest F1 news in brief – Thursday
Alonso is determined even at his age

Alonso 'motivation' surprises Rosberg

Alonso: "As the season goes on we're getting stronger and stronger"
Manager hails Raikkonen's Ferrari 'loyalty'
Alesi tips Vettel to sign next Ferrari contract
Rivals 'more consistent' than Hamilton – Rosberg
Vandoorne never worried about 2018 contract
Mercedes may re-think team orders issue – Lauda
Lando Norris a star of the future – Verstappen
Spa-Francorchamps track preview
Mercedes says customer F1 engine supply deals getting cheaper
Alonso 'motivation' surprises Rosberg
(GMM) Nico Rosberg says he is surprised Fernando Alonso is keeping up his "motivation" amid the McLaren-Honda crisis.
On Wednesday, the British team announced that Alonso's 2017 teammate, Belgian rookie Stoffel Vandoorne, is staying next year.
But two-time champion Alonso's decision about what to do next year is less clear.
That is especially true given the fact Mercedes and Red Bull are expected to field unchanged drivers next year, and Ferrari has just re-signed Kimi Raikkonen.
"Formula one is still my priority, it's my life, and winning the world championship is what I'm hoping," Alonso told CNN.
"If I don't see any project that will allow me to fight for the win I will look outside F1 — but that's (a decision for) November-December. I will try all the possibilities before that."
Alonso has suffered through McLaren-Honda's performance and reliability crisis since 2015, and now-retired reigning world champion Rosberg doubts he could do the same.
"For me, after those years of fighting for the championship, I couldn't do that," the German told Auto Bild.
"I would lack motivation."
Alonso: "As the season goes on we're getting stronger and stronger"
The McLaren-Hondas
Fernando Alonso thinks that the McLaren-Honda Formula 1 Team has improved their performance in recent races, and hopes to continue their good form at this weekend's Belgian Grand Prix.
He is excited to restart the season, especially as it returns to the driver favorite track, Spa Francorchamps.
Prior to the summer break, the team managed to have some positive results, notably Alonso's sixth place at the Hungarian Grand Prix along with the fastest lap of the race.
"As the season goes on we're getting stronger and stronger, and I hope the second half of the year will bring us some more points-earning finishes," he said.
Due to the high power nature of the circuit, it is unlikely McLaren will be able to emulate the success of Hungary, but Alonso still believes that the team have made steps in the right direction.
"This race is a difficult challenge for the whole team – the engineers and the mechanics – as you're on the throttle for almost three-quarters of the lap, which makes it's a tough circuit for both the car and the driver."
"We know we'll have to work hard to get any kind of result there, but it's a long lap and there are plenty of overtaking opportunities, so we'll keep pushing to get everything we can from the weekend."
Nevertheless, the Spaniard is looking forwards to the return of Formula One, and driving the Spa Francorchamps circuit again, as with corners like Eau Rouge and Blanchimont it is a firm favorite amongst the drivers.
"Spa is incredible – for many of us it's one of our favorite tracks."
"It's got a legendary reputation and it's totally deserved. The feeling when you drive Eau Rouge is completely different to any other corner on the calendar."
"You're so low in the car and the gradient is so steep that as you go up it, you can only see the sky – it's completely surreal."
Manager hails Raikkonen's Ferrari 'loyalty'
Raikkonen a good #2
(GMM) Kimi Raikkonen's manager says the Finnish driver's experience and loyalty has been rewarded by Ferrari.
Earlier this week, the Italian team said the contract of the 2007 world champion has been extended for 2018.
Many insiders see it as a precursor to a new deal for Sebastian Vettel, the de-facto 'number 1' who openly favors keeping his friend Raikkonen as teammate.
But Raikkonen's manager Steve Robertson told Turun Sanomat newspaper: "The extension of the contract shows how Ferrari appreciates the immense experience brought by Kimi and the harmony inside the team.
"Kimi has been a formidable team player for years and he was always loyal to Ferrari," he added.
Alesi tips Vettel to sign next Ferrari contract
Jean Alesi
(GMM) The decision to keep Kimi Raikkonen is a move by Ferrari to retain its harmonious team "atmosphere".
That is the view of former Ferrari driver Jean Alesi, whose own comments comes amid claims the 2018 deal for Raikkonen is a precursor to Sebastian Vettel also staying at the Maranello team.
Referring to 37-year-old Raikkonen, Alesi told La Gazzetta dello Sport: "He is very much a loved Ferrari driver.
"We are talking about a guy who really loves driving and is a real point of reference for the whole environment at Ferrari," the 53-year-old said.
"Ferrari made giant strides this year and now has a winning car on almost every circuit. And then there is the team spirit that is the great work of Maurizio Arrivabene and Sergio Marchionne.
"The decision to keep Kimi consolidates this atmosphere, as neither Vettel nor Kimi is jealous of the other," Alesi added.
Indeed, Alesi thinks the next step for Ferrari will be to announce a new contract for its de-facto 'number 1' driver, German Vettel.
"I think Vettel will renew as well," he said. "A house is built upon its foundation, but I also think it's true that if there is a driver other than Seb at Ferrari in 2018, he will also have no problems with Kimi."
Finally, Alesi agreed that Antonio Giovinazzi and Charles Leclerc are in the running to be Ferrari drivers in 2019, but also mentions his own son Giuliano, who is a GP3 race winner and Ferrari junior.
"I wish good luck to my son," Alesi smiled. "Seriously, both Leclerc and Giovinazzi have done very well, but I think it's really premature to talk about 2019 now."
Rivals 'more consistent' than Hamilton – Rosberg
Hamilton needs to be more consistent says Rosberg
(GMM) Valtteri Bottas has a real chance of winning the 2017 world championship.
That is the claim of the Finn's predecessor at Mercedes, reigning title winner Nico Rosberg.
Last year, the German beat Lewis Hamilton to the crown, and now Bottas is not far behind the scrap for the lead between his Mercedes teammate and Sebastian Vettel.
Rosberg told the Austrian newspaper Kronen Zeitung: "I have giant respect for Ferrari, who were in no man's land last year. The fact that they now lead is very, very impressive.
"But I still believe that, although it is still exciting, Mercedes will win in the end because they have the best car."
Told that Hamilton must therefore be the favorite, Rosberg responded: "Please do not forget about Valtteri Bottas.
"He really has a chance as he is fast and perhaps a bit more consistent than Lewis. Lewis is unbeatable on good days, but he also has a few more difficult weekends for various reasons."
Rosberg also said Ferrari's Vettel could have the edge over Hamilton, due to the German's mental strength.
"We sometimes see this strength in Vettel go into unfavorable situations like Baku, simply because his self-conviction is so great," he said.
"Lewis is a bit more inconsistent in the head, as it's important how he arrives at the race track — is he at 100 per cent or only 95? So maybe this is a slight advantage for Sebastian."
Vandoorne never worried about 2018 contract
Stoffel Vandoorne always knew his check was big enough
(GMM) Stoffel Vandoorne says he was expecting McLaren to keep him on board for 2018.
On Wednesday, the British team announced that its Belgian rookie driver will stay with McLaren in 2018, notwithstanding his often tough opening campaign alongside Fernando Alonso.
But Vandoorne told Sporza news agency: "To me it was not a surprise because I had a multi-year contract already.
"But it's always nice to know that the team bosses have confidence in my abilities," the 25-year-old added.
Vandoorne also told Belga news agency: "Getting confirmation is always good because now I have 100 per cent confidence that I will be in formula one next year.
"That gives me psychological rest for the remainder of the season — not that it really played on my mind. But as I said, getting confirmation is always nice."
In the official press release, McLaren had described Vandoorne as a future world champion, and Vandoorne said that was nice to hear.
"Hopefully that will be true one day," he said at a sponsor event ahead of his home grand prix at Spa Francorchamps.
"At the moment the results are not there but all the ingredients are there to be successful in the future," said Vandoorne. "Hopefully I can take a step forward next season.
"After a difficult start we have made a lot of progress and the last races in particular were positive for me, especially compared to Alonso," he added.
Vandoorne admits that the start of his F1 career was especially difficult.
"Everyone knows our situation," he said. "But since the beginning of the year it has been improving and hopefully that will continue in the coming weeks and months.
"As for whether I can take a real step next season, we will have to wait until the (winter) tests in Barcelona."
More immediately, Vandoorne will have his first home race in Belgium this weekend, but he is not expecting a competitive outing at Spa Francorchamps.
"I'm obviously looking forward to it," he said, "but for our team, Spa is not a good circuit."
Mercedes may re-think team orders issue – Lauda
Wolff and Lauda will make Bottas move over for Hamilton
(GMM) Niki Lauda has admitted Mercedes may take a different approach in future when it comes to 'team orders' between Lewis Hamilton and Valtteri Bottas.
While Sebastian Vettel is the clear de-facto 'number 1' at Ferrari, his main championship rival Hamilton lost points in Hungary by voluntarily giving up a place to his teammate Bottas.
Team boss Toto Wolff initially defended the team play but subsequently told La Gazzetta dello Sport that Mercedes may "have to adjust" given that Ferrari is putting all its eggs in the Vettel basket.
"Of course we are discussing how we deal with such situations in the future," team chairman Lauda now tells Osterreich newspaper.
And not just that, in Hungary before the summer break Ferrari clearly dominated with a one-two.
Lauda says Mercedes must now hit back.
"We were not allowed to do anything for two weeks but now our engineers are in demand," he said. "We want to catch up with Ferrari's advantage on the slower tracks."
But Spa-Francorchamps may not be a problem for Mercedes, whose 2017 car is always competitive on the faster circuits.
"The track will suit us better than Hungary did," Lauda agreed.
However, the 2017 championship may in fact come down to which driver is stronger, and Red Bull's Dr Helmut Marko thinks Vettel is better mentally than Hamilton.
"That's nonsense," Lauda insisted. "Lewis is mentally equal to Vettel, if not better. And with Bottas we clearly have the better driver combination."
Lando Norris a star of the future – Verstappen
Lando Norris
(GMM) F1 sensation Max Verstappen has joined those who predict a strong future for the latest star of the junior category F3.
Arguably the highest profile driver in European F3 this year is Mick Schumacher, the 18-year-old son of seven time world champion Michael.
"If I had to give Mick some advice, then it would be to concentrate completely on yourself. Don't look left and right to the others," Verstappen, who stepped out of F3 straight into F1 stardom, told Speed Week.
"It sounds simple but I think it's the right recipe," the Dutchman added.
Young Schumacher, however, is just eleventh overall in the European F3 championship, which is actually being led by a rookie Briton by the name of Lando Norris.
Norris recently impressed the F1 world with his performance during the post-Hungary GP test with McLaren.
"My impressions are probably no different than yours," Verstappen said. "Lando Norris is very strong, and he is only 17 years old. Clearly he is promising for the future and a driver we'll hear a lot about."
Verstappen thinks F3 is a good platform from which to spring into F1.
"I was able to learn a lot and found that the cars are not unlike formula one," he said.
"I'm sure F3 is one of the main reasons I made it so quickly into formula one," he said.
Spa-Francorchamps track preview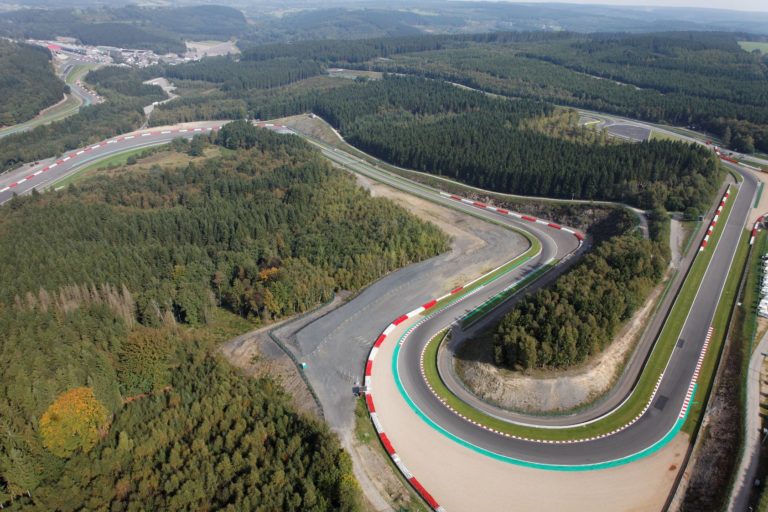 Spa
Formula 1 returns from its summer break and sets up shop in the Ardennes forest this weekend for the Belgian Grand Prix. That means these 2017 beasts will be tackling my favorite circuit on the calendar, Spa-Francorchamps.
The famous 7 km ribbon of tarmac is one of the most demanding circuits in the world with some of the most recognizable corners in motor racing. While it has changed over the years, it remains an icon of Formula 1, and will pose a lot of challenges to the 20 drivers who will attempt to tame it this weekend.
Overtaking places
Turn 1, La Source, can be a place to slip through, though the short pit straight makes it difficult. Still, the heavy braking and tight angle opens the door. With the high downforce of modern cars we have seen some incredibly brave wheel-to-wheel action through Raidillon and Eau Rouge as well.
However, the best overtaking spot of the lap comes at the top of the Kemmel Straight going into the Les Combes trio of corners. The DRS zone, along with the fact that these cars aren't touching the brake pedal from La Source all the way up to turn 7, creates a lot of speed differential and some dramatic overtaking opportunities. There is also a chance for a lot of wheel-to-wheel action all the way from turn 7 to 11, where the narrow left kink forces single file racing, and Pouhon can be unforgiving to those that get off line.
The next chance for overtaking is a dive into Stavelot, but there is a gravel trap waiting, making it very risky. From turn 16 down to the new Bus Stop at 19 is flat out, and while Blanchimont requires precision, Max Verstappen has shown the brave can still find a way past.
The heavy braking into 19 is the other main overtaking point, however the switch-back of 20 limited the angles of attack.
Strategies
Spa throws up some unique challenges. It's an incredibly long track that can kill tires in qualifying if drivers are too aggressive early in the lap. It also has a nasty habit of raining over some sections of the track and not others.
Usually just 44 laps, the Belgian Grand Prix is always a strategic nightmare for teams. Leaving a driver out a lap too long is more costly here than anywhere else, which means the pit wall is never quiet.
The choices teams have made when it comes to tires this weekend are wildly different. Mercedes have gone more conservative with Lewis Hamilton, taking four of the hardest available compound, while the Red Bulls have been extremely attacking, limiting themselves when it comes to race day but putting a few more bullets in their chamber for Saturday's qualifying session.
We have seen the ultrasoft tire last for 20+ laps at some circuits this year, but around Spa getting ten good laps out of it will be tricky. A stoppage last year took away one pit stop from the teams, but this is going to be a two stop race, with anyone starting on the ultrasofts likely to head in very early. The supersofts are likely to be the superior race tire, but the practice sessions will be vital in discovering the wear rates.
Mercedes says customer F1 engine supply deals getting cheaper
Mercedes customer engines getting cheaper
Mercedes boss Toto Wolff says customer Formula 1 engine supply deals are becoming cheaper, and he insists that teams shouldn't complain about the prices.
Wolff suggests that prices will drop further after 2021, when a new engine formula will be introduced that is likely to feature a level of technology that is simpler for manufacturers to develop.
"The engine development costs big money, and the engine departments of all the current suppliers are loss-making entities which shouldn't be the case, so we're trying to contain that," Wolff told Autosport.
"On the other side we have found an agreement with the FIA to reduce the prices to all engine customers over the next years to levels that are the lowest ever in F1.
"If you get this kind of engine at prices like $12-14m, which is what we're trying to achieve, I have no understanding for somebody that claims the engines are too expensive."
Wolff says that engine costs are now a relatively small element of a customer team's budget.
"It's 5% of the big teams' overall costs, and for the smaller teams it's between 8-10%," he said.
"Is that acceptable for a sport that's called motor sport?
"The very opportunistic and one-sided argument of certain teams to push the engine prices further down, and on the other side to spend £200m plus on chassis development, isn't correct."
Wolff says that Mercedes is looking at the bigger picture, and not seeking to maintain its current technological advantage.
"We've proven in the past that we were not just opportunistic, and trying to push through regulations that fit us," he added.
"We were against the current chassis regulations because we felt that it would become too expensive, and ultimately this is exactly what happened.
"But we understood that it needed a change to maybe shake the competitive environment up a little bit, so it was OK.
"The same applies to 2021 engine regulations. I'm very well aware that there are deficits in the current engine concept.
"Maybe we can make it less complex so that fans can really understand how [energy] recovery really functions.
"Maybe we can take systems off that provide too much of a differentiator between the different concepts.
"How we perceive the engines in terms of the sound is something that is close to my heart as well, because I think it is an important factor.
"We have enough time to prepare, I'm not seeing any big headwind from any current or potential supplier, and that shows me we are heading in the right direction.
"There's broad agreement among all current engine suppliers and future engine suppliers on what the main pillars of the engine going forward need to be, and that is a V6 bi-turbo engine, maybe having less complicated energy recovery systems, but hybrid plays a role, electricity plays a role.
"Technology as a differentiator is important, and it needs to be cutting edge. And everybody understands that." Autosport