Latest F1 news in brief – Tuesday
F1 needs to work on perfecting the closed cockpit and forget about the ugly halo. The slope must be 23-degrees or more or it cannot be optically clear

Halo rules 'too late' for 2018

Verstappen 'stronger than I was' – Scheckter
Formula E is 'the future' – Rosberg
Boutsen tells Vandoorne to have 'patience'
Hembery wants 'regionalized' F1 calendar
Toro Rosso-Honda talks fall through – reports
Force India wants imminent Perez deal
Raikkonen tips strong future for Leclerc
Mercedes approach gives Vettel advantage – Wolff
Verstappen says 2018 key to Red Bull future
F1 teams load up on Super Softs for Italy
Halo rules 'too late' for 2018
(GMM) F1 engineers are worried the precise regulations for 'Halo' are arriving too late for 2018.
Auto Motor und Sport reports that the cockpit protection device is not just aesthetically challenging, but will have a major impact on the design of next year's cars in terms of aerodynamics and weight.
"But the precise Halo rules are only available from September," said correspondent Michael Schmidt.
Force India technical boss Andy Green confirmed: "That's too late. In terms of the monocoque, time is running out."
Green's counterpart at Toro Rosso, James Key, explained: "The center of gravity is going up and the weight distribution moves towards the front.
"Also we have to stiffen the cockpit sides for the load tests, which means a different carbon structure in the corresponding places."
Safety aside, however, one potential upside to the Halo introduction is that it introduces a new area for innovation, with the FIA allowing teams to shape the upper side for aerodynamic purposes.
"This will help to minimize the aero drawbacks," Key agrees.
Verstappen 'stronger than I was' – Scheckter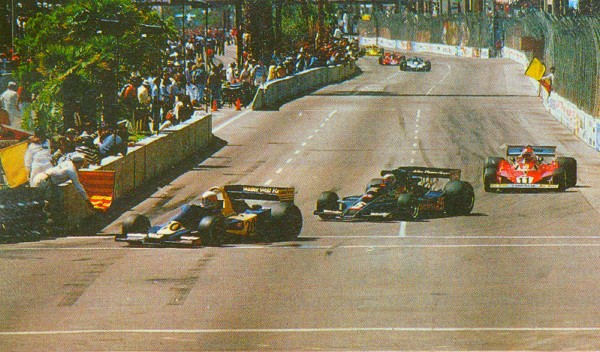 Scheckter leads Andretti and Lauda at Long Beach in 1977
(GMM) 1979 world champion Jody Scheckter says he sees similarities between himself and F1 sensation Max Verstappen.
"Yes, he reminds me of myself in the beginning, although he is perhaps stronger than I was," the South African, who now runs an organic farm, told Italy's La Repubblica.
"I'd also like to say I was like Hamilton, but I had accidents that he never had," the former Ferrari driver added.
"Vettel is very strong now and also earlier when the cars were different, but three years ago Ricciardo beat him.
"As for Alonso, he is good on the track but he behaves incorrectly, such as his year (2007) at McLaren," Scheckter concluded.
Formula E is 'the future' – Rosberg
Rosberg knows internal combustion engines have no future
(GMM) Reigning F1 world champion Nico Rosberg says the all-electric single seater series Formula E is "the future".
"This is the future of the world and it will be exciting to see when all those manufacturers put their cards on the table," said the German, referring to the prospect of Mercedes taking on other carmakers including Audi, BMW and others.
Rosberg was speaking to DPA news agency in Stuttgart, where his title-winning car of 2016 was added to the Mercedes museum.
The car takes the place of a former Lewis Hamilton machine, with Rosberg winking: "That's ok with me.
"This is a very emotional moment, as I was here as a 14-year-old."
But Rosberg, 32, said his F1 career is "definitely over".
"Now I'm in a great situation in my life — it's like a discovery phase," he said. He also confirmed that his second child will soon be born.
There has, however, been speculation Rosberg might one day return to racing, such as to run Mercedes' Formula E program.
"Racing will always be fun to me, so let's see what happens. I will always be passionate about our sport and there will always be options to be involved.
"It does not have to be tomorrow, it could be in ten years, but I will be open to all possibilities," Rosberg added.
He did confirm that future technology, like that seen in Formula E, is a particular personal interest.
"It will change our world completely," Rosberg said. "We'll have cars that drive themselves and not just in 20 years — it's just around the corner.
"I'm very interested in how our lives will be simplified by that," he added.
As for the outcome of this year's F1 title battle, Rosberg said of Lewis Hamilton and Sebastian Vettel: "Both of them are good mentally, but Sebastian is also strong in unfavorable situations, as we saw in Baku.
"As for Lewis it is always interesting to see how he gets to the track — whether he's at 100 per cent or just at 95. But it will be a very good second half of the season and I hope that it's a huge battle at the last race."
Boutsen tells Vandoorne to have 'patience'
Patience lad
(GMM) Former F1 driver Thierry Boutsen has backed Belgian countryman Stoffel Vandoorne to have a good career despite his very bad start with McLaren.
The three-time grand prix winner achieved his success with Williams, but he says it "hurts" to see McLaren suffering with its Honda power at present.
"If you like formula one, it hurts to see where they are," Boutsen told the Dutch publication Formule 1.
"But Stoffel must persevere. As a driver you have to block out the rear view mirror because you have to always look ahead," said Boutsen, who is now 60.
"He still has time. He's only 25 and my first victory also took time. But I knew from the start 'Give me a good car and you'll hear the Belgian anthem'," he added.
"So he must have patience. From what I saw in the lower classes I can say confidently that Stoffel has the potential to be world champion."
Boutsen said Vandoorne's place on the grid is already a testament to his talent, given the difficulty for Belgians to break into top-level motor racing.
"For Belgians it is so much harder to get to F1," he confirmed.
"Belgium has no big sponsors, so you have to do it all alone. I know it well, as at Williams I was better than my teammate Riccardo Patrese but as an Italian he was commercially more interesting.
"And another sponsor, Labatt, wanted a driver for the British market, which was Nigel Mansell. As a Belgian you always have to show more than an Englishman, Italian or German," Boutsen insisted.
Hembery wants 'regionalized' F1 calendar
Paul Hembery
(GMM) Former Pirelli F1 boss Paul Hembery thinks the sport's calendar should be "regionalized".
While the Briton is now the Italian tire maker's boss of Latin America, he backed new F1 owner Liberty Media's push to continue to globalize the sport.
"If we increase the number of races, we should regionalize them," he told Auto Motor und Sport.
"So one block in Europe, one in America, another in Asia. It would reduce the travel stress, and bring formula one closer to the region because they will have a 'season within the season' for a few months in their region.
"Our research has shown that many people struggle to follow F1 throughout the year when one start is in the afternoon and the next is at midnight. A question I often hear from fans is 'Is there a race on this weekend?'
"For instance, we could have eight races on consecutive weekends, and then another month's break to breathe," he proposed.
Force India wants imminent Perez deal
Force India wants Perez to hand over his huge Carlos Slim check now
(GMM) A new Force India deal for Sergio Perez could now be imminent.
The Mexican flirted with a move to Renault for 2017 but instead re-committed to Force India.
He said he is happy with his choice.
"I think the team has been moving forwards every year," said Perez.
"There is a lot more interest in terms of sponsorship into the team but it's not easy to make the next step with the big boys.
"In terms of my future, I just hope that once I come back after the summer break, I can have a new contract."
And Force India's sporting boss Otmar Szafnauer told Auto Motor und Sport: "I am confident that we will reach agreement with Checo before the end of the summer break."
And if not, he answered: "Then we will look on the market for alternatives."
Raikkonen tips strong future for Leclerc
Leclerc will probably replace Raikkonen in a couple of years
(GMM) Kimi Raikkonen has tipped a strong future for Ferrari junior Charles Leclerc.
Monaco-born Leclerc, 19, is dominating the former GP2 series Formula 2 this year and he recently impressed at the wheel of Ferrari's 2017 car at the post-Hungary GP test.
"It's not easy to do well in a different car from what you normally drive," the Finn is quoted by La Gazzetta dello Sport.
"But Leclerc has shown great progress and for sure he will do great things in the future."
Leclerc has been linked with a seat at Sauber next year, with the Swiss team's boss Frederic Vasseur saying he is open to taking a driver from Ferrari.
"I certainly wanted to impress as many people as possible, but the priority was just to make my contribution to Ferrari," Leclerc said of the recent test.
"Hopefully there will be opportunities at the end of the season."
Mercedes approach gives Vettel advantage – Wolff
Wolff and Lauda need to favor Hamilton now
(GMM) Toto Wolff says Mercedes might need a change of tack in order to beat Ferrari's Sebastian Vettel to the 2017 title.
Before the summer break, Vettel won the race in Hungary whilst his closest championship challenger Lewis Hamilton lost more points by voluntarily letting his Mercedes teammate Valtteri Bottas pass late in the race.
Wolff told La Gazzetta dello Sport: "It is clear that Ferrari is all about Vettel, while our philosophy of having two drivers means we are disadvantaged.
"In the last few years this was not a problem as we were fighting for the championship within our team. But now it's different and we have to adjust," the Mercedes team boss said.
"I'm discussing it with James Allison," Wolff continued. "It will not be enough to correct the problems with the car, as the past years were abnormal championships."
Meanwhile, the Austrian hit back at persistent rumors that with Vettel yet to re-sign with Ferrari for 2018, the German driver could actually be headed to Mercedes.
"That is not true," said Wolff. "We never talked to Seb.
"One of our principles is to talk first with our drivers and see if there is a willingness to continue. Hamilton's contract ends in 2018, but for now there is no problem," he added.
Verstappen says 2018 key to Red Bull future
Verstappen will leave Red Bull after 2018 if they are not winning
(GMM) Max Verstappen says 2018 will be a key season for Red Bull and his own future in F1.
Amid the Dutchman's difficult season so far, there has been speculation he is being wooed elsewhere — perhaps by Ferrari.
But while visiting the DTM race in Zandvoort at the weekend, Verstappen insisted: "I've always said I have no reason to leave my current team if I have a competitive car.
"At this moment we are not where I want, but it does not mean I want to leave now," he is quoted by La Gazzetta dello Sport.
"If in two or three years we do not make progress, then it would be a different story. I think next year we will understand what the future will hold for us."
And so for the immediate future, Belgian-born Verstappen played down his chances of success at his 'home' race at Spa-Francorchamps this weekend.
"Mercedes have the best engine," he said.
"We continue to develop the car, but everyone else does too. In the engine area, we do not have much to deal with, unlike other teams, so we have to do it all with aero," Verstappen is quoted by the Dutch source Formule 1.
Finally, the 19-year-old played down the apparent tension between himself and teammate Daniel Ricciardo, following their collision in Hungary.
"These kinds of things happen," said Verstappen. "You talk about it and then you move on."
F1 teams load up on Super Softs for Italy
Formula 1 teams have loaded up on the softest available tire for the Italian Grand Prix, which directly follows this weekend's Spa-Francorchamps event in a back-to-back sequence.
Pirelli will bring its Super Soft, Soft and Medium compounds to Italy, matching the selection made for China, Bahrain, Azerbaijan, Britain, Hungary, Malaysia, Japan and Brazil.
At the Autodromo Nazionale Monza, all drivers will take either nine or 10 sets of the Super Soft rubber, two or three sets of Softs and just one, mandatory set of Mediums.
As usual, drivers were free to pick 10 out of 13 compounds; a set of Super Softs will be held for Q3, and a set of Softs and Mediums for the race (one of which must be used).