Latest F1 news in brief – Tuesday
Red Bull Aero Expert Adrian Newey apparently had his wind tunnel all screwed up

Wind tunnel problems hurt Red Bull – Horner

Gap between us and Mercedes and Ferrari is too big – Horner
No 'trend' in Ferrari vs Mercedes battle – Binotto
'No intention' of breaking contract – Sainz Jr.
McLaren proposes F1 race in Woking
Raikkonen adamant he still 'has the speed'
Wind tunnel problems hurt Red Bull – Horner
(GMM) Christian Horner says problems at the factory caused Red Bull's early-season problems in 2017.
The former champions are now getting closer to title protagonists Mercedes and Ferrari, but only after a hard push to identify the problem and close the gap.
"The race track didn't show what our tools had promised," team boss Horner told Auto Motor und Sport.
"It put us back two months, but then you have to work twice as fast as the others because they're not standing still."
Asked what exactly went wrong at Red Bull's Milton Keynes headquarters, Horner explained: "It was mainly the wind tunnel that let us down.
"The larger model and tyros gave us different results between the track, the CFD and the wind tunnel."
However, another issue has been customer engine supplier Renault, Horner said.
Asked how much the French-made engine has improved since the start of the season, he answered: "I'd say two tenths.
"By Renault's own estimates they are behind their targets, but they are working very hard to catch up," said Horner.
But other factors may also have been in play, like Ferrari's supposed 'oil in fuel' technology trick, and the fact a clever Red Bull suspension system was banned.
Referring to the oil trick, Horner said: "It definitely benefited those who had it, but it wasn't Renault. Now we're all back on the same page."
As for the suspension, he added: "We tested the system but it didn't give us enough to justify the additional weight, so I don't think that hurt us at all."
Gap between us and Mercedes and Ferrari is too big – Horner
Christian Horner throwing in the towel
Christian Horner acknowledges that his Red Bull team are unlikely to reel in Mercedes or Ferrari in the 2017 Formula 1 constructors championship, with the nine races remaining on the calendar, but is urging his team to try and outscore Ferrari in the latter half of the season.
In a recent interview Horner conceded, "From a championship point of view I think the gap between us and Mercedes and Ferrari is too big to haul back but I would like to at least outscore Ferrari certainly in the second half of the year."
But added, "I think if we can get into a situation to challenge for podiums and even the higher places on the podium at a couple of races between now and the end of the year then that is a realistic and I think aggressive target for us."
Stats show that Red Bull – with Daniel Ricciardo and Max Verstappen – have 184 points with one win to their credit after 11 races, while Mercedes lead the constructors' standings with 357 points and Ferrari on 318.
It is clear that Mercedes and Ferrari have the better package, with Red Bull lacking about half a second when it matters. Much of this deficit can be attributed to their Renault (TAG Heuer) power unit.
But when asked if it is up to Renault to raise their game, Horner replied, "It's a collective ball in everybody's court!
"We all need to improve, and I think in Formula 1 you can't leave any stone unturned. So even though we've put performance on the car [in Hungary] we will be revisiting all of those components and saying: OK how can we be better?"
"And it's that philosophy and approach that has served us tremendously well for pretty much the last 10 years," added Horner.
No 'trend' in Ferrari vs Mercedes battle – Binotto
Ferrari's technical boss Mattia Binotto
(GMM) It is not possible to say that either Mercedes or Ferrari has the edge at the mid-season point in a close battle for 2017 spoils.
Prior to Hungary, where Ferrari scored a one-two finish and Sebastian Vettel pushed out his points lead over Lewis Hamilton, it seemed clear that Mercedes had gained the upper hand.
Indeed, Mercedes chief Toto Wolff is now urging caution after Hungary, with Ferrari's technical boss Mattia Binotto agreeing that the 2017 battle will be played out race by race.
"I think each race is different to the others," he said.
"There were races at the start of the season where we were competitive and others where Mercedes has been competitive.
"So I don't think there is a clear trend in the competitiveness of the two teams," Binotto added.
Reigning world champion Nico Rosberg this week said how the big two develop their cars until the Abu Dhabi finale in November will be crucial.
Binotto agrees: "Certainly the development is very important. That has to be done race by race.
"There are still many races to go, we are at just half of the season and I don't see any reasons why the trend needs to be for one (team) or the other."
'No intention' of breaking contract – Sainz Jr.
Junior has to face reality – he has no other options but Toro Rosso
(GMM) Carlos Sainz Jr. says he is happy tensions with his Red Bull and Toro Rosso bosses have calmed after an intense recent period.
As the current August break approached, the Spaniard appeared at odds with his bosses as a he reportedly rebelled against his 2018 contract and fought over an on-track clash with teammate Daniil Kvyat.
Rumors of a switch to Renault have been rife and recurring, but the 22-year-old confirms that he is under contract to Toro Rosso.
"As in life in general, a contract has a lot of importance in formula one," Sainz Jr. told the Spanish-language Soy Motor.
"Thinking about my situation, I'm happy where I am and have no intention of breaking any contract."
However, tension spilled over at Red Bull's own Austrian grand prix, where Sainz said he was "unlikely" to remain committed to the junior team Toro Rosso for 2018.
He was fiercely rebuked for the comment by his bosses Dr Helmut Marko and Christian Horner.
"I think everything was taken out of context," Sainz explains now, "both in my statements and maybe the reaction on their side.
"It was cleared up and is now understood a lot better. We are all much calmer and happier now," he added.
Finally, Sainz Jr. played down the apparent dispute over on-track clashes with his teammate Kvyat.
"It's just things that happen," he said. "I think in a year of formula one, there will always be a race with a little tension with your teammate, and another one in which the team boss says something.
"I'm lucky that I'm doing a very good year, contributing very good results for the team, that I have many points. I think for that I can be happy and proud."
McLaren proposes F1 race in Woking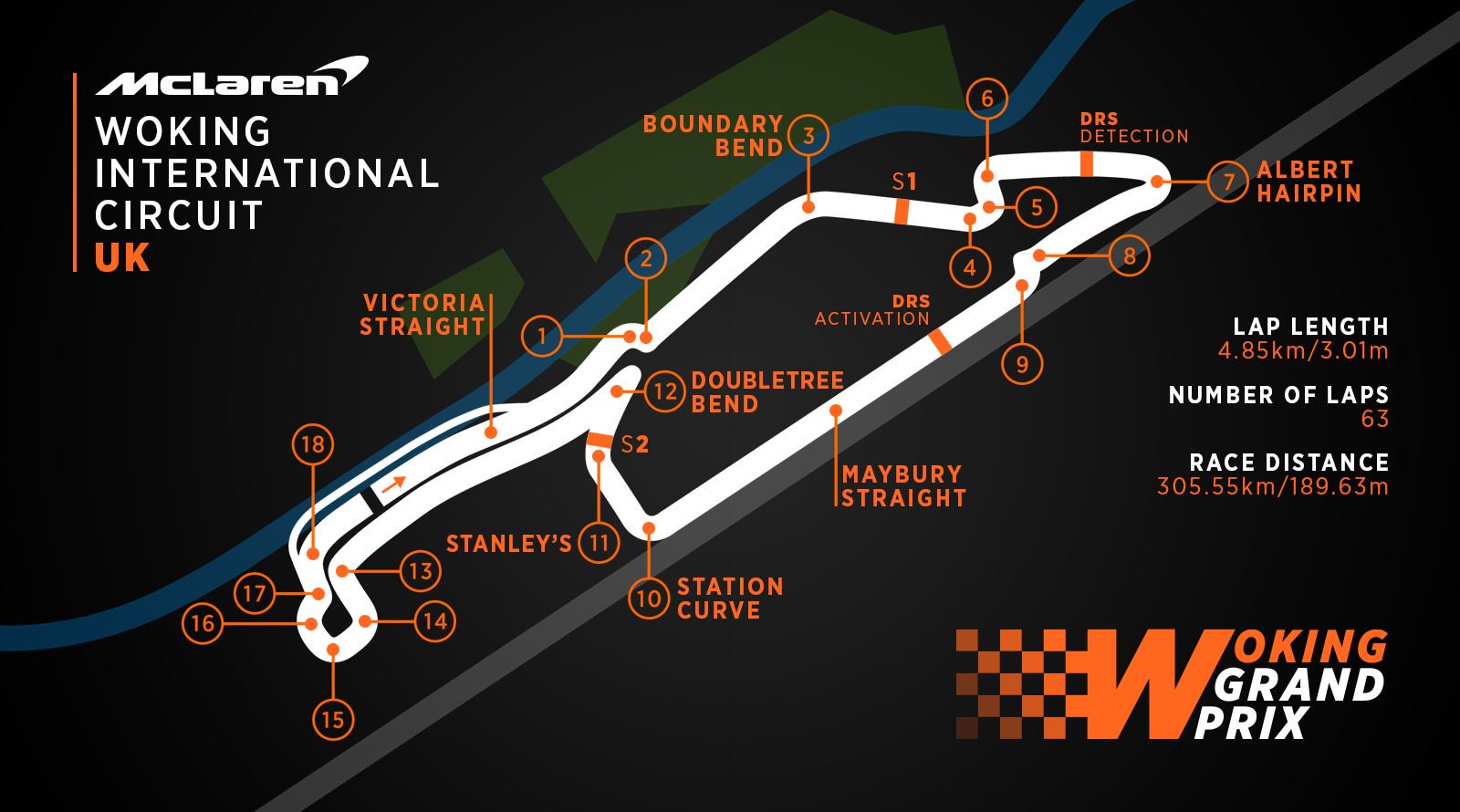 Proposed Woking GP Circuit
McLaren has today unveiled an absurdly ambitious plan to bring a round of the Formula 1 World Championship to the streets of its hometown, Woking.
The team believes that a street race around some of the Surrey town's most famous and celebrated spots would raise Woking's profile, enabling it to join the ranks of Monaco and Singapore as one of Formula 1's most glamorous and iconic race locations.
The main thrust of the project is to create a world-class Formula 1 venue – the Woking International Circuit – that will link elements of the town's commercial, industrial and residential centers.
McLaren has been a Woking resident for almost 40 years, happily sitting alongside fellow Woking-ites Paul Weller and The Jam, Status Quo's Rick Parfitt, Harry Hill and TV chef Delia Smith.
McLaren has yet to formally present any of its plans to Woking Borough Council, because it's a bit scared about how they might feel about the extensive and costly re-profiling of many roads and local landmarks that will be required.
Jonathan Neale, Chief Operating Officer, McLaren Technology Group, said:
"Why not? Why not bring Formula 1 to the streets of Woking? Obviously, aside from the huge social and financial commitment needed to set up the infrastructure, re-profile roads, re-lay Tarmac, fit miles of Armco, build grandstands, pay for race-hosting fees and gain approval and sign-off from the FIA, we don't see any barriers to our vision.
"In an era that's often seen as being hemmed in by bureaucracy and narrow-mindedness, that's actually very refreshing."
The creation of the new Woking International Circuit would return top-level single-seater racing to the streets of mainland Britain for the first time since 1990, when the Birmingham Superprix hosted a round of the FIA's Formula 3000 Championship.
McLaren believes that the Woking International Circuit would be one of the fastest and most demanding street tracks in the world, with a projected top speed of 195mph for the front-running cars along the longest straight on the circuit.
The project has long been the brainchild of McLaren, which initially conceived the idea back in 1998, when it ran Mika Hakkinen's world championship-winning Formula 1 car through the Woking streets to considerable acclaim.
Zak Brown, Executive Director, McLaren Technology Group, added:
"It was Mika who first raced a Formula 1 McLaren around the streets of Woking, way back in 1998. When I say 'raced', he wasn't actually racing it, he was driving it. Slowly. Which was probably an even tougher test for Mika, because he never drove anything slowly.
"Still, that event lit a spark that started a fire that turned into a dream that we converted into an idea: to host a round of the Formula 1 world championship on our doorstep, in Woking."
McLaren's submission involves a number of new and innovative proposals, including the hosting of the Formula 1 paddock on floatable pontoons that will be anchored along the Woking-Basingstoke canal, creating a unique waterside F1 village vibe. Instead of a single media center, journalists will be invited to work from local cafes, restaurants and shopping centers, utilizing many of the town's wifi hotspots.
A full suite of support races is also planned, with an additional paddock housed in Victoria Way's concrete multi-storey car-park – just as is done at Monaco and Singapore, adding further similarities to F1's blue-riband street races.
The track: seeing is believing
The Woking International Circuit has been planned as an exciting, high-speed 4.85km track that takes full advantage of the market town's winding streets and fast multi-carriageways. It has even been designed to pass two of McLaren's former factories – on Boundary Road and Albert Drive – to further drive home the links between the company and its hometown.
"Our engineers, our mechanics, our strategists have all actually driven this track," added Brown. "In fact, they've lived it; which actually gives them a head-start over the rest of the field. They know every bump on the track, every ripple in the Tarmac, every usable rush-hour rat-run, every decent takeaway restaurant within a five-mile radius of the start-line. That's the sort of advantage you can't buy…"
The Woking working drawings also include plans for a fun-fair, a late-night shopping experience and a 'street market'-style food concession village. McLaren PR
Raikkonen adamant he still 'has the speed'
Kimi Raikkonen
Ferrari's Kimi Raikkonen insists that he still "has the speed" to compete at the front of the Formula 1 field, despite a mixed opening half to the 2017 season.
Raikkonen holds fifth position in the championship, 86 points behind team-mate Sebastian Vettel, having ended his nine-year pole drought in Monaco, and finished on the podium in four races.
Despite his points deficit and qualifying shortfall to Vettel – he trails the German 8-3 – Raikkonen feels that he is still sufficiently quick, but needs to string everything together to improve results.
"If you purely look at the end results, it's not been very good," he said of his season.
"But on the other side, I think we've been quite happy in some places, not so happy in others, and that shows in the results.
"Personally, obviously I'm not happy with the results, that's for sure. I want to win races and I want to be up there all the time.
"It's definitely not been the case this year, too often, but I know when things are correct.
"I think driving-wise I have the speed, so I'm not worried about that, it's putting things in the correct places."
Raikkonen expanded on his highs and lows, commenting: "Obviously when you don't finish the races, it's the worst ones, but it happens sometimes.
"My top moment… I think Silverstone I felt quite good and it was fun.
"There are always good things in every weekend, there might be bad things in every weekend, it's just you try to minimize the bad times and maximize the good ones.
"It's easy to look only at the result and say, 'This was good, this was bad'."