IRL eyes street race in Canada
UPDATE #5
From AutoRacing1.com sources within the FIA comes word that there is definitely a group working on bringing an IRL event to Quebec City. From what we've been told, they already have the money and the guarantees, Marcel Aubut (formerly of the Quebec Nordiques, in the NHL) is involved, and they only need to wait until the mayoral elections in early November to see if they are a go or not. They want to make sure they still have support from the new mayor, whoever that turns out to be. We don't know about the date or where it would be, but the site of ExpoQuebec seems to be one possible place.
07/31/05 Speculation that the IRL might be on the verge of finalizing a street race in Quebec City was news to the hometown driver. Patrick Carpentier said Saturday he hadn't heard anything new about the talks surrounding a possible street race in Quebec City during the July Fourth weekend next year. He said he had talked recently with IRL president Brian Barnhart and team owner Eddie Cheever Jr. about the event, but didn't learn anything new.
"I told them about the racetrack they're building around the horse track at Woodbine in Toronto," said Carpentier, who lives in Ville Lasalle, Quebec. "We'll see. I don't know any more than you." SPEEDTV.com
07/04/05 As a token Canuck reader, I have to ask: Why Quebec City? Is there anything else you know about this? It makes no sense, other than the fact Quebec City is trying to steal some of the motor racing spotlight from Montreal (big rivalry between the cities). There's no major corporation based out of Quebec City, and you're correct in that there's no easy spot to host a race in the tourist section of Old Quebec (maybe they're going outside of this). But it just seems like PR-speak to me. Trois-Rivières (an hour or so outside of Quebec City towards Montreal) lost its Atlantic race due to the tobacco laws, so unless some Canadian corporation with a major Quebec influence is planning on picking up a large part of the tab, it really seems weird to me. If Penske's major reason of joining the IRL is 'Marlboro sponsors us for US advertising, and Ferrari for International advertising, so the IRL makes the most sense', then he can't be too happy about going to a foreign city in a market not even a third of the size of Montreal or Toronto. Honestly, if the IRL was going anywhere up here, Calgary seems much more likely. But I will say this: the province of Quebec covets its open wheel racing much more so than the English provinces do. RDS (the French TSN) has much better coverage of F1/Champ Car/IRL than TSN does. Andy Backa, Kanata, Canada Dear Andy, There is always the Exhibition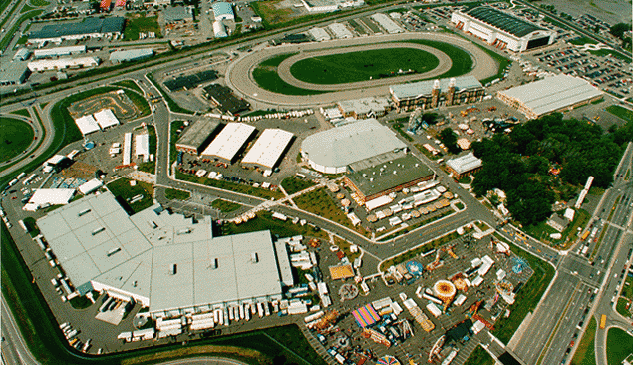 Center site (right), as well as the old le Grand-Prix Labatt de Québec, which hosted the Formula Atlantic cars from 77 to 79, though that is a bit Mickey Mouse. If they do race in Canada I expect the IRL to snap up Michael Valiante to go with Patrick Carpentier. When Paul Tracy retires Champ Car will be just left with one Canadian, Alex Tagliani, as we expect Andrew Ranger to be in F1 by then. Mark C.
07/04/05 Adjustments to the IRL schedule are in the works. The Kansas race, held for the fifth time Sunday, is being considered for a move to June 11 next year. The IRL is planning a Canadian street-course race in Quebec City, [which could run on July 4th weekend.] Indy Star [Editor's Note: We still want to know where this race will be. Certainly not downtown as the streets are too narrow. Perhaps outside of town somewhere. Now you understand why the IRL scooped up Patrick Carpentier.] 04/09/05 We are bumping this rumor down to 'speculation.' We talked to journalists from Canada who said they doubt there will ever be a street race in Quebec. The old historic town has very narrow streets and unless they do the race somewhere outside of town, it's not going to happen. They also question how much interest the race would generate – little to none compared to Montreal, Toronto and Edmonton. They speculate the IRL is spreading the word about other cities looking to run the IRL to impress Dover Motorsports that they are a viable street racing series. 04/04/05 Ken Ungar, an IRL vice president said that the IRL will have no more than one race in Canada in 2006. Officials from Quebec City attended Sunday's race. Indy Star