Overheard in Edmonton – III (Houston again)
UPDATE #5
It looks like the Champ Car track in Houston might end up with a hotel right in the middle of it. Astrodome Redevelopment Corp. has obtained financing for its $450M plan to transform the Reliant Astrodome into a 1,200-room convention hotel. The Harris County Sports & Convention Corp. (HCSCC), which must approve the project, was reportedly "convinced" of its viability due to the financing news. HCSCC Exec Dir Willie Loston said the interior "would literally be a village under glass."
Houston Chronicle
08/17/05 AutoRacing1.com has learned that the Houston track to be unveiled in September will be around 2-miles in length and not be Mickey Mouse like some of Champ Car's temporary circuits. The goal should be a minimum of 1.75-miles in length with a preference of 2-miles or more. After all, it's about racing not putting on a follow-the-leader parade that we see on the Mickey Mouse tracks. You won't see Bernie Ecclestone agreeing to substandard circuits and even Monaco is over 2-miles long. 08/12/05 There is a distinct possibility that the Champ Car series will return to Houston in May 2006, but the road-course race will not take place over downtown streets as was the case from 1998-2001. Instead, the open-wheel car race would be in the Reliant Stadium area.
Shea Guinn, the president and general manager of SMG-Reliant Park, confirmed Thursday that negotiations with Champ executives are ongoing. "Right now, there isn't much to say other than that we are in discussions with Champ about coming here in 2006," Guinn said.
Joe Chrnelich, the executive vice president of Champ Car, said the group intends to release its 2006 schedule Saturday. Chrnelich indicated there is a good chance the schedule will include a return to Houston. "We don't have anything to announce at this time, but things seem to be moving in a positive direction," Chrnelich said.
"There are discussions between the promoters and (Champ) officials, and it's down to the fine points. Everything has been very positive along the way and hopefully something positive will come out of it. Houston has all the elements we look for in a venue."
There was some interest from the city of Houston about bringing the race back downtown in 2006, and negotiations reportedly were conducted until as recently as this week. According to sources, Champ officials would have preferred the race to return to downtown, but details couldn't be worked out.
One consideration was the changing face of the east end of downtown. With more businesses in that area of the city — including the 1,000-room Hilton Americas — closing streets, as is necessary to set up the road course, would be more difficult. There would be no such problem with holding the race in the Reliant Stadium area. "Assuming it works out, we won't have the details of the course until next month," Guinn said. Houston Chronicle
07/31/05 Hearing that Houston is not a foregone conclusion because Champ Car is not certain if they want to exceed 16 races in 2006. Apparently there are other venues that could or would get the nod before Houston. 07/25/05 We have confirmed that the Chief of Operations of Reliant Stadium was on ESPN Radio last Thursday evening talking about upcoming events at the facility. He said that a Champ Car race was in the works, probably under the lights. Reliant, who has the naming rights for the stadium, is a huge power supply company. Reliant Energy, Inc. is based in Houston, Texas and the company provides a complete suite of energy products and services to approximately 1.9 million electricity customers, ranging from residences and small businesses to large commercial, industrial and institutional customers, primarily in Texas. Reliant also serves commercial and industrial clients in the PJM (Pennsylvania, New Jersey, Maryland) Interconnection.
The company is one of the largest independent power producers in the nation with approximately 19,000 megawatts of power generation capacity and should have no problem supplying the electricity for the lighting of the Houston Champ Car course around Reliant Stadium for free.
07/23/05 UPDATE #2 Speculation is that Houston could be the night race because it is far too hot to race there unless it is under the lights. The parking lots around Reliant Stadium and the Astrodome are already lit, so if the race is indeed around the stadium, very little will have to be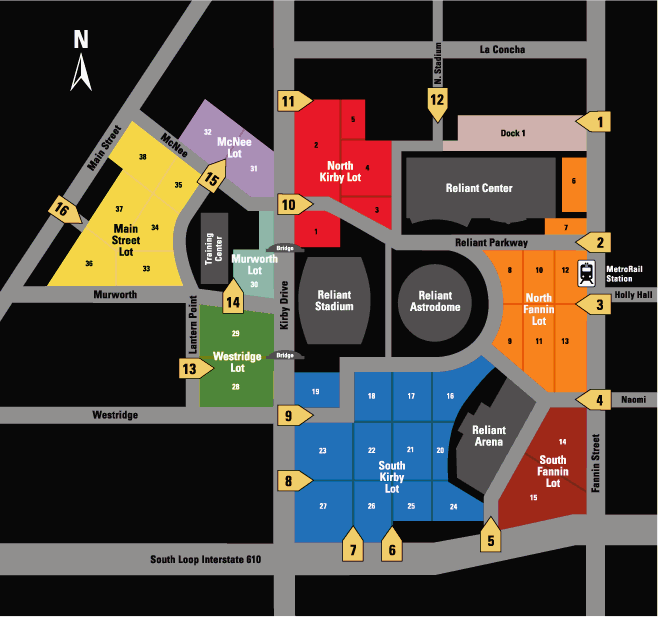 spent in the way of lighting to make it a night race. 07/16/05 We hear that the Houston Champ Car race, if it happens, will probably be around the Reliant Astrodome and the Reliant Stadium (see area map to right)……..As for the Philadelphia race, if and when it happens, which we hear also can be in 2006, but probably 2007, will indeed be on July 4th weekend……….Word is that we might see a night race or two next year, but we were not told where. We did learn that lighting is not as expensive as first thought……Again hearing that three teams have approached Champ Car about entering the series, Panther Racing being one of them (see other rumor). Mark C. 12/17/04 Champ Car and Houston officials have discussed the possibility of returning to the city for a downtown street race in 2006. The course being considered would include the streets around Minute Maid Park, so Houston Astros officials say they were contacted as part of the initial planning process. Champ Car had a downtown event in Houston from 1998 to 2001 before dropping the race because of road construction on some streets used for the 1.5-mile course. Those street improvements are completed, so Champ Car would like to return for a fall event. Dallas Morning News