Latest F1 news in brief – Wednesday
Wolff and Lauda both say 'crashgate' is over, but do both drivers agree?

Vettel 'crashgate' over now – Lauda

F1 talk too early for Mick Schumacher – Hakkinen
Villeneuve not sorry for Stroll criticism
Stroll's private testing 'not fair' – Villeneuve
Paul Ricard bids to host 2018 winter tests
Stars confirmed for Austria legends parade
Stroll excited to race on familiar ground
Lewis Hamilton tempted by future NASCAR move
Vettel 'crashgate' over now – Lauda
(GMM) Mercedes chiefs have called an end to the Sebastian Vettel 'crashgate' saga.
After the now apologetic Ferrari driver essentially escaped further sanction for having been found by the FIA to have steered deliberately into Lewis Hamilton in Baku, the controversy continued in the wake of the FIA ruling.
Hamilton reportedly 'liked' on Instagram a post on which a fan said he has "lost all respect for the FIA, Ferrari and Sebastian Vettel".
But Mercedes boss Toto Wolff said: "We have moved past that moment now and it is a closed chapter."
He also said "great respect between Mercedes and Ferrari" is intact after the drama.
So while some fans and insiders reacted with dismay to the FIA's leniency, others welcomed the ruling.
"I am very happy that there is no further punishment," said Red Bull's Dr Helmut Marko, who brought Vettel into F1.
"It was just an emotional reaction to Hamilton's strategic maneuver," he told Austrian broadcaster Servus TV.
And F1 chief executive Chase Carey was quoted as saying: "A little drama on the racetrack is not harmful."
Even Mercedes team chairman Niki Lauda, who was earlier so critical of Vettel, vowed to move on in the wake of the FIA decision.
"I criticized Vettel because he did not see his mistake," he told Bild newspaper.
"Now that he has apologized, the incident for me is over."
F1 talk too early for Mick Schumacher – Hakkinen
Poor Mick did not inherit his father's talent behind the wheel
(GMM) It is too early to be predicting F1 stardom for Mick Schumacher.
That is the claim of Mika Hakkinen, who almost two decades ago was the biggest rival of teenage Mick's legendary father Michael Schumacher.
Now, Hakkinen is backing the Schumacher family's 'Keep fighting' initiative and trying to ease the immense pressure on 18-year-old F3 driver Mick's shoulders.
"It is not the right time to be talking about formula one, in my opinion," the Finn told Auto Bild.
"He is still a young man and has to prove himself in various ways. But what is important is that he wants to win more races.
"If you are humble and hungry, if you have the goal to be a winner, and you try to improve yourself and become a better racing driver, then that is exactly what you need," Hakkinen said.
"And when I talk to Mick, I feel that he wants to be a winner."
Villeneuve not sorry for Stroll criticism
Jacques Villeneuve
(GMM) Jacques Villeneuve has refused to apologize for his harsh outspokenness about his countryman Lance Stroll's performance in F1 this year.
Stroll, 18, had lashed out at the "negative" 1997 world champion, after Villeneuve described him as arguably the sport's worst ever rookie.
"I was critical of him early in the season because of his results," 46-year-old Villeneuve now tells Le Journal de Montreal. "It's that simple.
"Why should I have praised him? My role is to report the facts, not to defend a driver.
"When you're a second slower than your teammate, you cannot say it's brilliant. Why would people be offended about that? It's the truth," Villeneuve insisted.
However, the 11-time GP winner acknowledged that Stroll's most recent results have been better, including points in Montreal and a podium in Baku.
"Absolutely," he said. "And I am the first to admit it.
"In Canada he was not very fast but he managed his race well. It took a lot of pressure off his shoulders.
"In Baku it was even better. There were problems in front of him but he kept his composure. That was in contrast to his early season, when he committed multiple mistakes.
"But it does not erase his bad results from before Montreal, so I don't regret anything I said. Yes, it was pathetic at times," Villeneuve added.
Stroll's private testing 'not fair' – Villeneuve
Daddy bought Lance a private test at COTA
(GMM) Jacques Villeneuve has hit out at the private testing program being enjoyed this year by controversial F1 rookie Lance Stroll.
After vicious early-season criticism of the 18-year-old Williams driver, Villeneuve acknowledged that fellow Canadian Stroll took a big step forward in Montreal and Baku.
But the 1997 world champion remains critical.
For instance, between his first points in Canada and his Baku podium, Stroll was testing at the wheel of a 2014 Williams at the US GP circuit in Austin.
"They are circumventing the rules," Villeneuve told Le Journal de Montreal newspaper.
"It's not fair to the other drivers because he is the only one to have this privilege thanks to his money. But there should be limits to what money can buy, and I'm not alone in thinking that," the Canadian added.
Villeneuve was also critical of Stroll's interaction with the press so far in 2017.
"You told me that Williams had refused to arrange a telephone interview after his (Stroll's) podium in Baku," he said.
"I find that inconceivable, as I never refused such requests, even when everything went wrong and I was being criticized from every side. Stroll's entourage should be aware of that," Villeneuve insisted.
Paul Ricard bids to host 2018 winter tests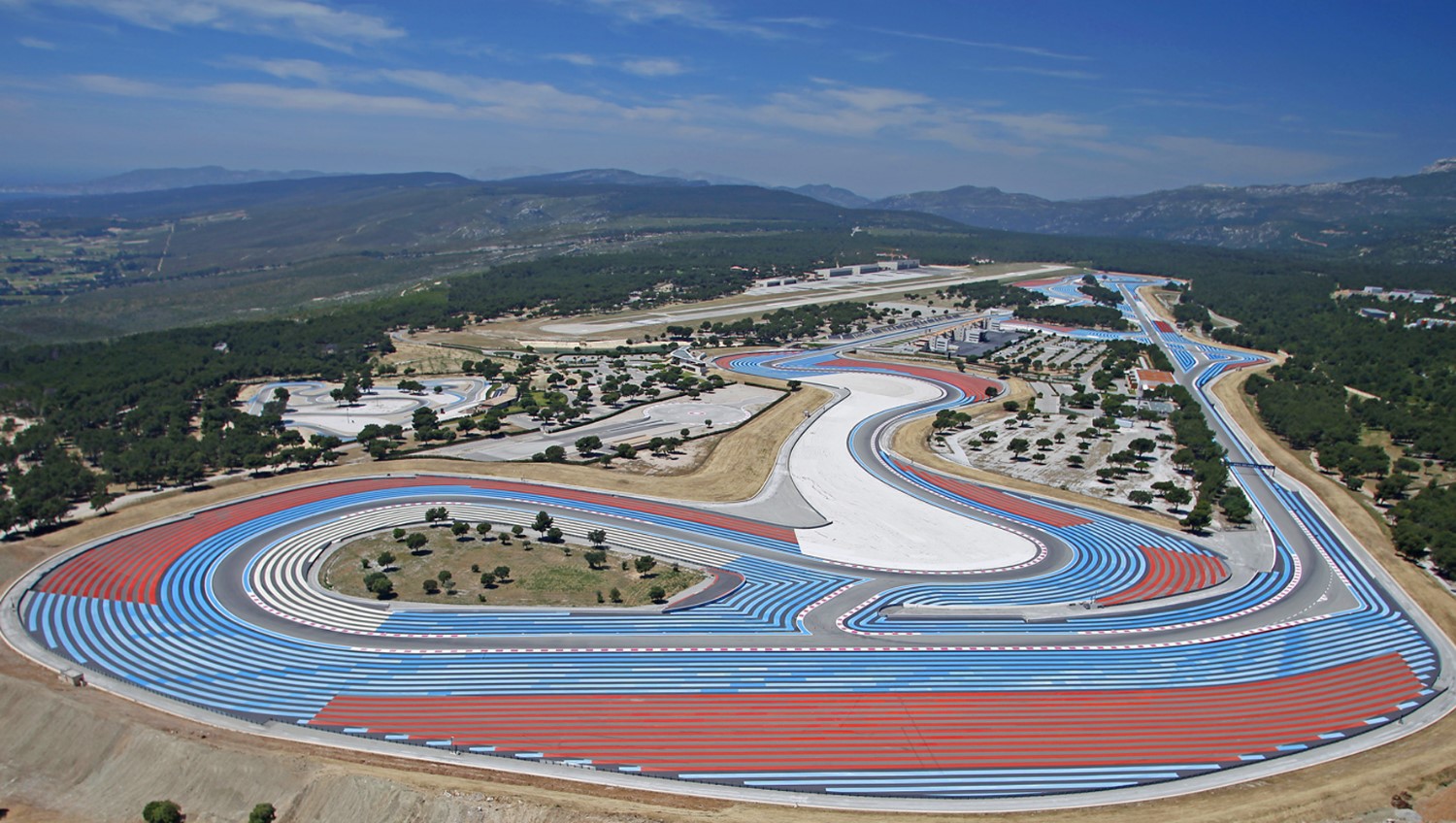 Paul Ricard
(GMM) Paul Ricard could be the scene of next year's official F1 winter testing.
The circuit in Le Castellet is returning to the calendar next year to revive the historic French grand prix.
But it emerges that the teams and drivers could also get their first taste of the 2018 cars at Paul Ricard as well.
When asked about the possibility of 2018 winter testing taking place at Paul Ricard, track chief Stephane Clair told L'Equipe: "With great pleasure.
"Our application makes sense, too," he told the French sports daily. "We are preparing for it.
"The teams know the quality of our services, and with Magneti Marelli our telemetry facilities means the teams have less to take to the testing," Clair explained.
"Also, as the teams will not know the new track, it could be tempting for them. The only question is whether we will share with another circuit," he added.
"Discussions are ongoing."
F1 teams are no strangers to Paul Ricard, but Clair confirmed recent speculation that the layout of the main F1 track will be tweaked for the revived French GP.
"The circuit for the grand prix will be different even if we use the big layout traditionally used by F1," he said.
"This is an idea we've had for a long time and one that has been validated by the FIA.
"The work will be performed at the time of resurfacing that is part of the closure of the track in December and January," Clair revealed.
Stars confirmed for Austria legends parade
Mark Webber will drive a current Porsche 919 Hybrid
Austrian Grand Prix organisers have released the list of drivers and cars for this year's legends parade, featuring machinery from six different decades.
Spielberg has staged a legends parade since returning to the F1 calendar in 2014, with an array of stars and cars from various categories showcased in front of fans.
In 2017, two modern cars will also be shown off, with Mark Webber set to drive the 2017 Porsche 919 Hybrid, and Tom Kristensen the Audi R18 e-tron quattro from 2016.
Other names confirmed for the parade are Jean Alesi (Ferrari 512S), Gerhard Berger (BMW V12 LMR) and Red Bull consultant Helmut Marko (Porsche 917K).
A track familiarization session will take place from 18:05-18:45 local time on Saturday evening, before the full legends parade from 12:45-13:05 on Sunday.
Austrian GP legends parade:
Jean Alesi (Ferrari 512S, 1969)
Gerhard Berger (BMW V12 LMR, 1999)
Neel Jani (Porsche 936, 1981)
Tom Kristensen (Audi R18 e-tron quattro, 2016)
Helmut Marko (Porsche 917K, 1970)
Dieter Quester (BMW 3,0 CSL, 1973)
Guy Smith (Bentley Speed 8, 2003)
Hans-Joachim Stuck (Porsche 962C, 1986-'87)
Mark Webber (Porsche 919 Hybrid, 2017)
Stroll excited to race on familiar ground
Lance Stroll
Lance Stroll says he is looking forward to racing on a familiar circuit at the Austrian Grand Prix, after eight events at tracks he had no previous experience of.
Spielberg's Red Bull Ring is the first track on the F1 calendar where Stroll has already raced, having taken a double win at the venue en route to last year's F3 title.
After scoring his maiden points in Canada, and taking his first podium in a dramatic race in Azerbaijan, the Williams rookie is excited by his chances on a known circuit.
"Austria will be a completely new experience for me, as this is the first track of the year where I have already raced," said Stroll, who has shot up to 12th in the standings.
"I just love that track, it is so cool and a place I have enjoyed racing.
"There are not that many corners, but it has a great flow, and it is easy to get a good rhythm.
"It is always great going back to a track where you have been successful, and that is definitely the case here as last year in Formula 3 I had two wins and a second!"
Stroll's team-mate, Felipe Massa, is aiming to bounce back from retirement in Baku, where he was running ahead of Stroll before a suspension issue struck.
"Austria is a really fun track to drive," he commented.
"We are normally quite competitive there.
"In the past I've had some good races where I've finished on the podium, and I had my pole position in 2014, so I also really enjoy spending time in Austria."
Lewis Hamilton tempted by future NASCAR move
He might try one race, but you won't see Lewis Hamilton full-time in NASCAR, ever
Lewis Hamilton says he would relish switching to NASCAR 'in the future' but reiterated his sole focus on Formula 1 and his hunt for race wins and world titles.
The Mercedes driver has frequently expressed his passion for other motorsport series outside of F1, including MotoGP and NASCAR, and feels if the opportunity and situation would be right he would be thrilled to 'have a closer look' and try his hand at NASCAR.
The British driver has repeated his sentiment that he is purely concentrating on his current F1 charge as he hunts a fourth world championship.
"NASCAR is a really cool series and maybe sometime in the future I'd love to have a closer look at it," Hamilton said.
"Right now I'm solely focused on Formula One and achieving more wins and Championships so I need to be on my very best form without distraction. Formula One is the pinnacle of motorsport and although I admire all those racing in Indy 500, it's not in my game plan to drop F1 for anything else." Crash.net