Point, Counterpoint: IndyCar vs. F1 in Long Beach
IndyCar has been in Long Beach since 1984. Will 2018 be its last?
Below Jim Michaelian makes the case why the City of Long Beach should stay with IndyCar and Chris Pook makes the case why F1 would be far better.
Michaelian: Long Beach Grand Prix has no reason to shift gears now
The Grand Prix Association of Long Beach has enjoyed an extraordinary relationship with the city of Long Beach for the past 43 years. During that time, the city has become a vibrant community, attractive to business, residents and tourists.
And over those years the Toyota Grand Prix of Long Beach has become the largest three-day attended street race — with crowds of 183,000-plus — in the world. It is the biggest IndyCar race other than the Indianapolis 500.
No matter how large and successful the event has become, it has always been a fan-friendly, family-oriented community event that all greater Long Beach residents can attend and be proud of.
Now the city is poised to make a decision to either extend its relationship with the Grand Prix Association or opt to run Formula 1 races here instead. While this decision has its complexities, there are some key aspects that merit serious consideration as Long Beach officials make such a determination:
• Commitment: The U.S.-based IndyCar Series has delivered a letter to the city indicating very clearly its commitment to run races in Long Beach in the future. To date, there has been no such written indication that Liberty Media, owner of the international Formula 1 series, has any such intention.
Shouldn't that be required before the city decides?
• Financial requirements: The Grand Prix Association is a private partnership owned by two wealthy entrepreneurs, Kevin Kalkhoven and Jerry Forsythe, who are committed to the future of the Grand Prix. The association has a sterling financial record that includes payment of all its expenses, including the annual IndyCar sanction fee and all city costs, including the rental of the Convention Center, parking facilities and administrative fees.
By contrast, an F1 race would require a reconfiguration of the circuit to meet F1 specifications, including lengthening the course, safety modifications and the building of a separate pit and garage complex. In addition, an entirely new safety system would have to be purchased, since the current one would no longer be available.
Current F1 McLaren principal Zak Brown estimates these costs at a minimum of $20 million to $30 million, and yet the applicant indicates it can be done for $9.2 million. Who is going to cover the possible difference? Also, with F1, with the exception of the Monaco Grand Prix, the annual sanction fee can run from $20 million to $60 million. And all these events receive some form of financial assistance from the government or tourism bureau.
Indeed, at the current U.S. F1 race in Austin, the state of Texas provides almost $20 million in annual support, and even with that contribution the track has encountered financial turbulence during its existence. Is it reasonable for Long Beach to assume the situation here is going to be any different?
When asked about their financial resources, the F1 applicants said they have unidentified "banking relationships." Is that a sufficient answer for the city to proceed?
• California Coastal Commission: Last January, the Coastal Commission granted the Grand Prix Association a four year permit — through 2020 — for its annual event as long as the configuration of the circuit remains the same, which it will. This approval does not apply to an F1 race, which would need to apply for its own permit, including consideration of the new circuit configuration and the pit-garage complex. What uncertainty does that introduce into the decision?
• Ticket pricing: Throughout its history, ticket prices for the Grand Prix have been established to make this event affordable to all. Currently, those prices range from $33 for Friday general admission to $142 for a three-day, top-level seat. Children 12 and under are admitted free day when accompanied by an adult.
By contrast, the F1 applicant admits that most Long Beach residents will not be able to afford tickets priced, as in Austin, from $159 for general admission to $495 to $595 for reserved seats. When asked how Long Beach residents might be able to attend the race, the response was that "they will be able to come in with general admission, certainly on Friday, for $50 or $75." Which of these alternatives is more attractive to the residents of Long Beach and the surrounding communities?
• Community involvement: The Grand Prix Association has always worked diligently to be a part of the fabric of the community. This includes supporting Long Beach charities through the Grand Prix Foundation, working with the Long Beach Boy Scouts, annually distributing 1,000 free seats to underprivileged youngsters through the Long Beach Boys and Girls Club, bringing the Grand Prix experience to schools in each of the City Council districts, and providing free events during race week for all to attend.
As these options are being considered, it is vital that the results of the past combined with the reality of the future make the Grand Prix the overwhelming choice. It's substance vs. speculation, performance vs. promises, and fact vs. fiction.
Now it's the city's decision.
Jim Michaelian is president/CEO of the Grand Prix Association of Long Beach. Long Beach Press Telegram
Pook: Long Beach Grand Prix should turn back to Formula 1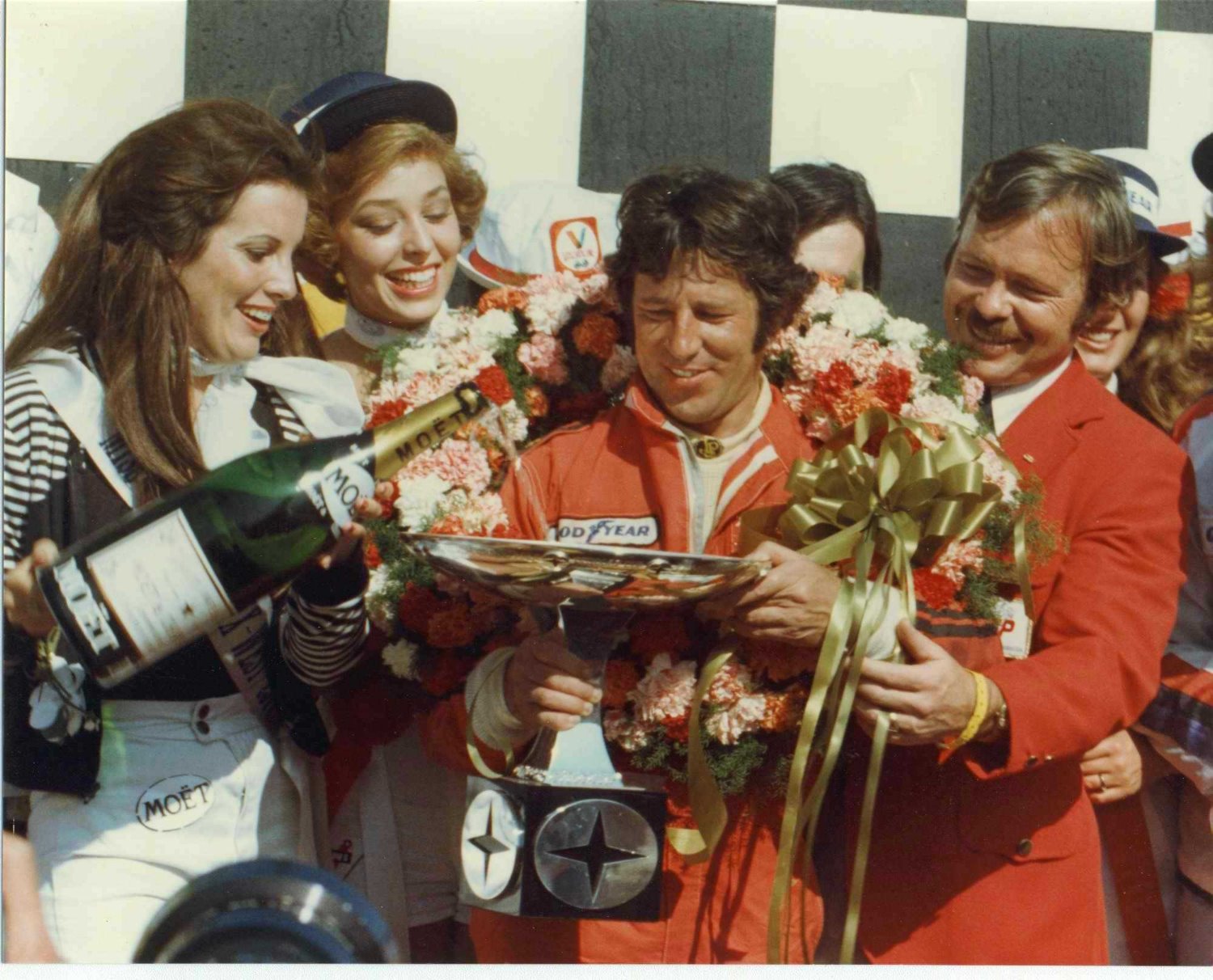 Mario Andretti wins Long Beach in 1977 – it was an F1 race back then
The original premise of the Grand Prix of Long Beach was to create positive economic impact, attract worldwide publicity and spur redevelopment of the city's downtown area. Over the first 30 years of its operation, it did just that.
Unfortunately, the last 12 years have seen a serious downturn in not only attendance but also hotel occupancy and overall positive economic results, not to mention increased construction impacts.
This caused the city of Long Beach to issue an RFP — request for proposal — seeking a possible alternative to the IndyCar racing series putting on the annual Grand Prix.
We believe that Formula 1, an exciting international series with spectacular races in 20 countries around the world, is the best alternative and that the time for change is now.
Unfortunately, much of what has been written locally about Formula 1 is inaccurate. So we are submitting this article with the hope that there will be an honest and vigorous debate about whether Formula 1 or IndyCar is best for Long Beach.
The real issue is: "What is the highest and best use of city property considering the impact of the operation of an automobile race here?"
Let's briefly compare the two properties in several areas:
• Television and print media: TV viewership for the Long Beach Grand Prix, and the U.S.-based IndyCar circuit in general, is on the decline. In 2016, the Long Beach race drew 402,000 viewers nationwide. In 2017, viewership dipped to 321,000. The Los Angeles Times' coverage of the race is now minimal, and coverage in the national newspapers is gone, as is coverage in major television newscasts across the country.
By contrast, Formula 1 has international appeal, with over 300 million viewers world-wide. Reports of Formula 1 races are in virtually all newspapers in the major cities of the world. Does Long Beach wish to join Montreal, Singapore, Melbourne, Mexico City, Beijing and Monte Carlo in hosting Formula 1, or does it wish to remain just another U.S. city hosting an IndyCar race?
• Economic impact: There are claims that the IndyCar race creates more than $45 million in economic impact. We don't know who generated this number, but it is suspicious. There have been claims of recent record crowds. How is this possible? In 2002, it was announced that 45,000 seats were constructed and attendance was 160,000. For the last two years, only 35,000 seats were built, yet a crowd of 180,000 was announced. Think about that! What is the real attendance?
The Long Beach Grand Prix used to cause a hotel sellout over race weekend. Now, rooms are available every night. Restaurant patronage has similarly declined.
We believe that Formula 1 will triple revenues for downtown hotels, restaurants and businesses.
• Cost to Long Beach. Some claim that the expense of Formula 1 would be costly to the city. This is not true. Formula 1 will cost the same as IndyCar, period. Formula 1's new owner is interested in increasing Formula 1's presence in the United States, which means that rights fees will be reasonable. We have had extensive discussions with Formula 1, and it will be an economical proposition in Long Beach.
• Cost of tickets: Some believe that Formula 1 ticket prices will be prohibitive. This is not true. Passes will be between $75 and $150 per day. This is a bit more than IndyCar, but on par with a day at Disneyland or Universal Studios or a Taylor Swift concert!
• Track suitability: Some have argued that Formula 1 cannot race on the existing track in Long Beach. This is not true. Formula 1 will not require any new paving or extension of existing streets, and we would reduce construction time by 40 percent! In truth, Long Beach is perfect for both IndyCar and Formula 1 racing styles.
We simply ask for fair consideration of what is the highest and best use of city property if an automobile race is run on city streets.
A fair analysis will favor Formula 1.
Christopher R. Pook is president and managing partner of World Automobile Championship of California. Richard J. Foster is legal counsel for WACC. Long Beach Press Telegram