Justin Allgaier Wins Charlotte Xfinity Pole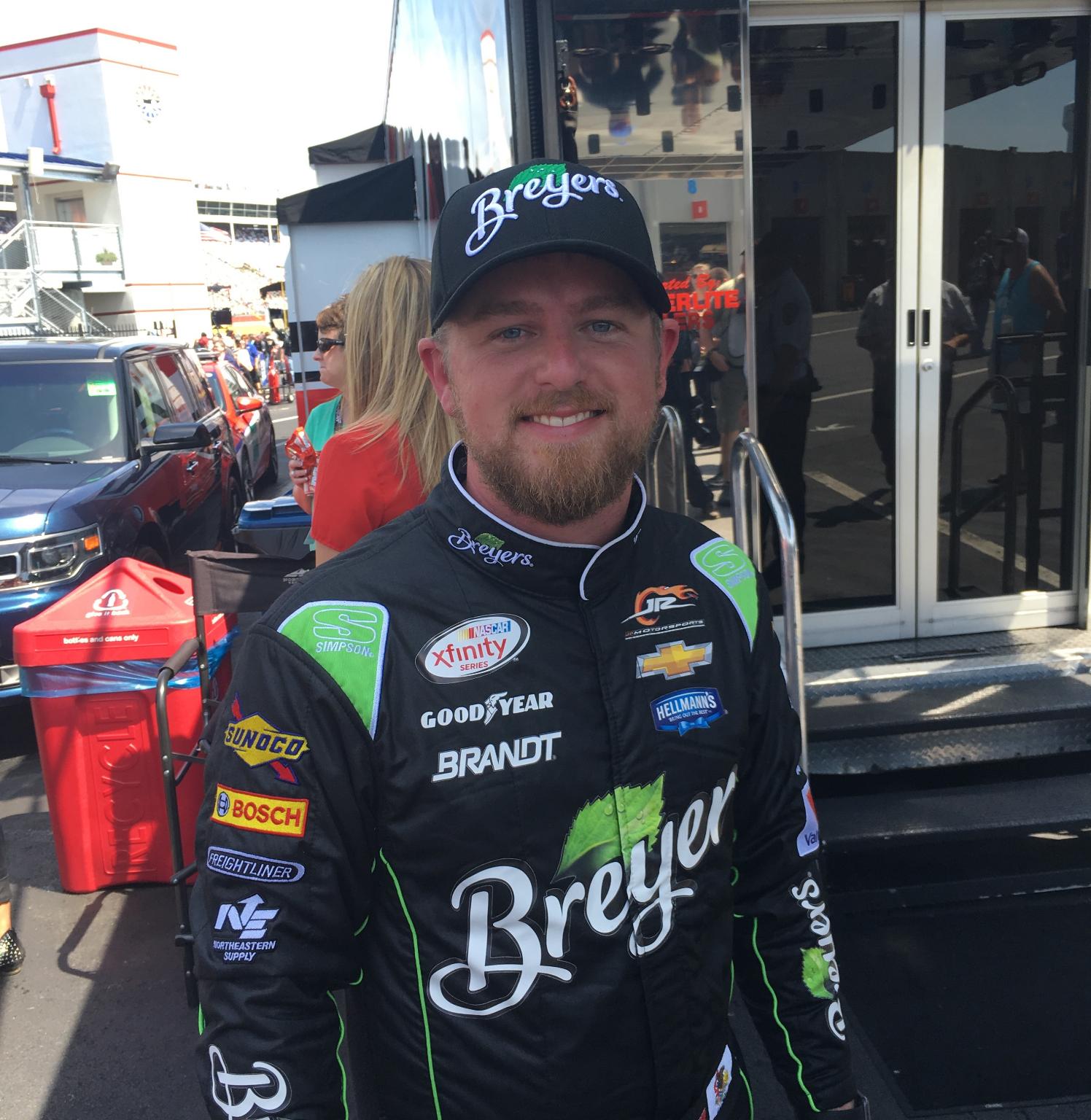 Justin Allgaier
Pete McCole/AR1
Justin Allgaier collect his first NASCAR Xfinity Series pole position of the season on Saturday, earning the top spot for the Hisense 300 at Charlotte Motor Speedway.
Allgaierran a lap of 29.591 seconds at 182.488 mph to hold onto the top spot in the third and final round of the morning session, besting Austin Dillon (181.519), Ryan Blaney (181.378), Daniel Hemric (181.324) and Kevin Harvick (181.245).
Alllgaier steadily improved on his speed from the first two round of qualifying after running ninth in the opening round and fourth in Round Two. He headed out in the final round as the first car to officially post a time and jumped right to the top if of the leaderboard.
Much like Thursday's Cup Series qualifying, several teams had difficulty getting through technical inspection, including Cup regular Brad Keselowski and Dakoda Armstrong, who both were unable to make a qualifying attempt after their cars failed to make it through tech before the end of the front round. They will start 39th and 40th, respectively, in Saturday's race.
Jeff Green and Jordan Anderson failed to qualify for the event.
Race Lineup

| | | | | | | | |
| --- | --- | --- | --- | --- | --- | --- | --- |
| Pos. | # | Driver | Make | Sponsor | Time | Behind | Speed |
| 1 | 7 | Justin Allgaier | Chevy | Breyers | 29.591 | 0.000 | 182.488 |
| 2 | 2 | Austin Dillon | Chevy | Rheem | 29.749 | -0.158 | 181.519 |
| 3 | 12 | Ryan Blaney | Ford | Snap-On | 29.772 | -0.181 | 181.378 |
| 4 | 21 | Daniel Hemric | Chevy | Blue Gate Bank | 29.781 | -0.190 | 181.324 |
| 5 | 41 | Kevin Harvick | Ford | Hunt Brothers Pizza | 29.794 | -0.203 | 181.245 |
| 6 | 00 | Cole Custer | Ford | Haas Automation | 29.810 | -0.219 | 181.147 |
| 7 | 18 | Christopher Bell | Toyota | SiriusXM | 29.827 | -0.236 | 181.044 |
| 8 | 20 | Denny Hamlin | Toyota | Hisense | 29.859 | -0.268 | 180.850 |
| 9 | 16 | Ryan Reed | Ford | Lilly Diabetes | 30.029 | -0.438 | 179.826 |
| 10 | 42 | Tyler Reddick | Chevy | BBR | 30.092 | -0.501 | 179.450 |
| 11 | 48 | Brennan Poole | Chevy | DC Solar | 30.176 | -0.585 | 178.950 |
| 12 | 1 | Elliott Sadler | Chevy | Armour | 30.398 | -0.807 | 177.643 |
| 13 | 9 | William Byron | Chevy | Axalta | 29.993 | -0.402 | 180.042 |
| 14 | 6 | Darrell Wallace Jr | Ford | Globe Life | 29.999 | -0.408 | 180.006 |
| 15 | 3 | Ty Dillon | Chevy | Bass Pro Shops | 30.035 | -0.444 | 179.790 |
| 16 | 39 | Ryan Sieg | Chevy | HangNOut.com | 30.049 | -0.458 | 179.706 |
| 17 | 62 | Brendan Gaughan | Chevy | South Point Hotel & Casino | 30.049 | -0.458 | 179.706 |
| 18 | 11 | Blake Koch | Chevy | Salute Our Troops LeafFilter | 30.071 | -0.480 | 179.575 |
| 19 | 19 | Matt Tifft | Toyota | NBTS BrainTumor.org | 30.123 | -0.532 | 179.265 |
| 20 | 23 | Spencer Gallagher | Chevy | Allegiant Airlines | 30.160 | -0.569 | 179.045 |
| 21 | 33 | Brandon Jones | Chevy | Wood Ducks Baseball | 30.197 | -0.606 | 178.826 |
| 22 | 96 | Ben Kennedy | Chevy | Jacob Companies | 30.255 | -0.664 | 178.483 |
| 23 | 5 | Michael Annett | Chevy | Pilot Flying J | 30.326 | -0.735 | 178.065 |
| 24 | 14 | JJ Yeley | Toyota | Building Homes for Heroes | 30.835 | -1.244 | 175.126 |
| 25 | 98 | Casey Mears | Ford | GEICO Military | 30.362 | -0.771 | 177.854 |
| 26 | 51 | Jeremy Clements | Chevy | Harrison's Outfitters | 30.363 | -0.772 | 177.848 |
| 27 | 4 | Ross Chastain | Chevy | FlexSeal | 30.596 | -1.005 | 176.494 |
| 28 | 13 | Timmy Hill | Toyota | CrashClaimsR.US | 30.750 | -1.159 | 175.610 |
| 29 | 90 | Alex Labbe | Chevy | Can-Am | 30.781 | -1.190 | 175.433 |
| 30 | 93 | Stephen Leicht | Chevy | RSS Racing | 30.817 | -1.226 | 175.228 |
| 31 | 8 | BJ McLeod | Chevy | TBD | 30.839 | -1.248 | 175.103 |
| 32 | 24 | Cale Conley | Toyota | Merchant Services, Ltd. | 30.840 | -1.249 | 175.097 |
| 33 | 99 | David Starr | Chevy | Dealer Associates Inc. | 30.878 | -1.287 | 174.882 |
| 34 | 0 | Garrett Smithley | Chevy | adapt 2k | 30.894 | -1.303 | 174.791 |
| 35 | 52 | Joey Gase | Chevy | Agri Supply | 30.936 | -1.345 | 174.554 |
| 36 | 07 | Todd Bodine | Chevy | Waltrip Brothers | 30.981 | -1.390 | 174.300 |
| 37 | 01 | Harrison Rhodes | Chevy | Flex Tape | 31.088 | -1.497 | 173.700 |
| 38 | 40 | Carl Long | Chevy | TBD | 32.333 | -2.742 | 167.012 |
| 39 | 22 | Brad Keselowski | Ford | Discount Tire | 0.000 | 29.591 | 0.000 |
| 40 | 28 | Dakoda Armstrong | Toyota | WinField United | 0.000 | 29.591 | 0.000 |