Erik Jones Leads Opening Coca Cola 600 Practice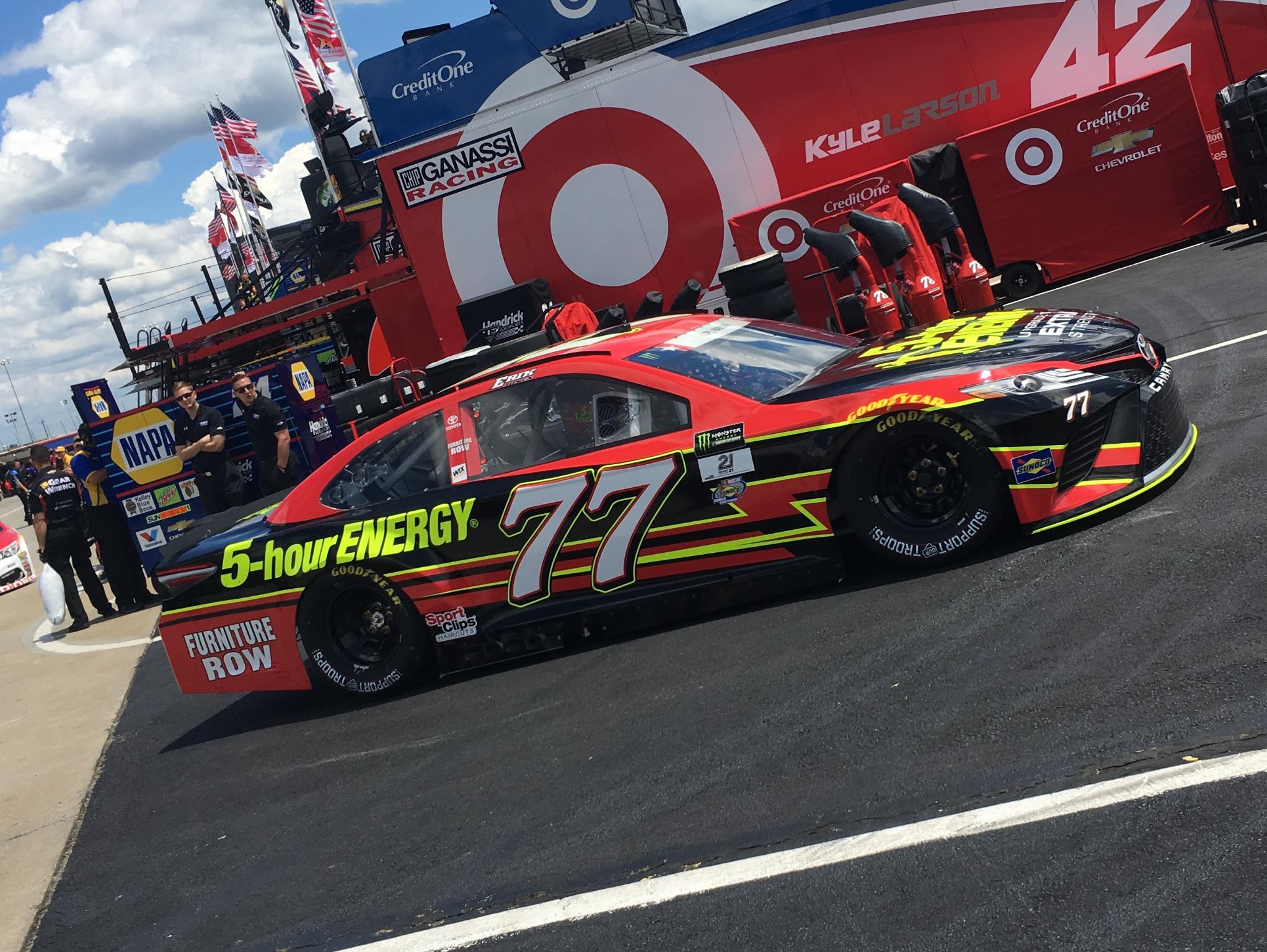 Erik Jones
Erik Jones turned in the fastest lap Thursday's Monster Energy NASCAR Cup Series practice session for Sunday night's Coca Cola 600 at Charlotte Motor Speedway.
Jones posted a top speed of 192.713 mph in the No. 77 Toyota to lead the session. Jimmie Johnson was second fastest with a fast lap of 192.472 mph.
Kyle Larson held the second-fastest lap before he brushed the wall coming out of turn two in the closing minutes of the session. His crew was still evaluating whether or not to pull out the backup car or try and fix the damage. Larson had clocked in with a lap of 192.465 before hitting the wall. Denny Hamlin (192.465) and Kevin Harvick (192.150) rounded out the top five in the session.
Practice Results
| | | | | | | | | |
| --- | --- | --- | --- | --- | --- | --- | --- | --- |
| Pos. | # | Driver | Make | Sponsor | Laps | Time | Behind | Speed |
| 1 | 77 | Erik Jones | Toyota | 5-hour ENERGY | 9 | 28.021 | 0.000 | 192.713 |
| 2 | 48 | Jimmie Johnson | Chevy | Lowe's | 8 | 28.056 | -0.035 | 192.472 |
| 3 | 42 | Kyle Larson | Chevy | Target | 8 | 28.057 | -0.036 | 192.465 |
| 4 | 11 | Denny Hamlin | Toyota | FedEx Office | 9 | 28.057 | -0.036 | 192.465 |
| 5 | 4 | Kevin Harvick | Ford | Mobil 1 | 5 | 28.103 | -0.082 | 192.150 |
| 6 | 20 | Matt Kenseth | Toyota | Circle K | 9 | 28.141 | -0.120 | 191.891 |
| 7 | 2 | Brad Keselowski | Ford | Miller Lite | 9 | 28.141 | -0.120 | 191.891 |
| 8 | 21 | Ryan Blaney | Ford | Motorcraft | 9 | 28.142 | -0.121 | 191.884 |
| 9 | 18 | Kyle Busch | Toyota | M&M's Red, White & Blue | 8 | 28.159 | -0.138 | 191.768 |
| 10 | 1 | Jamie McMurray | Chevy | GEARWRENCH | 9 | 28.189 | -0.168 | 191.564 |
| 11 | 78 | Martin Truex Jr | Toyota | Bass Pro Shops | 9 | 28.194 | -0.173 | 191.530 |
| 12 | 31 | Ryan Newman | Chevy | Grainger | 9 | 28.197 | -0.176 | 191.510 |
| 13 | 19 | Daniel Suarez | Toyota | Subway | 7 | 28.209 | -0.188 | 191.428 |
| 14 | 41 | Kurt Busch | Ford | Haas Automation | 7 | 28.227 | -0.206 | 191.306 |
| 15 | 3 | Austin Dillon | Chevy | Dow Salutes Veterans | 9 | 28.244 | -0.223 | 191.191 |
| 16 | 14 | Clint Bowyer | Ford | Haas-Automation | 3 | 28.257 | -0.236 | 191.103 |
| 17 | 24 | Chase Elliott | Chevy | NAPA | 7 | 28.286 | -0.265 | 190.907 |
| 18 | 10 | Danica Patrick | Ford | CODE 3 ASSOCIATES | 9 | 28.288 | -0.267 | 190.894 |
| 19 | 27 | Paul Menard | Chevy | Knauf / Menards | 11 | 28.290 | -0.269 | 190.880 |
| 20 | 95 | Michael McDowell | Chevy | WRL General Contractors | 7 | 28.303 | -0.282 | 190.792 |
| 21 | 6 | Trevor Bayne | Ford | Ford EcoBoost | 9 | 28.344 | -0.323 | 190.517 |
| 22 | 88 | Dale Earnhardt Jr | Chevy | Nationwide Patriotic | 13 | 28.363 | -0.342 | 190.389 |
| 23 | 47 | AJ Allmendinger | Chevy | Harris Teeter Express Lane | 8 | 28.373 | -0.352 | 190.322 |
| 24 | 5 | Kasey Kahne | Chevy | LiftMaster | 8 | 28.404 | -0.383 | 190.114 |
| 25 | 37 | Chris Buescher | Chevy | Kleenex – Cars3 | 13 | 28.467 | -0.446 | 189.693 |
| 26 | 13 | Ty Dillon | Chevy | GEICO Military | 11 | 28.480 | -0.459 | 189.607 |
| 27 | 17 | Ricky Stenhouse | Ford | Fastenal | 7 | 28.500 | -0.479 | 189.474 |
| 28 | 43 | Regan Smith | Ford | United States Air Force | 9 | 28.504 | -0.483 | 189.447 |
| 29 | 32 | Matt DiBenedetto | Ford | Cosmo Motors | 7 | 28.677 | -0.656 | 188.304 |
| 30 | 22 | Joey Logano | Ford | Shell Pennzoil | 22 | 28.685 | -0.664 | 188.252 |
| 31 | 34 | Landon Cassill | Ford | CSX Play It Safe | 9 | 28.705 | -0.684 | 188.121 |
| 32 | 38 | David Ragan | Ford | Jacob Companies | 16 | 28.954 | -0.933 | 186.503 |
| 33 | 83 | Corey Lajoie | Toyota | Hope for the Warriors | 10 | 29.093 | -1.072 | 185.612 |
| 34 | 72 | Cole Whitt | Chevy | RTIC Coolers | 15 | 29.127 | -1.106 | 185.395 |
| 35 | 23 | Gray Gaulding | Toyota | Bubba Burger | 22 | 29.231 | -1.210 | 184.735 |
| 36 | 15 | Reed Sorenson | Chevy | Low T Centers | 4 | 29.674 | -1.653 | 181.977 |
| 37 | 7 | JJ Yeley | Chevy | Accell Construction, Inc | 2 | 29.787 | -1.766 | 181.287 |
| 38 | 33 | Jeffrey Earnhardt | Chevy | Towne Bank | 5 | 29.825 | -1.804 | 181.056 |
| 39 | 51 | Timmy Hill | Chevy | CharliesSoap.com | 11 | 30.443 | -2.422 | 177.381 |
| 40 | 55 | Derrike Cope | Toyota | Twin Peaks | 10 | 30.516 | -2.495 | 176.956 |