Latest F1 news in brief – Thursday
Ecclestone contemplated a Vietnam race then rejected the idea

Ecclestone rejected Vietnam GP deal

Mercedes still quicker than Ferrari – Ricciardo
Wolff plays down Melbourne defeat
Prost wants tire choice freedom in F1
Force India among slowest in 2017 – Perez
Perez would not give up F1 seat over 'fitness'
Verstappen: Red Bull faces 'big gap' to front
Vettel: Ferrari's work 'a lot more targeted'
'Interlagos to be sold, Ecclestone to bid'
Ecclestone rejected Vietnam GP deal
(GMM) Ousted F1 supremo Bernie Ecclestone says he rejected plans to add a Vietnamese grand prix to the race calendar.
The 86-year-old, recently stepped down as the sport's chief executive by new owners Liberty Media, was criticized in the past for adding races to the calendar that lack fan support but pay premium race fees.
But Ecclestone told F1 business journalist Christian Sylt that Vietnam was rejected last year because it lacked "racing history", while F1 "already has several races in the region".
Ecclestone also told the Independent newspaper: "I could have done the deal and signed it in August."
But he rejected the Vietnam deal, also explaining: "It hasn't got any racing history at all.
"So I didn't want to put another race in the same sort of area where we already have very good promoters. And I was criticized for putting the races in Baku and in Russia because they hadn't got that much racing history."
Mercedes still quicker than Ferrari – Ricciardo
It will be a surprise to everyone if Ferrari can beat the Aldo Costa Mercedes on a regular basis. Shanghai and Bahrain will give us a better picture.
(GMM) Daniel Ricciardo thinks Mercedes continues to have the quickest car in F1.
That is despite the fact that Sebastian Vettel carried Ferrari's winter promise into the 2017 season by winning the recent Australian grand prix.
But Red Bull driver Ricciardo said he is happy Ferrari won the season opener, because he thinks Mercedes will in fact be the stronger title contender this year.
"In a way, it's nice that someone took the win away from Mercedes," he told the South China Morning Post.
"I still think Mercedes is the quickest package and they are the team to beat but it's good that some people can take points away from them for now and hopefully gives us the chance to be in the fight."
Indeed, Renault-powered Red Bull was clearly the third force in Melbourne, admitting a lack of performance from both chassis and engine.
Ricciardo also had a troubled home race in Australia, crashing in qualifying and hitting multiple reliability problems in the race.
"To finish qualifying and to start the race will already be better than Melbourne," he said ahead of the Chinese grand prix in Shanghai.
"A podium would be a strong weekend for us. That's what we are targeting but we have to get closer to Ferrari and Mercedes."
Wolff plays down Melbourne defeat
Wolff is ready for a good fight
(GMM) Toto Wolff has calmed fears that Mercedes has finally been overtaken as F1's top team.
In Australia, Mercedes was beaten by Ferrari's Sebastian Vettel, who carried over a winter of promise into the 2017 race season.
But some think triple back-to-back world champion Mercedes is in fact still the best team overall, which is a sentiment apparently shared by its boss Wolff.
"We should not dramatize the current situation," he told Germany's Sport Bild.
"The car is competitive, and there are many areas where we have potential for improvement."
Indeed, one of them is the overall weight of the 2017 Mercedes, with Wolff insisting: "The result in Melbourne was a small wake-up call for us.
"It showed that we no longer have room for maneuver and must be perfect in every detail. That is motivating us."
And amid Mercedes' resolve to hit back, Wolff said the team relishes the forthcoming battle with Ferrari.
"It is always more exciting to fight against others," he said, "because opponents always have quite different strengths and weaknesses.
"Ferrari has a strong team and has developed a good chassis-engine package. And Sebastian's performance speaks for itself."
Wolff is also confident that in triple world champion Lewis Hamilton, Mercedes has what it needs to succeed in 2017.
"We are currently experiencing the best Lewis Hamilton I have ever seen. He is fully motivated and his performance is incredible.
"After the internal team pressure of the last few years, the fight against another team is a new challenge that he accepts gladly," Wolff added.
Prost wants tire choice freedom in F1
Just how many tires is Pirelli going to bring to a race Alain? Perhaps you want to pay that bill?
(GMM) F1 legend Alain Prost says more tire freedom will spice up the sport's battles.
With the new regulations making the cars faster and harder to drive in 2017, some still worry that overtaking and exciting tire strategies will in fact be even less likely this year.
But quadruple world champion Prost, an advisor to Renault, thinks tweaks to the tire rules would help with both.
"Let the drivers put together their own tire choices from the 5 different compounds and assemble 13 sets according to their wishes," he said.
Currently, Pirelli takes 3 consecutive compounds to each race and tightly controls how the teams can select them.
But Prost told Germany's Auto Motor und Sport: "I would even let them use different tire types in one set — so a soft for the left and a hard for the right, or vice versa."
The great Frenchman said that would likely result in vastly different race strategies, performance variation and potential mistakes, and bring out the driving 'personality' of the drivers.
"I would also remove the rule that you have to use two different tire compounds," said Prost. "If you want to use a hard tire without making a pitstop, please do.
"Or perhaps another would be faster with two stops and only using the softest tires."
He said his proposal would mean races are often won due to "the feel of the drivers. And it could provoke surprises."
Force India among slowest in 2017 – Perez
Is the pink Force India as bad as it looks?
(GMM) Sergio Perez has admitted Force India's 2017 car is currently among the very slowest on the grid.
With its small budget, the lean and mean Silverstone based team finished an admirable fourth overall last year.
The team then signed up a $20 million new sponsor and painted its car pink for 2017, but Mexican driver Perez admits Force India is currently struggling.
"We're missing speed both on one lap and in race pace," he said ahead of the Chinese grand prix.
"We are currently the seventh or eighth fastest team in the field," Perez added.
It is known already that, after Perez and teammate Esteban Ocon bulked up over the winter, Force India asked them to then lose that weight to help the team's competitiveness.
And Germany's Auto Motor und Sport said the big update to fix the current problems – including smaller sidepods – will not be ready until Montreal in June.
Until then, Perez said: "We have to take advantage of every opportunity that is offered to us. Just like in Australia. This was a great weekend for us with a result we did not expect."
Perez would not give up F1 seat over 'fitness'
Perez would not give up seat for fitness. But is it really fitness or is it money? When in doubt, follow the money.
(GMM) Sergio Perez said he feels for fellow F1 driver Pascal Wehrlein.
German Wehrlein, who switched from Manor to Sauber for 2017, suffered a back injury in the winter and had to sit out Melbourne with a reported lack of physical fitness.
The 22-year-old is again missing this weekend in Shanghai, triggering rumors about the real reason Ferrari reserve Antonio Giovinazzi is stepping in for now.
"I hope it really is just a fitness problem for Pascal and nothing worse," Mexican Perez, who drives for Force India, told Auto Motor und Sport.
"Hopefully, he will soon be fit again."
Perez said it reminds him of when he drove for Sauber in 2011, when a big crash in 2011 meant he sat out the subsequent race despite wanting to return to the car.
"I respect Pascal's decision," Perez said. "But I would not leave my car to anyone.
"Even if you're suffering in the car, you try to get the best out of it. After my accident I had to suffer until the summer break, which was four or five races," he added.
Verstappen: Red Bull faces 'big gap' to front
Max Verstappen
Max Verstappen has admitted that Red Bull will need to close "quite a big gap" if it is to challenge Ferrari and Mercedes during the 2017 season.
Verstappen was the lead Red Bull driver in qualifying in Australia, after team-mate Daniel Ricciardo crashed, lapping 1.3 seconds slower than pole-sitter Lewis Hamilton.
In the race, he retained fifth place, gradually falling away from the leaders to cross the checkered flag almost half a minute behind winner Sebastian Vettel.
"It's quite a big gap [to Ferrari and Mercedes]," said Verstappen.
"I'm confident that we can definitely close it in the upcoming races to within a second, and then we'll see when we get the bigger upgrades on the engine side.
"I think we can just improve the general balance [of the car], it feels pretty good, but we need more load, a bit more grip, and we need more power.
"It's a bit of both [chassis and engine].
"You try to make an efficient car on the straights to make up for the loss of power, but we have to focus on getting the car in the right [set-up] window.
"Hopefully we get the right upgrades from the engine side as well."
Verstappen reckons this weekend's Chinese Grand Prix, at the expansive Shanghai International Circuit, will give a better indicator of current performance levels.
"For sure, we have to improve, but that's how it is," he commented.
"We're definitely working hard to get new parts to the car as soon as we can, to try to get the pace up a bit, and be closer to the top two teams.
"Behind us, at the moment, I think there's quite a big gap; I think I could have done two pit-stops in Melbourne and still have the same position!
"We will see on a normal race track here in Shanghai."
Vettel: Ferrari's work 'a lot more targeted'
Vettel says Ferrari focussed
Sebastian Vettel has expanded on Ferrari's behind-the-scenes efforts over the winter, following a breakthrough victory at the Australian Grand Prix, stating that the team is now "a lot more targeted" with its work.
Ferrari slipped to third in the 2016 standings, behind Red Bull, as it endured a win-less season, but kicked off the new campaign with a victory by getting the better of Lewis Hamilton and Mercedes.
Ferrari President Sergio Marchionne declared at the end of last year that the Scuderia had found the "solution" to its relative struggles, after implementing a new technical set-up during the summer.
It parted ways with James Allison, who has now linked up with Mercedes, and installed Mattia Binotto, who had fronted Ferrari's power unit department from mid-2014, as Technical Director.
"For sure, it wasn't the season we wanted to have," Vettel said of 2016.
"After one race it's easy to say this year is better than last year, but it's only one race.
"But a lot of things have changed since last year. We've evolved as a team. We're generally in a much better position. People are more comfortable throughout the whole team.
"I think the work going in is a lot more targeted. Overall, I think we're more confident with the way we work now. Hopefully we can keep up that trend to show it also on the track."
Asked about his and Ferrari's chances of fighting for victory again at this weekend's Chinese Grand Prix at the Shanghai circuit, the German outlined a "completely different" challenge.
"It's a Grand Prix full of surprises," Vettel went on to comment.
"You never know what can happen around here. It's a demanding track for the cars and it's a demanding track for the tires, in particular. It's impossible to predict anything."
But he added: "I think Mercedes still has to be the favorite."
Vettel was also asked about any advantage gained by testing Pirelli's 2017-style tires last year, with Ferrari, Mercedes and Red Bull all running 'mule' cars for the Italian manufacturer.
Vettel, laughing, commented: "I think maybe the right answer is no!"
"But the reason why generally I'm happy to do it is because I love driving.
"When there's an opportunity to test, even though sometimes testing can be a bit dull and boring, still you're driving the car. It's much better than sitting on a bike for a couple of hours or whatever.
"Track time is limited, so every opportunity you get… I can't understand why you would reject it.
"I'm happy to drive the car. I think there's always something you learn, so the days I did last year with Pirelli to help them, give feedback etcetera, for sure they also helped me."
'Interlagos to be sold, Ecclestone to bid'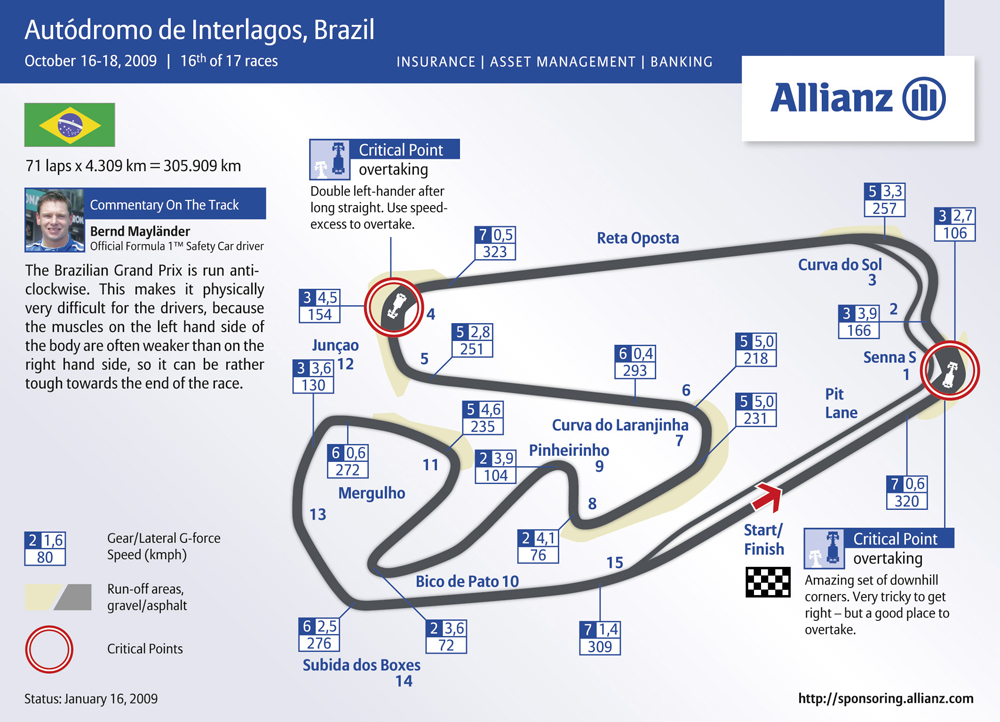 Interlagos
Brazilian Grand Prix venue Autodromo Jose Carlos Pace is to go up for sale, with Bernie Ecclestone interested in bidding, according to the mayor of Sao Paulo.
Interlagos hosted its first Formula 1 event back in 1972, before a run of races at Jacarepaguá, and has been a permanent fixture on the calendar since 1990.
A sale would allow an upgrade to the facilities, with authorization to build a hotel, luxury apartments and a museum named after three-time champion Ayrton Senna.
"The privatization of the track is the guarantee of the continuity of Formula 1," mayor Joao Doria told Reuters.
"I understand that Formula 1 is important, but with private money, not public money. It's perfectly possible for it to keep running with private money as a private track."
According to Doria, Ecclestone, who was recently ousted as F1's CEO, is one of the interested parties.
"He showed interest. He's going to participate in the auction for the track," added Doria.
"I have the impression that international funds are going to take part as well. I have no doubt that we will sell the Interlagos track, and sell it well."
Ecclestone, meanwhile, remained coy over a potential bid.
"They want to sell. They're not going to subsidize anything there. They're not going to put any money into it. They want to get rid of it," said Ecclestone, who is married to a Brazilian.
"I haven't made [a decision], 'yes, I'm going to buy' or 'no, I ain't going to buy'."
Ecclestone also suggested that F1's new owner, Liberty Media, could bid.