Latest F1 news in brief – Monday
Bottas smiling ear-to-ear every day now

Hakkinen confirms Bottas negotiations

Rosberg to watch Melbourne from the couch
Hulkenberg training hard for 2017
Hulkenberg happy without Mercedes seat
Lost money hurt Manor survival chances – owner
Toro Rosso nearing 24/7 shift schedule
Hungaroring to begin revamp in September
Palmer: Lazy drivers will be tested in 2017
Hakkinen confirms Bottas negotiations
(GMM) Valtteri Bottas' next step in formula one will be known "in good time" before pre-season testing begins late next month.
That is the news from Mika Hakkinen, the former two-time world champion who is now part of his fellow Finn's management team.
Hakkinen was speaking to the Finnish broadcaster MTV, amid strong rumors that Bottas has now been selected by Mercedes to replace the retiring world champion Nico Rosberg.
"From the driver's side, the situation cannot be better than when you are wanted," Hakkinen said, presumably referring to the fact that both Williams and Mercedes tussled over the 27-year-old for 2017.
"It is a dream scenario," Hakkinen added.
Former McLaren driver Hakkinen, 48, confirmed that negotiations with Mercedes have "of course" taken place, but said it "remains to be seen" what the outcome will be.
"It's not my decision," he insisted.
"I'm not going to joke that we will know something before the first race, but there is not much time before the first tests and I think we will hear news long before then," added Hakkinen.
"I cannot say any more, but when you are wanted by a team, especially one that has been dominating formula one, it is a dream situation for any F1 driver."
However, some believe any new driver alongside Lewis Hamilton will struggle, but Hakkinen said: "When you can be on a team that is on top, it is your job to fight for wins and the championship.
"Of course I see Valtteri as someone who has what it takes to be champion," he added.
Rosberg happy to sit on his laurels
Rosberg to watch Melbourne from the couch
(GMM) Nico Rosberg has no plans for the 2017 season opener in March except for "sitting on a couch".
"I'm just going to be at home, sitting on a couch, watching TV," the reigning world champion, who stunned the F1 world by quitting just days after winning his first title, told CNN.
Former Mercedes driver Rosberg, however, admitted that watching Melbourne on television as the new champion is "going to be strange".
But "I'll be excited to see the new cars and the battles. I'll definitely be following," Rosberg added.
Some have surmised that Rosberg only ever intended to emulate his father's achievement of winning the title before retiring, while others think he baulked at the extraordinary pressure of taking on Lewis Hamilton.
"The pressure and the intensity were unbelievable," Rosberg admits. "There were some really hard moments along the way.
"To lose to Lewis in the two championships prior was very, very tough," he said. "It's really not easy to handle.
"Even when I crossed the line (in Abu Dhabi) I wasn't happy. I was relieved in the first instance."
So for now he will be happy to watch Melbourne from home, albeit indicating that he wants to return to F1 with a role in the future.
"I want to be involved in the sport in some way," Rosberg said. "I know I'll be a fan of our sport."
But as for racing, he insists it's over for now.
"I have a go-kart in the south of France so if I feel the need to drive, I just go up there with friends," he said. "Apart from that, nothing at the moment.
"What I need is competition. There are other sports I also have passion for. I know that even if I play tennis I can get a similar sort of thrill and fun out of it. So let's see."
Nico Hulkenberg
Hulkenberg training hard for 2017
(GMM) Nico Hulkenberg says he has never worked harder ahead of a new season of formula one.
The German is switching from the small outfit Force India to the Renault works team for 2017.
Asked by Bild am Sonntag how he is preparing for the season, Hulkenberg answered: "More intensively than ever.
"I have already had the first meetings with the team, and I have given up a longer holiday. My goal is to be as well prepared and trained for the season as possible."
Hulkenberg, 29, said his higher focus is not just about having changed teams, but because of the extent of the chassis and tire rule changes for 2017.
"The rules are changing the cornering speeds in an extreme way," he said, "so the neck muscles in particular have to be strengthened to prepare."
You can bet he envies Bottas every day
Hulkenberg happy without Mercedes seat
(GMM) As he prepares for 2017, Nico Hulkenberg insists he is content.
That is despite the fact that, had he still been on the driver market for 2017, he might now be the sure favorite to replace Nico Rosberg at Mercedes.
The German smiled: "Mercedes is the long-time engine partner of Force India and we did joint promotional activities for Hockenheim in the summer.
"Rosberg could have quietly told me that he would quit if he won the title," Hulkenberg told Bild am Sonntag newspaper.
The 29-year-old, of course, was only joking, insisting he is happy to be switching from Force India to the Renault works team for 2017.
"My goal was to drive for a manufacturer. That's what I've achieved with Renault," said Hulkenberg. "We both have unfulfilled goals."
Indeed, Hulkenberg is quietly known as one of the best drivers in F1, but with a much lower level of media coverage than countrymen Rosberg or Sebastian Vettel.
"If you don't drive for Ferrari or Mercedes, there is no coverage and the driver performance is not as linked with the car performance," he said.
"Nevertheless, I feel a lot of respect for my performance, especially internationally."
He is also being well rewarded by Renault for the next period, with a new contract reportedly worth $20 million.
"You said the number, not me," Hulkenberg insisted. "But in financial matters, I am typically German, watching every penny and only spending what I won't regret later. I'd rather take my risks on the track."
In that way, Hulkenberg insists he is "down to earth".
"With (German TV presenter) Kai Ebel it's a running gag," he laughed. "He always says 'Down to earth but living in Monaco!'
"No, I'm fairly typically German: disciplined, punctual, ordered, reliable. Like many millions of Germans, but with an exotic job."
Stephen Fitzpatrick (L) with his driver Wehrlein and Dave Ryan. That will teach them to hire ride-buyers with little talent to score points
Lost money hurt Manor survival chances – owner
(GMM) Manor owner Stephen Fitzpatrick has admitted losing tenth place in the 2016 world championship was a real blow to the team's hopes of survival.
In late November, he denied that the lost $13-15 million in official prize money as a result of falling behind Sauber could spell the end of the backmarker team.
But Manor has just been placed into administration and is now in danger of collapsing prior to the 2017 opener in Melbourne.
Fitzpatrick admitted to his team's embattled staff in a letter: "For much of the season we were on track (for tenth place).
"But the dramatic race in Brazil ended our hopes of this result and ultimately brought into doubt the team's ability to race in 2017," he added.
"I would like to thank the team for their constant hard work, determination and passion," Fitzpatrick continued.
"We made a huge amount of progress on and off track but ultimately it was not enough."
Franz Tost going to work his men until the keel over
Toro Rosso nearing 24/7 shift schedule
Toro Rosso is planning to have staff working 24 hours a day, seven-days-a-week for a four-week period leading up to the first Formula 1 pre-season test next month.
Following an overhaul of F1 regulations, more aggressive-looking cars with wider front and rear wings and bigger tires will be introduced this year.
Testing starts at Barcelona on February 27, five days later than in 2016, but the dramatic changes mean teams face a battle to get their machines ready in time.
Toro Rosso adopted a similar around-the-clock approach last season but that was because its plans were severely hampered by the lengthy delay in securing its engine deal.
"From the production side, we will have to work 24/7 for a period," team principal Franz Tost told Autosport.
"From the middle of January to the middle of February, we will run three shifts per day.
"It's a very short period because it's quite cost intensive."
December and January are the most critical months for F1 teams as it is when production really ramps up.
However, teams want to give designers as much as time as possible before committing to production to ensure performance is maximized.
This makes schedules very tight, but Tost believes Toro Rosso is well set to be ready.
"It becomes tricky when the aerodynamic department do not want to release the drawings and they just want to gain another day," he said.
"It becomes always very tight but it's a performance gain.
"It's every year the same story, nothing changes.
"As long as you can stay in the windtunnel and do research and development, there's more performance you can come up with.
"This is the difference with a small team, once we set up the deadline we must say 'stop now', because otherwise we don't drive.
"We need to have the decision about the drawing release on a certain date and then they know it's absolutely latest, it's not possible anymore because we're on the limit." Autosport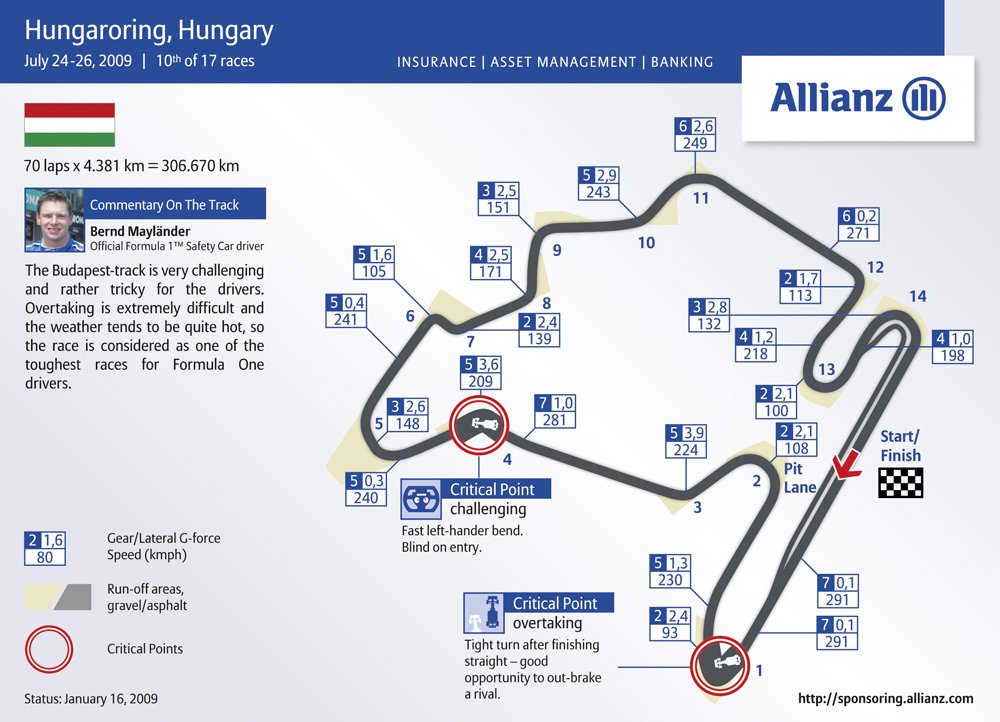 Hungaroring to get spruced up
Hungaroring to begin revamp in September
Officials at the Hungaroring, home of the Hungarian Grand Prix, have confirmed that facilities will be revamped over the next couple of years.
Formula 1 has visited the Hungaroring on an annual basis since 1986, and last year its contract, originally set to expire in 2021, was extended through to 2026.
The entirety of the track was resurfaced prior to last year's event and officials set aside budget in order to carry out further renovations.
The project is set to be conducted in three phases; the first, which will begin in the autumn, is to focus on improving grandstand areas and the TV commentary boxes.
The construction of a new pit building and garages is set to commence in autumn 2018, while in the third phase a new visitor center and museum will be built.
Circuit officials have insisted that development works will not affect its major events, including the Formula 1 Hungarian Grand Prix and its European Formula 3 round.
This year's Hungarian Grand Prix will take place from July 28-30, the last event before the sport's annual summer break.
Jolyon Palmer is Jolly. Strength will be more important over talent with the wide tires and higher downforce
Palmer: Lazy drivers will be tested in 2017
Jolyon Palmer reckons drivers who have not worked hard enough in the gym over the winter will be "found out" due to the anticipated physical challenges of this year's cars.
Formula 1 cars are set to be four to five seconds per lap faster in 2017, compared to last season's numbers, through overhauled aerodynamics and much wider Pirelli tires.
"I can see it making a difference," Palmer said of the changes.
"It depends… we don't really know exactly the performance [of the cars for 2017]. We know what the numbers are, but we don't know yet what the tires are going to do.
"If it is what we think, it will show – certainly early on – who has been in the gym and who hasn't. If people are not in the gym so much, then I think they will be found out."
Palmer says is difficult to tell whether the changes will be positive for Formula 1.
"I think the cars going quicker will generally be a bigger challenge, but there will be some corners that will be less of a challenge because they will be flat," he commented.
Pushed on whether that will be negative for racing, he added: "It depends, maybe you can stay flat through Eau Rouge, when you are following, and you can get a massive tow.
"Maybe the slipstream effect will be more without DRS – but we don't know.
"I think you can look back and see when cars had a lot of aero it was quite difficult to follow, thinking of 2007 and2008, but they didn't have DRS and they were still overtaking.
"Some of the slipstreams were massive, but at the moment we are not getting much, so I think it's a double effect – we'll only really know [at the first round] in Melbourne."
Renault will launch its 2017 challenger on February 21.