Liberty Media Plans To Revamp Formula One, Boost Marketing
Will the NJ F1 race overlooking the Manhattan skyline finally come to fruition now that Americans will own F1?
Liberty Media, the new owner of Formula 1, "plans to overhaul the elite motorsport, including selling race naming rights and staging ancillary events" around its 21 grands prix with the aim of making each one "the equivalent of the Super Bowl," according to Matthew Garrahan of the FINANCIAL TIMES.
Liberty "intends" to turn each int'l Grand Prix into a week of events "to engage spectators and attract new sponsors," according to a senior exec involved with F1.
It is also "exploring expanding the contest's US presence with the launch of new Grand Prix in big media markets." N.Y., L.A., Las Vegas and Miami are "under consideration."
The U.S. media company "wants to draw more fans to the sport around the world, lift television ratings and increase commercial revenues."
F1 CEO Bernie Ecclestone will take a "revamped role" although details have yet to be "hammered out."
He said in September that he would continue to be involved in the sport for "two to three years."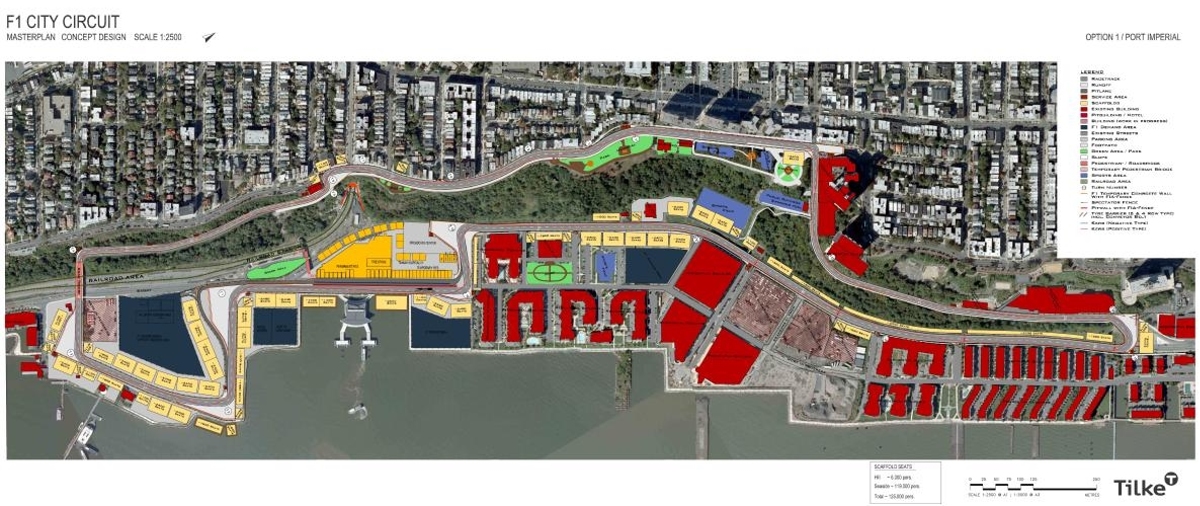 The Weehawken, NJ track designed by Tilke
Liberty "plans to do more to promote the rivalries between teams and drivers," building a marketing department and new digital platforms.
The F1 exec said, "There's no marketing, no research, no data, no digital platforms."
The senior exec added that after completing the purchase, Liberty believes F1 has "considerable potential."
The source said, "There's probably no sport more associated with technology and yet we don't have a technology sponsor." FT