Rockingham Speedway again up for sale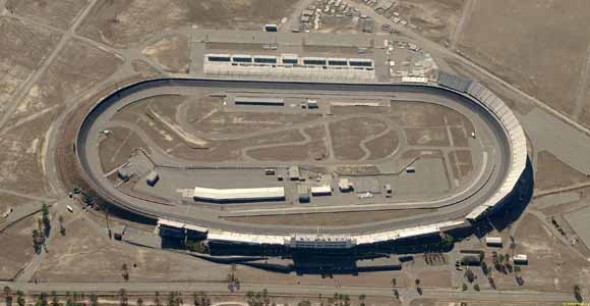 Aerial view of Rockingham Speedway
It was announced today that The NC Motor Speedway AKA Rockingham Speedway recognized as the fastest one mile closed circuit race track in the world is being offered for sale at private treaty.
The racing and entertainment complex, with approximately 250 acres, opened with the first race being run on Oct. 31st of 1965. For many years the Winston Cup Championship was decided at the fall race at Rockingham, which always generated record crowds. The complex was privately owned by a group of local investors, until it was sold to The Penske Organization for 30 Million in the late 1990's.
The race dates were moved to California Speedway and Texas Motor Speedway and the complex was sold to Andy Hillenburg and his partner. The partnership was recently dissolved and the current owner BK Rock Holdings, LLC, has commissioned Iron Horse Properties, LLC of Rockingham, NC to offer the complex for sale via a conventional Real Estate Listing. The complex has hosted many races, car shows, concerts, meetings, seminars and other large scale outdoor events over the years.
Marc Baysek, Broker In Charge, states, "The racing complex is recognized throughout the world as a track where every seat is a great seat. We look forward to working with interested purchasers and their agents to start a new beginning of this Historic American Automobile Racing Institution."
The racing and entertainment complex is being offered at a price significantly lower than its previous selling prices and construction costs.
For further information and details call:
910-997-2248
For Media Questions & Interviews, contact:
Marc Baysek at 910-206-1881
Iron Horse Properties, LLC
174 Airport Road
Rockingham, NC 28379
910-997-2248
marc@ironhorseauction.com
http://fb.me/IronHorseProperties