Latest F1 news in brief – Friday
Jost Capito

Spa to be first race for McLaren-Honda's Capito

Ocon eyes debut and Renault, Mercedes future
Sepang reveals circuit changes for 2016
Video: McLaren-Honda's mid-season report
Spa to be first race for McLaren-Honda's Capito
(GMM) Jost Capito has confirmed he will soon start work at McLaren.
The German was actually signed up in January to become the Honda-powered team's new chief executive, but Capito said he would not vacate his current role at Volkswagen until a replacement is found.
Now, at the Rallye Deutschland, Capito has announced that the German round of the world rally championship will be his last at VW.
"Yes, I will stop at Volkswagen at the end of August," he said.
However, the Spanish sports newspaper Marca claims Capito, 57, could actually attend his first grand prix as McLaren CEO at Spa-Francorchamps next weekend.
Luis Moya, famous for being former rally driver Carlos Sainz's co-driver and now a VW ambassador, would not be moved when asked who Capito's successor will be.
"I have not heard anything at all — it's best that it is kept secret," he smiled.
Esteban Ocon, has check, will drive
Ocon eyes debut and Renault, Mercedes future
(GMM) Esteban Ocon has not denied that his forthcoming nine-race stint at Manor is effectively an audition for a Renault race seat for 2017.
"No idea," the French teen, who is backed not only by the French marque but also Mercedes, said ahead of his F1 race debut at Spa-Francorchamps next weekend.
Ocon is replacing Manor's Rio Haryanto, whose Indonesian state funding has dried up.
It has been suggested that Renault is treating Ocon's Manor drive as a trial for a full race seat at the works team next year.
"The important thing is that I give the best of myself, which will open doors for me. If I start asking myself these questions, for sure my job becomes harder," he told the French magazine Auto Hebdo.
Much has been made this week of Ocon's admission that his sudden graduation from a DTM race seat and Renault reserve role to the F1 grid caught him by surprise.
But he insists he is ready.
"I have spent a lot of time on the track and in the paddock so yes, I'm ready," said the 19-year-old.
"I think I am even more ready than Max Verstappen when he made his debut in formula one," Ocon, who actually beat Verstappen to the 2014 F3 title, added.
And he denied that, unlike Verstappen's meteoric rise from Toro Rosso to Red Bull, making his own debut for a backmarker like Manor is much riskier.
"The team is not as weak as it may seem," Ocon insisted.
Not just that, he is being paired with Pascal Wehrlein, another Mercedes-backed junior who has been tipped for an almost certain future at the works team.
Asked if he is therefore also auditioning for Mercedes as well as Renault, Ocon smiled: "I hope so.
"I'm kidding. I honestly don't know. But I don't have to think about this pressure. If I can do my work well, there is no doubt that my future is in formula one."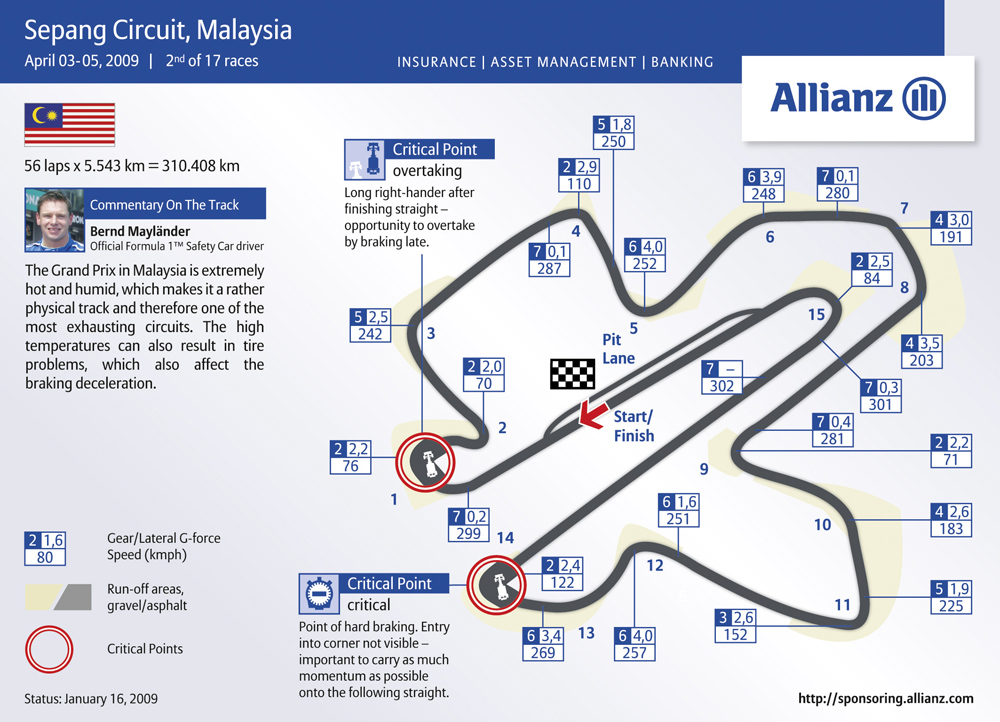 Did they improve Sepang, or make it worse?
Sepang reveals circuit changes for 2016
(GMM) Malaysia's F1 chief has revealed that the Sepang circuit has undergone significant changes ahead of the 2016 race.
Usually one of the first races each year, the event just outside Kuala Lumpur has instead been paired with the nearby and popular Singapore night race this season.
"On Monday after race day in Singapore, the F1 freight will be transported by road to the Sepang circuit," said Sepang chief Razlan Razali.
"It's the first time it's been done in the region," he added.
Another novel feature of the 2016 Malaysian grand prix, Razali added, is changes to the actual corners at Sepang, which according to the Straits Times newspaper have been done to encourage overtaking.
"There will be some unknowns for the teams and drivers as we've changed the dynamics of the circuit a little bit at the various turns," Razali confirmed.
"It will be as if they've come to Sepang circuit for the first time."
Singapore's race is on 18 September, with Malaysia taking place two weeks later.
Video: McLaren-Honda's mid-season report
McLaren-Honda's Racing Director, Eric Boullier, offers his thoughts on the 2016 season so far.