Bill Alsup dies in backcountry crane accident (Update)
UPDATE
I've never told this story before writes
Michael Knight.
In November 1981, Bill Alsup was scheduled to do some Indy Car testing at Michigan International Speedway and also had some corporate meetings in the Detroit area. Alsup, second in the PPG Cup point standings to Rick Mears that season, drove from his Vermont home to Michigan and stopped by the CART offices with gifts of jugs of real Vermont maple syrup. While there, he got word bad weather meant testing would have to be pushed back a couple of days. So, Alsup a member of the CART Board of Directors, hung out with us in the small sanctioning body offices. I was there as director of communications and was able to schedule a few telephone interviews which Bill — as always — gladly did. It was good for him and good for the series and it also helped pass the time. He took us out to lunch. zzz
But, mostly, Alsup observed. He was there when we (meaning Kirk Russell and me) would get calls from other Board members — Pat Patrick being No. 1 on the list. Such calls were often to push an agenda or to ask why we, the staff, were doing certain things or why we were doing them a certain way. Our answer typically was because Chairman John Frasco (who was out-of-town when Alsup visited), our boss and high-powered attorney who worked in a large suite of offices down the hall in Bloomfield Hills, Mich., told us to do it. I wish I had $1 for every time Patrick told me: "F*** Frasco. I'm the founder, the president, the treasurer of CART." Usually these things got sorted out OK, but let's just say such calls contributed to our organization operating less-than-efficiently, and didn't do much for overall morale.
In January, 1982, there was a regularly scheduled Board meeting held in a conference room at the Dallas-Ft. Worth airport. The routine was the directors — Patrick, Roger Penske, Bobby Hillin, Bob Fletcher among them — would meet behind closed doors. Frasco would pass out printed agendas at the start and collect them at the end. Russell and I would sit in the hallway outside, and wait to be summoned inside to make a presentation, answer questions and get the direction from the Board. Then we'd go back outside and wait in case we were again beckoned inside.
At this particular meeting, this is what happened, as described to me by a few friendly directors. After a couple of opening matters were disposed of, Frasco said: "Bill Alsup has asked for a few minutes." Alsup then recounted his experience in our offices, what he observed, and expressed great concern. "Our organization is being run in a way we would never allow our own businesses to be run," he said. And, later, "What are we doing to our guys (Russell and me)?" His words, his concern, came from the heart.
When Alsup was finished, Frasco said: "Thank you, Bill" and immediately pressed ahead with other agenda items. There was no discussion of the concern Alsup expressed. Well, actually, there WAS "discussion." After the meeting, Frasco said to Russell and me, "Have you guys been talking to Directors? Don't talk to Directors unless I tell you to."
Alsup — who contained his displeasure at being dissed by the chairman — also observed this and was alarmed. When Frasco walked down the hall, Bill came over to Kirk and the PR guy and said he was sorry. He tried. And now he was worried what he did would actually have the opposite effect and create a backlash against us. Right then, he was more worried about us, as the staff and as a couple of guys busting-butt and working VERY long hours.
Bill Alsup was worried about me, as a person.
That's who Bill Alsup was. And that's why news of his death last week has left me profoundly sad. Michael Knight/Spindoctor500blog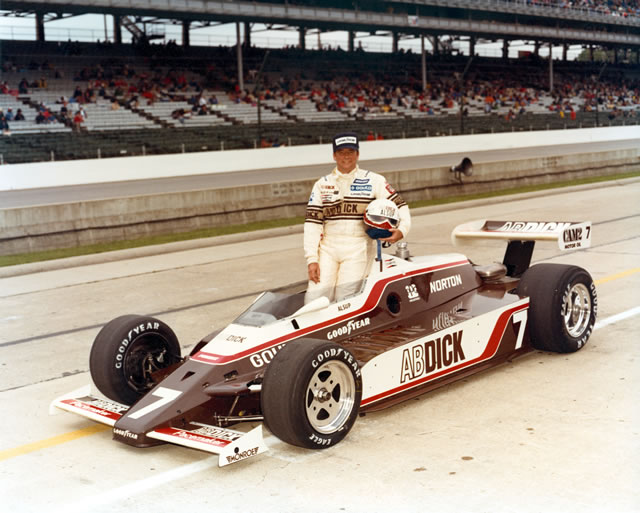 Bill Alsup 1981 Indy 500
08/10/16
Bill Alsup, a former Indy race car driver and long-time Silverton, CO. resident, died in an accident while operating his crane at a remote backcountry building site on Tuesday afternoon, Aug. 9. He was 78.
"It's super sad," said Sheriff Bruce Conrad. "What a good guy. There will be a community in mourning."
Conrad said that the accident, reported at about 1:30 p.m., happened as Alsup, driving his crane, was leaving a worksite at a remote cabin about a half mile up the Deer Park Road on the back side of Kendall Mountain.
"He was heading out of the job site and accelerated too quickly and went up the hillside," Conrad said. The crane rolled and pinned him beneath it.
Conrad said Alsup was killed instantly.
News of the accident stunned the Silverton community, with the Silverton San Juan Fire Department's flag at half-staff for their fellow firefighter.
Bill Alsup was born in Honolulu on July 15, 1938. As a race-car driver he competed in the 1981 Indianapolis 500, finishing 11th.
In Silverton he could commonly be seen grooming Kendall Mountain Ski Area or snowmobile and cross-country ski trails in the winter. And in the summer he operated the only crane in the caldera.
His extensive involvement with the community led him to be named Citizen of the Year at the Chamber of Commerce dinner in 2002.
He was a member of the San Juan County Historical Society Board and did a lot of volunteer work for the organization.
He was an enthusiastic member of the Silverton San Juan Volunteer Fire Department and enjoyed driving the department's 1929 engine.
He was an active participant in countless community events, including Hardrockers Holidays. And he was a photographer, too, having several photos published in the Silverton Standard.
Bill Alsup drove in 57 Indy car races over six seasons from 1979-84. Alsup was the 1979 CART rookie of the year and finished 11th in his only Indianapolis 500 appearance in 1981, driving for Roger Penske.