Newman-Wachs Racing returns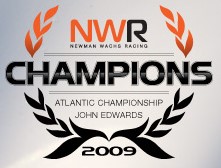 Mundelein, IL – Newman Wachs Racing announced today they are returning to racing after a seven-year hiatus. As of 2017, the NWR team will be competing in the Cooper Tires USF2000 Championship Powered by Mazda.
"Adding the respected Newman Wachs Racing to our 2017 USF2000 paddock is awesome news," said Dan Andersen, Owner and CEO of Andersen Promotions. "Eddie Wachs and his group, including the highly regarded Brian Halahan, are sure to make an immediate impact and raise the caliber of our competition. As an entrepreneur myself, I have the utmost respect for Eddie. He is an entrepreneur's entrepreneur. I am delighted they will be campaigning their four USF-17 cars with us next season."
A team with years of experience
NWR was formed in 2005, achieving much success in its tenure in the Atlantic Series.
"After racing together for many years, Paul Newman and I felt we should give back to the sport" said Team Owner Eddie Wachs on the team's formation. "By putting together NWR, we created an opportunity for young aspiring drivers to take the next step in professional racing. We decided to concentrate on open-wheel racing and the Atlantic Series. During the four-year involvement, we practically dominated the series with a number of talented drivers including Joe D'Agostino, JR Hildebrand, Simona di Silvestro, John Edwards, Jonathan Summerton, and others who have become full-time professionals in their sport. In 2009, we shut down the team when the Atlantic series folded."
Eddie Wachs promised he'd be back, and he kept his word. In 2016, Wachs and Brian Halahan decided to rebirth NWR and are looking to bring that same professionalism to the USF2000 series.
"We're delighted to be back and we look forward to the continued success we are used to seeing", Wachs added.
Team Manager, Brian Halahan, who's been with the team from the start, has already set things in motion, and signed up key people with years of experience on the Team.
"I am very excited that Newman Wachs Racing will be making its return to racing in the 2017 USF2000 Championship. It has been a long seven years away, but I never actually left Newman Wachs Racing. Eddie has been a great person to work for over the last 10 years. I've been involved in his other businesses and taking care of his vintage cars. His passion for the sport and drive to win are unquestionable, so I know I will have everything we need to succeed."
"Many pieces of this puzzle have already fallen into place. I am very pleased that we will have Anne Roy taking care of PR and working with our drivers to get them ready for their racing careers. She knows the business of racing and what it takes to succeed."
Alan O'Leary who brings over 25 years experience in open wheel racing, will be engineering the cars.
"I have no doubt that he will deliver a great car and teach our drivers what they need in a car to succeed," noted Halahan. "Alan has all those years of racing experience working in the junior formula ranks including USF2000, Atlantic, and Indy Lights."
"I've known Eddie for many years and I know his passion for helping young up-and-coming drivers reach their goals in racing," added O'Leary. "I also know his passion for winning and what a professional team Brian Halahan runs. I am very excited to get our hands on the new Tatuus chassis, and look forward to starting our development program. I think 2017 will be a great year for Newman Wachs Racing, and I'm really happy to be part of the team."
Additionally, Ray Hook who spent over two years working with Halahan joins the team as fabricator and machinist.
Talks are underway with different drivers and announcements will be made shortly.
"Eddie is one of the most passionate and competitive team owners I've ever had the opportunity to drive for," said Summerton, who finished second in the 2009 Atlantic Championship. "He doesn't just love racing, he goes to every race with the best crew, best equipment, and one goal, to Win."