Alex Zanardi talks about F1, CART and the Paralympics
Alex Zanardi knows the topic is going to come up in any interview he gives. The accident writes
Mark Tisshaw of AutoCar
.
It's probably one of the first things that comes to your mind too: the crash 13 laps from the end of a CART (later Champ Car) race at Germany's Lausitzring in 2001 that required the Italian, one of the best drivers of his generation, to have both legs amputated.
"I opened my eyes and I was happy to be alive," recalls Zanardi of the immediate aftermath. "All I wanted was to have the same quality of life back, or the best I could reach."
So popular was Zanardi and so inspirational was his tale in simply surviving the crash that many journalists were among his visitors at his hospital bedside in Berlin.
"It might not be their first question, but I always knew it would come up: 'Would I ever race again?' For me it was not physiological. I knew 100% that if I could find a way to solve the technical issues, there was no doubt.
"But it wasn't my priority; that was to regain what it would take to live a self-sufficient life. I couldn't even take a leak on my own."
This is when the story gets really inspirational. In 2003 he was back at the Lausitzring in a Champ Car with hand controls to complete the 13 unfinished laps of 2001's fateful race. His pace would have qualified him fifth for that weekend's Champ Car race, and it encouraged him to go on to a successful five-year career in the World Touring Car Championship.
"Being Alex Zanardi, my name makes a difference these days," he says. "It's a privilege; if I want to do something, I can find out what it takes to make it happen."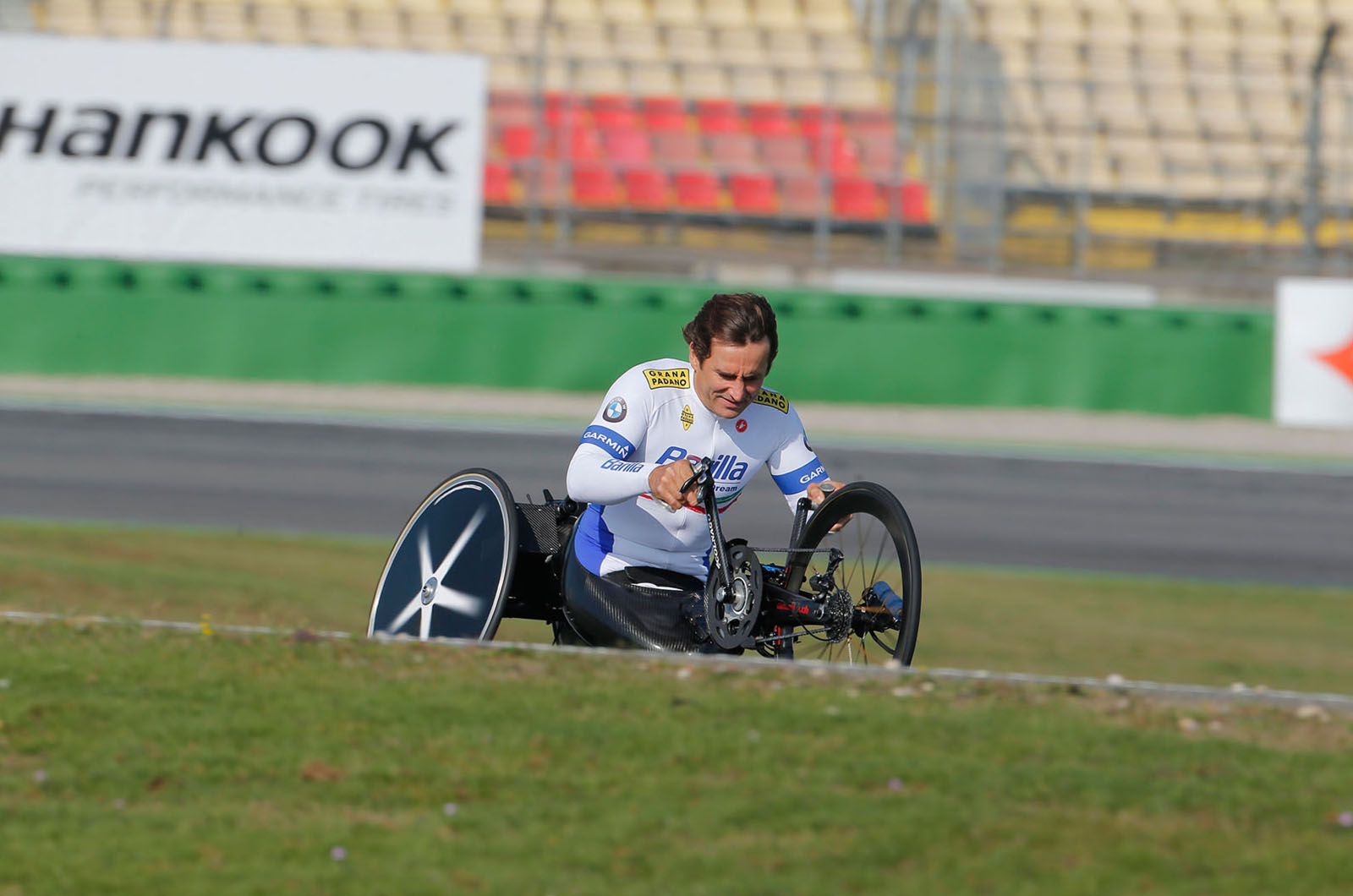 The most recent thing he has made happen is his transition from racing driver to Olympic athlete, for he is currently preparing for the Rio de Janeiro Paralympics. At London 2012, he won two golds at one of his old haunts, Brands Hatch, in the para-cycling. In Rio, Zanardi, current world and Paralympic champion, is aiming for three more golds.
Para-cycling is still in its infancy, and Zanardi sees opportunities to steal a march on his rivals. "Some people sit high and some sit low, some use big wrenches, others small ones," he says. "All the set-ups are different, but the performances are similar. This shows we're all lacking somewhere. My racing background and curiosity are helping."
Many of his rivals are younger and stronger, but Zanardi, now closing on 50, says what he's lost in muscular power, he's "gained in wiseness".
He clearly draws huge inspiration from his upbringing. He says he had the best parents, education and support you could wish for, but not the finances. "It was hard," he says.
The breakthrough came aged 17, when his father saw evidence of his absolute dedication to motor racing. "He saw my friends out having fun, so he drove home to tell me so I could join them. I was asleep in my go-kart. He said as long as I showed that sort of passion, he'd support me. When you are so passionate, you will take the opportunity to do something."
Zanardi's dedication saw him in F1 by 1991, but it was in the US CART series at Chip Ganassi Racing where he really made his name, winning the title in 1997 and 1998.
"The cars were amazing," he says. "They were great fun to drive and produced an amazing show. You could go from first to last and back again to win without the need for DRS or KERS, as people would struggle with the cars. They had power and grip, a capacity to accelerate and decelerate, cornering speed, but you had to work to get it."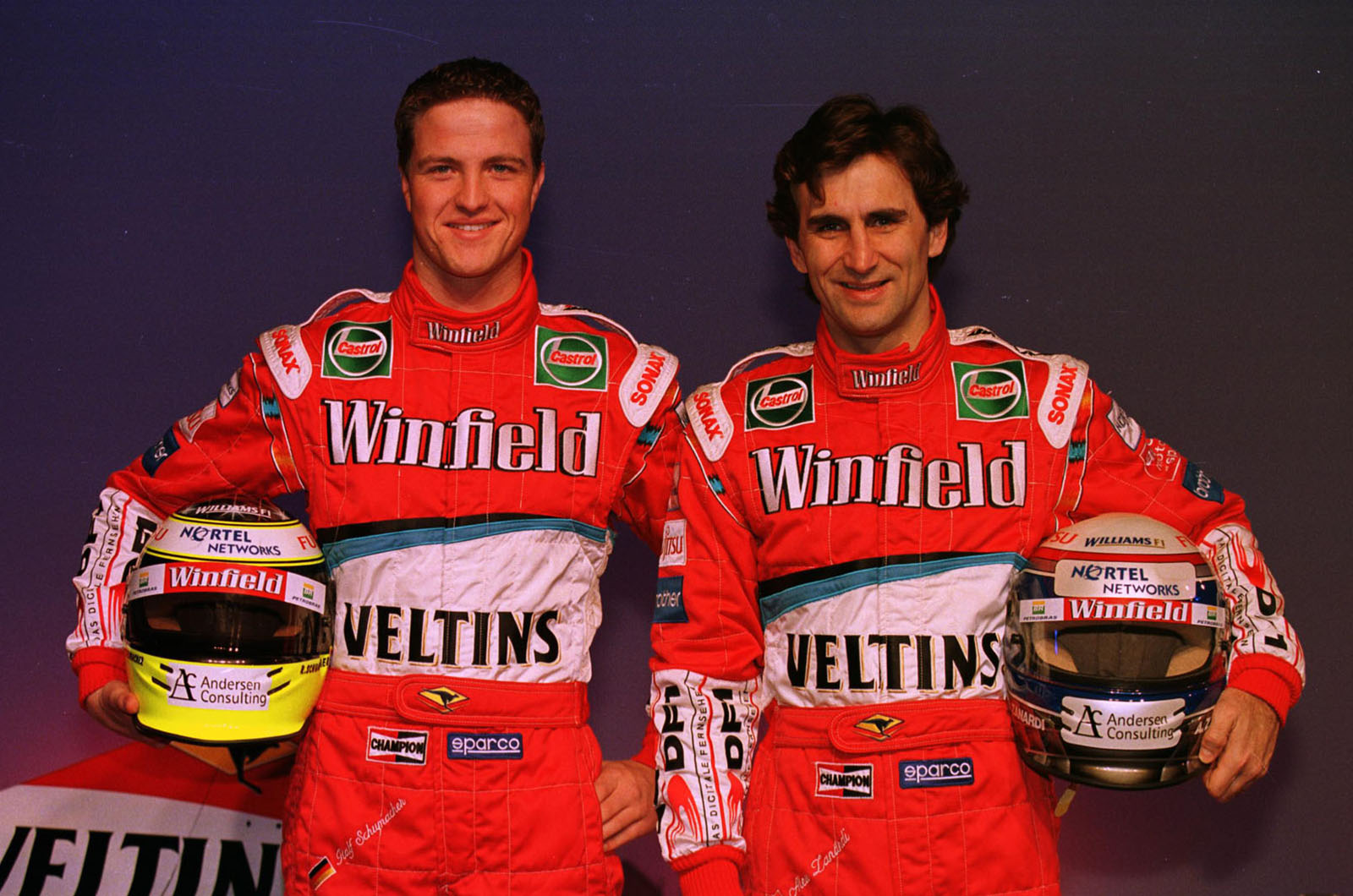 His US success brought an F1 return with Williams in 1999, but it was ultimately unsuccessful. "It was a disappointment for Frank not to get what Chip got out of me. But you can enjoy a smooth road after a bumpy one; the right life is a good mix."
Zanardi most recently competed in GTs last year, for BMW in a Z4 GT3, and he hopes to race again for BMW after the Paralympics.
"People would say 'wow' whether I was one second slower or faster than the pace. At a test at Spa, I was 1.8sec off the pace. The engineers came and said the car was shitty, and sorry. I wanted to prove myself after that."
Zanardi remains one of the quickest drivers, as well as one of the most popular. His pace is such that it's easy to forget his disability, something typified by a story he tells of an incident after a family day. "My brother-in-law told me my nephew wanted two things: to drive an F1 car and lose his legs like Uncle Alex. In his mind, the reason I was cool was that connection. It touched me." Mark Tisshaw/Autocar