Notes & Quotes From NBC's Nascar Sprint Cup Coverage From Daytona International Speedway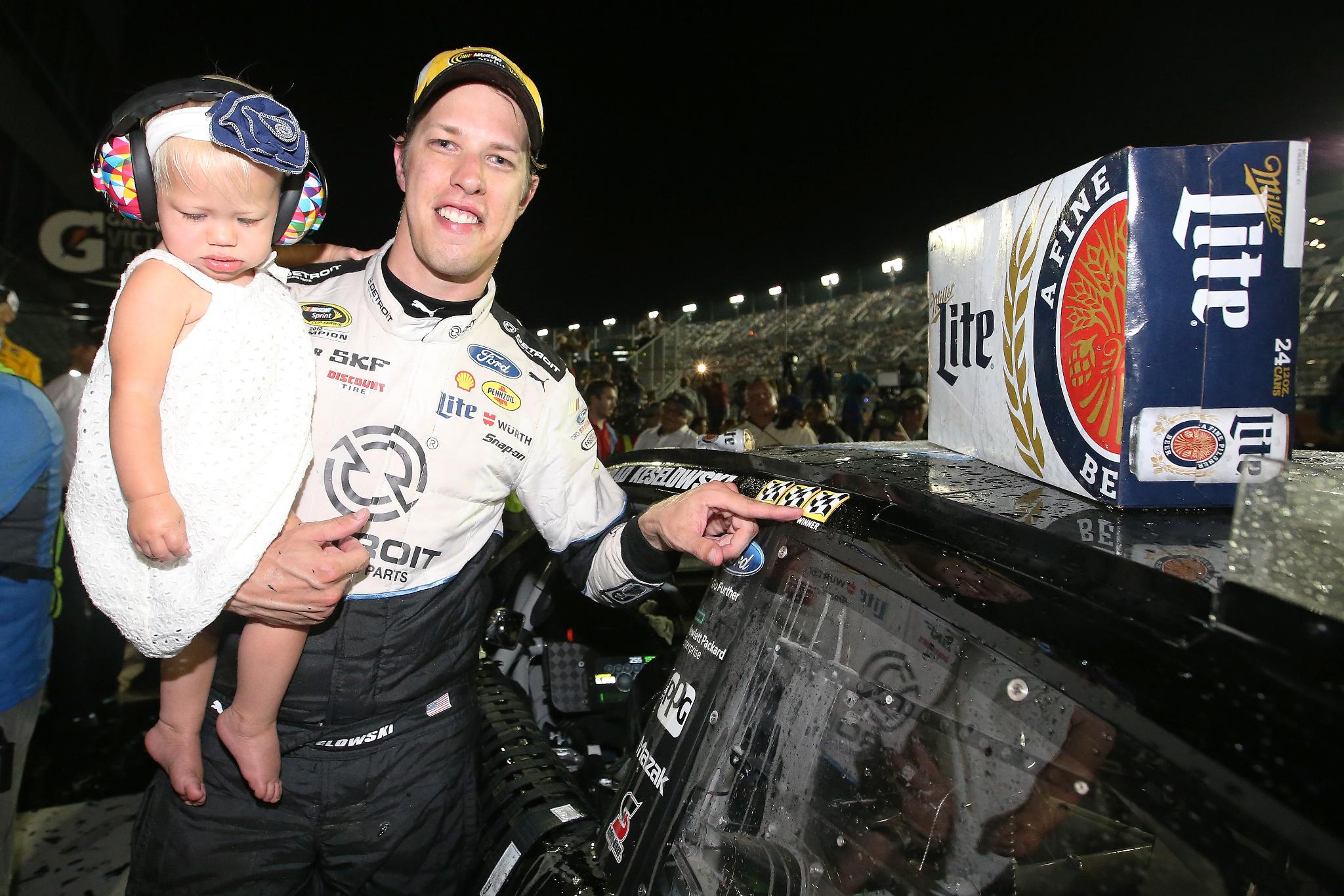 Race winner Brad Keselowski celebrates in Daytona victory lane with daughter Scarlett
Sean Gardner/NASCAR via Getty Images
NBC Sports Group launched its 2016 NASCAR Sprint Cup racing season this evening from Daytona International Speedway with live coverage of the Coke Zero 400. NBC Sports' lead broadcast team of Rick Allen, Steve Letarte and Jeff Burton called the race. Krista Voda, Kyle Petty and Dale Jarrett hosted Countdown to Green along with post-race coverage on NBCSN. Marty Snider, Mike Massaro, Kelli Stavast and Dave Burns reported from pit road.
At the conclusion of 161 laps, Brad Keselowski had the power to hold off the Busch brothers and secure his first win at Daytona International Speedway.
| | | |
| --- | --- | --- |
| Position | Driver | Car # |
| 1 | Brad Keselowski | 2 |
| 2 | Kyle Busch | 18 |
| 3 | Trevor Bayne | 6 |
| 4 | Joey Logano | 22 |
| 5 | Ricky Stenhouse Jr. | 17 |
The following are highlights from this evening's Sprint Cup coverage from Daytona on NBC.
COKE ZERO 400 COVERAGE
Race winner Keselowski to Massaro: "My teammate Joey Logano played a huge part of this today—Joey has won here and he is really a pro, especially on that restart, he gave me the push I needed, like I was telling Jeff Burton on TV, to get to the front.
Burton on Keselowski's first win at Daytona: "Keselowski committed to running up front all night long. He blocked all night and knew what his car could do. And when it came time to execute and the chips were down, he took what he had learned all day and did everything he needed to do to win this race."
Tony Stewart to Snider after the accident that ended his night: "You know it is a coin toss because you might get in a wreck here. For us it was more trying to take care of ourselves. When that big wreck happened, that really opened the door for us to take care of ourselves. Two of the three guys around us in points got caught up in it. So I probably should have been smart and sat back a little bit, but at that point, with 30 to go, we were in position to get a Top 5 so we had to take a chance."
Letarte on Stewart's cautious racing: "The goal is to get to the finish and there has to be a balance. Do you protect points and get to the finish? I think that does work and it might work tonight for Tony Stewart, who has to get in the Top 30. But if you are talking about a win and you look at Brad Keselowski and Kyle Busch…they don't really need the points– they are here for the trophy."
Burton during Lap 105 on teamwork down the stretch at Daytona: "At this point, you're just trying to lead every lap. I think, you forget about your teammate and you worry about yourself. Your teammate can help you, and you can help them, and that's great. But the primary focus has got to be to win the race for you and your team."
Marty Snider interviewed Kevin Harvick after Lap 90 wreck that affected 19 cars:
Marty Snider: "Did you have a sense that something like that [wreck] was building while you were in the pack?"
Kevin Harvick: "You really think it's going to happen from about Lap One."
Letarte on Earnhardt Jr.'s involvement in the Lap 90 crash: "We know this is one of his favorite tracks and he hasn't had the best summer. He needed a good run here tonight and this is definitely going to hurt his chances."
A link to the Lap 90 crash is available here.
Burton on hanging out in the back during Lap 40: "(Drivers) are kind of hoping everyone else gets in a wreck. You ride in the back and miss the wreck. And then you have to decide, as the race goes on, when you have to pull the trigger and go. The fear that I have for these guys ridding in the back is when it gets aggressive and when it gets three wide, if you aren't in front of that three wide action you are not going anywhere. Once it gets three wide you are stuck. You have to pull the trigger early enough to get ahead of that."
COUNTDOWN TO GREEN PRE-RACE COVERAGE
Dale Earnhardt Jr. to Snider after driver introductions: "We're a much better team than we are in the standings. We just can't make any mistakes or give away any points these last few races before the Chase. The Chase is going to get here before you know it and these races leading up to that are going to be critical for our team and all the other guys sitting there without a win. If we can get a win, we'll put all that to bed and feel comfortable. We don't want to be battling for those last couple of spots at Richmond. That's no fun at all."
Tony Stewart on NBC's Countdown to Green pre-race show: We still aren't out of the woods, we are nine points out of 30th and that is the big benchmark now to finish this thing off. I think tonight is one of those nights where we have to play both sides of the coin. We want to be aggressive, as I'd love to add one more win to my Daytona deal and make it twenty wins at Daytona. At the same time, I don't want to leave 39 points out of 30th either. We have to play the race. We have to do the ultimate 'Peyton Manning 400' here. We have to play every lap and call an audible every lap and see where we are at."