Honda Indy Toronto makes a detour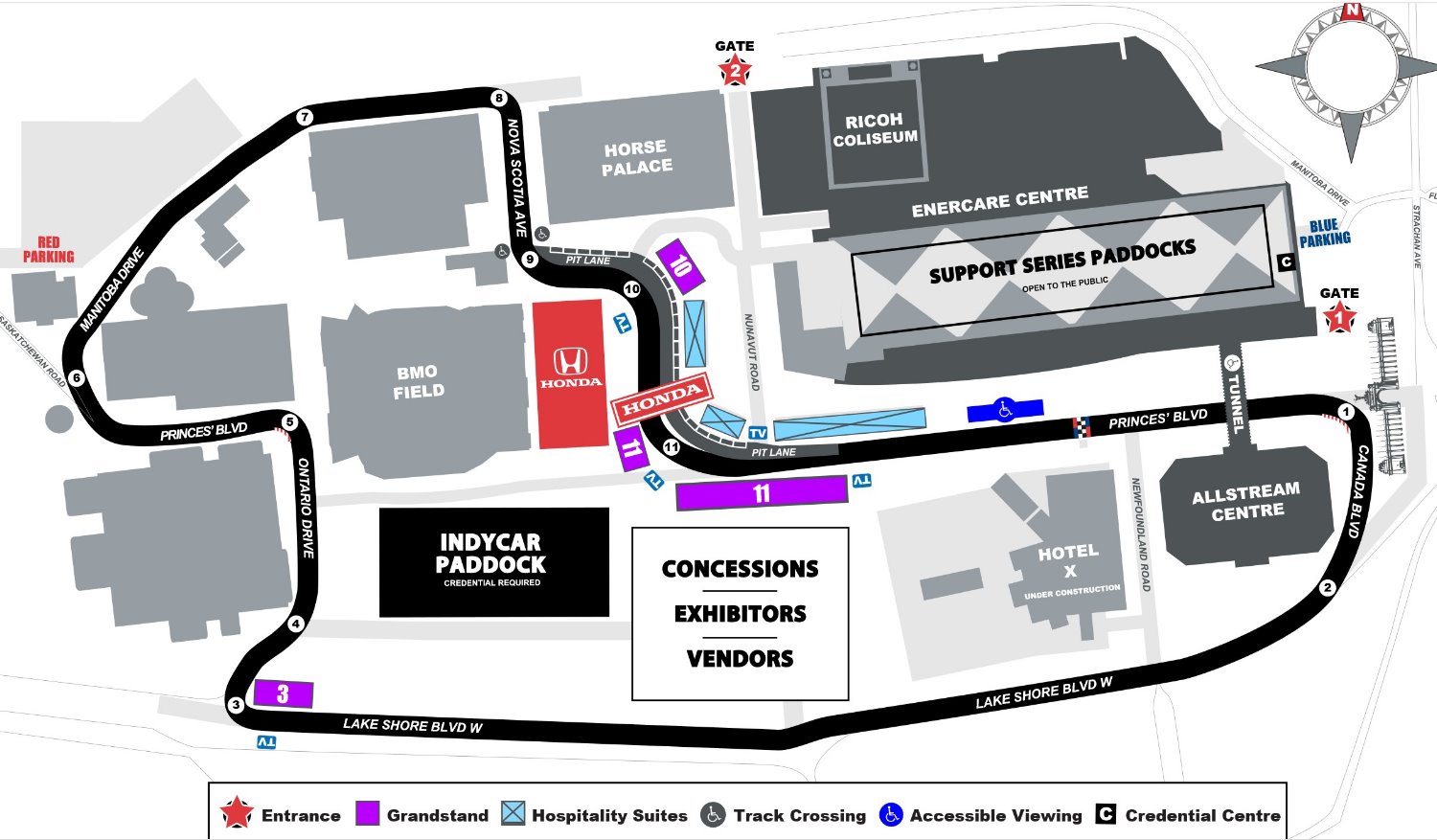 Hotel X going up on the inside of the Toronto track
TORONTO – X has marked the spot at The Ex, so change is coming to the track layout at next month's Honda Indy Toronto writes Ian Shantz of the Toronto Sun.
Construction of the luxury Hotel X, located smack dab in the middle of the historic Exhibition Place grounds along the city's lake shore, is well underway. As such, course modifications have been made for this summer's lone Verizon IndyCar Series stop in Canada, July 15-17.
Pit lane will be shifted north to the opposite side of the circuit starting at Turn 9 — further from the hotel site on Princes' Boulevard — while hospitality suites and the popular Turn 11 grandstand seating will be relocated to the south side of pit lane.
The modifications are the first since 1996 and third since the race debuted in Toronto in 1986, and adjusting on the fly is a reality of life when it comes to plopping a world-class race track down on an ever-evolving and growing downtown in a major North American city.
"These are professional drivers. They will adapt," said Jim Tario, the Indy's director of track operations who knows a thing or two about adapting, having been involved with the massive undertaking since Day 1 and worked with promoters and the series to design the original layout in 1986.
Tario oversees the build of the 2.84-km, 11-turn street circuit, which began on Wednesday morning and concludes about three weeks after the Sunday race.
Arriving over the next six weeks? More than 2,000 steel-reinforced concrete barriers made from more than 10 million pounds of concrete, more than 1,200 sheets of fencing, more than 1,600 feet of tire wall, six steel "superstructure" grandstands, three separate banks of private, tented and carpeted hospitality suites, and about 200 workers to make it all possible.
It is not a job for the faint at heart, so when Oakville native James Hinchcliffe and Co. roar into town for the event's 30th year in Toronto, organizers will lean on the experience of the man charged with the setup and take down.
"It is comfortable, but that's one thing you always watch is complacency," said Tario, who also heads up the build for the series' opening race, a road course in St. Petersburg, Fla. "You always worry about the weather contingency. Will (contractors) be able to make their commitments for the same reasons. But working with the people around here, Exhibition Place is great to work with, the City is great to work with, the unions on site are great to work with, so it does give you a comfort zone."
Commuters driving into the downtown core might never find their comfort zone, but they can rest assured knowing Indy organizers are doing what they can to limit the footprint, starting with completing as much of the work as possible during the overnight hours.
"We build our event up from the ground every year. What we've learned is it's a lot more efficient to do at night, both from our standpoint and the commuters' standpoint," Honda Indy Toronto president Jeff Atkinson said from the build site on Wednesday. "We want to make sure that we're not infringing on the commuters. We really believe that we've got to the point with our operations team that we are really delivering a good product in terms of our track build not interfering with the community.
"Equally important is when the customer shows up they're seeing a great spectacle in front of them," Atkinson added. "They don't notice the behind-the-scenes stuff, they don't need to see the construction side. They just see this great event they can attend."
Tario has seen the manpower, machinery and time required for the build decrease over the years and much of that is credited to advancing technology. On Wednesday, the Toronto series announced a partnership with mobile workforce solutions company Fleetmatics, which uses software to collect data which will be analyzed to determine where additional improvements to the build process can be made.
"We first (used the software) this past year at one of our sister events in St. Petersburg, Fla., and it was very successful," Atkinson said. "It really opens up, for us, a birds-eye view of what the layout and construction is doing … allows us to really pick up a lot of the efficiencies on our track build."
As for the event itself, a key component organizers have stressed in recent years is that the weekend extends far beyond the race itself.
"We want to make sure our event-goers have something to do from the minute they get here to the minute they leave," Atkinson said, noting interactive exhibits, gourmet food trucks, trackside beer gardens and the high-octane races help create a "winning combination."
IT'S A DATE!
After being pushed out of its usual mid-summer weekend slot last year due to the Pan Am Games, Honda Indy Toronto organizers are looking forward to getting back to the where they believe it belongs.
"Date equity is so important to us," Toronto event president Jeff Atkinson said. "Moving to June (last year), we thought we'd put our best foot forward, but, really, it's so important to get back to July 15-17, mid-July dates that our fans can truly enjoy. That date equity really is important to us and our fans."
It appears as though the longtime venue is, too. Asked whether there was any interest in potentially exploring a new location in years to come, Atkinson said that won't be happening any time soon.
"From our perspective, this is an easy place for our fans to get to. And from a corporate partnership standpoint, it's easy for people to get from the great hotels (downtown) to the site. From a downtown perspective, this is the best venue you can absolutely be at.
"Looking outside of the city, yeah, sure, you can look out there," he added. "But I really believe this is the place you want to be. We have an agreement in place. We can share that we plan to be at the same dates for the foreseeable future." Ian Shantz/Toronto Sun