Latest F1 news in brief – Thursday
Simona de Silvestro says a woman can buy a ride in F1 just as easy as a man

Women in F1 about money, not gender – de Silvestro

Red Bull wanted reason to oust Kvyat – Surer
Kvyat's career still on track – Petrov
Russia to have F1 team eventually – Petrov
Wolff unhappy about Russia GP TV coverage
Sainz Jr. not downbeat over Verstappen promotion
Ferrari needs 'big step' to beat Mercedes
Modern F1 not too 'easy' – Massa
Ecclestone 'joking' in London GP quote – report
Renault will improve car for 2017 – Petrov
'Sources' play down Schumacher health reports
Women in F1 about money, not gender – de Silvestro
(GMM) The woman who arguably got closest to a race seat in recent years says physical ability is not the reason there are no female drivers in F1.
Although Susie Wolff actually participated in Friday practice sessions, many insiders regard Simona de Silvestro as a bigger talent and two years ago she tested extensively in a Sauber.
F1 supremo Bernie Ecclestone caused a stir recently with comments about the potential of female drivers, but Swiss 27-year-old de Silvestro said: "Whether you make it to F1 or not depends not primarily on your sex, but money.
"As a woman, you may very well be able to drive a formula one car, but to get in there it's extremely difficult without a lot of money or sponsors," she told Speed Week.
Recalling her many laps in the Sauber, de Silvestro explained: "I was always fast and never had any problems even when I did race distances.
"I was never afraid of that, because I used to drive in Indycar which is much more strenuous. So physically it was no problem at all," she added.
De Silvestro says the biggest problem for women is money.
"Access for most young drivers is the biggest problem," she said. "Because in most racing series you have to buy your chance, and I lacked the budget for formula one because this is really an incredible amount of money."
Tackling the notion that he is sexist, Ecclestone insists it is simply "pretty factual" that women have struggled to make their mark in formula one.
"People don't take them seriously," he told ITV News London this week.
"To put someone in a formula one car it's going to cost a team probably 25-30 million (pounds) so they have to decide whether or not it's worth doing that or getting someone else in and they probably think at the moment it's a bit of a risk."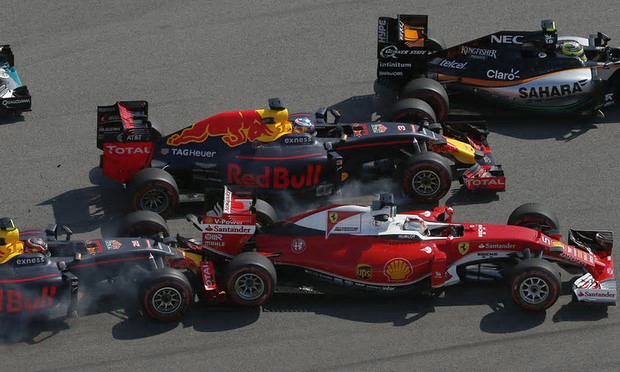 Kvyat ramming Vettel 3 times in 2 races was just the reason Red Bull was looking for to demote Kvyat
Red Bull wanted reason to oust Kvyat – Surer
(GMM) Former F1 driver Marc Surer thinks Red Bull used Daniil Kvyat's tumultuous home race in Russia as justification to oust him.
This weekend in Barcelona, teen sensation Max Verstappen will take up his new place at the energy drink's premier team, with Kvyat relegated to Toro Rosso.
It follows two consecutive controversies for 22-year-old Kvyat: the argument with Sebastian Vettel in China, and the multiple contact with Ferrari's lead driver just two weeks later in Russia.
"Such incidents at the start (as in Russia) can happen to anyone," said Surer, a pundit for the German broadcaster Sky.
"It's racing. The trouble in this case was that there were two contacts. Otherwise no one would have got that excited about it," he added.
"My feeling is that Red Bull was waiting for an incident and that it was long planned that Verstappen would be brought into the senior team," said Surer.
"There were other teams also interested in him (Max), so Red Bull probably only needed one excuse and Kvyat delivered it. He was a sacrificial pawn, I think," the Swiss added.
Surer, however, says it is not all bad for Kvyat, as he has been given a second chance at the junior team Toro Rosso.
"It's not all negative for him, after all he has been given a second chance at the moment at Toro Rosso who are a good team. Kvyat will have another chance to show what he can do.
"If he puts the Toro Rosso on the podium, he will re-establish himself, so overall the decision is fair — they didn't just throw him out," Surer added.
Vitaly Petrov
Kvyat's career still on track – Petrov
(GMM) Vitaly Petrov, who was Russia's first F1 racer, says his countryman Daniil Kvyat's career in the category is still on track.
On the face of it, 22-year-old Kvyat has actually suffered a major blow as Red Bull relegates him to the junior team Toro Rosso to make room for Max Verstappen.
The energy drink company says Kvyat struggled to cope with the pressure at Red Bull, culminating in the events at Sochi, and will now be allowed to recover his form at Toro Rosso.
"Talking of Daniil's prospects, the main thing is that he is staying in formula one," Petrov, who raced in F1 for Renault and Caterham, told Russia's Sport-Express.
"And he's not with a bad team," the 31-year-old, who now races in sports cars, added.
"On some tracks, Toro Rosso can fight on equal terms with Red Bull and other teams. But this is not the most important thing," Petrov insisted.
"Most important now is his fight with new teammate Carlos Sainz, and it will be an interesting battle. Kvyat's main task is to look good and if it happens, he still has a great future," he added.
Will Bernie talk his buddy Putin into creating a Russian team?
Getty Images
Russia to have F1 team eventually – Petrov
(GMM) Former F1 driver Vitaly Petrov thinks plans for a Russian team are on track.
Petrov, who raced for Renault and Caterham, now drives in Le Mans sports cars with SMP Racing, the motor sport arm of SMP Bank headed by billionaire Boris Rotenberg.
Rotenberg says the ultimate goal is an F1 team, and Petrov told Sport-Express: "I am sure that sooner or later it will happen."
Asked if he will be first in line for a race seat, the 31-year-old answered: "I would love to. I'm always ready. But Boris Rotenberg will decide."
Actually, it is the young Sergey Sirotkin who is first in line, with SMP backing him as a test driver at the new Renault works team.
Asked what the 20-year-old needs to do to achieve that, Petrov said: "He needs to show good results in GP2. That's what he can do today."
The first SMP-backed driver was Sergey Zlobin, who is now the outfit's sports director.
He said: "Work in this direction (a F1 team) is underway and is being taken seriously. In the world of formula one we have a lot of support, that's all I can say at the moment."
Wolff wants to put the audience to sleep with cameras following the Mercedes parade at the front
Wolff unhappy about Russia GP TV coverage
(GMM) Toto Wolff has vowed to raise with Bernie Ecclestone the issue of Mercedes' underrepresentation on television, despite its ongoing dominance of F1.
The German marque's F1 chief claims that, as Nico Rosberg won all four grands prix so far in 2016, the silver cars were not featured prominently on the FOM-controlled broadcasts, particularly in Russia recently.
"It is a difficult thing and we are having discussions to make our point," Wolff is quoted by The Sun newspaper.
The issue is not new, after Mercedes' one-two at Suzuka last year attracted only five of the broadcasted 90 minutes of television coverage.
Bernie Ecclestone denied he ordered the blackout as punishment for Mercedes refusing to supply Red Bull with engines, explaining that focusing only on the lead cars is "boring".
"Lewis and Mercedes are just too dominant for their own good at the moment," he said at the time.
Now, Wolff is unhappy about FOM's coverage of the recent Russian grand prix.
"We thought we didn't have the exposure of the race cars that we thought we should have, but I guess it is a difficult discussion," he said.
"I think the difficulty for Bernie is that he has multiple clients. There are the sponsors on the car, the sponsors on the track, the TV and the fans who want to see spectacular racing and the main protagonist who is leading the race and that needs to be balanced out," added Wolff.
Carlos Sainz Jr.
Sainz Jr. not downbeat over Verstappen promotion
(GMM) Carlos Sainz Jr. says he is looking on the bright side of his Toro Rosso teammate Max Verstappen's promotion to the senior Red Bull team.
With Daniil Kvyat returning to the junior outfit from this weekend in Barcelona, it was Verstappen rather than Spaniard Sainz who realized his dream of promotion.
"I'm not disappointed," Sainz told Spanish media on Wednesday, "because nobody promised me the chance to go to Red Bull in the fifth race of this year.
"In the next year or two it is my goal so that's what I'm thinking of. I can see how it looks from the outside, and it's true when I found out that of course I would have liked it to have been me.
"But then I think it's a positive for me as well. Red Bull has seen the results from both of us so I can also go there next year or in 2018," he said ahead of his home race in Spain.
Sainz therefore said his Red Bull dream is on track, dismissing suggestions that if he wants to aim for the title in F1, he might now need to target a switch to another team.
"Yes of course I can imagine other teams like Ferrari and McLaren," he admitted, "but the short and medium term goal remains Red Bull, they made a big investment in my career and it is something I want to return."
21-year-old Sainz's new teammate, therefore, is Russian Kvyat, who has been able to compare himself alongside the highly-rated Daniel Ricciardo since 2015.
Kvyat's arrival also ends a period of reported tension between the Sainz and Verstappen camps at Toro Rosso.
"There was tension," Sainz admitted, "but I imagine that it is the same in other teams. It is something that comes from last year, the rivalry that was created between Max and myself.
"So I think it will be positive, because it cools the team a little bit, new people come in and eventually it helps the team to finish fifth in the championship."
So when asked about Kvyat, Sainz said: "Yes, we have known each other since we were 12 or 13.
"He has gone from Red Bull (Racing) but that doesn't mean he has lost his talent — he is the same or better than when I raced him in GP3.
"Don't forget he got more points than Ricciardo last year, he has a year more experience than me, he knows the team already so he will be a very tough opponent," he said.
"Besides this, it can improve the team environment and our good relationship can help us finish fifth in the championship," said Sainz.
Ferrari will be sucking Mercedes' exhaust in Barcelona and elsewhere
Ferrari needs 'big step' to beat Mercedes
(GMM) Carlos Sainz Jr. says it would be a "surprise" if Ferrari breaks through for its first win of the season this weekend in Barcelona.
Amid rumors of more looming personnel changes, the fabled marque's president Sergio Marchionne said this week: "I am expecting a couple of wins shortly, starting at Montmelo."
To that end, Germany's Bild newspaper reports that Sebastian Vettel will head into the Spanish grand prix with new sidepods and a new diffuser, to go with the engine and front wing updates that were introduced in Russia.
But Spaniard Sainz Jr, who drives for Ferrari-powered Toro Rosso, is not sure a step forward will be enough for the Maranello team to take on Mercedes this weekend.
"Here the soft tire will maybe suit them better than Mercedes and they (Ferrari) can always spring a surprise, but to beat Mercedes I think they would need a very big step," he said.
Massa locks a wheel in Bahrain
Modern F1 not too 'easy' – Massa
(GMM) Felipe Massa has hit out once again at the suggestion that driving formula one cars in the modern era has become too easy.
The Brazilian veteran has raced across F1's V10, V8 and now V6 eras, but he said the challenge is simply "different" today rather than easier.
"Sure, it used to be physically tougher," said Massa, 35. "We drove lighter cars and could refuel during the race — we were nearly always at the limit, like during the qualifying sessions. It was more tiring.
"Today's races are more technical than physical," the Williams driver added. "You need to take tires into account. It is a different, less aggressive way of driving.
"But that's a far cry from saying that today is easy."
Nevertheless, F1 has made the decision to turn a sharp corner for 2017, speeding up the cars with bigger tires and more downforce.
The move however has split paddock opinion, but Toro Rosso driver Carlos Sainz is looking forward to it.
"It will be faster and that sounds motivating, as whenever I've gone into a faster car it has always been good for me.
"Regarding overtaking, it is not something we can judge now. We will have to give it a year to see if it was better or not. Time will tell," the Spaniard added.
Was he joking?
Ecclestone 'joking' in London GP quote – report
(GMM) A respected F1 correspondent has slammed as "nonsense" suggestions the sport is only a small step from a London street race.
The story lit up global headlines this week when F1 supremo Bernie Ecclestone was asked by ITV News London if a grand prix in the British capital is a possibility.
"The answer is that if it can be done, then yes, we'd love to do it," the 85-year-old answered.
"There is a small technical issue, who is going to pay for it, but apart from that I can't see any dramas," Ecclestone answered.
F1 correspondents who know the diminutive Briton better, however, dismissed the quote entirely on the basis that Ecclestone often simply toys with some questioners.
"Ecclestone's quote had one such obvious hole that it can be discarded even more readily than would normally be the case," said the Telegraph's respected F1 correspondent Daniel Johnson. "It almost sounded like he was joking.
"It's fair to say who is going to spend tens of millions of pounds – and the rest – on the race is more than a small technical issue," he added. "London will not happen in the foreseeable future."
Renault will improve car for 2017 – Petrov
(GMM) Renault should be back on track with a much more competitive car next year, according to former driver Vitaly Petrov.
The Russian, who made his F1 debut in a yellow car built by Enstone in 2010, said the current state of the team is understandable in light of the past 12 months.
As seen in customer Red Bull's recent pace, Renault has made big progress with its power unit over the winter, but the works team is having to race what is effectively last year's Lotus chassis.
"There were a lot of things going on in the team," Petrov, referring to Lotus' financial troubles last year and subsequent sale to Renault, told Russia's Sport-Express.
"They were experiencing financial difficulties and could not develop, which shows just how important it is in formula one to be constantly investing in the car," he added.
"Next year, I think they will make the car better and improve the situation. Yes, I think Renault will be back next year, or in a maximum of one year," said Petrov.
Until the family provides more details, there will always be rumors about Schmacher's health
'Sources' play down Schumacher health reports
(GMM) "Official sources" have played down alarming reports about the health condition of F1 legend Michael Schumacher.
A US source called 'Newseveryday', whose report was repeated by respected international publications, had quoted a doctor supposedly involved in Schumacher's recovery as saying the former Mercedes driver needs "a miracle to stay alive".
"The truth is that they were nothing more than rumors," Marca, a Spanish sports daily, reports.
"Marca has been told by official sources that the German former driver remains in the same condition of the past several months, without significant progress but not critical," the report said.
A Honduras newspaper called Diez cites "several sources" in reporting that Schumacher's home treatment by a medical team is costing the family millions.
The report said Erlinyou, a Chinese GPS company, is no longer a EUR 5 million per-year sponsor of Schumacher, joining Jet Set and Navyboot in the group of former backers.
Diez said Audemars Piguet and Rosbacher have reduced the value of their sponsorship of Schumacher, while Deutsche Vermogensberatung, Mercedes, Audemars Piguet, Schuberth and Hormann remain loyal to the famous 47-year-old.