Latest F1 news in brief – Thursday (2nd Update)
UPDATE #2
More updates shown in 'blue' below.
04/28/16 Updates shown in red below.
04/28/16
Will Hamilton mount a comeback?

Pundit predicts Hamilton 'will come back'

Drivers to work harder with 2017 cars – Surer
No need for meldonium in F1 – Kvyat
Sochi tweaks track after Sainz crash
Report reveals Marchionne's incredible income
Massa wants 'windbags' to stay united
Sahara Force India welcomes Felio Siby as lifestyle partner
Pirelli to take Ultra Soft tire to Austria New
Celis Jr. to replace Hulkenberg in practice New

Hulkenberg prefers Red Bull 'aeroscreen'

New

Nasr to get new chassis in Russia

New

Grosjean not worried about Pirelli test advantage

New
Pundit predicts Hamilton 'will come back'
(GMM) Nico Rosberg grinned when asked by a German newspaper if married life and fatherhood has slowed him down.
"Apparently not!" the Mercedes driver told Der Tagesspiegel.
Indeed, ever since teammate Lewis Hamilton easily wrapped up the 2015 crown, German Rosberg began a six-race winning streak that now sees him looking to further extend his 36 point championship lead this weekend in Russia.
"With everything he has done recently, he's the one to beat," quadruple world champion Sebastian Vettel, driving for arch-rivals Ferrari, told Auto Bild.
"I'm happy that it's going so well for Nico," added Vettel, a fellow German.
But former driver and German television pundit Marc Surer warned Rosberg against complacency.
"Nico Rosberg is the happier driver at the moment," he told Germany's Sky, "but Lewis Hamilton has been on pole and it is unclear whether it was driver error or technical problems that caused him trouble at the starts.
"And in China," Surer added, "he just had bad luck. Hamilton will come back. I am also hoping for that, as it would give the title race some more spice."
Further spice would be added if Ferrari can continue to up its game, after boss Maurizio Arrivabene said the red 2016 car is now just a tenth per lap slower than Mercedes.
Reports now suggest Ferrari will have an engine upgrade and new front wing in Russia, after the developments originally intended for Spain were sped up.
"In general I am happy with the progress," said Ferrari president Sergio Marchionne, "but we still have work to do.
"We know that Mercedes will not stop working, so we will prepare some important developments."
F1 wants to ruin the racing by adding more downforce like NASCAR and IndyCar tried
Drivers to work harder with 2017 cars – Surer
(GMM) Major technical changes to the cars for 2017 will make the drivers work harder.
That is the view of former F1 driver turned German television pundit Marc Surer, after London meetings this week continued to pave the road towards wider cars with bigger wings and tires for next year.
It is suggested the laptime gain could be up to five seconds per lap.
"Formula one will be more difficult once again," Surer told the German broadcaster Sky.
"They want to separate the wheat from the chaff with G-forces of 5G in the corners, which is physically much more demanding and requires more courage at 300kph."
Surer said it is that challenge that has been lacking in F1 for the past few years.
"Before, if someone sat in a formula one car for the first time, he could do no more than 20 laps because he could not hold his head up. But these days it was not so demanding," he explained.
As Mercedes' Toto Wolff has pointed out, however, Surer admits there is a risk one team will ace the new set of rules and utterly dominate.
And the high cost of new regulations also puts more strain on the already-struggling smaller teams.
"Yes, that's true," Surer said, "but each team builds a new car for each season anyway, so the development remains the same — the wind tunnel hours are limited."
Daniil Kvyat
No need for meldonium in F1 – Kvyat
(GMM) Daniil Kvyat has dismissed suggestions F1 drivers are at risk of being caught taking meldonium, a newly-banned drug.
Over 100 international athletes, mainly Russian, have tested positive for the substance since it was recently prohibited, with tennis star Maria Sharapova claiming she took it for genuine health issues.
But it is argued the drug also has performance-enhancing qualities, leading to Russia's only F1 driver Kvyat on Wednesday being asked if he has taken it.
"Of course not," he is quoted as saying by Tass news agency.
"I think doping would do little to help the drivers in formula one," the 22-year-old insisted. "There are some tracks where we are at our physical limits, but usually we train enough to get through these races without problem."
Kvyat, who drives for Red Bull, was also asked about the news that his countryman Sergey Sirotkin has secured a Friday practice role at their home race at Sochi this week.
"I'm glad for him and hopefully it will grow into something bigger in the future," he is quoted by Ria Novosti.
Finally, reporters asked Kvyat about his famous run-in with Sebastian Vettel two weeks ago, and whether he had a chance to look at the video replays of the clash.
"I didn't particularly care to see it but it was everywhere and couldn't avoid it," he smiled.
"I did what every racing driver would have done, Ferrari wasn't ready for it and they paid the price," Kvyat added. "I don't have anything more to say about it."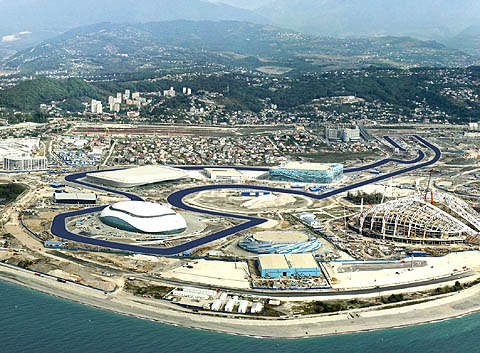 Sochi
Sochi tweaks track after Sainz crash
(GMM) Race organizers have made changes to the Sochi circuit in the wake of Carlos Sainz's huge crash a year ago.
Recalling his 2015 practice crash in which the Spaniard's Toro Rosso was buried deep beneath Tec-Pro barriers before he was airlifted to hospital, the 21-year-old said this week: "I'd say (it was) the biggest crash of my career so far."
F1's governing FIA has confirmed that, ahead of the 2016 Russian grand prix, the run-off just ahead of the Tec-Pro barriers at turn 13 "have been laid with asphalt".
The FIA also said the "guardrail straight on at T13 has been replaced by wall blocks".
Report reveals Marchionne's incredible income
(GMM) The highest paid figure in the F1 paddock is not a driver or a team owner.
Publishing a list of Italy's highest paid managers, La Repubblica claims that Sergio Marchionne, the Ferrari and Fiat president, made an incredible EUR 54.5 million in 2015.
That is over $60 million, or nearly $170,000 per day.
The report said the bulk of Marchionne's income was not his salaries as CEO and presidents, but lucrative bonuses as rewards for strong budgetary outcomes at the various companies for whom he works.
Felipe Massa
Massa wants 'windbags' to stay united
(GMM) Felipe Massa has urged the F1 drivers to stay "united" amid the push to improve F1.
Tension is still brewing between the drivers' body and Bernie Ecclestone, after the F1 supremo called those critical of the management of the sport "windbags".
Nico Rosberg hit back at Ecclestone's comment in the now famous group selfie of the GPDA dinner in China, adding the Twitter hashtag "WindbagsUnited".
And now the championship leader has kept up that theme with a new Twitter photo, this time depicting a group of drivers apparently sharing a private plane to Russia.
"Air Windbags has landed safely in Sochi (including Mr. President)," Rosberg wrote, referring to GPDA president Alex Wurz.
Also on the flight were Nico Hulkenberg, Jean-Eric Vergne, Daniel Ricciardo, Esteban Gutierrez, David Coulthard and Williams driver Massa.
Massa told Brazil's UOL: "When united, drivers can press for a better sport. We can help.
"We want to be positive about F1," he explained. "Being here was the dream of all of us, it still is and we must speak well about the category.
"We need to try to help F1 and I think perhaps F1 needs this help."
Referring to the Shanghai dinner that featured 18 current F1 drivers, Massa continued: "It was a very good dinner and we need to repeat it.
"We must try to bring us all closer together and change this mindset that we never see each other in the paddock," the Williams driver added.
Sahara Force India welcomes Felio Siby as lifestyle partner
Sahara Force India is delighted to join Felio Siby in a new partnership, which sees the luxury brand become the team's official lifestyle partner. The Felio Siby logo will appear on the VJM09's nose starting at this weekend's Russian Grand Prix.
A purveyor of some of the best leathers in the world, manufactured to the highest standards in a time-honored way, Felio Siby is a reference for customers whose way of life is to find timeless and unique products. This is a vision that has now been extended to watch-making, as the brand embarks on a new venture with the best Swiss watchmakers to redefine the industry.
To celebrate the start of the partnership, Felio Siby will design a special edition Sahara Force India timepiece, due to be launched at next month's Monaco Grand Prix.
Vijay Mallya, Team Principal and Managing Director of Sahara Force India: "A luxury watch-maker and a Formula One team are a perfect match: both pursue excellence, have absolute attention to detail and work to produce awe-inspiring machines through the wonder of human ingenuity. We are delighted to welcome Felio Siby to our family and we are looking forward to sharing the successes of a long and fruitful partnership."
Dominique Siby, CEO of Felio Siby: "Today is a day with great emotional significance for me, being the ten-year anniversary of my father's passing. Working with a Formula One team was a project we always wanted to do together. I dreamed of being part of this sport since I was a child, watching the timeless battles between Ayrton Senna and Alain Prost. I am glad and thankful to be a partner of Sahara Force India: the team is the perfect match for Felio Siby and I can't wait to show the world the unique watches we will be making for them."
Pirelli F1 tires
Pirelli to take Ultra Soft tire to Austria
Pirelli has announced its three tire compound nominations for the Austrian Grand Prix, at which the new Ultra Soft tire will make its third outing of the season.
Pirelli, Formula 1's sole tire supplier, has elected to take the purple-marked tire alongside the Super Soft (red) and Soft (yellow) rubber to the Red Bull Ring in early July.
Pirelli has allocated a set of Super Softs and Softs for the race, with a set of Ultra Softs for qualifying.
For 2016, each driver receives 13 dry-weather sets per Grand Prix, with Pirelli choosing two sets for the race (only one of which must be used), and a set of the softest compound for Q3.
Drivers are free to select any combination of the chosen compounds for the other 10 sets.
Pirelli's 2016 tire choices so far:
Australia – Super Soft / Soft / Medium
Bahrain – Super Soft / Soft / Medium
China – Super Soft / Soft / Medium
Russia – Super Soft / Soft / Medium
Spain – Soft / Medium / Hard
Monaco – Ultra Soft / Super Soft / Soft
Canada – Ultra Soft / Super Soft / Soft
Azerbaijan – Super Soft / Soft / Medium
Austria – Ultra Soft / Super Soft / Soft
Alfonso Celis Jr.
Celis Jr. to replace Hulkenberg in practice
Force India has confirmed that Nico Hulkenberg will give way for development driver Alfonso Celis Jr. during the first practice session for the Russian Grand Prix on Friday.
Celis Jr. has been signed to the team in a deal which sees the young Mexican conduct several days of testing along with seven Friday sessions at Grands Prix.
The first of those came in Bahrain, where compatriot Sergio Perez gave up his seat during the opening 90 minutes of action.
Celis Jr. currently races in the Formula V8 3.5 championship and occupies ninth place in the standings, having failed to finish either of last weekend's races in Hungary.
Celis Jr. will be one of two test drivers to participate in Friday practice, with GP2 racer Sergey Sirotkin set to run in place of Kevin Magnussen.
Red Bull concept
Hulkenberg prefers Red Bull 'aeroscreen'
(GMM) Red Bull will debut its windshield-style head protection concept on Friday morning at Sochi.
The cockpit-mounted solution, resembling an oversized helmet visor, is already fitted to Daniel Ricciardo's car at the scene of the Russian grand prix.
"I am sure it will get a lot of time on television in those couple of minutes!" grinned Australian Ricciardo on Thursday.
It is now a contender, along with the previously-trialed 'halo' system, to make its mandatory debut on the cars for 2017.
The issue of obscuring or partially covering F1's traditional open cockpits, however, remains controversial.
One of the most outspoken critics has been Nico Hulkenberg, who when asked about the Red Bull concept called 'Aeroscreen' said on Thursday: "I've seen some pictures on the internet and find it more elegant than halo.
"What is clear to me is that it is inevitable that some sort of head protection is coming. If I had a choice, I would prefer the Red Bull solution," said the German.
The disadvantage of the 'Aeroscreen', however, is that unlike the halo a driver's visibility may be compromised in the event of rain or oil debris.
"Rain is not a problem," said Hulkenberg. "The speed of the car means the water runs off. Oil is a different matter.
"With our helmets we have tear-offs that we can pull off, so maybe we can have a solution like that although you would probably need a pitstop."
Finally, amid the poisonous political climate in F1 at present, Hulkenberg was asked about Bernie Ecclestone's desire to become the sport's "dictator" one again.
"He's right," said the Force India driver. "We have too many cooks stirring the porridge."
Felipe Nas
Nasr to get new chassis in Russia
(GMM) Felipe Nasr will get the new chassis he so desires for this weekend's Russian grand prix.
The Brazilian has been complaining since the Melbourne season opener about braking instability aboard his Sauber, suspecting a chassis flaw.
"We can see in the data that I have a clear deficit in pace," he said on Thursday.
"The problem is that the car is unstable under braking, but I trust the team and am confident that we can solve the problems we are having."
It was earlier reported that Sauber's financial problems mean production of a new chassis had been delayed, but Nasr confirmed to the media that he will race chassis 3 this weekend.
There is no doubt, however, that money trouble is hurting the Swiss team, as reports emerge that a prominent engineer has left Sauber this week.
Nasr's teammate Marcus Ericsson admitted at Sochi that Sauber has fallen to the back of the field.
"We are now in the group with Manor and Renault," he said.
"In fact, we have the same car that we had in the second test in Barcelona — since then there have been no updates," the Swede revealed.
"We have developed some new parts, front and rear wing, but the question is when we will be able to install them on the car.
"We believe that when we do, it will be a step forward and we will be able to score points," Ericsson added.
Romain Grosjean
Grosjean not worried about Pirelli test advantage
(GMM) Romain Grosjean on Thursday said it is important that Pirelli will be able to develop better tires for 2017.
The Frenchman was asked if it is a disadvantage that only top teams like Mercedes and Ferrari will help F1's official supplier develop wider tires ahead of the radical new rules next year.
"In this situation, it is important to the right questions," the Haas driver said at Sochi.
"Do we want more efficient tires? Yes we do," said Grosjean.
Amid the 30-year-old's uncompetitive weekend in China, Grosjean had slammed the "ridiculous" tire pressures mandated by Pirelli.
He later said it is not the Italian company's fault that it cannot do enough testing.
"Do we want Pirelli to be able to do more testing? Of course," Grosjean said on Thursday. "Will the few who do this testing get a benefit? Perhaps.
"But more important is that there will be more efficient tires for all of the teams, which will help to make the races more interesting," he added.