Latest F1 news in brief – Friday (Update)
UPDATE
Updates shown in red below.
04/22/16
Is Mallya headed for the slammer?

India asks Britain to deport Mallya

Corners tweaked at Malaysian F1 track
McLaren explains Magnussen company car story
Super Formula 'more demanding' than F1 – Vandoorne
Zandvoort: Verstappen could aid Dutch GP
Red Bull set for Jordan demonstration
Ecclestone says he realizes value of social media
Rosberg: Hamilton is still the benchmark
Leading teams differ on Russia tire choices
Hungaroring extends F1 deal through 2026 New

Marko hits out at 'paranoid' Toto Wolff over 2017 rule change

New
India asks Britain to deport Mallya
(GMM) Force India chief Vijay Mallya's legal troubles are continuing to deepen.
Already, the Indian government was moving against the former billionaire over huge debts from the collapse of his airline Kingfisher.
Mallya, the Force India team principal and co-owner, has been absent from all three grands prix so far in 2016, and his passport has now been suspended.
As an arrest warrant was issued by an Indian court last week, it is suspected the 60-year-old is in Britain.
So the news agency AFP now reports that India's financial crimes division, the enforcement directorate, is seeking for Mallya to be deported.
"We have been given enough indication that he is indeed in the UK," an Indian government spokesman said.
"We have written to the (British foreign) ministry for assistance in the deportation of Mr. Mallya as the process would involve using diplomatic channels."
Force India's other co-owner and title sponsor, Subrata Roy, is already in jail.
Corners tweaked at Sepang
Corners tweaked at Malaysian F1 track
(GMM) Sepang, the long-time host of the Malaysian grand prix, has undergone some layout tweaks ahead of its October race.
The track near Kuala Lumpur was designed and built by Hermann Tilke, but an Italian company called Dromo Circuit Design has been working on the 2016 tweaks, including a full resurfacing.
The first race on the improvements, including new curbs, will be the Superbike round in May.
But the biggest changes are tweaks to the second corner, and also the final hairpin, which has been made tighter.
"The new last corner is taking shape," said Dromo's Jarno Zaffelli. "And the new turn two means overtaking maneuvers can probably be tried more often."
Sepang CEO Razlan Razali confirmed: "The changes will certainly be exciting, even for riders who have raced at Sepang in the past."
McLaren 650S
McLaren explains Magnussen company car story
(GMM) McLaren says there is a simple explanation as to why Kevin Magnussen never received a $500,000 company car whilst driving for the British team.
The Dane, who now drives for Renault after being dropped by McLaren, revealed to local broadcaster TV2 this week that he never received his McLaren 650S road car even though he chose "the color, the wheels, the interior, everything".
A team spokesman told the Danish newspaper Ekstra Bladet: "It is true that McLaren makes company cars available for its two drivers.
"Jenson Button had one without difficulty, but because Kevin Magnussen is so young, it was difficult to find an insurance policy that would cover it for a reasonable amount of money."
The spokesman, who believes Magnussen would have revealed the news about the company car only light-heartedly, said that by the time the insurance policy was found, the 23-year-old had left the team.
Stoffel Vandoorne
Super Formula 'more demanding' than F1 – Vandoorne
(GMM) Stoffel Vandoorne says he is looking forward to the first race in his new Japanese racing adventure this weekend.
The McLaren-Honda reserve, who scored the team's first point of 2016 whilst deputizing for Fernando Alonso in Bahrain, is now in Japan to prepare for the opening round of the Super Formula series at Suzuka.
"I'm actually getting quite a bit of attention from the media and the fans," the 24-year-old told Belgian radio Sporza.
"It is very pleasing to see that everyone is happy that I am on the participants list," Vandoorne added.
Vandoorne has been placed in Super Formula with McLaren and Honda's backing, in order to keep him race-sharp amid speculation he will surely make his full-time debut for the Woking based team next year.
"The level of this championship is very high," he said of Super Formula, the premier Japanese open wheel series. "The smallest mistake has serious consequences.
"I am still getting used to the car. The aerodynamics are much more efficient than a GP2 and even a F1 car," Vandoorne, the reigning GP2 champion, explained. "As a result, the race is physically more demanding.
"I feel like I can definitely play a significant role this year without really having a specific goal in mind. As always, I just want to get the best out of myself."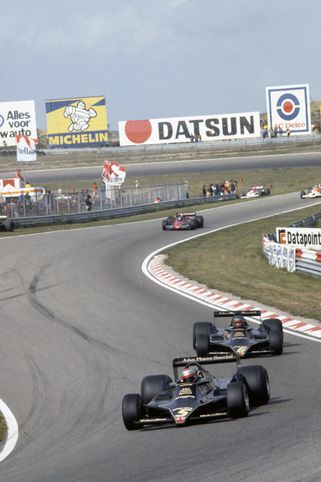 Zandvoort
Zandvoort: Verstappen could aid Dutch GP
Prince Bernhard of Orange-Nassau, whose acquisition of Zandvoort was completed earlier this year, believes that further success for Max Verstappen could boost the chances of a return for the Dutch Grand Prix.
A Dutch Grand Prix has not been held at Zandvoort since 1985, but last year the local council began proceedings to investigate whether the circuit could once more host Formula 1 in the future.
Prince Bernhard, a member of the Dutch royal family, admits that any Formula 1 project would be long-term, but acknowledges that success for Verstappen would accelerate such proposals.
"The local government started talks about that at the end of last year," he told GPUpdate.net when asked about a Dutch Grand Prix.
"Those are projects for the very long term, obviously. But the more success Max has, the easier those talks could get.
Red Bull set for Jordan demonstration
Red Bull will carry out a demonstration of its Formula 1 car next to the Dead Sea in Jordan on Friday.
Red Bull youngster Pierre Gasly will drive the RB7, which Sebastian Vettel used to win the 2011 title, along a one-kilometer circuit near the Samarah Mall.
It is Red Bull's second live demonstration in the Middle East after David Coulthard visited Oman earlier this month.
The Royal Falcons and motorbike stunt rider Rok Bagoros will also be in attendance alongside GP2 racer Gasly.
Ecclestone
Ecclestone says he realizes value of social media
Formula 1 CEO Bernie Ecclestone says he now understands the importance of social media to the sport, having previously claimed that he was not interested in such "nonsense."
In an interview in November 2014, Ecclestone commented that there was little point in the sport using platforms such as Facebook, Twitter or other forms of social media.
However, speaking at the Advertising Week Europe conference, Ecclestone admits he was wrong to adopt a negative stance and now understands its use.
"I couldn't understand it, and people said to me 'ah yes but the young kids are doing this' and I said that the young kids don't buy the articles that our sponsors sell so it doesn't help us a lot," he said.
"That's what I thought, I've been educated. I realize how important it is. I couldn't see at the time how or what I was told could possibly help Formula 1.
"I'm supporting a lot of our staff that are dealing with this [social media] and making sure that we do use it."
Ecclestone added that he would like to see six races in the United States, and reckons the sport could expand to add a further four events to the calendar.
"South Africa," he said when asked where he would like to see a race.
"They're rebuilding Kyalami so I'd look at it again. Las Vegas, we're looking at it. Realistically we need six [in the United States].
"I suppose in the end we could have 25 races; the problem what restricts it is the teams, at the moment the staff are on a limit so we have to be careful."
Rosberg and Hamilton
Rosberg: Hamilton is still the benchmark
Championship leader Nico Rosberg says that Mercedes team-mate Lewis Hamilton remains the benchmark, despite the German opening up a 36-point advantage after three rounds of the 2016 season.
Rosberg stormed to victory at the Chinese Grand Prix, adding to his wins from Australia and Bahrain, meaning he has amassed 75 points, the maximum haul possible from the first three races.
Hamilton remains Rosberg's closest challenger despite enduring a tricky time in China, having battled to seventh after starting from last place due to qualifying woes.
Rosberg insists that his team-mate, who has won the title on three occasions, remains the benchmark, regardless of his own imperious start to the campaign.
"It's three races now and they've gone really well for me but it's the longest season in Formula 1 history with 21, races so that's 18 to go," Rosberg said.
"It would not make sense to make any premature conclusions if the start was good or bad, let's wait and see.
"Of course I'm happy with the way it's gone and I'm feeling good and the car's there, but I don't want to say more than that.
"Lewis is not many points behind, I don't know, something like 30 points, that's not much, that's a race and a bit and he's as focused and motivated as ever.
"He will never give up and he's the benchmark, he's been the benchmark for the last years so the battle is going to be a big battle as always."
Pirelli Intermediate Rain Tires
Leading teams differ on Russia tire choices
The three leading Formula 1 teams have all taken different approaches regarding tire compounds for next weekend's Russian Grand Prix.
For the fourth successive round, sole tire supplier Pirelli has nominated the Medium, Soft and Super Soft compounds for the event at the Sochi Autodrom.
While Mercedes, Ferrari and Red Bull drivers have all opted for one set of the Medium tires, the manner in which they have split their remaining 12 sets varies.
Mercedes has chosen four sets of Soft tires and eight sets of Super Softs, while both Ferrari drivers have gone with six sets of each compound.
Red Bull, on the other hand, has selected only two sets of Soft tires and 10 sets of Super Softs in order to tackle the semi-permanent street circuit at the former home of the Winter Olympics.
Elsewhere, the red-banded Super Soft tire is favored by teams, with Haas' also mirroring Red Bull's aggressive approach, while Williams has opted for nine sets of the softest rubber.
Renault, McLaren and Sauber have all elected to take five sets of Soft tires and seven of the Super Soft compound.
Force India and Toro Rosso have chosen four sets of Softs and eight Super Softs, while Manor is the only team to prefer two sets of Medium tires.
Hungaroring
Hungaroring extends F1 deal through 2026
Formula 1 will visit Hungary for at least the next 10 seasons, with minister Miklos Sesztak confirming an agreement has been reached with Bernie Ecclestone over a new contract through 2026.
Hungary's Hungaroring circuit has held a spot on the Formula 1 calendar since the mid-1980s, and will this year host its 31st Grand Prix, making it the ninth longest-serving track in the championship's history.
Hungary's previous contract ran until 2021, but a new deal has recently been signed off.
"The Grand Prix's contract has been extended for another five years, which means that it has a place on the Formula 1 racing calendar through to 2026," Sesztak said during a press conference.
Part of the agreement is that the Hungaroring will be gradually improved over the coming seasons, with recent resurfacing – covering the entire circuit – the first part of a major redevelopment plan.
"We need further improvements," Sesztak admitted, as he looked to the future.
"The first step was the resurfacing, but others parts still need [to be improved]. I can say that significant resources have been set aside for the development of the circuit in the 2017 budget plan.
"We are going this because Formula 1 is one of the most important sporting events in our country every year, and the Hungarian Government is committed to putting on a good Formula 1 event."
This year's Hungarian Grand Prix will take place on the weekend of July 22-24.
Helmut Marko
Marko hits out at 'paranoid' Toto Wolff over 2017 rule change
Red Bull's Helmut Marko has called Mercedes motorsport chief Toto Wolff "paranoid", saying he fears Mercedes will lose its superiority over the Formula 1 field if the sport adopts proposed rule changes next year.
F1 is set to agree new rules which will dramatically change the look and performance of the cars in 2017.
However the rules, which will be finalized on April 30, have come up against some criticism, particularly from Wolff who recently suggested they should be abandoned as they were no longer needed.
"The longer you keep regulations stable the more the performance is going to converge between everybody," said Wolff. "And this is exactly what is happening now.
"The engines are converging. The teams are converging. The gains we are making are smaller as the curve flattens out, and the others are making bigger steps. So I think we have an ideal situation now with great racing."
Marko disagrees and believes Wolff's comments are aimed at derailing the changes to protect Mercedes' dominance.
"Except for Toto and the teams that must follow him due to their engine contracts, everyone is for a change. Even [Ferrari chairman] Sergio Marchionne agrees," he told Motorsport Magazine.
"Only Herr Wolff has this paranoid fear that Mercedes will lose its superiority if you change even the smallest thing on the engine or chassis," he added. "He is doing everything he can to prevent any change."