Latest F1 news in brief: Monday
Alonso defends Button

Alonso says Button criticism 'not fair'

McLaren 'can count on' Vandoorne in future
Azerbaijan says fighting no risk to F1 race
Ferrari plays down reliability flaw rumors
Ferrari will not use veto over qualifying
Haas taking F1 on wrong road – Symonds
F1 Teams Experiencing Sharp Drop In Sponsorship Income
Silverstone Sale Puts British Grand Prix's Future In Jeopardy
Alonso says Button criticism 'not fair'
(GMM) Fernando Alonso says he is "99 per cent" sure he will be back at the cockpit of his McLaren in China.
Sidelined with chest injuries in Bahrain, the Spaniard angrily rejected the advice of pundit Johnny Herbert to seize the opportunity and hang up his helmet for good.
Asked if he was surprised by former driver Herbert's comments, Alonso told Marca sports newspaper: "A little bit. I was surprised by the aggressiveness towards me.
"He (Herbert) had the luck that he was recording live when I arrived (at the circuit) in the morning," said Alonso, referring to his gatecrashing of British television Sky to confront the 51-year-old former Sauber driver.
Alonso had told Herbert that he has no intention of retiring.
"Better, better every day," he told Marca when asked how his ribs are now.
The 34-year-old said there are good signs that McLaren-Honda is finally beginning to make strides up the grid.
"Well, the performance (in Bahrain) on a circuit that does not help us with long straights shows that we are taking steps forward," said Alonso, "and I think that we will continue to improve throughout the year."
Alonso, accompanied to Bahrain by his sister and doctor Lorena, stayed in the island Kingdom throughout the race weekend to advise his replacement, Stoffel Vandoorne.
"No," Alonso smiled, "I had little to do. He did a very good job."
In fact, reigning GP2 champion and Belgian Vandoorne had an extremely good F1 debut in Alonso's car, outqualifying the vastly more experienced Jenson Button and scoring McLaren's first point of the season.
But Alonso says any criticism of Button as a result is unfair.
"It is unfair," he said. "Jenson was faster all weekend and had a sudden drop in performance in qualifying. Stoffel did well but it is unfair to criticize Jenson."
One of Herbert's strongest points of criticism is that Button, who is expected to fight to keep his place at McLaren for 2017, has actually outperformed Alonso at McLaren-Honda so far.
Asked if that is a legitimate criticism, Alonso answered: "No. Last year was like a lottery with the car breaking down. It was impossible to measure anything with that car."
As for the claim he is struggling with motivation, the Spaniard added: "Here I am at this grand prix with a broken rib wanting to climb in the car and helping the team. I don't know what more motivation I could have."
Stoffel Vandoorne made impressive debut
McLaren 'can count on' Vandoorne in future
(GMM) Stoffel Vandoorne has left Bahrain a happy F1 debutant, even though he will probably have to hand back the keys to Fernando Alonso in China.
The highly-rated Belgian, the reigning GP2 champion, made his F1 race debut in Bahrain after the McLaren-Honda regular was sidelined with chest injuries.
Vandoorne, 24, more than impressed, outqualifying the vastly more experienced Jenson Button and scoring the team's first point of 2016.
"I am of course very happy with the weekend," he told La Derniere Heure, a Belgian daily, as he departed Bahrain.
"I could prove that I was more than capable of driving an F1 car. Everything went the want I wanted," said Vandoorne.
"I showed my speed, my fighting spirit but also my reliability even though I only discovered the car on Friday morning."
He also revealed that his debut did not go unnoticed by the F1 community at large.
"I have received many messages of congratulations," said Vandoorne. "But what is most important is that I have made a good impression to the team. They know they can count on me."
That is despite the fact that, impressive though Bahrain may have been, he will probably not re-appear in the dark grey car in China.
"I know," said Vandoorne. "It's part of my job as reserve driver and I knew that before I started.
"I don't know if I will get another chance but I hope that my work throughout the weekend will encourage the team to use my services again in the future."
Another impressive youngster in Bahrain was the Mercedes-backed Pascal Wehrlein, who aced qualifying in his Manor and featured on the TV images throughout Sunday's race.
"I will definitely have to watch the replay as I've heard that I was quite often on the screen," the German grinned.
"The fact that we were able to overtake Force India and Sauber was amazing and so much fun," Wehrlein told the German broadcaster Sky.
Alonso surveys Baku
Azerbaijan says fighting no risk to F1 race
(GMM) Azerbaijan says intense fighting in Nagorno-Karabakh, a disputed local region, does not jeopardize forthcoming sports events like the inaugural Baku street race.
A war with Armenian separatists ended in 1994, but at least 30 soldiers and one child were killed and civilians injured in intense fighting taking place as recently as Sunday.
"Azerbaijan, showing goodwill, has decided to unilaterally cease hostilities," the government announced in a statement on Sunday.
But reports say the fighting continues some 250 kilometers west of the capital Baku.
A spokeswoman for Azerbaijan's sports ministry, however, insisted to the Associated Press that any fighting "has no effect on events being hosted in the country".
"Azerbaijan always, to the highest standard, keeps athletes, tourists, fans and all participants safe at any events taking place in the country," she added.
Vettel's Ferrari blows up and he was going slow
Ferrari plays down reliability flaw rumors
(GMM) Ferrari on Sunday played down rising speculation its championship campaign could be derailed in 2016 by a fundamental reliability flaw.
Amid rumors of a fault with the turbo design, Kimi Raikkonen – who retired with a flaming airbox in Australia – said before the Bahrain grand prix when asked if Ferrari has a problem: "Well, at the last race we did."
That was before Sebastian Vettel could not even make it to the grid after the warm-up lap on Sunday, as he pulled over his Ferrari car with billowing smoke.
"I think I might have an engine failure," the German declared by radio.
But once back to the paddock, neither Ferrari nor Vettel were confirming his suspicions about the nature of the problem.
Maurizio Arrivabene, the team boss, told German newspaper Bild it seems the failure was simply a valve or injector.
"That's never happened to us before," he added, telling Auto Motor und Sport that it is "90 per cent" sure that Vettel has lost the power unit altogether.
But both Vettel and Raikkonen insisted their respective failures in Bahrain and Australia are not a sign that Ferrari's title campaign is off track.
"I had an issue in the last race, Seb had something here," said Kimi, who finished second in Bahrain. "It's not ideal and it's an unfortunate part of the game but, like I said, we have some work to do."
Vettel agreed: "It's not ideal and we can't be proud of it. But we had a good preparation over the winter, we are pushing very hard and we know that we can still improve."
Boss Arrivabene said Sunday in Bahrain was painful for Ferrari, but the bright side is that if Raikkonen's fingers had not slipped on the clutch lever at the start, the Finn might have challenged Nico Rosberg for the win.
"Perhaps, and I stress this, perhaps this has compromised his chance to win," said the Italian.
Raikkonen agreed: "I got surprisingly close to Nico at the end."
But it's an open question as to whether Lewis Hamilton, in the other Mercedes, might have been even further down the road had he not suffered a poor start and been bumped into a half-spin by Valtteri Bottas.
Toto Wolff claims the Briton, who fought back to third, was further handicapped to the tune of one second per lap due to damage from the Bottas clash.
The Mercedes boss confirmed in Bahrain that a request to parent Daimler has been made for a new clutch design, to help the drivers get more cleanly off the grid.
"I think it was just not a good getaway by myself," Hamilton explained. "At least I could keep going" after the crash with Bottas "and still have some performance left in the car to get back into the top three."
Teammate Rosberg leads the world championship by 17 points, but Hamilton insists he is not worried.
"In Rumble in the Jungle, Muhammad Ali got the dude to believe that he was winning but he didn't," said the Briton. "So anything can happen."
Maurizio Arrivabene
Ferrari will not use veto over qualifying
(GMM) Maurizio Arrivabene says Ferrari will not wield its famous veto to prevent F1 from solving the current impasse over qualifying.
With the sport needing to find an agreeable format by Thursday, some have wondered whether F1 could be stuck with the hated 'musical chairs' if Ferrari uses an unique veto it has over decisions in formula one.
"The veto is a very powerful tool and we are not going to use it in this situation," Ferrari team boss Maurizio Arrivabene said. "The teams need to demonstrate unity."
However, as F1 is in the predicament of needing to make a fundamental rule change within the season, in truth every single team in pitlane has the power of veto because complete unanimity is required.
That is why a meeting on Sunday failed to produce an outcome except to set the date of the next meeting — Thursday.
Until then, bosses are chewing over the FIA's proposal, where a drivers' best two laps in each of the Q1, Q2 and Q3 segments are aggregated for China and beyond.
"I don't know whether we will see it in China," said Arrivabene, "but we will do a detailed analysis, if possible make some adjustments and I am sure we will be able to make a decision that suits everyone."
What many team bosses really want, however, is to revert to the 2015 format. But FIA president Jean Todt and Bernie Ecclestone have ruled that out, and Red Bull's Christian Horner has reportedly said he will consistently veto simply tweaking the existing system.
"I'm not sure of anything anymore," Mercedes team boss Toto Wolff is quoted by the Finnish broadcaster MTV when asked if he thinks an outcome will be known by China.
"We do need to change. We cannot stay where we are now. That cannot be accepted," he insisted.
Pat Symonds needs a crying towel
Haas taking F1 on wrong road – Symonds
(GMM) Romain Grosjean is no longer being asked if switching from what became the Renault works team this year to the all-new Haas project was a wise choice.
The Frenchman is now fifth overall in the world championship, ahead even of Ferrari's championship contender Sebastian Vettel.
"It's not bad!" Grosjean grinned after a second-consecutive points finish for the strongly Ferrari-linked American team in Bahrain.
"I'm what, fifth?" he told France's RMC. "I think I've never been that high in the drivers' world championship. It's incredible and a bit crazy.
"I hope that from the outside it looks as beautiful as it does on the inside," Grosjean enthused.
The team has bucked the normal trend of building an F1 entrant from the ground by buying as many parts from Ferrari and collaborating with the Italian giant as much as the rules will allow.
"Perhaps we made a mistake!" joked Ferrari team boss Maurizio Arrivabene, after Grosjean finished fifth in Bahrain. The French driver now sandwiches the two works Ferrari drivers' in the drivers' standings.
"Seriously, of course, I have been impressed by their results," Arrivabene added of Haas. "They have worked very hard and we should be happy, because these Haas cars have Ferrari engines."
But as impressive as Haas' feat might seem, it is not universally popular.
Bernie Ecclestone told Autoweek recently that the 2016 Haas is "basically a Ferrari. It will perform because it's a Ferrari."
So for a true independent like Williams, the Haas model is a dangerous development.
"The status of being a constructor has been gradually eroded," said Pat Symonds, Williams' technical boss.
"Some would like it completely eroded," he told the New York Times in Bahrain. "What Haas has done is good for him, but I don't know if that is really the way F1 should be going."
People don't watch parades
F1 Teams Experiencing Sharp Drop In Sponsorship Income
Formula One's teams are "losing sponsorship revenue at a rapid rate," according to James Allen of the FINANCIAL TIMES.
Last year the 10 F1 teams raised $750M, down from $950M three years before. Switches to pay-TV have "also undermined audience in key growth markets such as Asia."
By failing to control costs over decades, and a "tendency to skew payments heavily to the top teams, the F1 business appears to be perpetually on the brink of a crisis — and the problem is self-perpetuating."
Observers "paint a gloomy picture" of a sport where the funding of smaller teams is "under threat, and audiences are declining on TV and trackside, which in turn deters sponsors."
Chime Sports Media CEO Zak Brown said, "The costs are, to me, the single largest issue and the one that then drives many of the others. We have an industry that is exploding in cost, and collectively they are not able to gather and get those costs under control."
FACING A THREAT: Other industry leaders agree the sport's appeal among fans and advertisers "is under threat." Yet for companies such as oil major ExxonMobil, which sponsors McLaren-Honda, the "expensive technical demands of the sport are intrinsic to its appeal as a supplier."
ExxonMobil Motorsports Technical Manager Bruce Crawley said, "I'm not sure we'd be in racing if we did not have a technological justification. We are here for branding and marketing, business-to-business and technology. If you took out the technology side it would make it more difficult [to justify]."
Potential advertisers and sponsors are "also concerned that the sport is not growing in the Asian market as had been hoped, despite the launch of Grands Prix in areas including China, Singapore, Korea and India over the past decade."
Brown: "Asia has probably had the largest drop in reach, primarily driven by [broadcast rights] going to pay-TV, but that was the market most people were most excited in." Financial Times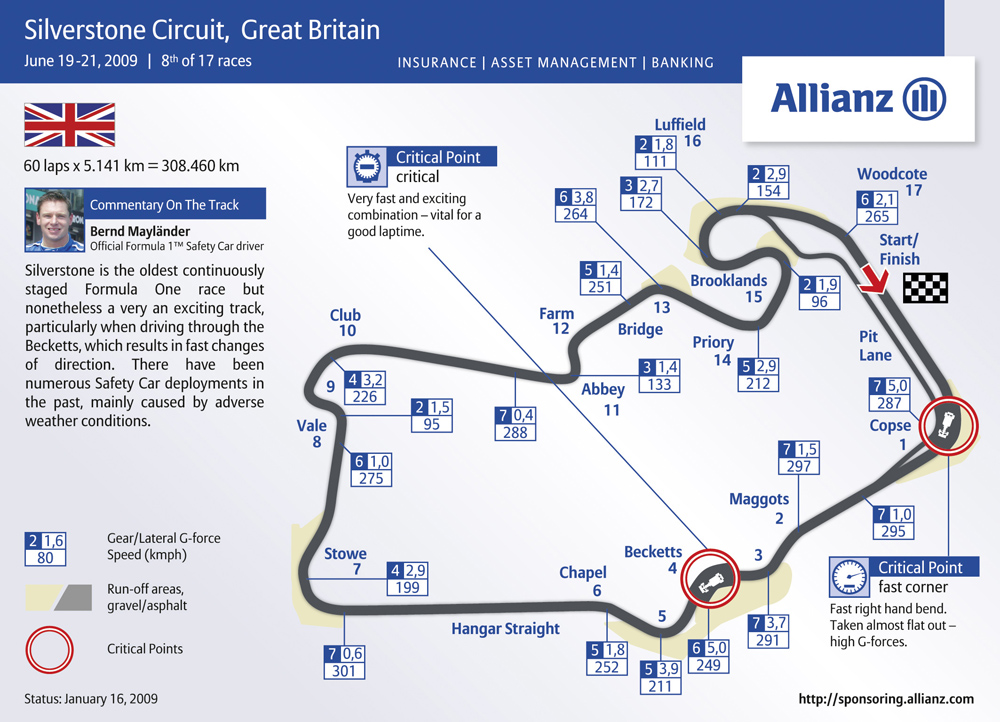 Silverstone always in the news for the wrong reasons
Silverstone Sale Puts British Grand Prix's Future In Jeopardy
A "high-octane war has erupted" between members of the organization that owns Silverstone racetrack over "attempts to sell the historic circuit to Jaguar Land Rover, amid claims the sale could threaten the future of the British Grand Prix," according to Christian Sylt for the London TELEGRAPH.
A group of race track members has distributed a letter "urging their counterparts to black the sale."
One said, "There is a strong groundswell building within the ranks of the British Racing Drivers Club against this deal.
The following are points that have been raised: the lack of information about the deal; the exclusivity afforded to JLR; other offers on the table that are not being considered."
Silverstone is owned by BRDC, "a group of 850 racing luminaries." This week, members will vote on whether to allow Jaguar Land Rover to buy a 249-year lease on Silverstone.
The BRDC has a contract to host the British GP until '26 but "for the past five years it has been trying to get out by selling the track" and the race organizing business, Silverstone Circuits Ltd., "which has burned up huge losses."
The letter from the members adds, "We do not need to rush into making this enormous irreversible sale decision, which will shape the destiny of our club and British motor racing for decades."
The BRDC reported combined net losses of £55.9M ($79.5M) over the past five years driven by payment of a £17.7M ($25.2M) annual fee for hosting the British GP. The fee rises by 5% annually, "which is half of the norm in F1, but unlike all the other races in the sport, Silverstone receives no government support." Telegraph