American Honda Supports RRDC Evening with George Follmer in Long Beach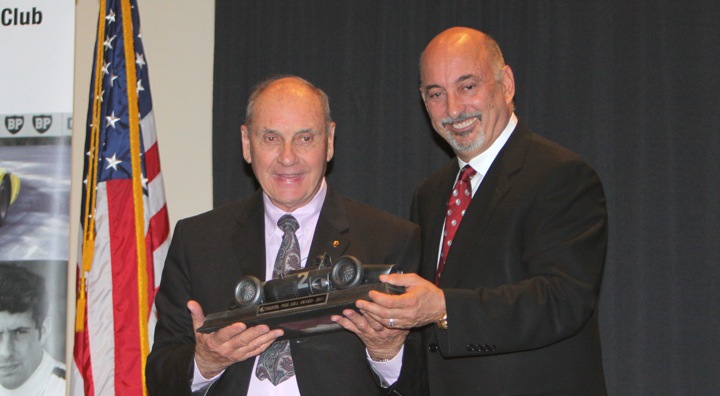 George Follmer with Bobby Rahal
American Honda Motor Co., Inc., will support the RRDC Evening with George Follmer presented by Firestone by hosting the cocktail reception on April 14 for the seventh consecutive year at the Road Racing Drivers Club's eighth annual West Coast banquet, held prior to the 42nd Toyota Grand Prix of Long Beach (Calif.).
"American Honda is profoundly pleased to support the Road Racing Drivers Club in its salute to George Follmer," said John Mendel, Executive Vice President, Automobile Division, American Honda Motor Co., Inc. "Follmer is one of the 'unsung heroes' of the sport we all love. Throughout a career that extended over three decades, Follmer was a 'go to' guy for any team owner who needed results, and needed them immediately. From starring in both Trans-Am and Can-Am in their heyday in the 1970s, to finishing on the podium in Formula One as a 'rookie' at age 39, George Follmer was the standard by which other drivers judged themselves."
"The members of the RRDC are honored to have American Honda return for the seventh straight year to host the reception at this year's RRDC Evening with George Follmer," said RRDC president Bobby Rahal. "Honda's presence and record in North American racing competition is remarkable, and we're proud to have Honda and Honda Performance Development join us in celebrating George Follmer's unparalleled contributions to the sport."
George Follmer's reputation as a driver who "could drive the wheels off anything" is well-deserved and respected. He's raced in Can-Am, Trans-Am, World Endurance, IndyCar, NASCAR, Formula One and IMSA, claiming the 1965 SCCA United States Road Racing Championship, as well as the above-mentioned 1972 Can-Am and Trans-Am titles. He again earned the Trans-Am crown in 1976.
He was the 1960 California Sports Car Club's Rookie of the Year, followed by Driver of the Year. Through the '60s and '70s he won the '66 Sebring 12 Hours, was the '68 Trans-Am runner-up to his teammate Mark Donohue and set nine Can-Am track records between '66-'71. He also notched two Formula 5000 wins in 1970.
Follmer's first Formula One start in 1973 resulted in a sixth-place finish for the UOP Shadow team at the South African Grand Prix, followed by a third at the Spanish Grand Prix. He also placed second in both Can-Am and IROC that year.
The dinner's proceeds will help support the RRDC's young driver initiatives, including its groundbreaking www.SAFEisFAST.com presented by Honda program and the Team USA Scholarship, which the RRDC has backed since 1997. Previous banquets have honored Dan Gurney, Parnelli Jones, Roger Penske, Jim Hall, Brian Redman, Mario Andretti and Bobby Unser, drawing fans and luminaries from all forms of motorsports.
The RRDC Evening with George Follmer presented by Firestone will be held on Thursday, April 14, at the Hilton Hotel, 701 West Ocean Blvd, Long Beach, Calif., with cocktails at 6 p.m., and dinner at 7:15 p.m. Tickets are $200 per person ($175 for RRDC members) if purchased in advance, and space is limited. Sponsor packages are also available. This event is expected to sell out quickly. All are welcome and early reservations are recommended. Please contact Jeremy Shaw at rrdc2@cox.net.