Matt Crafton on Atlanta Truck Series Pole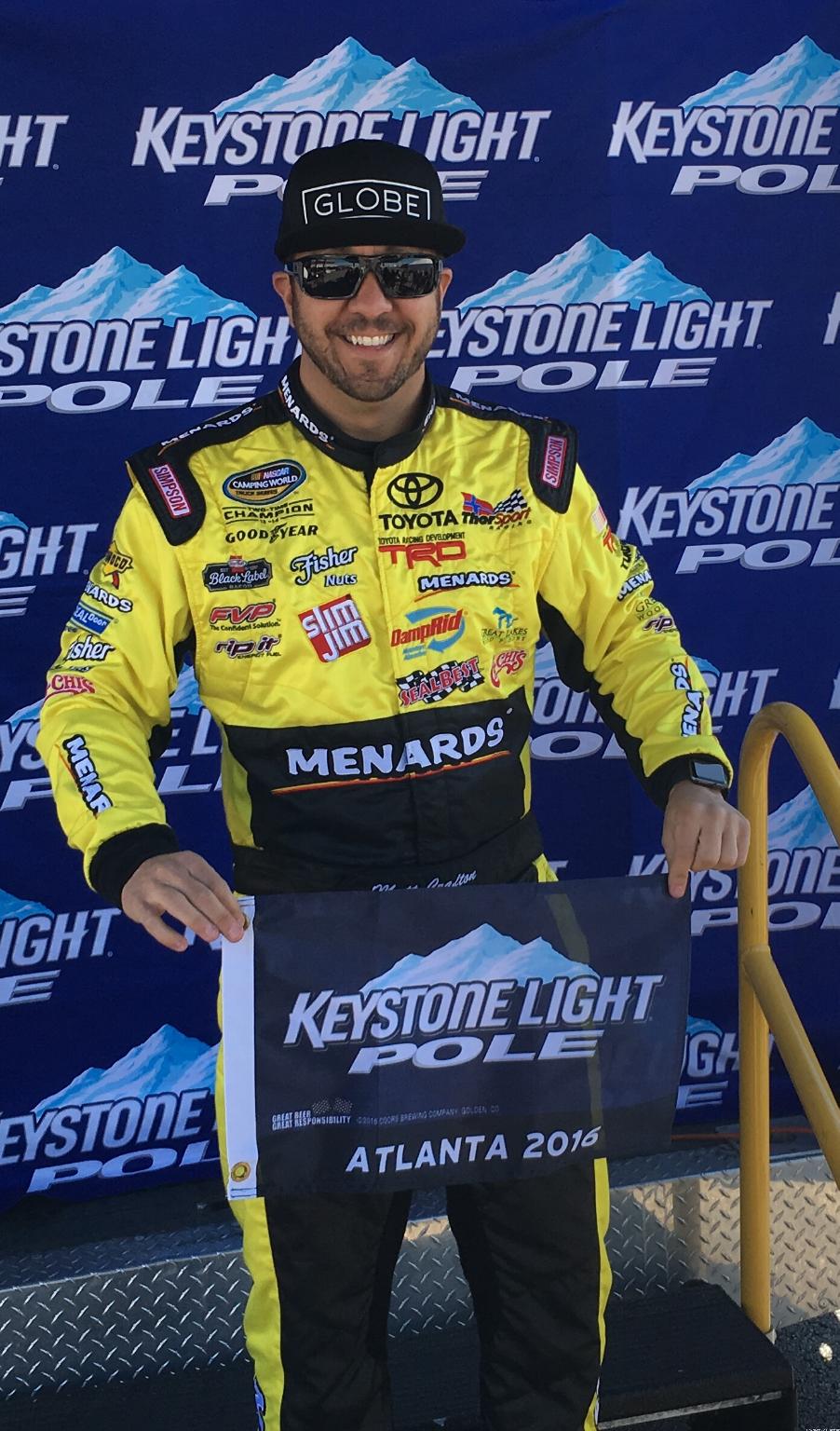 Matt Crafton
Pete McCole/AR1.com
Matt Crafton will lead the NASCAR Camping World Truck Series field to the green flag in Saturday's Great Clips 200 at Atlanta Motor Speedway after taking the pole in the morning qualifying session.
Crafton finished fourth on the opening round of qualifying behind Christopher Bell and wasted little time jumping to the top of the speed charts in the second round, knocking Cameron Hayley from the pole with a speed of 179.790 mph.
It was Crafton's first career truck series pole at Atlanta and 12th of his career.
Jon Wes Townley and Grant Enfinger took a shot in the waning moments of the final qualifying session, but came up short with Townley taking second at 179.685 mph. Enfinger, looking to scored his second pole in two weeks, settled for third at a speed of 179.662 mph. Bell (179.371) was fourth, followed by Hayley (178.758).
Five trucks failed to make the field: Timothy Viens, Norm Benning, Ryan Ellis, Korbin Forrister and Jordan Anderson
Qualifying Results
| | | | | | | | |
| --- | --- | --- | --- | --- | --- | --- | --- |
| Pos. | # | Driver | Make | Sponsor | Speed | Time | Behind |
| 1 | 88 | Matt Crafton | Toyota | Hormel/Menards | 179.790 | 30.836 | Leader |
| 2 | 05 | John Wes Townley | Chevy | ESPFANCLUB.org | 179.685 | 30.854 | –0.018 |
| 3 | 4 | Christopher Bell | Toyota | JBL | 179.662 | 30.858 | –0.022 |
| 4 | 33 | Grant Enfinger | Chevy | Alamo Rent A Car | 179.371 | 30.908 | –0.072 |
| 5 | 13 | Cameron Hayley | Toyota | Cabinets by Hayley | 178.758 | 31.014 | –0.178 |
| 6 | 00 | Cole Custer | Chevy | Haas Automation | 178.631 | 31.036 | –0.200 |
| 7 | 41 | Ben Rhodes | Toyota | Alpha Energy Solutions | 178.447 | 31.068 | –0.232 |
| 8 | 81 | Ryan Truex | Toyota | Aisin | 178.430 | 31.071 | –0.235 |
| 9 | 19 | Daniel Hemric | Ford | California Clean Power | 178.361 | 31.083 | –0.247 |
| 10 | 11 | Ben Kennedy | Toyota | Jacob Companies | 178.327 | 31.089 | –0.253 |
| 11 | 23 | Spencer Gallagher | Chevy | Alamo Rent A Car | 178.080 | 31.132 | –0.296 |
| 12 | 17 | Timothy Peters | Toyota | Red Horse Racing | 177.641 | 31.209 | –0.373 |
| 13 | 51 | Daniel Suarez | Toyota | Arris | 177.408 | 31.250 | –0.414 |
| 14 | 32 | Justin Marks | Chevy | Katerra | 177.340 | 31.262 | –0.426 |
| 15 | 9 | William Byron | Toyota | Liberty University | 177.323 | 31.265 | –0.429 |
| 16 | 21 | Johnny Sauter | Chevy | Allegiant Travel | 177.198 | 31.287 | –0.451 |
| 17 | 92 | Parker Kligerman | Ford | Blacks Tire & Wheel | 177.028 | 31.317 | –0.481 |
| 18 | 8 | John Hunter Nemechek | Chevy | TBA | 176.724 | 31.371 | –0.535 |
| 19 | 63 | Garrett Smithley | Chevy | Instalco | 176.493 | 31.412 | –0.576 |
| 20 | 22 | Austin Wayne Self | Toyota | AM Technical Solutions | 176.347 | 31.438 | –0.602 |
| 21 | 29 | Tyler Reddick | Ford | Cooper Standard | 176.341 | 31.439 | –0.603 |
| 22 | 02 | Tyler Young | Chevy | Randco | 175.844 | 31.528 | –0.692 |
| 23 | 20 | Austin Hill | Ford | Arco Design &Build | 175.743 | 31.546 | –0.710 |
| 24 | 86 | Brandon Brown | Chevy | NcaseIt | 175.738 | 31.547 | –0.711 |
| 25 | 75 | Caleb Holman | Chevy | Food Country USA | 175.604 | 31.571 | –0.735 |
| 26 | 07 | J.J. Yeley | Chevy | Engine Parts Plus | 175.343 | 31.618 | –0.782 |
| 27 | 98 | Rico Abreu | Toyota | Safelite/CURB Records | 175.083 | 31.665 | –0.829 |
| 28 | 44 | Tommy Joe Martins | Chevy | ClikIt.Tv | 174.724 | 31.730 | –0.894 |
| 29 | 1 | Travis Kvapil | Chevy | CorvetteParts.net | 174.367 | 31.795 | –0.959 |
| 30 | 49 | Timmy Hill | Chevy | Dirt And Rock | 173.630 | 31.930 | –1.094 |
| 31 | 71 | Carlos Contreras | Chevy | Racetrac Convenience Stores | 173.521 | 31.950 | –1.114 |
| 32 | 10 | Jennifer Jo Cobb | Chevy | WestsideVapor.com | 0.000 | 0.000 | -30.836 |