Remembering When Indy Car Legends Conquered The Daytona 500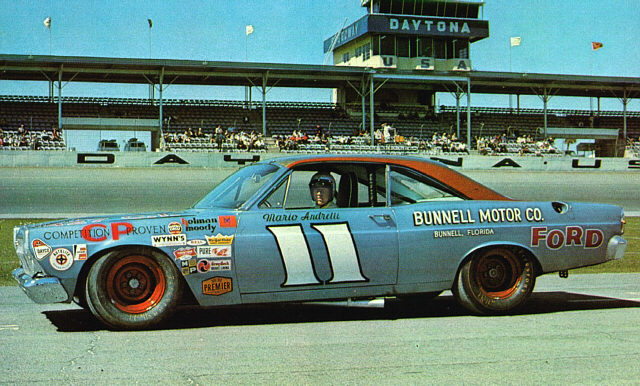 Mario Andretti 1967 Daytona 500
In the 58-year history of the Daytona 500, which is set to run again today, Mario Andretti and A.J. Foyt remain the only Indy car drivers to capture a victory in NASCAR's biggest race of the year.
Andretti only ran the Daytona 500 three times, but his win in the 1967 edition was nothing shy of memorable. He joined the powerhouse Holman-Moody team with the support of Ford alongside teammate Fred Lorenzen. Despite having a motor he said wasn't up to full song, Andretti finished sixth in his qualifying race and lined up 12th on the grid.
Andretti dazzled the paddock throughout the day, leading 112 laps with a difficult handling race car that only he was able to control. David Pearson was his strongest threat throughout the day until Pearson's motel blew on lap 159 while Lorenzen moved up to second place.
It wasn't all smooth sailing. Andretti said his pit crew held his car longer on a final pit stop to allow Lorenzen, the NASCAR regular, to take the lead.
"It was absolutely intentional," Andretti told Fox Sports. "They had orders to hold me and they held me back for about seven seconds. I was furious because they held the car up on the jack.
"It dawned on me what they were doing because the work was done. I knew that the tires were changed and everything else, and they're all looking around and they let him go and he's already almost in Turn 1 when they dropped me off.
"I put it in gear and I was about ready to raise havoc, and that's when they let the jack fly and I went. But I was a bit upset at the time, as you could imagine."
A determined Andretti was not to be denied. He took the lead from Lorenzen four laps later and began to pull away. He led the final 33 laps and a late caution with two laps to go for Richard Petty's blown engine solidified the first win for an Indy car driver in the Daytona 500.
"It was quite a feather in my cap quite honestly and I was very proud of that," Andretti said. "I represented the open-wheel dudes down there in a good way. I loved that part. And then A.J. joined me and we are still the only ones that have done that."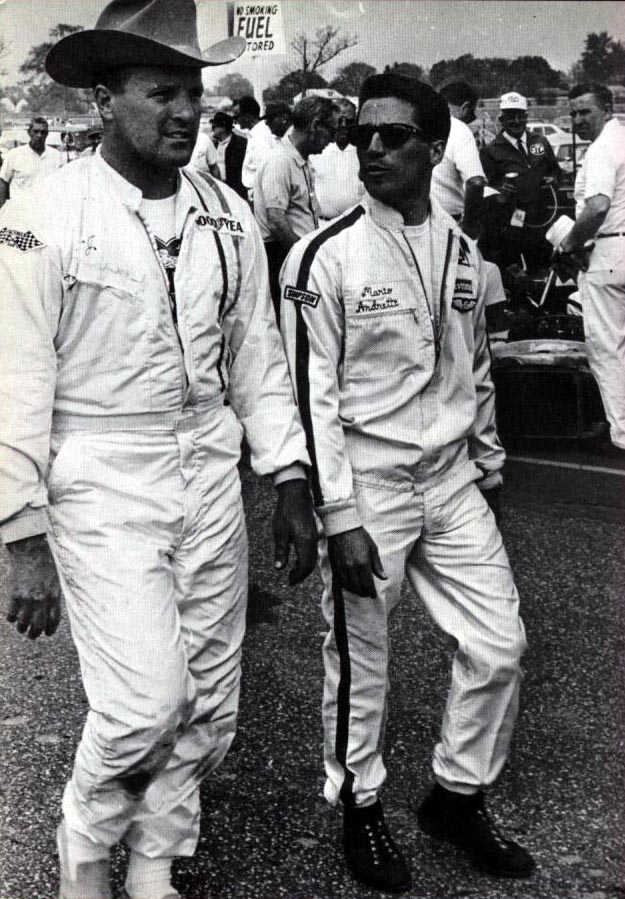 In the late 60s Foyt and Andretti dominated MOTORSPORTS in America
A.J. Foyt's win in the 1972 Daytona 500 can be defined as pure dominance. He took the lead on the green flag from pole sitter Bobby Isaac. He held off an early charge from Bobby Allison but his biggest challenge came from Petty, who soared to the front after starting in 32nd and took the lead on Lap 20.
Foyt and Petty engaged in a duel over the course of the next 60 laps, swapping the lead nine times until Petty's engine blew on Lap 80. The door opened for Foyt and he never looked back, leading a mesmerizing 167 laps and crossing the finish line one lap ahead of Charlie Glotzbach.
"Anytime I won a 500-mile race, it meant a lot to me," Foyt said. "Especially to go to Daytona, in their backyard, and beat them. It was a runaway the day I was there. We had such an advantage on everybody. The car handled perfect, the Wood Brothers did a great job pitting, so it was a good race. I really didn't have that much competition. I felt like we were way ahead of everybody so it was a beautiful race all day long."
Foyt's win at Daytona also solidified his place in racing history. He would go on to become the only driver to win the Indianapolis 500 (1961, '64, '67, '77), Daytona 500 (1972), 24 Hours of Le Mans (1968) and 12 Hours of Sebring (1985). Foyt said the NASCAR set welcomed him but it was tough competition.
"The drivers I ran against back then were pretty hard drivers," he said. "I think they were a lot harder drivers than they are today. The reason I say that is the cars have so much downforce today where we didn't.
"I know they're running with restrictor plates now, but it was nothing to be qualifying over 200 miles an hour and your cars were almost a foot off the ground! Where now, they're right on the ground with maybe an inch or so (of clearance). You had to drive your hiney off to keep one under you all day."
Foyt made 28 starts in the Daytona 500 and also captured the pole in 1971. He even came out of retirement to race at the inaugural Brickyard 400 at Indianapolis Motor Speedway in 1994.