Ty Dillon On Pole For Daytona Xfinity Race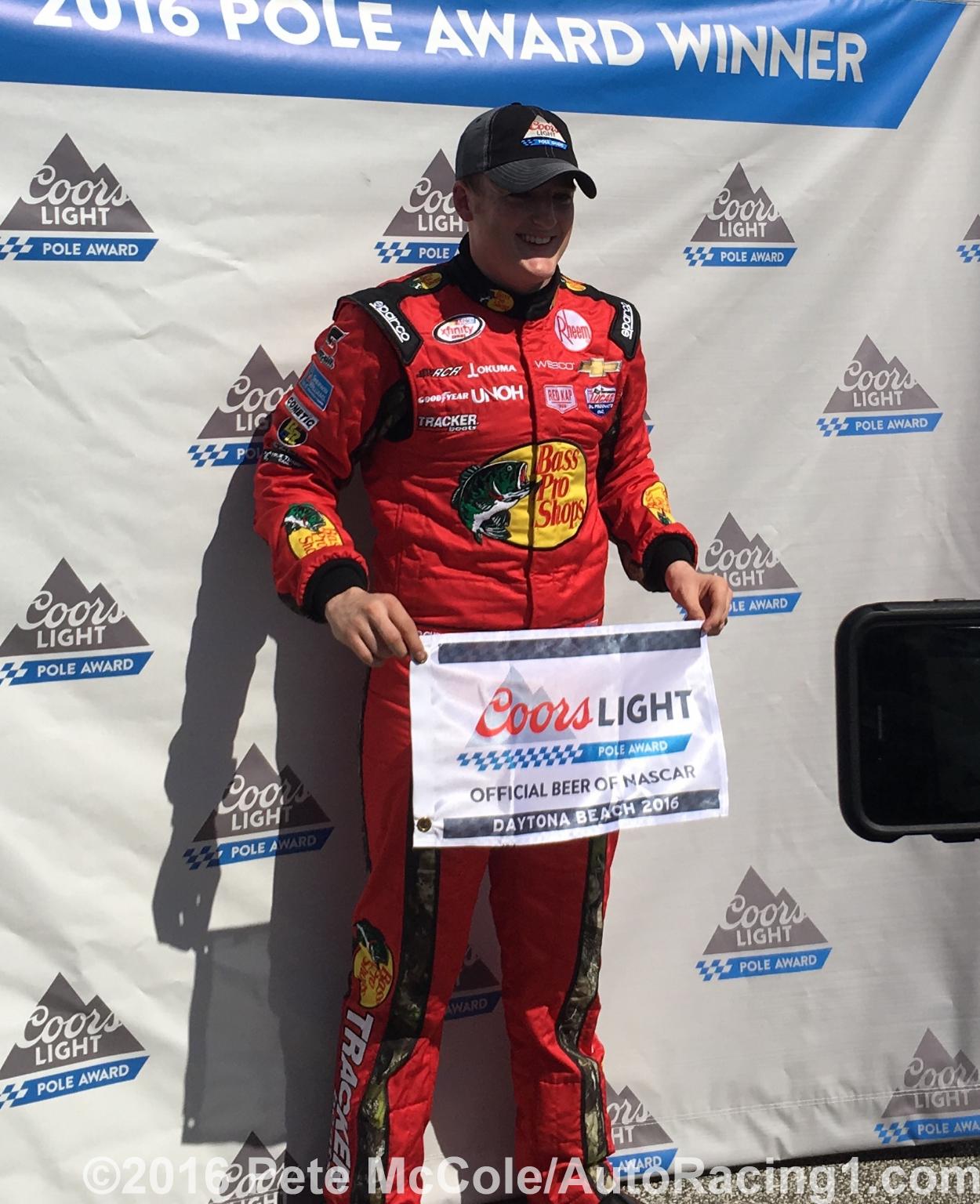 Ty Dillon
Pete McCole/AR1
Ty Dillon scored his first-career Daytona pole in Saturday's qualifying for the season-opening Powershares QQQ 300 NASCAR Xfinity Series race at Daytona International Speedway.
Dillon covered the 2.5-mile distance in 49.493 seconds (181.844 mph) to beat out Daniel Suarez to collect his fourth career pole in his 78th series start.
Suarez's lap of 181.408 mph put him in the outside pole, while 1991 series champion Bobby Labonte qualified third in his first Xfinity Series race since 2008 with a lap of 181.006 mph. 2013 series champ Austin Dillon (180.934) qualified fourth, followed by rookie Erik Jones (180.828) in fifth.
Eight drivers failed to qualify for the field for Saturday's race, including 1990 Daytona 500 winner Derrike Cope, Stanton Barrett and Mike Harmon, who went 0-2 for the weekend after failing to qualifying for Friday's truck series race.
Qualifying Results

| | | | | | | | |
| --- | --- | --- | --- | --- | --- | --- | --- |
| Pos. | # | Driver | Make | Sponsor | Speed | Time | Behind |
| 1 | 3 | Ty Dillon | Chevy | Bass Pro Shops | 181.844 | 49.493 | Leader |
| 2 | 19 | Daniel Suarez | Toyota | Arris | 181.408 | 49.612 | –0.119 |
| 3 | 18 | Bobby Labonte | Toyota | NOS Energy Drink | 181.006 | 49.722 | –0.229 |
| 4 | 2 | Austin Dillon | Chevy | Rheem | 180.934 | 49.742 | –0.249 |
| 5 | 20 | Erik Jones | Toyota | Resers | 180.828 | 49.771 | –0.278 |
| 6 | 62 | Brendan Gaughan | Chevy | South Point | 180.491 | 49.864 | –0.371 |
| 7 | 33 | Brandon Jones | Chevy | Barrett-Jackson | 180.473 | 49.869 | –0.376 |
| 8 | 22 | Joey Logano | Ford | Discount Tire | 179.982 | 50.005 | –0.512 |
| 9 | 11 | Blake Koch | Chevy | LeafFilter Gutter Protection | 179.870 | 50.036 | –0.543 |
| 10 | 1 | Elliott Sadler | Chevy | OneMain | 179.773 | 50.063 | –0.570 |
| 11 | 16 | Ryan Reed | Ford | Lilly Diabetes | 179.122 | 50.245 | –0.752 |
| 12 | 6 | Darrell Wallace Jr | Ford | Selfeo Ford Mustang | 179.058 | 50.263 | –0.770 |
| 13 | 48 | Brennan Poole | Chevy | DC Solar | 179.673 | 50.091 | –0.598 |
| 14 | 05 | John Wes Townley | Chevy | Florida Lottery | 179.401 | 50.167 | –0.674 |
| 15 | 5 | Kasey Kahne | Chevy | Hellmann's | 179.365 | 50.177 | –0.684 |
| 16 | 7 | Justin Allgaier | Chevy | Brandt | 179.336 | 50.185 | –0.692 |
| 17 | 42 | Kyle Larson | Chevy | ENEOS | 179.179 | 50.229 | –0.736 |
| 18 | 28 | Dakoda Armstrong | Toyota | Winfield Be Greater | 179.169 | 50.232 | –0.739 |
| 19 | 88 | Chase Elliott | Chevy | Taxslayer.com | 178.905 | 50.306 | –0.813 |
| 20 | 24 | Matt Tifft | Toyota | Clinical RM | 178.884 | 50.312 | –0.819 |
| 21 | 43 | Jeb Burton | Ford | J Streicher | 178.838 | 50.325 | –0.832 |
| 22 | 14 | Benny Gordon | Toyota | VSI Racing | 178.756 | 50.348 | –0.855 |
| 23 | 44 | David Starr | Toyota | Zachry | 178.628 | 50.384 | –0.891 |
| 24 | 98 | Aric Almirola | Ford | Fresh From Florida | 178.579 | 50.398 | –0.905 |
| 25 | 39 | Ryan Sieg | Chevy | RSS Racing | 178.437 | 50.438 | –0.945 |
| 26 | 89 | Morgan Shepherd | Chevy | TBD | 178.356 | 50.461 | –0.968 |
| 27 | 85 | Bobby Gerhart | Chevy | Lucas Oil | 177.536 | 50.694 | –1.201 |
| 28 | 87 | Joe Nemechek | Chevy | D.A.B. Constructors, Inc | 177.399 | 50.733 | –1.240 |
| 29 | 46 | Anthony Kumpen | Chevy | Nexteer Automotive | 177.350 | 50.747 | –1.254 |
| 30 | 93 | Scott Lagasse Jr | Chevy | Alert Today | 177.329 | 50.753 | –1.260 |
| 31 | 01 | Ryan Preece | Chevy | Uptick Vineyards | 177.322 | 50.755 | –1.262 |
| 32 | 07 | Ray Black Jr | Chevy | ScubaLife | 177.267 | 50.771 | –1.278 |
| 33 | 0 | Eric McClure | Chevy | Reynolds Wrap | 177.246 | 50.777 | –1.284 |
| 34 | 90 | Martin Roy | Chevy | Gamache Truck Center | 176.620 | 50.957 | –1.464 |
| 35 | 25 | Chris Cockrum | Chevy | Advanced Communications Group | 176.561 | 50.974 | –1.481 |
| 36 | 4 | Ross Chastain | Chevy | FlexSeal | 176.187 | 51.082 | –1.589 |
| 37 | 51 | Jeremy Clements | Chevy | Kevin Whitaker Chevrolet | 175.754 | 51.208 | –1.715 |
| 38 | 78 | B J McLeod | Ford | Batteries + Bulbs | 174.656 | 51.530 | –2.037 |
| 39 | 52 | Joey Gase | Chevy | JT Concrete Inc | 173.796 | 51.785 | –2.292 |
| 40 | 17 | Jeff Green | Dodge | Dashub.com | 176.405 | 51.019 | –1.526 |
| 41 | 13 | Mark Thompson | Toyota | Phoenix Air | 177.155 | 50.803 | –1.310 |
| 42 | 92 | Mario Gosselin | Chevy | BuckedUp Apparel | 176.967 | 50.857 | –1.364 |
| 43 | 97 | Harrison Rhodes | Chevy | Vroom Brands | 175.967 | 51.146 | –1.653 |
| 44 | 70 | Derrike Cope | Chevy | Ice-Aid | 175.795 | 51.196 | –1.703 |
| 45 | 99 | Chris Fontaine | Ford | Glenden Enterprises | 175.754 | 51.208 | –1.715 |
| 46 | 40 | Derek White | Dodge | Braille Battery/Grafoid | 175.343 | 51.328 | –1.835 |
| 47 | 74 | Mike Harmon | Dodge | TBD | 0.000 | 0.000 | -49.493 |
| 48 | 15 | Stanton Barrett | Chevy | Mozido.com | 0.000 | 0.000 | -49.493 |