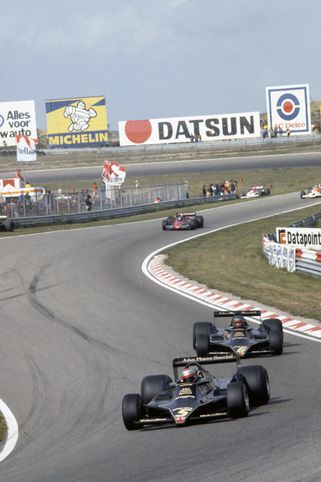 Andretti beats Peterson to win the 1978 Dutch GP at Zandvoort
The Zandvoort circuit has been purchased by a company called Chapman Andretti Partners BV. This clearly suggests that the buyers are F1 fans, as Mario Andretti won the Dutch GP in 1978, driving one of Colin Chapman's Lotus 79s.
Chapman Andretti Partners is a company that has been set up by Prince Bernhard of Orange-Nassau, a cousin of King Willem-Alexander, and investor Menno de Jong. The two men have been in business together since college days, often in league with another friend called Paul Mol. Initially they concentrated on the IT sector, but in recent years their primary interest has been real estate development, specifically commercial and industrial real estate with a company called Vondel Capital. The acquisition of Zandvoort is thus seen as probably being a little similar to the idea that MEPC has to develop an automotive and high- performance technology park at the circuit. The buyers say that the purchase will have no impact on the circuit's current activities, but there is no doubt that the new owners are looking to the future.
The Prince, who inherited a love of racing from his grandfather, Prince Bernhard of the Netherlands, the husband of Queen Juliana, races a BMW GT4 as part of Racing Team Holland, a celebrated organisation that dates back to the 1960s and has links with the likes of Pen Pon, Gijs van Lennep, Carel Godin de Beaufort, Jan Lammers, Arie Luyendyk and Huub Rothengatter. He has also been involved in the automotive sector as director of the Antonov gearbox company, established by Bulgarian Roumen Antonov.
The Zandvoort circuit has been owned for 27 years by Hans Ernst and the track is leased from the town of Zandvoort until 2042. The circuit has been hosting events since 1948 and was first included in the F1 World Championship in 1952 and became a permanent venue between 1958 and 1985, missing only one year when upgrading work was being done. The finances of the circuit were troublesome and as the F1 fees increased so did Zandvoort's troubles, leading to bankruptcy in the 1980s. Half the original circuit was then sold to a company that is today Centre Parcs and a holiday village was built on the land. Sports fields and a golf course were built on another section. The money raised from the sales meant that a new section of track could be built, retaining some of the feel of the old circuit, and the same distance, but using only half the land. It also created a buffer to the residential areas of Zandvoort, because noise had been causing problems in the later years of the old track being in operation.
There are still considerable problems to be overcome if Zandvoort is to ever host another Grand Prix, notably poor access and a small crowd capacity. Having said that it might be possible to restrict vehicular access to competitors only (as happens at a number of circuits) and have spectators arrive only by public transport. Zandvoort station is about three quarters of a mile from the track. This provides a direct link to from Amsterdam in 30 minutes, passing through Haarlem. The current crowd capacity is around 75,000 which means that it would not be able to raise the kind of fees required by the Formula One group. Having said that, the town of Zandvoort wants to retain its position as the motor racing centre of Holland and the rise of Max Verstappen is going to increase interest in the sport in the country. Joe Saward