Latest F1 news in brief – Monday
Is Alexander Rossi's check bigger than Haryanto's and Wehrlein's?

Manor chances 'looking positive' – Rossi

Booth, Lowdon launch Le Mans team
Briatore rules out returning to current F1
Mercedes expecting rivals to challenge in 2016
Red Bull to be strong with Renault power – Vasseur
Renault expecting big power leap for 2016
Monza eyes new F1 deal before Melbourne
F1 banker Gribkowsky to leave jail
Magnussen and girlfriend victims of stalking
Caterham collapse probes taking place – report
McLaren would not release Vandoorne to Renault
Buemi still working for Red Bull
Manor chances 'looking positive' – Rossi
(GMM) Alexander Rossi says his chances of a Manor race seat for 2016 are "looking good".
Late last season, the Californian rookie replaced the under-funded Roberto Merhi, but for this year it is believed Will Stevens, Rio Haryanto and Pascal Wehrlein are all also in the running for the two seats at the backmarker team.
Manor is the last team to announce its drivers for 2016.
"Things sometimes get pushed out in this sport and it is something I am used to and hopefully it doesn't go on much longer," Rossi told Britain's Sky.
"I think the deadline is really when cars roll in Barcelona in a couple of weeks," he added. "Things are looking positive and hopefully we get it done very soon."
John Booth
Booth, Lowdon launch Le Mans team
(GMM) Former Manor F1 chiefs John Booth and Graeme Lowdon are continuing their motor racing adventure in Le Mans endurance sports cars.
No longer involved with the backmarker F1 team, the duo have re-launched 'Manor Motorsport' – whose Twitter handle is 'RealManor' – for a Le Mans foray.
The governing FIA has accepted the team's entry for the 2016 world endurance championship, including the fabled Le Mans 24 hour race, where Manor will field an LMP2 prototype.
"We knew we had to come back," Lowdon said at the Cass Business School in London.
"We saw the highest highs in F1 and the lowest lows, but this is a fresh start and we can't wait to go racing," he added.
Flavio Briatore
Briatore rules out returning to current F1
(GMM) Flavio Briatore has ruled out returning to formula one for now.
The former Renault chief was ousted amid the 'crash-gate' scandal some years ago, but his ban was lifted and the French carmaker is now returning as a full works constructor.
So why isn't Briatore also returning?
"I don't miss it. I miss the old formula one," he told Arabian Business.
The flamboyant Italian thinks that, if he had stayed in F1 beyond 2009, the sport would not have changed into its current, controversial guise.
"They (the FIA) weren't happy because we (Renault) were too powerful at the time. But with that power, I promise you formula one would have stayed like it was before," said Briatore.
He thinks F1 is now "Playstation for engineers. People forget the fans, forget the show. People don't find it interesting".
But there is hope, Briatore argued, as "I think sooner or later it will change, because like this it will go nowhere."
Can the Ferrari engine put out anywhere near the 900+ HP the new Mercedes will make?
Mercedes expecting rivals to challenge in 2016
(GMM) Mercedes is not sure it will dominate formula one for a third consecutive season in 2016.
That is the claim of Andy Cowell, the engine boss at the German team who told reporters that Mercedes has improved its already field-leading 'power unit' over the winter.
"We have constantly developed in the past two years and made many steps forward," he is quoted by the German broadcaster RTL. "I do not see this changing."
Cowell reportedly revealed that the 2016 Mercedes will have over 900 horse power, but he is also expecting the competition to have improved as well.
Ferrari is singled out as the main competitor.
"Everybody here is going 'I wonder how we're going to do?' Nobody here is assuming we are going to win, everybody here is assuming that we're going to get beaten by Ferrari, and Honda are a big threat," Cowell said.
"Renault's determination as well, as they've shown by being a lot more involved now in formula one. There are going to be some great stories to talk about," he added.
Red Bull's Adrian Newey, however, has warned that even the scrapping of the 'token' system for 2017 could make things worse, as the biggest spenders potentially widen the gap between the engine makers.
But the engine makers each have 32 tokens for 2016 and reportedly much more freedom the year after, prompting Cowell to say: "We don't want anyone to say that they can't catch up because the regulations don't allow it."
Currently, of the 22 cars on the grid, there are only two that can win. And they are Mercedes and it's expected they have decided Nico Rosberg will be the 2016 F1 champion
Red Bull to be strong with Renault power – Vasseur
(GMM) The Renault works team is expecting Red Bull to perform well in 2016.
After the run of V8-powered titles earlier this decade, Red Bull and Renault have struggled in the new 'power unit' era and decided to split for 2016.
Renault has bought back its old Enstone-based works team, while Red Bull is rebranding its engines for 2016 as 'Tag Heuer' as it reverts to customer status.
Now setting to the task of rebuilding the beleaguered former Lotus outfit, however, Renault does not expect good results for itself in 2016.
"I do not want to talk about a transitional year because in France I have known transitional years that become a decade," new team boss Frederic Vasseur told the French daily L'Equipe.
"We must prepare now for 2017. The pitstop, for example, must be 2.4 seconds, even if we fight for 18th place. It takes time to learn how to win, but it is forgotten very quickly," he said.
"Also, we cannot overlook that we also supply Red Bull," Vasseur continued. "They know well how to win. They make top cars and our engine should help with that."
But Vasseur said he cannot imagine that Mercedes will be toppled from top spot by anyone in 2016.
"Currently," he said, "of the 22 cars on the grid, there are only two that can win. And they are Mercedes.
"Maybe (Ferrari's Sebastian) Vettel on occasion," Vasseur added.
Remi Taffin. If Renault gained 50 HP. Honda is reported to have gained over 200 HP and Mercedes over 100 HP. So Renault will be further behind in 2016
Renault expecting big power leap for 2016
(GMM) Renault is expecting to make a big step forward with its power unit for 2016.
While the French marque is playing down its chances this year, having just taken over beleaguered Lotus following its near-collapse, gains made to the 'power unit' could be another matter.
Some reports have suggested the Renault leap since the last race of 2015 is about 50 horse power.
"You can talk about the numbers that are published (by the media)," Renault engine chief Remi Taffin told the Spanish sports daily Marca.
"I could say that it is 50 horse power more or less, but one thing is to find it and another is to have it on the track.
"All I can say is that I think we will improve more than our competitors this winter, because our margin (for improvement) is higher," he added.
And Taffin said Renault is already planning another big jump mid-season.
"This winter we have been able to solve many small problems that arose unexpectedly in 2015," he revealed. "We have tried to fix them all and be completely reliable."
But that doesn't mean success will be instant, Taffin warned.
"We hope to be very close to our rivals at the end of 2017," he said, "which was the plan from last year. From there, we want to have good results in 2018."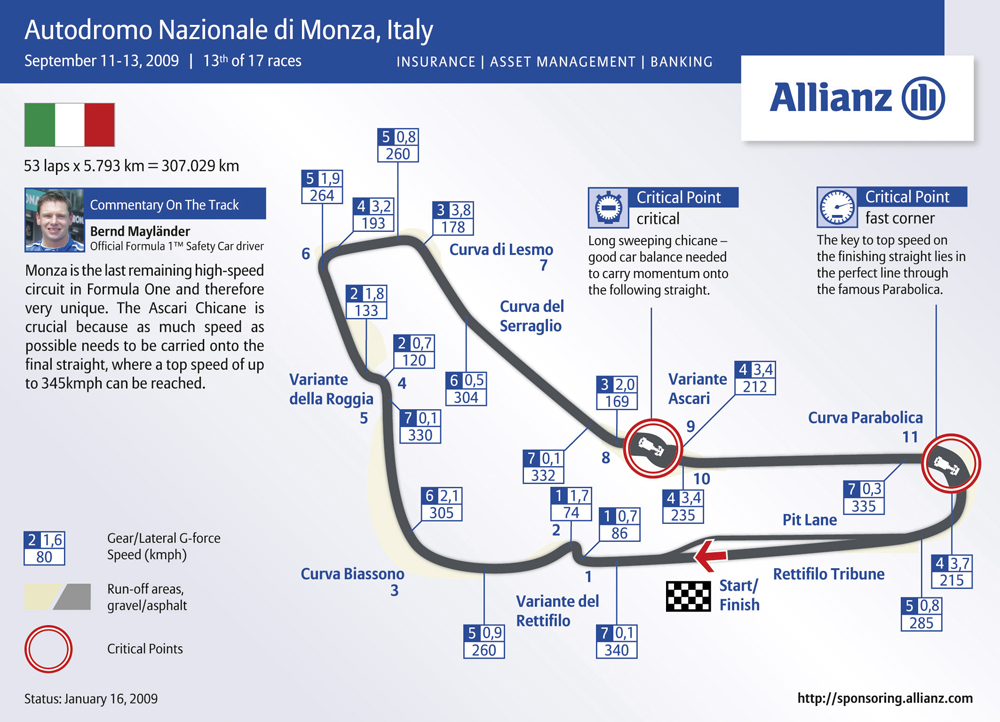 Monza eyes new deal
Monza eyes new F1 deal before Melbourne
(GMM) Monza is hoping to secure a new formula one race deal for the future before the start of the 2016 season.
Recently, the risk the historic race could fall off the calendar subsided after a controversial law preventing the Italian automobile club (Aci) from contributing funds was tweaked.
But it then emerged that race organizers and F1 supremo Bernie Ecclestone were still negotiating the size of the annual race fee.
However, Aci president Angelo Sticchi Damiani has been quoted by Tuttosport as saying: "In mid-March, before the start of the world championship, we hope to sign the agreement for the extension of the Italian grand prix at Monza.
"I am convinced," he added at an event in Sicily, "knowing the loyal person who is Bernie Ecclestone, that we will find an agreement."
But Sticchi Damiani also warned: "It is not just an economic issue, there are still other details to finalize."
F1 banker Gribkowsky to leave jail
Gerhard Gribkowsky – will he be out to get Ecclestone?
(GMM) Gerhard Gribkowsky is set to be released from jail.
The former F1 banker has been in jail in Munich for five years, over a $44 million corruption and bribery scandal that almost also led to the downfall of F1 supremo Bernie Ecclestone.
But Germany's Welt am Sonntag newspaper reports that, despite the fact that he was sentenced to eight and a half years in 2012, 57-year-old Gribkowsky will soon be released early.
A spokeswoman for the Munich district court confirmed that he will be released by March 3, even though the prosecutor reportedly argued against it.
A spokesman for the prosecutor declined to comment.
Magnussen and girlfriend victims of stalking
(GMM) Kevin Magnussen has been at the center of a stalking case, the Danish newspaper BT reported.
Just days after the Dane secured his return to F1 this year with Renault, it emerges that Magnussen and his girlfriend Louise have been harassed online for some months.
The harassment reportedly involved threats and the posting on social media of private photos and information – including a phone number and address – of Magnussen and his girlfriend by the stalker.
Louise, and Magnussen's father Jan, did not want to comment.
Copenhagen police would not confirm that an investigation is underway, but a spokesperson said cases typically involve the issuing of restraining orders.
The F1 driver also did not want to comment.
Tony Fernandes and his then Caterham team
Caterham collapse probes taking place – report
(GMM) Investigations into the collapse and attempted revival of Caterham in late 2014 are underway.
After founder Tony Fernandes decided to withdraw from F1, the green-colored backmarker was almost rescued when a mysterious group called Engavest emerged as a buyer.
The group was advised by Colin Kolles but – curiously – it was a factory cleaner by the name of Constantin Cojocar, also a former Romanian football player, who was appointed the sole director and shareholder.
Britain's Times newspaper now claims investigations into the collapse by UK as well as Romanian authorities are taking place.
"Government authorities who have initiated investigation know that I was there and I might have problems," Cojocar said, as he prepared to fly from Romania to London for an interview.
"I have no financial income, only money from my wife, but we are in arrears to the bank for the house we live in and we risk losing this home.
"Because (of the) stress with bank credit, with Caterham and with the Romania investigation and investigation in England now, my diabetes has worsened," he added.
Stoffel Vandoorne
McLaren would not release Vandoorne to Renault
(GMM) Renault reportedly tried and failed to secure the services of Stoffel Vandoorne for 2016.
The French marque's new team boss Frederic Vasseur ran the Belgian driver in his GP2 team ART last year, where he utterly dominated en route to the title.
But Vandoorne is tightly under contract to McLaren.
"With Stoffel, the situation is very clear," Vasseur said last week. "He is under contract to McLaren and I really think he will go there next year.
"McLaren is aware of his results and his ability, so I cannot imagine for a split second that they will let him go," he added.
Indeed, Vasseur has now been quoted by the Belgian newspaper La Derniere Heure as confirming that he tried to sign up Vandoorne for 2016, before settling instead for the ousted former McLaren racer Kevin Magnussen.
"We had to forget the idea with Stoffel," he said.
"He has a contract there and they do not want to let him go. We needed a driver who was available and therefore we decided on Magnussen," Vasseur added.
He said he is happy with Renault's 2016 lineup, even though the marque inherited the plans made by the former Lotus team's chiefs.
"We are taking part of a pre-existing situation," Vasseur told the French daily L'Equipe.
"I chose one (Magnussen), but the other (Jolyon Palmer) is looking very good. Oddly, I have raced neither in the lower categories, but I do not mind not having an ART driver for Renault.
"With the third driver Esteban (Ocon)," he added, "it's different. I have always believed in him. He is coming to Renault (on loan) from Mercedes."
Sebastien Buemi after yesterday's Formula E race in Buenos Aires where he finished 2nd
Buemi still working for Red Bull
(GMM) Sebastien Buemi says he is still a part of Red Bull's F1 program.
Since being dropped by Toro Rosso at the end of 2011, the 27-year-old has been the main test and reserve driver for Red Bull's two F1 teams.
But he has also been keeping more than active elsewhere, becoming world endurance champion with Toyota in 2014, and currently leading the Formula E championship for the Renault team E.Dams.
But it was Pierre Gasly, a young French GP2 driver who is aiming for a Toro Rosso seat for 2017, who announced recently that he will be the official Red Bull reserve this year.
The 20-year-old was already on duty for Red Bull late last year.
As for where that leaves Buemi, the 27-year-old told the German-language motorsport-magazin.com: "I know that Gasly has said that he is the third driver.
"I'm still here (at Red Bull) and will drive a lot in the simulator. As far as I know, it goes on," Buemi added.