Latest F1 news in brief – Tuesday
Ecclestone out to wrestle control of F1 from Mercedes and Ferrari

Renault to announce team details in February

Ecclestone to stop 'Siamese twins' Mercedes, Ferrari
Even Hockenheim future in doubt – Ecclestone
Manager denies latest report about Schumacher health
Jordan slams BBC for Christmas axe
Short winter break 'ridiculous' – Raikkonen
Williams FW08C to Star in Live Action Arena at Autosport International
Renault confirms Maldonado, Palmer
BBC explains decision to drop Formula 1
Renault to announce team details in February
(GMM) Renault is not yet ready to announce all the details of its return to full works team status in formula one.
But the deal has at least now been officially done, with the French carmaker and the Enstone team Lotus announcing in a joint statement that the buyout deal was completed last Friday.
The news follows the appeasing of an insolvency judge in London on Monday, with Renault to now pay back all of Lotus' piling debts of 2015 within days.
"The technical teams are making good progress to have the 2016 car ready for testing in Barcelona at the end of February," the Renault statement said.
But some key details are yet to be announced.
Renault says Jerome Stoll and Cyril Abiteboul will be part of the new team, but not yet confirmed is that Frederic Vasseur will arrive as boss and what precise role Alain Prost will take.
There is also some uncertainty about Pastor Maldonado and Jolyon Palmer, as Renault has not yet stated officially that Lotus' contracted 2016 drivers will actually race.
"The new team name, full management structure, team partners and other details will be announced during an event to be held in Paris in February," Renault said.
Bernie Ecclestone usually wins
Ecclestone to stop 'Siamese twins' Mercedes, Ferrari
(GMM) Bernie Ecclestone has hit back at reports suggesting formula one risked collapse due to some of the political events of 2015.
"Formula one will never collapse. Even if we had lost Red Bull and Lotus," the F1 supremo insisted during an interview with Auto Motor und Sport.
Also contemplating quitting was the French carmaker Renault, who ultimately decided to return to full works team status by buying Lotus.
"We are glad they are all staying," said Ecclestone.
"We supported Renault financially to buy Lotus and give Red Bull engines, but it is a bit strange that a large company like Renault needed this help."
It might be argued that the political challenges of 2015 were among the toughest that Ecclestone has ever had to be involved in solving.
But he said: "There were and are always problems. The difficulty this year was that the engine manufacturers were pursuing only their own interests.
"It would have been very easy for Mercedes to supply Red Bull with engines. They are doing it for Marussia (Manor) but if I was them I would rather have Red Bull because I would know for sure I am getting my money.
"The reason they (Mercedes) didn't is that they want to prevent what we need to give to the fans — competition," Ecclestone charged.
Compounding the problem, the 85-year-old said, is that Ferrari also refused to help Red Bull.
"I think there's an agreement between Mercedes and Ferrari — at the moment it's like they're joined-at-the-hip Siamese twins. One does nothing without the other.
"I don't know if that's true but it's what I'm told. Mercedes even helped Ferrari a bit technically, which is why Ferrari has caught up and they're happy. It means they're both rowing in the same boat," Ecclestone argues.
He says even the low-profile FIA president Jean Todt has noticed the problem, with the governing body issuing a rare and controversial 'mandate' so that Ecclestone can make unilateral changes.
"We cannot put F1 in the hands of two teams," Ecclestone insisted.
Asked if his first move could be the abolishment of the F1 commission and strategy group, he answered: "We'll see. The answer may be yes.
"Let's wait and see what the engine manufacturers say in January. We want a simpler and cheaper engine that an independent manufacturer like Cosworth is able to build," he said.
Told, however, that Ferrari might scupper all the plans with its famous 'veto', Ecclestone explained: "They can use it only in a very, very limited way.
"For example, if Ferrari is forced to rebuild its car.
"If we decide something and the teams don't like it, they can go to arbitration. We would win because we are not doing it for commercial reasons but to protect formula one and provide a fair competition for everyone.
"At the moment that's not the case," he added.
First Nurburgring, now Hockenheim – German fans have lost interest in F1. The scream is gone and so too is the excitement.
Even Hockenheim future in doubt – Ecclestone
(GMM) The fate of the German grand prix is also in doubt beyond 2018, Bernie Ecclestone has warned.
After a controversial absence this year, the country is returning to the calendar for 2016 due to an existing contract with Hockenheim.
But it was the Nurburgring that missed the 2015 race, and F1 supremo Ecclestone is not hopeful the circuit will sort its financial problems by the time it is due to host the next edition in 2017.
"I'm sitting here with my pen, ready to sign a contract," he told Auto Motor und sport.
"I had hoped the new operators at the Nurburgring would be in a position to make a contract but that does not seem to be the case."
That means Germany is likely to be absent from F1 again in 2017, with Hockenheim to then return in 2018.
But beyond that, Ecclestone says Germany remains in doubt.
"We really have an extremely favorable agreement with Hockenheim," he said, "which will not exist in the future. They will have to accept what other European countries pay."
Ecclestone also sounds unsympathetic about Austin's troubles, with the US grand prix in doubt due to a funding dispute with the Texas government.
"They knew exactly what it would cost them when they did the contract with us," he said of the race organizers. "It's like any other business: if you don't think about it and you can't afford it, you'll get into trouble."
Asked whether a project in California is ready to step into a potential calendar gap, Ecclestone answered: "No. That's not ready."
Schumacher and Rosberg back in 2012 at Hockenheim
Manager denies latest report about Schumacher health
(GMM) Michael Schumacher's manager has rejected the latest media report about the rumored health condition of the F1 legend.
Bunte, a German gossip weekly, declared in its latest edition that while the seven time world champion is very thin, he can now take a few steps with the help of a therapist.
And the report suggested that Schumacher, 46, is also now able to lift an arm.
When asked about this apparent progress, the former Ferrari and Mercedes driver's manager Sabine Kehm said: "Unfortunately, a recent press report forces us to make clear that these assertions about Michael do not correspond to the facts.
"This speculation is irresponsible," she told Bild newspaper, "because given the severity of his injuries, the protection of his privacy is very important to Michael."
When confronted with Kehm's denial, a spokesman for Bunte said the magazine stands by its information.
Eddie Jordan
Jordan slams BBC for Christmas axe
(GMM) Former F1 team owner and boss Eddie Jordan has slammed the BBC for the manner of its departure from the sport.
The British public broadcaster, for whom Jordan was a controversial and forthright on-screen pundit, announced on Monday that it is terminating its deal for budget reasons.
"The week of Christmas is not the time to hear this," Jordan said, "compounded by the fact that it's not long since a lot of the team had left London and relocated in Salford at the whim of the BBC.
"People have moved families to new houses and children to new schools and were just about getting settled in Salford and then they get this bomb-shell," he is quoted by the Mirror newspaper.
However, his concerns about BBC staff aside, 67-year-old Jordan indicated that he is interested in remaining in the paddock.
Channel 4 is taking over the BBC's free-to-air role in sharing the British F1 rights with pay-channel Sky.
"I really feel for them (BBC staff)," said Jordan. "Having said that, the BBC has given me an amazing seven years and I've got the TV bug.
"While I'm in the twilight of my career I wouldn't rule out anything for the future if it gives me a buzz."
The Mirror said Jordan's BBC colleague, former McLaren driver David Coulthard, is tipped to front Channel 4's 2016 coverage.
Kimi Raikkonen crying because he only gets 2 months' vacation. Poor baby.
Short winter break 'ridiculous' – Raikkonen
(GMM) Kimi Raikkonen has criticized F1's ever-shortening winter break.
With the 2015 championship concluding with a post-race test, a record 21 races on the 2016 schedule and Pirelli testing to resume in January, the Ferrari driver said: "In my opinion, this is a bit ridiculous.
"The break should have been longer, but it seems to get shorter all the time," Raikkonen is quoted by the Finnish newspaper Turun Sanomat.
"Like any other people who work all year, we all also like to relax so my vacation will last about a month," Raikkonen, 36, added.
Official testing does not resume until late February next year, but Pirelli has been given permission to test tires at the end of January.
Raikkonen said: "I don't think I'll do the January tests. I think only the old cars will be used there anyway."
As for the unprecedentedly-long 21-race calendar for next year, he explained: "Of course, when you spent a lot of time on the road it's a bit tiring but I don't think that's too much of a problem."
Williams FW08C to Star in Live Action Arena at Autosport International
Fans of Formula One will get the chance to see a significant part of motorsport history at Autosport International this January, with an appearance from the Williams-Cosworth FW08C in the Live Action Arena.
The car, which raced in the 1983 F1 season, will be starring in the Live Action Arena at the Birmingham NEC from 14-17 January 2016, giving fans a unique chance to see the historic racer in up close and on the move.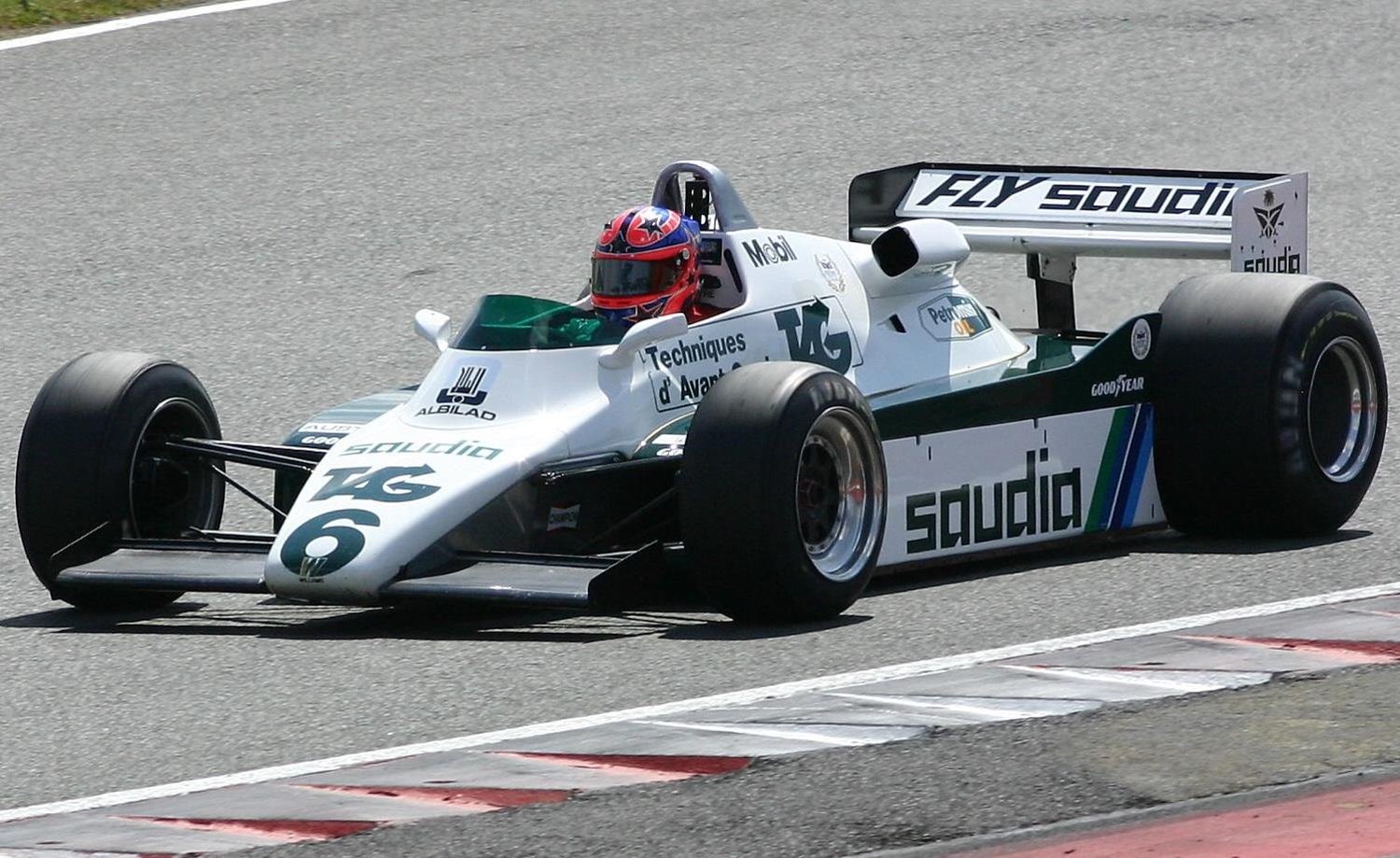 Williams FW08C
The FW08C played a particularly notable role in motorsport history, as it was the first Formula One car driven by legendary driver Ayrton Senna in the 1983 season. Senna was sat next to the Williams team founder Frank Williams on a flight when he begged for the chance to have a test-drive in the car. Senna got his chance at Donington Park in July 1983 where he completed 40 laps and managed to lap the track faster than anyone else, including that year's team drivers, Keke Rosberg and Jacques Laffite.
Rosberg and Laffite still enjoyed success in the car, though, with Rosberg recording a pole position at the opening race of the 1983 season, the Brazilian Grand Prix. Later in the season, Rosberg pulled off a great drive to win the Monaco Grand Prix. This helped take the team to fourth in the Constructors' Championship, better than all of the other Cosworth-powered cars that year. Rosberg himself finished fifth in the Drivers' Championship.
Also appearing in the Live Action Arena will be a stunt Jaguar C-X75, one of cars which starred in the latest James Bond film, SPECTRE from Albert R. Broccoli's EON Productions, Metro-Goldwyn Mayer Studios and Sony Pictures Entertainment. Specially-prepared for SPECTRE, the C-X75 was provided by Jaguar Land Rover Special Vehicle Operations in collaboration with development partner Williams Advanced Engineering, the division of Williams that transfers technology from Formula 1 to other market sectors.
The C-X75 was driven on screen by Hinx and featured in SPECTRE's iconic car chase through the streets of Rome.
Show-goers will also be able to take a closer look at a second, static, C-X75 at a major Williams feature, another of the star attractions at Autosport International.
As part of a revamped Autosport stage, the NEC will play host to the eight-meter tall Williams Martini Racing motorhome, which will be constructed immediately next to the Autosport Stage.
As well as the FW08C in the Live Action Arena, Williams will be displaying eight other historically significant racing cars on its stand, including Damon Hill's 1996 title-winning FW18, Nigel Mansell's 1992 title-winning FW14B and the Williams-Mercedes FW37 of 2015.
Claire Williams, Williams Martini Racing Deputy Team Principal, said:
We are really excited to be able to bring so many important cars from the team's Formula One history to share them with motor racing fans. The show will be a great opportunity for people to see the cars up close, and on the move when the FW08C takes to the Live Action Arena.
Anthony Rowlinson, Group Editor, Motorsport at Haymarket Media Group, said:
With nine Constructors' and seven Drivers' Championships since the team's birth in 1977, the Williams team is one of the most successful in Formula One's history. The FW08C will be a real treat for fans attending the show.
Ian France, Autosport International show director, said:
Fans of Formula one, and the Williams team, will be able to get really close to some genuine stars of the sport's past at Autosport International in 2016. To be able to see one of Williams' historic racers in action is something truly special.
Renault decides to stick with its two ride-buyers
Renault confirms Maldonado, Palmer
Renault has confirmed that it will field Pastor Maldonado and Jolyon Palmer during the 2016 season, ending speculation that the pair could be replaced following the French company's takeover of Lotus.
Maldonado, who has raced for Lotus since 2014, and Palmer, who spent 2015 as its reserve, both signed contracts for next season before Renault's purchase of the team was formally completed.
Renault, which initially signed a letter of intent with Lotus back in September, finalized the transfer of shares and paid off the teams' creditors, which included the British tax authorities, late last Friday.
Renault will reveal further details regarding its comeback during an announcement in Paris in February, but a spokesman for the brand confirmed to GPUpdate.net that there will be no change to the line-up.
"I confirm that Pastor and Jolyon will be racing for Renault in 2016," he commented.
In the interim, as preparations for its full-scale Formula 1 return ramp up, Renault has appointed a new board of directors, with Jérôme Stoll acting as Chairman and Cyril Abiteboul as Managing Director.
No more F1 on BBC
BBC explains decision to drop Formula 1
Barbara Slater, Director of BBC Sport, has moved to explain why the broadcaster ended its Formula 1 television rights deal early, stating that there was a "pressing need" to cut costs.
After a lengthy stint on ITV, the BBC regained exclusive UK television rights in 2009, but Sky Sports entered the frame in 2012, leading to a free-to-air agreement between the two parties.
Under the revised deal, Sky Sports holds the rights to show all sessions live via its own channel, while the BBC continued with a selection of live races, along with highlights of each event.
However, although its contract was set to run through 2018, the BBC has now pulled out, with Channel 4 stepping in to take over as the terrestrial home of Formula 1 in the UK.
Writing in a blog on the BBC website, Slater said: "The Director General announced recently that the BBC needs to plug a 150 million British Pound annual gap in its finances from next year.
"He outlined that two-thirds of the savings would come from 'scope' savings, meaning that the BBC would stop doing some of the things that we currently do.
"BBC Sport was asked to deliver approximately 35 million British Pounds of these savings.
"This was due to the pressing need to realize the savings and the greater flexibility that BBC Sport has to deliver them compared to most other parts of the Corporation.
"No Director of Sport wants to be responsible for reducing the amount of sport on BBC TV. But the current financial position of the BBC means some tough and unwanted choices have to be made.
"There are no easy solutions; all of the options available would be unpopular with audiences.
"The BBC is announcing today that a significant chunk of BBC Sport's remaining savings target will be delivered through the immediate termination of our TV rights agreement for Formula 1.
Summing up the move, Slater commented: "Any decision to have to stop broadcasting a particular sport or sporting event is hugely disappointing and taken reluctantly."
Although it has dropped its television coverage of Formula 1, the BBC has extended its radio rights deal until 2021, and will continue to cover the sport online.