Judy Allison, wife of Bobby Allison, dies (Update)
UPDATE
Richard Petty and the entire Petty family join the NASCAR community in mourning the passing of Judy Allison. A statement from Richard Petty:
"Judy has been a part of the racing community and our family for as long as we can remember. We raced against each other, but both Bobby and Judy quickly became friends of ours. And, there wasn't anything Judy wouldn't do to help you out. She was someone you could trust to always be there. Judy showed tremendous strength, love and grace through all of life's most difficult moments. She will be forever in our hearts and always a part of our Petty family. Our thoughts and prayers are with Bobby and his family at this time."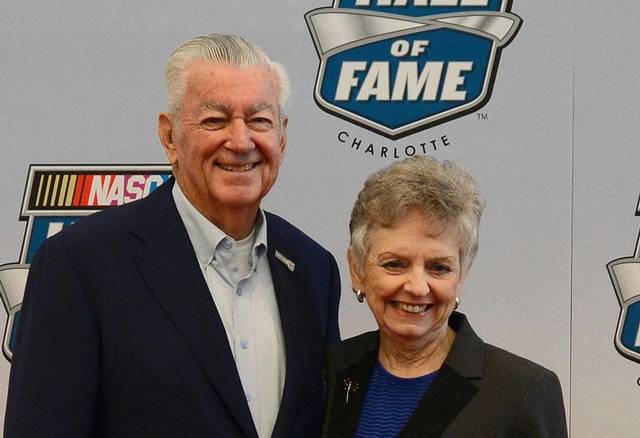 Bobby with his wife Judy when he was inducted into the NASCAR Hall of Fame
12/19/15
The Allison Family is sad to announce the passing of Judy A. Allison, age 74, after complications from surgery earlier today at Iredell Memorial Hospital in Statesville, NC.
Bobby Allison, NASCAR Hall of Famer driver, and Judy were married for 55 years.
She was surrounded by her family, daughters Bonnie Farr and Carrie Hewitt, grandson Robbie Allison, brother-in-law Donnie Allison and his wife, Pat.
At this time, funeral and memorial arrangements are pending and will be announced when finalized. The family members ask for privacy during this difficult and sad time.
NASCAR Statement on the Passing of Judy Allison: "NASCAR extends its condolences to the friends and family of Judy Allison, the wife of NASCAR Hall of Famer Bobby Allison. Judy, the matriarch of a cornerstone NASCAR family, provided the foundation for the careers of a legendary husband and two sons who both lost their lives entirely too soon. Her love extended well beyond her own family, as many in the NASCAR family leaned upon Judy for support and compassion during many difficult times. We are deeply saddened by the loss of a true friend, and a woman who has given much to our sport."