Busch Beer To Sponsor Kevin Harvick in 2016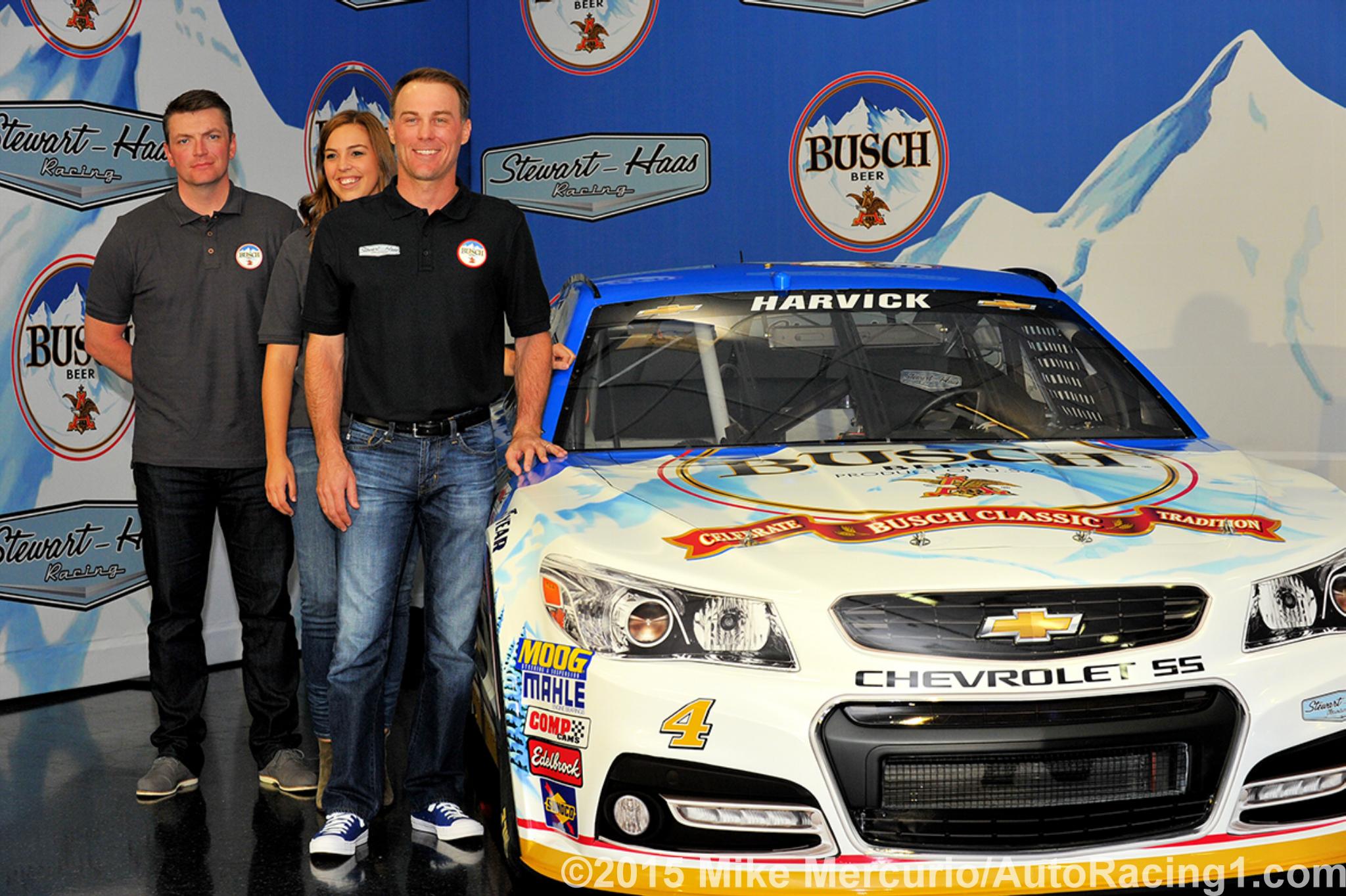 Kevin Harvick
Mike Mercurio/AR1
Anheuser-Busch announced today that they will switching their primary sponsorship of Kevin Harvick's no. 4 Chevrolet from Budweiser to Busch beer for the 2016 Sprint Cup season.
Busch will serve as primary sponsor on Harvick's car for 12 races during 2016 campaign, with paint schemes featuring Busch beer and Busch Light. Anheuser-Busch has sponsored Harvick since 2011, following him when he made the move to Stewart-Haas Racing in 2014.
Busch's announcement marks their first return to the track since they ended their title sponsorship of what is now called the Xfinity Series back in 2007. The brand has sponsored numerous cars over the last 30 years, most famously with Cale Yarborough in the late 70's. The move is part of a larger marketing campaign aimed at promoting the brand, including TV spots and a new social media platform.
"Busch beer belongs in NASCAR," said Harvick. "The entire Stewart-Haas Racing team and I can't wait to have the Busch logo on the No. 4 car next season as we work toward another Sprint Cup championship."
"We'll still have a Budweiser relationship. It's fun from an Anheuser-Busch standpoint you see how important the racing program is to them, with the transition to Busch and how they're trying to keep that brand at the forefront is something that's exciting. I still get to work with both of them, it's kind of a changing of the guard, a changing of philosophy of using multiple brands and working together, that's something you don't see very often."
PRESS RELEASE
Busch announced today that the brand will return to NASCAR, reigniting its storied history in the sport by sponsoring Kevin Harvick and the No. 4 team of Stewart-Haas Racing for select races beginning with the 2016 NASCAR Sprint Cup Series season.
Busch, Busch Light and other special-edition Busch paint schemes will be featured on Harvick" No. 4 Chevrolet SS for 12 races in 2016. The iconic Busch logo will first appear on the hood for the Feb. 13 Sprint Unlimited at Daytona (Fla.) International Speedway. Formerly known as the Busch Clash, this non-points exhibition race helped kick-start the brand's involvement with NASCAR 36 years ago. Additional races will be determined shortly after NASCAR releases the 2016 Sprint Cup schedule.
"Busch's NASCAR roots go back to 1978 and we're thrilled to reconnect with these passionate fans that identify with our 'Here's to Earning It' message on a daily basis," said Chelsea Phillips, Director of Value Brands, Anheuser-Busch. "Kevin and the entire No. 4 team have been tremendous partners for Anheuser-Busch since 2011 and we have exciting plans to engage with the NASCAR community both on and off the track nationwide in 2016."
Harvick has represented Budweiser since 2011, and in 2014 he and Budweiser moved to Stewart-Haas Racing. In their inaugural season with the team co-owned by Tony Stewart and Gene Haas, Harvick made five trips to victory lane and won the 2014 Sprint Cup championship.
The Busch brand, along with its current tagline "Here's to Earning It," has a time-honored tradition of rewarding hard-working men and women who "earn it" every day, which aligns perfectly with the NASCAR fan base.
"Busch beer belongs in NASCAR," said Harvick, a winner of 31 Sprint Cup races, eight of which have come with Stewart-Haas Racing. "The entire Stewart-Haas Racing team and I can't wait to have the Busch logo on the No. 4 car next season as we work toward another Sprint Cup championship."
To celebrate their return to the sport, Busch will employ a comprehensive marketing approach to engage with racing enthusiasts and loyal Busch consumers through on-track, experiential, in-market and retail activations during the 2016 NASCAR season. TV spots will also air leading up to the season and during races, recognizing Harvick, his pit crew and fans alike who "earn it" every day so they can enjoy race weekends.
"NASCAR provides the opportunity to further the brand marketing initiative of recognizing outdoor pursuits of our Busch drinkers and celebrate those hard-working individuals behind the scenes that help the No. 4 car perform week-in-and-week-out," added Phillips.
In conjunction with the NASCAR announcement, and to remain in touch with Busch drinkers, Busch is expanding its social media presence by launching the brand's first-ever Twitter handle. Starting today, consumers can follow @BuschBeer and use the hashtag #BuschIsBack.
Busch has a rich racing history and some of the highlights of the brand's involvement in the sport from its beginning include:
• Sponsored the Busch Pole Award in 1978, which was presented to the pole winner of each NASCAR Winston Cup Series race
• Sponsored Cale Yarborough's No. 11 car throughout the 1979 and 1980 NASCAR Winston Cup seasons
• Introduced the Busch Clash in 1979, held each year at Daytona International Speedway the week prior to the Daytona 500
• Served as the title sponsor of NASCAR's stepping-stone division to Sprint Cup – currently known as the NASCAR XFINITY Series – from 1984 through 2007
• Expanded involvement with racing via the Busch All-Star Tour in 1985, a series of dirt track events in the Midwest
• "Official Beer of NASCAR" from 1988 through 1997
"Some of my fondest racing career memories to-date involve the Busch brand, including winning the 2001 and 2006 Busch Series championships," Harvick said. "The brand is historic and I'm looking forward to building the Busch racing legacy with all that we're able to accomplish in 2016."