A lap of the Hungaroring with Sebastian Vettel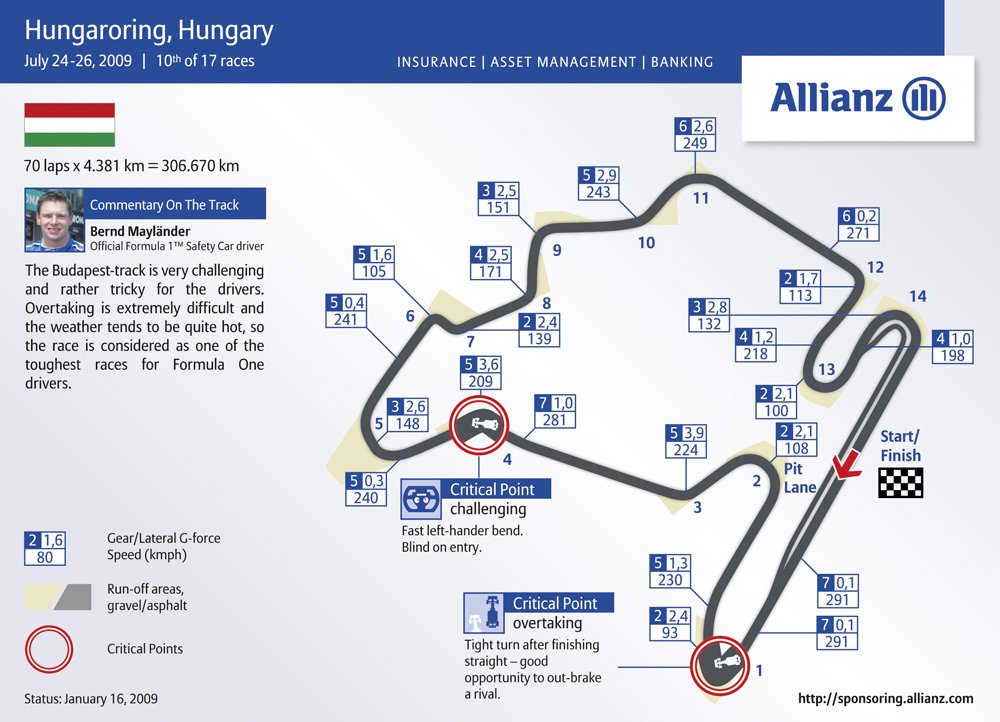 Hungaroring
Ferrari.com has found itself the ideal guide to describe a perfect lap of the Hungaroring.
"This track features a lot of gradient changes," says Sebastian Vettel "and it's very important to keep to the right line.
After Turn 1, which is very tight, you drop down towards the second corner, which requires heavy downhill braking.
Next comes Turn 3, which is very quick and leads to a blind corner, number 4 and you have to carry your speed all the way to the next corner. After a short straight, you have to brake again, before the chicane that leads to turns 6 and 7.
Then you come to one of my favorite parts of the track, because there's barely time to breathe.
"Turns 8 and 9 are actually very flowing and so it's vital to have a good car set-up so as to control it. The next right hander, 10, leads to the quickest turn on the track, number 11. You can catch your breath again at Turn 12, when you also have time to change a few settings on the steering wheel.
At Turn 13, the apex is right on the inside curb and then we come to the final two quick corners. Once again, you have to be careful on the throttle, otherwise you risk spinning the rear wheels, especially when you get to the final corner, which is one of the longest on the Formula 1 calendar and really seems to be never ending. You have to try not to scrub off any of the speed you've built up in order to tackle the start-finish straight."