Rahal says IndyCar has to find a way 'to make the world interested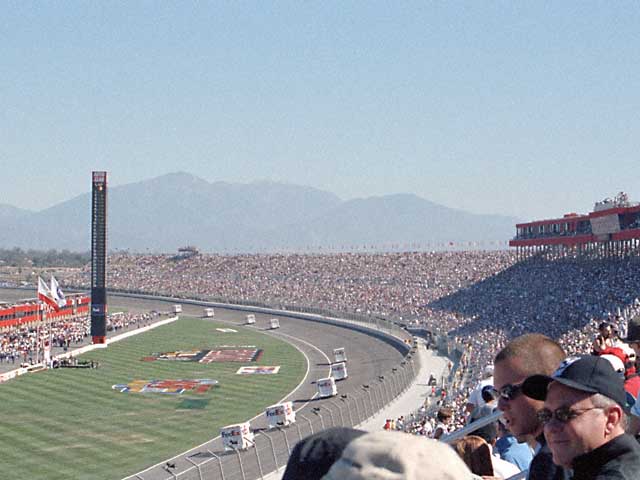 Under CART in 2000 (and every year for that matter) this was the crowd at Fontana. Below is the crowd now after Tony George's vision destroyed CART
No other series in the world is scrutinized and compared to its predecessors as often as is the case with the Verizon IndyCar Series. A series that evolved from USAC to CART, suffered a split that added the Indy Racing League, then saw CART become Champ Car until finally reuniting to become IndyCar. Fans clamor for IndyCar to become what the peak was in CART in the mid-'90s, thirsting for relevancy, speed, variety and boldness.
Three-time CART champion and 1986 Indy 500 winner Bobby Rahal has been a part of the American open-wheel evolution. The former driver-turned-team owner constantly raced among crowds that exceeded 150,000 each weekend. Those were the good-old days.
Earlier this season, a crowd in the neighborhood of 20,000 fans (driver Tony Kanaan called it closer to 5,000) tuned out to watch Graham Rahal, take his second career IndyCar victory in a historic race that featured a record 80 lead changes at Auto Club Speedway in Fontana, Calif.
With IndyCar boss Mark Miles at the helm and making a variety of changes that include a five-month season that ends on Labor Day weekend, many question whether the sport can ever build itself back up to even half of what it once was.
When asked if ending the season on Labor Day weekend to evade NASCAR was a good idea, Rahal said, "I don't think we should try to dodge NASCAR because it's a different crowd."
Of the limited changes IndyCar has made to help market and grow the series, Rahal believes the move to put IndyCar in Boston during Labor Day weekend in 2016 is a positive.
"That's the best news that has happened to IndyCar racing, in my mind, for a long time," said Rahal.
"You're in the Northeast, which we're not in. You look at St. Pete, Toronto, Long Beach — these are huge events, and I have no doubt that Boston will be the same. That's what you need. That's what we need as teams to go to our sponsors and say, 'Oh, we're in the Boston market.' I don't mean 100 miles out at New Hampshire Speedway, I mean downtown Boston.
"Historically, aside from Indianapolis, our sponsors have always looked at the street circuits as the places to entertain their customers — to have the biggest presence at that race because the hotels are there, the restaurants are there, everything is there. It's easy. So, I think Boston is huge."
Perhaps the biggest issue curbing IndyCar's growth isn't the schedule, or even the tracks — in all reality, it is its inability to grab big-market revenue.
Although banned in motorsports now, tobacco sponsors helped the entire racing industry thrive as a whole. Alcohol sponsors also took center stage, with Miller Lite sponsoring Rahal's team. With beer companies bathing in NASCAR's marketing power and television exposure, it leaves IndyCar with only one alcohol company in the series, Fuzzy's Vodka.
Looking at the modern day, energy drinks have picked up the flag where tobacco companies left it. Red Bull was once in the series but left the sport and has since become a juggernaut in Formula One. Monster Energy and Rockstar are nowhere to be found.
"Well, they're probably looking at age demographics," said Rahal when asked about the lack of big-market revenue in the series. "The X Games (and) Global Rallycross are a very young group. IndyCar racing is older than that. NASCAR is even older than IndyCar. Sports-car (racing) is probably somewhere around IndyCar, maybe even a little older.
"But we need to — all of racing needs to — do everything they can to energize a younger audience because we need those 20-year-olds, 25-year-olds, the 30-year-olds. If you look at the majority of people that follow our sport, they are all 45, 50 and older. For us, how do we get those 20-year-olds?"
IndyCar's marketing has been reluctant to advertise itself outside of the Indy 500, but sponsors within the series are equally to blame.
The Dr. Pepper Snapple Group sponsors Marco Andretti, who holds the greatest last name in IndyCar racing. Target has Scott Dixon, a three-time IndyCar Series champion and Indy 500 winner. Yet the companies choose to not push the faces of their athletes on television or with large displays at the local grocery store.
In a world that continues to move forward, the reality is that IndyCar finds itself stuck in the mud.
"It's a different world today. We got to figure out — all of racing has to figure out — how to get that world interested." Joey Barnes/AutoWeek
[Editor's Note: AR1.com laid out the only plan to fix IndyCar's problem, i.e. get the NCAA to recognize go-kart racing as a sport in high schools and colleges. But no one there has any clue how to do it.]