Latest F1 news in brief – Tuesday (Update)
UPDATE
Updates shown in red below.
01/20/15
Vandoorne

Bianchi crash means earlier races for 2015 hosts

Vandoorne hopes Magnussen setback boosts F1 hopes
Grosjean not ruling out color change for Lotus
Monza can survive without F1 race – boss
F1 assessing impact of 2015 engine 'unfreeze'
Ferrari rules out having English HQ
Malaysia set for new F1 race contract
French driver Robert Manzon, the last of the racers from F1's first season in 1950, dies at 97
CNN moves from Caterham to McLaren New
Force India will not test 2015 car at Jerez New
Bianchi crash means earlier races for 2015 hosts
(GMM) Five hosts on this year's 20-race F1 calendar will see their respective grands prix start earlier than usual in 2015.
After Jules Bianchi's horror crash at Suzuka in fading light late last season, the FIA vowed to look into ensuring races are no longer started too close to dusk.
The trend outside of Europe in recent years has been for later race starts, to create better television viewing times for the sport's bulk European audience.
But it emerged last week that Melbourne, whose season opener at Albert Park usually starts at 5pm, had received a request to reverse the scheduled start time by several hours.
It also emerged that Malaysia and Russia would similarly have earlier race start times this year.
Now, in a document released by the Bernie Ecclestone-run Formula One Management, it has been confirmed that five races – Australia, Malaysia, Russia and also China and Japan – will all see their grands prix start one hour earlier than in 2014.
Vandoorne hopes Magnussen setback boosts F1 hopes
(GMM) Stoffel Vandoorne insists he is not worried Kevin Magnussen's demotion at McLaren has also put his own F1 hopes in reverse.
Heading into last year, Belgian Vandoorne had become the McLaren-backed junior poised to break into F1, hot on the heels of colleague Magnussen's grand prix debut for the grandee British team.
But after just one season, Dane Magnussen has been sidelined for 2015 as McLaren kicks off its new works Honda partnership with Fernando Alonso alongside Jenson Button.
The 22-year-old has been slotted into the reserve role — a seat Vandoorne might otherwise have expected to occupy in 2015 given his runner-up position in the GP2 championship.
It means Vandoorne, also 22, has instead been signed up to do another season in GP2 this year.
"There's no point beating around the bush," he told the Belgian newspaper L'Avenir. "I only want the (GP2) title."
Vandoorne insisted he is not wasting any energy worrying that Magnussen's setback may also be bad news for his own McLaren hopes.
"I only want to focus on what I can do, which is GP2," he insisted. "Everything else is in the hands of McLaren and my management.
"I hope that if I win the title, my career will make a step for next year."
Vandoorne did say, however, that Magnussen's demotion may actually help his own quest to join the F1 grid in the near future.
"For me it (Magnussen's demotion) changes almost nothing. I think I'll be spending just as much time in the simulator so I am still very actively involved," he said.
"And who knows, maybe Magnussen taking a step back is a chance for me, because everyone knows that when you come in for one season and then disappear from view a bit, it is very difficult to come back.
"If I win the (GP2) title, then I'll be in a different situation.
"Who knows? I am confident, but formula one is a very complex world and the title does not guarantee anything. But of course you still need to work hard.
"Maybe Honda will supply engines to other teams, so for me it may be a chance if Button and Alonso stay at McLaren" beyond 2015," Vandoorne added.
The throwback Lotus livery could be a thing of the past
Grosjean not ruling out color change for Lotus
(GMM) Lotus could be a third team set to make a major livery change for the 2015 season.
It has already emerged that reigning champions Mercedes could switch from silver to chrome this year, taking over from McLaren whose new partnership with Honda could see the move to predominantly white colors.
And when asked on Twitter to talk about the new Mercedes-powered E23, Lotus driver Romain Grosjean answered: "I can't even reveal the color yet!"
It is already rumored that Lotus' conditional place on the 2015 entry list could be because the Enstone team is preparing a fundamental name change.
Lotus has said the E23 has passed its mandatory FIA crash tests, and the switch from Renault to Mercedes power could ensure a more competitive 2015.
"Yes, but it's not just about the engine," Grosjean insisted. "It's everything."
The Frenchman at least revealed that the end of the 2014-style walrus-nose means that, "compared to last year's" car, the E23 "looks beautiful".
Grosjean's controversial teammate Pastor Maldonado also took to Twitter for an interview with fans, where he defended his reputation as a regular crasher.
"In a car that's not very stable," the Venezuelan argued, "it's hard to get it back once it goes off. And it's not just me (crashing)," he insisted.
Will venerable Monza lose its spot on the F1 calendar after 2016? Or is Bernie Ecclestone up to his negotiating tricks?
Monza can survive without F1 race – boss
(GMM) Monza insists it would survive even without the iconic Italian grand prix.
Bernie Ecclestone said last year that the current contractual terms with the fabled Autodromo Nazionale are "a disaster", warning that "after 2016, bye-bye".
It then emerged shortly before Christmas that the new, so-called 'stability law' passing through parliament could cost Monza up to about EUR 20 million in tax exemptions.
But Francesco Ferri, the new director of the Monza race organizer Sias, insists the famous circuit would survive even without formula one.
"2017 will arrive anyway, with or without Bernie Ecclestone," he is quoted by the Italian newspaper Corriere della Sera.
"If we do not extend the contract that expires next year, we have prepared a 'plan B' for the maintenance of the circuit, a number of competitions and the development of complementary activities," Ferri insisted.
The report said F1 supremo Ecclestone is asking for about EUR 20 million per year for the new race fee.
When asked about those demands, Ferri answered: "We look with great interest to the experience of the sponsor (Red Bull) who revived the Zeltweg circuit" in Austria.
F1 assessing impact of 2015 engine 'unfreeze'
(GMM) Manufacturers and teams are busily assessing the impact of the newly-clarified engine 'freeze' situation, mere weeks before the season opener.
Pushed by Ferrari and Renault, the governing FIA has agreed to allow 2014 engine suppliers including reigning champions Mercedes to use their 32 development 'tokens' beyond the original start-of-season deadline.
And after a period of wrangling, newcomer Honda has also been let into the 'unfreeze', with McLaren's partner allowed to develop its turbo V6 on the basis of the average amount of tokens left over by its rivals at the Melbourne start.
But it means that, in effect, Honda is allowed to develop its engine less than its rivals in 2015, even though the Japanese marque does enter the season having been totally free to develop throughout 2014 and the winter period.
"Honda received the official news Saturday evening," a Honda spokesperson is quoted by Britain's Sky, "and we understand more or less the clarification from FIA, but we cannot comment on our situation just yet."
Also still assessing the unfreeze is Red Bull, who as Renault's works team struggled to compete with Mercedes' might throughout 2014.
"At the moment," said Red Bull, "the benefit or otherwise of the (unfreeze) remains to be seen.
"But the extra time will undoubtedly allow power unit suppliers to attempt to draw closer to a pacesetting outfit (Mercedes), though they too will obviously benefit from an open-ended homologation timeframe," the team added.
A Mercedes spokesperson, meanwhile, said the German giant is "relaxed", even though boss Toto Wolff on Monday acknowledged the team is being chased hard by its rivals.
"We know that we went into the winter with a target on our backs for the other teams," he said, "and we are certain that our rivals will be competitive from the opening race in Melbourne.
"So we have to focus on every detail if we want to build any advantage this year and that is what we have done," added Wolff.
Mercedes customer Williams is also confident, according to Italy's sports daily La Gazzetta dello Sport.
A report quoted technical boss Pat Symonds as predicting that being allowed to develop into the 2015 season could actually "consolidate the dominance" enjoyed by Mercedes last year.
Ferrari rules out having English HQ
(GMM) Ferrari has ruled out leaving Italy as it bids to end a seven-year championship drought.
Having faltered at the start of the new turbo V6 era, the Maranello marque has undergone a radical shake-up ahead of what new president Sergio Marchionne admits will be yet another difficult campaign in 2015.
In the late 80s, Ferrari made a bold bid for competitiveness by signing designer John Barnard and letting him work for the team from an English base.
More recently, the iconic team has struggled to similarly woo F1's top designers like Adrian Newey, and so speculation of the return to having a UK base has re-emerged.
It would also allow Ferrari to benefit from F1's so-called 'Motorsport Valley', where eight of the 11 teams that began the 2014 season are based.
But Marchionne has ruled it out.
"Ferrari is Italy," he is quoted by Speed Week, "and this exclusivity will be untouched.
"A Ferrari must be built in Italy — anything else would be blasphemy," Marchionne insisted.
The 62-year-old Italian-Canadian is famous for having revived not only Fiat but also Chrysler, and now he is also heading Ferrari in its period of turmoil.
"I have already simplified my life because I have only three phones," he laughed. "But it's true — at the moment I live predominantly on planes."
Malaysia's long-term future appears to be secure
Malaysia set for new F1 race contract
(GMM) Malaysia looks set to announce a new multi-year contract to keep hosting the annual grand prix at Sepang.
It emerged recently that circuit boss Razlan Razali travelled to London where he met F1 supremo Bernie Ecclestone, ostensibly for contract talks.
That is because the current race deal expires after the 2015 edition in late March.
Malaysia began hosting the grand prix at the Hermann Tilke-designed Sepang circuit near Kuala Lumpur in 1999.
Razali told the Bernama news agency on Tuesday that the Malaysian economy is suffering due to world oil prices, but that F1 is important due to tourism.
"F1 makes Malaysia an attractive destination in terms of value," he said.
"Tourists from Europe, America and Australia can spend better in Malaysia.
"The continuation of F1 is still good for tourism," Razali added. "I am very confident this year's F1 (race in Malaysia) won't be the last."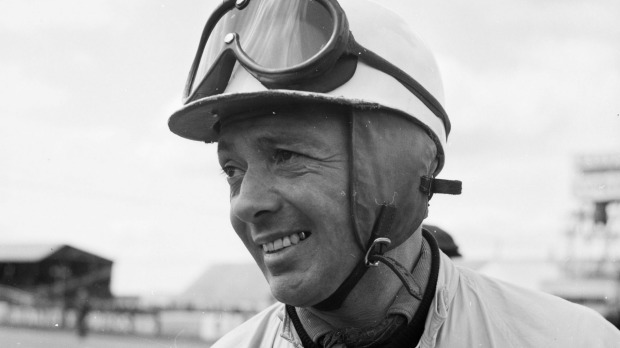 Manzon
French driver Robert Manzon, the last of the racers from F1's first season in 1950, dies at 97
French racer Robert Manzon, the last surviving driver from Formula One's debut world championship season in 1950, has died at the age of 97.
Friends of the family said the ex-Simca-Gordini racer, who was a founder of the former Grand Prix Drivers' Club, died at home in the south of France.
Manzon took part in 28 grands prix from 1950 to 1956, finishing on the podium twice. He was third in Belgium in 1952 in a Gordini and in France in 1954 with a Ferrari.
The 1950 season comprised seven races, starting at Silverstone in Britain and including the Indianapolis 500.
The championship was won by Italian Alfa Romeo driver Giuseppe Farina.
CNN moves from Caterham to McLaren
(GMM) A sponsor of the ailing backmarker Caterham has found its way to McLaren.
The grandee British team announced on Tuesday that CNN, the famous American news channel, has signed up to be an on-car McLaren sponsor in 2015 and beyond.
Until the backmarker struck trouble during last year's F1 season, CNN adorned the Caterham livery.
But in 2015, the CNN logos will be on the front wing endplates of the new Honda-powered MP4-30, which will be launched online next Thursday.
"I think the executives at CNN are as excited as we are about the potential of this relationship," said McLaren supremo Ron Dennis.
Force India will not test 2015 car at Jerez
(GMM) Force India may be the first team to 'launch' in 2015, but it will also be the last new car to actually hit the official test tracks.
The Silverstone based team is preparing to reveal its new livery in Mexico City on Wednesday.
But Germany's Auto Motor und Sport reported that the new Mercedes-powered VJM08 will not actually be up-and-running when the other eight teams kick off the official winter test period at Jerez on 1 February.
Correspondent Michael Schmidt said that for "strategic reasons", Force India will instead test a 2014 car at Jerez.
"The team has changed wind tunnels," the respected journalist wrote, "from its own facility in Brackley to the Toyota (tunnel) in Cologne.
"(In Cologne,) engineers under technical director Andy Green have found new insights into the aerodynamic problems of the past," Schmidt claimed.
Force India will therefore reportedly delay the track debut of the 2015 car until the second test later in February, in Barcelona.
Auto Motor und Sport also claimed on Tuesday that Toro Rosso will launch its new car at Jerez on the day before the test, with Williams to either follow suit or simply pull off the wraps before the action begins on 1 February.
The German publication said Sauber, Lotus and Red Bull will also simply reveal their respective 2015 cars to the world's press with low-key pitlane launches at Jerez.