Historic Indy cars available at auction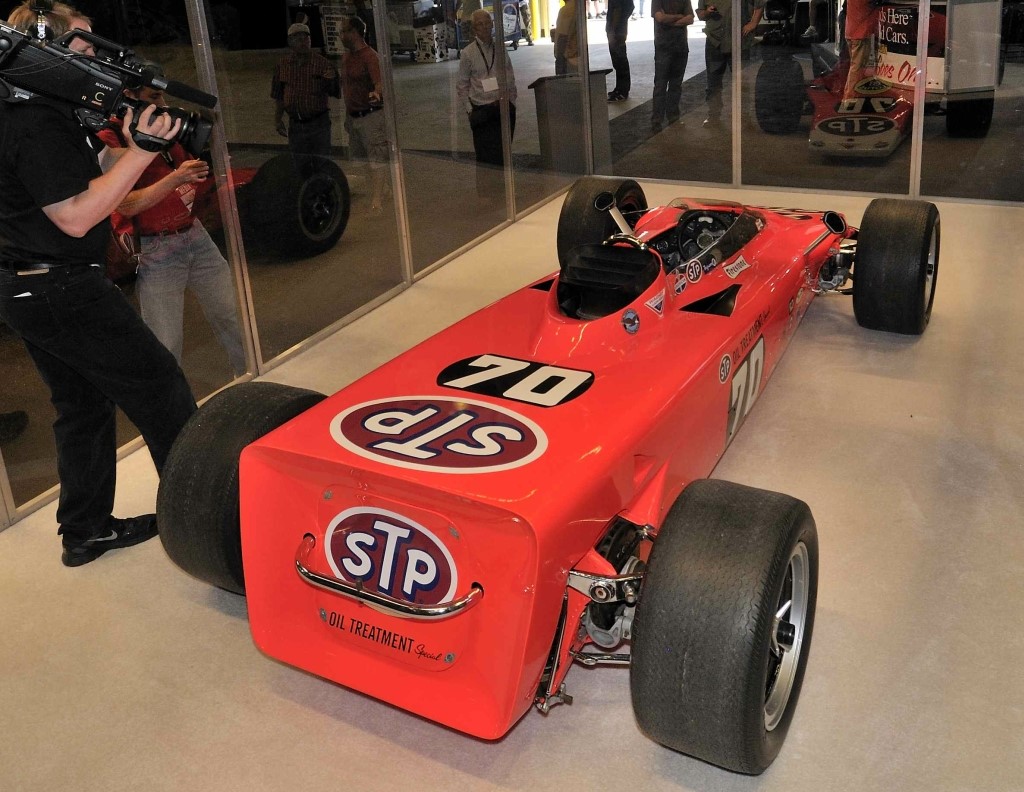 No. 70 STP Lotus
If you received some cash as a Christmas present, there are a couple of great investment opportunities coming up Jan, 17 you might want to consider.
The only turbine Lotus in private hands — the STP-sponsored No. 70 Lotus 56-3 driven by Graham Hill that set the Indianapolis 500 four-lap qualifying record of 171.208 mph in 1968 — is a featured item Jan. 17 during the Barrett-Jackson Auto Auction in Scottsdale, Ariz.
Motorsports icon and then-STP chairman Andy Granatelli partnered with Lotus Cars founder Colin Chapman (that's Clive Chapman, his son, in the photo above) and his team to build four race cars powered by ST6N-74 gas turbine engines manufactured by Pratt & Whitney Canada.
Hill, the 1966 Indy 500 winner, pushed the wedge-shaped car to fourth place as late as the 110th lap, when a minor crash forced him out of the race. The companion Lotus 56s sustained driveshaft failures late in the race.
Following the race, the car was displayed in STP's headquarters for decades until it was given to NASCAR driver Richard Petty, and then purchased by car collector Milton Verret of Austin, Texas, who ordered a ground-up restoration.
With the support of Clive Chapman, son of Colin Chapman, and Vince Granatelli, son of Andy Granatelli, as well as Indianapolis Motor Speedway Hall of Fame Museum director Ellen Bireley, the No. 70 Lotus was restored to its Race Day condition.
It was honored in 2014 with a nomination for "Car of the Year" at the International Historic Motoring Awards as well as Octane Magazine Editor's Choice. The car was on display at the Indianapolis Motor Speedway Hall of Fame Museum after Parnelli Jones drove it during the parade laps of the 2014 Indianapolis 500.
Also a featured auction item is the Granatelli Racing Chevrolet-powered Lola that two-time Indianapolis 500 winner Arie Luyendyk drove to victory in 1991 at Phoenix International Raceway.
The Barrett-Jackson auction will be telecast on Velocity and the Discovery Channel this week. Check local listings. IndyCar.com