Latest F1 news in brief – Tuesday (Update)
UPDATE
Updates shown in red below.
01/06/15
Honda being placed behind the 8-ball before they even start. Anything to maintain the Mercedes superiority.

End of the line nears for dying backmarkers

'Annoyed' Honda to meet FIA over engine freeze
FIA super license 'points system' emerges
Jean-Pierre Beltoise dies aged 77
European Union Officials Urged To Examine Formula One's Finances
Importance of aero in F1 underrated – Paddy Lowe New
Williams Announces New Technical Partnership with Dtex Systems New
Video: F1 2015 Nose Rules – Craig Scarborough explains New
No Friday practice for Magnussen in 2015 New
End of the line nears for dying backmarkers
(GMM) Caterham and Marussia are nearing the end of the line as other teams move preparations for the 2015 season into high gear.
With just 26 days until the winter test season begins in Spain, neither of the beleaguered backmarkers are committing to running at Jerez at the start of February.
"Talks with interested parties continue," Caterham administrator Henry Shinners told the BBC, "but if a buyer is not found before the test, we will not put up the money to go."
The team has arranged to be allowed to run its 2014 car and engine this year, but Shinners warned that any rescue deal would need to be in place within a "few weeks".
"I wouldn't rule anything out," he said, "but if we reach the first race in the same position, the chances of saving the team are virtually nil."
It is a similar but perhaps even more dire situation for Marussia, whose debts only grew by $45,000 in a failed bid to make the Abu Dhabi grid late last season, Forbes' Christian Sylt reported.
Not only that, crucial team equipment has been auctioned in a bid to pay back creditors, staff are laid off and even the Banbury headquarters could be sold to the new American 2016 team Haas.
Now called Manor, the team formerly known as Marussia's last hope is that an eleventh-hour investor might step in so that millions in official prize-money for finishing last season in ninth place can be unlocked.
"There's still a slim hope," team boss John Booth told the Yorkshire Post, "but it's getting extremely late.
"We've got two weeks to complete something by. So there's still a chance," he added. "We are talking to investors and they are positive talks."
'Annoyed' Honda to meet FIA over engine freeze
(GMM) Honda is "annoyed" it has been left out of the relaxation of the F1 engine freeze for 2015.
After Ferrari and Renault championed a loophole in the regulations, the governing FIA's Charlie Whiting clarified that while existing manufacturers can now modify their turbo V6s during the 2015 season, Honda cannot.
That is because the rules explicitly mark out a February 28 homologation deadline for new engine makers.
And "As the existing manufacturers were obliged to homologate their power units by 28 February 2014, it would seem fair and equitable to ask a new manufacturer to homologate their power unit before February 28 2015," Whiting said.
We reported last weekend that, at the most recent Strategy Group meeting, McLaren boss Ron Dennis expressed his "concern" that the clarification discriminates against the British team's new works engine supplier.
And a senior source at Honda has now admitted the Japanese marque is "annoyed".
The BBC added that McLaren-Honda has been in contact with the FIA about the matter, and will meet with the governing body next week.
So far, the press' reaction to the 'unfreeze' situation has been mixed.
Reporting for Brazil's Globo, correspondent Livio Oricchio said he expects Fernando Alonso and Jenson Button to "probably have to watch their opponents fight for the top places" this year.
"Honda have to fight against competitors who not only have a year of experience with their power units, but now have the possibility to make them even better as the season progresses," he added.
But as report in Italy's Autosprint noted: "It is also true that Honda had a year of extra time to design its engine, taking advantage of the experience of what its opponents had to go through in 2014.
"This will have impacted certain technical choices (made by Honda) such as the position of the turbine and the compressor."
Writing in the Spanish daily AS, Raul Romojaro said: "It remains to be seen whether McLaren-Honda will lodge some sort of appeal or seek consultation on Whiting's interpretation.
"In any case, their first objective must be to take advantage of their current absolute freedom of development until March," he added.
FIA super license 'points system' emerges
(GMM) The FIA has devised a points system as part of its clampdown on the ease of achieving an F1 super license.
With Max Verstappen set to debut this year at the controversially young age of 17 and just one year out of karts, the governing body has moved to toughen the criteria for obtaining the mandatory F1 credential.
From 2016, F1 drivers will need to be at least 18, hold a valid road driving license, and accrue a minimum level of experience and success in minor formulas.
For instance, although Verstappen finished a highly-credible third in last year's FIA European F3 championship, that would have earned him only 20 points under the new super license system devised by the FIA for 2016.
Only the champion in European F3, LPM1 sports cars and Indycar would obtain the 40 points necessary to qualify for a 2016 super license, it has emerged.
Future GP3 champions, on the other hand, will score only 30 of the 40 points, as will title winners in Formula Renault 3.5, like Verstappen's 2015 Toro Rosso teammate Carlos Sainz Jr.
GP2 champions and his title runner-up, however, will score 50 and 40 points respectively, while the highest number of points attainable from 2016 – 60 – will be in the FIA's relaunched Formula 2 series.
Interestingly, the top three finishers in F2 will all qualify for a 2016 super license, even though any applicant will need to have spent at least two years in the categories leading into F1.
But for now, Verstappen legitimately holds a F1 license despite not qualifying to drive even a normal road car.
The 17-year-old says he doesn't mind.
"No, it's no big deal to me," the Dutchman told Finland's Turun Sanomat newspaper. "It's nice to be a passenger while someone else is driving, and I don't like driving road cars anyway," he added.
Asked what it is like to be the youngest driver in F1 history, with the record unlikely to ever be beaten, he answered: "Nothing. The main thing is that you are able to do a good job.
"I really don't feel any extra pressure. I just want to do what I do normally, and see what I can achieve."
Verstappen's father Jos was 22 when he made his F1 debut for Benetton in 1994.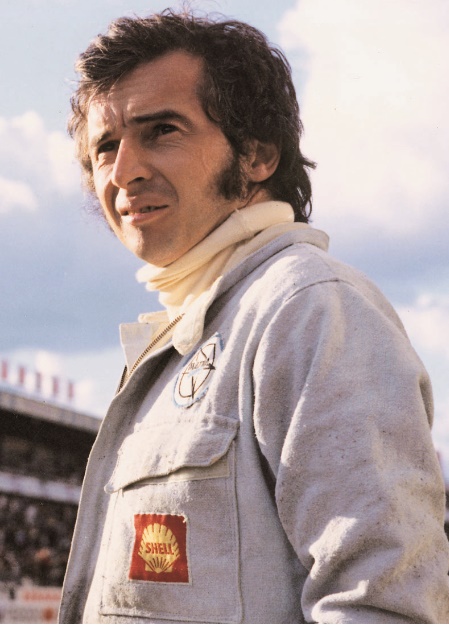 Jean-Pierre Beltoise
Jean-Pierre Beltoise dies aged 77
French F1 star Jean-Pierre Beltoise has passed away aged 77, the veteran of 88 Grands Prix suffering a stroke at his holiday home in Dakar.
Jean-Pierre Beltoise was born in Boulogne-Billancourt on 26th April 1937. He was a Le Mans regular and raced in the event 14 times between 1963 and 1979 including eight outings at the wheel of a Matra, twice in an Inaltera and a Rene Bonnet and once in a Ligier and a Rondeau. Although he shone on several occasions in the Sarthe he never won the race, and his best result was fourth place in 1969 with Piers Courage in a Matra MS 650. However, he won the Index of Performance on his maiden outing in 1963 at the wheel of a René Bonnet Aerodjet LM6 and the GTP category in 1976.
Between 1966 and 1974 Beltoise was part of the famous Matra saga sharing the blue cars with drivers as quick and as well known as he was: Johnny Servoz-Gavin, his brother-in-law François Cevert, Henri Pescarolo, Chris Amon and Jean-Pierre Jarier. When the Matra adventure ended, Beltoise continued at Le Mans with Ligier who carried on flying the French blue colors. He then drove the Inalteras built by Jean Rondeau, and his last outing in the Sarthe was at the wheel of one of the prototypes built by the Le Mans driver/constructor with Henri Pescarolo to whom he was very close. Beltoise loved sports prototype racing and even though he never won the biggest prize in endurance racing he racked up 12 victories in long-distance events.
After making his competition debut on motorbikes in the 50s, Beltoise was the perfect illustration of the all-rounders of the 60s and 70s able to race and win in many different categories.
He will be forever remembered for his heroic, outstanding victory in the rain-soaked 1972 Monaco Formula 1 Grand Prix at the wheel of a BRM (his only world championship success). He also won two other non-championship F1 events.
Once Beltoise hung up his helmet he became a fervent defender of road safety. He died today 5th January following a stroke followed by a hemorrhage which had plunged him into a coma since 2nd January.
His two sons, Anthony and Julien, inherited his passion for motor sport, and Anthony has raced in the Le Mans 24 Hours on three occasions.
European Union Officials Urged To Examine Formula One's Finances
Senior officials at the European Union "are being pressed to start an urgent investigation into the sport's finances," according to Kevin Eason of the LONDON TIMES.
Anneliese Dodds, the MEP for South East England, has been told that the EU "has already started questioning key figures inside and outside F1, but has not yet launched a full inquiry." Krzysztof Kuik, head of the anti-trust in sport unit at the EU's Competition Commission, disclosed that he "has already spoken to team principals and experts who have been keeping tabs on the problems that have split F1 in two."
Dodds: "We are aware of the recent allegations regarding Formula One's governance."
Representatives from Force India, Lotus and Sauber "have all been interviewed by Kuik in Brussels and at least two more figures, whose names have been withheld, have given critical accounts of the way F1 is run."
Dodds has asked Kuik whether the EU "is going to start an investigation and also whether F1's arcane system of governance," theoretically split between the FIA, as guardians of the sport, and F1 CEO Bernie Ecclestone, as the representative of the commercial rights holder, "is fit for purpose in the modern world, as well as questioning the EU's approach." London Times
Paddy Lowe
Importance of aero in F1 underrated – Paddy Lowe
Mercedes technical boss Paddy Lowe says the importance of aerodynamics under F1's new engine regulations should not be underrated.
Mercedes' V6 turbo power unit is often credited for the team's success in 2014 and was more powerful and efficient than rivals Renault and Ferrari. However, Lowe was keen to stress that the team's aerodynamic package, which featured some pioneering designs, was more important than it has been in recent years.
"A lot of the talk of the new formula has been about power units, but actually aerodynamics have become more crucial than ever," he told the 2014-2015 Autocourse annual. "Incorporating the power unit in a car with the minimum aero impact is more important than before, not less."
Among Mercedes' aerodynamic innovations was a unique front suspension layout, which featured a compact and forked lower wishbone rather than the wide 'V' shape used elsewhere. Although difficult to design from a structural point of view, it helped improve the airflow around the front tires and therefore improve front wing performance and aid airflow to the sidepods.
"The front suspension was a big part of the aero performance and that project was started in June/July of 2013," Lowe added. "To make it work structurally was quite difficult. But we could see fairly early that it was feasible, so we went with that aero concept and let the structures guys loose on it."
Lowe said another key factor was cooling, so as to package the new power unit with minimal drag.
"A good part of the story has been cooling efficiencies that were achieved. We did it bit by bit, pushing the efficiency of each part of the cooling circuit up, and that's what brings the sizes down. Your first go at it is not nearly as good as your 27th go. Initially it had looked like the whole story of the car was going to be, 'How are you going to get in enough heat-exchange areas to get the job done?' By the time we arrived with a car that seemed little different to the year before in terms of radiator area etcetera, that felt pretty amazing as an achievement." ESPN.co.uk
Williams Announces New Technical Partnership with Dtex Systems
Williams, the leading Formula One team and advanced engineering company, today announces a new technical IT partnership with Dtex Systems, the global security software provider, that will see Dtex introduce its auditing software across Williams' range of business operations.
Williams has embarked on an ambitious transformation of its digital estate over the past 12 months to make sure that the company has the right software tools to remain at the pinnacle of Formula One and advanced engineering consultancy. Since the establishment of Williams Advanced Engineering, the division of Williams that harnesses Formula One derived technology and know-how for commercial customers, it has become a business imperative to ensure that client data and intellectual property (IP) held by Williams is fully protected. As a Formula One team, Williams also places a premium on ensuring that its latest technological innovations for the race track are kept away from competitors.
Speaking about the new partnership Graeme Hackland, IT Director at Williams, said; "Whilst keeping your Formula One innovation away from your competitors has always been important, it is since we created the Williams Advanced Engineering division that protecting this IP has become even more critical. When you are entrusted with multiple customers' data, proactive auditing of how data is handled becomes critical to prevent data loss."
"A new IT security model was required and with the Dtex software tools, our Formula One data and Williams Advanced Engineering customer data is now fully auditable and encourages data owners to take accountability for their data. Dtex were selected by Williams for their easy to install, low footprint micro-agent and comprehensive reporting capability for data use at rest, in motion or being printed; application and software license tracking and most importantly for the ability to baseline user profiles and then identify abnormal behavior."
Mohan Koo, Chief Executive Officer of Dtex, added; "Williams is a very special partnership for Dtex – not just for the prestige associated with one of the most decorated teams in sporting history, but also because Williams Advanced Engineering has harnessed the high value IP created by Formula One and applied it to real-world technology requirements. For this reason, Williams provides a fantastic showcase for Dtex to demonstrate how IP protection can be achieved in a highly competitive environment, where restrictive security controls would stifle innovation."
Video: F1 2015 Nose Rules – Craig Scarborough explains
2014 was a massive year for F1 technically – so what can we expect in 2015? Together with his own, original drawings, TRE's Craig Scarborough talks us through the new rules governing the nose shapes and designs and gives us a taste of what the new cars will look like.
No Friday practice for Magnussen in 2015
(GMM) Kevin Magnussen will not be making any Friday practice appearances in 2015.
As McLaren boss Ron Dennis explained last month, the 22-year-old Danish rookie's F1 race career has been put on "pause" for 2015.
That is because the Woking team selected his experienced teammate of last year, former world champion Jenson Button, to be Fernando Alonso's teammate as the new works Honda era kicks off.
Magnussen, whose father Jan similarly made his F1 debut for McLaren in 1995 before sitting out 1996 and returning a year later with Stewart, has instead been appointed the 2015 test and reserve driver.
Answering a question from one of his 157,000 Twitter followers on Tuesday, he said: "No Friday practices for me this year. I will be watching from the pitwall".
However, Magnussen sounded bullish about the future, adding the hashtag 'Never give up on the dream' to recent tweets.
Told by another fan that one race season in F1 is not enough, he replied: "I very much agree!"
Meanwhile, a McLaren spokesman confirmed reports the British team is in contact with the FIA after the governing body ruled that the only manufacturer not allowed to develop its engine this year is Honda.
"McLaren-Honda has already been in contact with the FIA with regard to this issue," he said, "but we do not wish to say anything further at this time."