Detroit bringing in double-decker suites imported from the London Olympics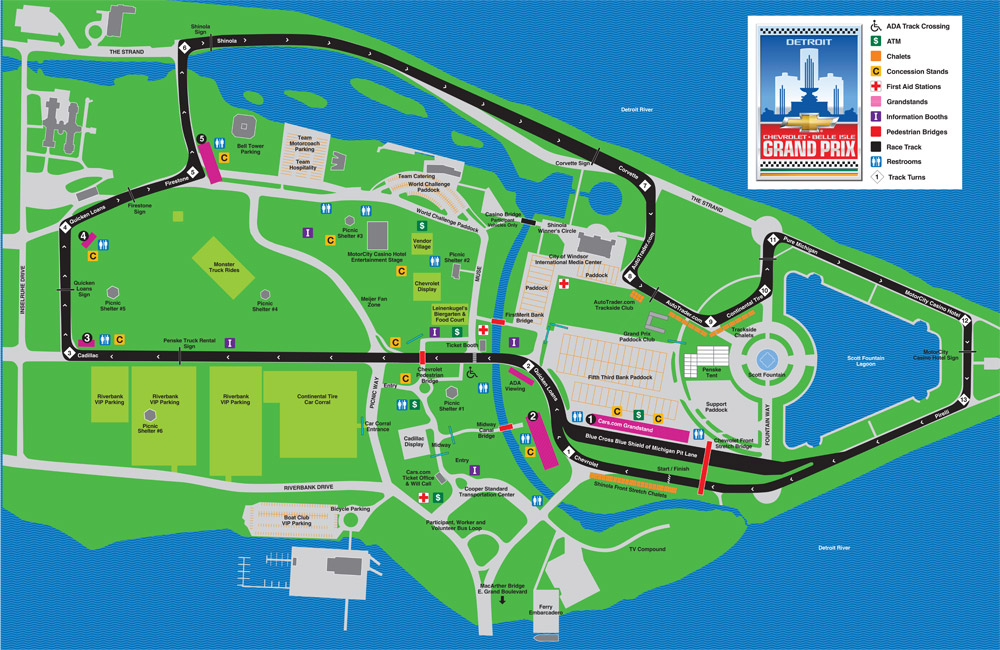 2014 Detroit GP track map and grandstands
Roger Penske and crew are preparing Belle Isle for another Grand Prix, but with a twist of someone else's making:
The weekend of IndyCar racing, showcasing the Motor City with seven hours of national TV coverage and double-decker suites imported from the London Olympics, is set to run May 30-June 1 in the shadow of the largest municipal bankruptcy in American history.
That could be bad news for a city given up for dead so many times it's lost count. But it's an opportunity the impresario and the city need, a chance to show how racing and corporate sponsors, the city and the state, are coalescing despite the burden of Chapter 9 and what it portends.
"It had to happen," Penske said in an interview Wednesday along pit lane. "You can't sit here with a financial mess without something dramatic happening. That's why there's a bankruptcy code. The good news is we're going to be able to come out of this, and it'll be a win."
Emphasis here on the boss' favorite three-letter word — win. This from the owner with more Indy 500 wins than anyone in the history of the fabled Indianapolis 500; the entrepreneur whose empire of auto dealerships and related businesses are the envy of the industry; the guy who led the effort to stage Super Bowl XL at Ford Field before an economic meltdown pummeled the city, pushing two of its hometown automakers into bankruptcy.
Meaning this won't be just another Chevrolet Detroit Belle Isle Grand Prix, a dual race weekend likely to bring an expected 110,000 race fans, corporate guests and news media to an island planted near an international border. This is a chance for Detroit and Michigan to show, by what they do, that they're dealing step-by-step with problems largely ignored for, what, the past 40 years.
Take Belle Isle. State control is speeding improvements to what is now a state park, notwithstanding recent controversy over policing perceived by some to be overly aggressive. Bud Denker, chairman of the Grand Prix, says the state Department of Natural Resources has proven an effective manager of the island.
"The bathrooms actually work out here — new fixtures; new plumbing," he said. "The state's been terrific to work with. We're moving fast. Quick. The city did as well, but now we've got resources."
Nearly 200 diseased trees have been downed and hauled away. Roofs have been repaired. Asbestos has been removed from the iconic casino — all of it improvements that will remain long after the weekend's winners are declared and the island is returned to its normal routine.
Race fans this year will see a 250-foot bridge, spanning pit lane and the finish line, connecting Grandstand 1 to tiered corporate chalets on the north side of the home stretch. Seventeen double-decker suites (food and drink on the bottom, stadium-style seating on the top) will accommodate 3,000 people who will have access to pit lane over the bridge. Sold out, natch.
It's vintage Penske: refine, refine, refine. It's also a metaphor for the improving prospects of the Verizon IndyCar Series and Belle Isle itself, vastly improved over the races run here even two years ago much less the pre-meltdown days in the last decade.
Standing on pit lane and seeing the silhouette of General Motors Co.'s RenCen headquarters above the new Chevrolet Front Stretch Bridge (neat marketing, that) is a reminder of the vast continuum of change that has roiled Detroit and southeast Michigan since 2008.
The global financial meltdown pushes two of three hometown bankruptcies into federally induced bankruptcy; plants and tens of thousands of jobs are lost; housing values plummet, most precipitously in Detroit itself, exerting intense pressure on municipal balance sheets already groaning with debt.
The list of collateral damage is long and well-known in these parts, the strengthening rebound less so. A dozen years ago, Penske took a call from Bill Ford Jr., who asked the guy with a reputation for getting things done right to quarterback Detroit's Super Bowl effort.
Penske accepted, of course, remembering now the challenge ahead — and how far Detroit has come since then. Downtown buildings boarded up for the NFL extravaganza are now reclaimed; private investment in the downtown core can be measured in the billions.
The automakers, leaner and restructured, are making money with competitive product lines, competitive labor contracts and lower break-even points. The state's unemployment rate is down, legislators are debating how to deploy a surplus, and the city mostly is on track to complete a bankruptcy buoyed by consensual deals with key creditors.
That's real progress, proving that even the epicenter of American decline can reverse course when the right leadership meets the reality of no options and actually moves. Detroit News